What Does It Mean When a Hen Crows? Discover!
When a hen crows, it can be a sign of a disruption in the flock's social order, often due to the absence or weakness of a rooster. It may also indicate hormonal imbalances that lead to the hen exhibiting male characteristics.
The act of hen crowing is quite rare and can have several causes:
Social Hierarchy: A hen may crow to assert dominance or fill a leadership vacuum in the absence of a rooster.
Hormonal Changes: Ovarian or adrenal gland issues might cause a hen to produce more testosterone, leading to crowing.
Breed Predisposition: Some hen breeds are more prone to crowing than others.
Behavioral Issues: Stress or environmental changes could also trigger this behavior.
Discovering a crowing hen within a flock is an unusual occurrence and may necessitate a closer look at the flock's dynamics or the hen's health.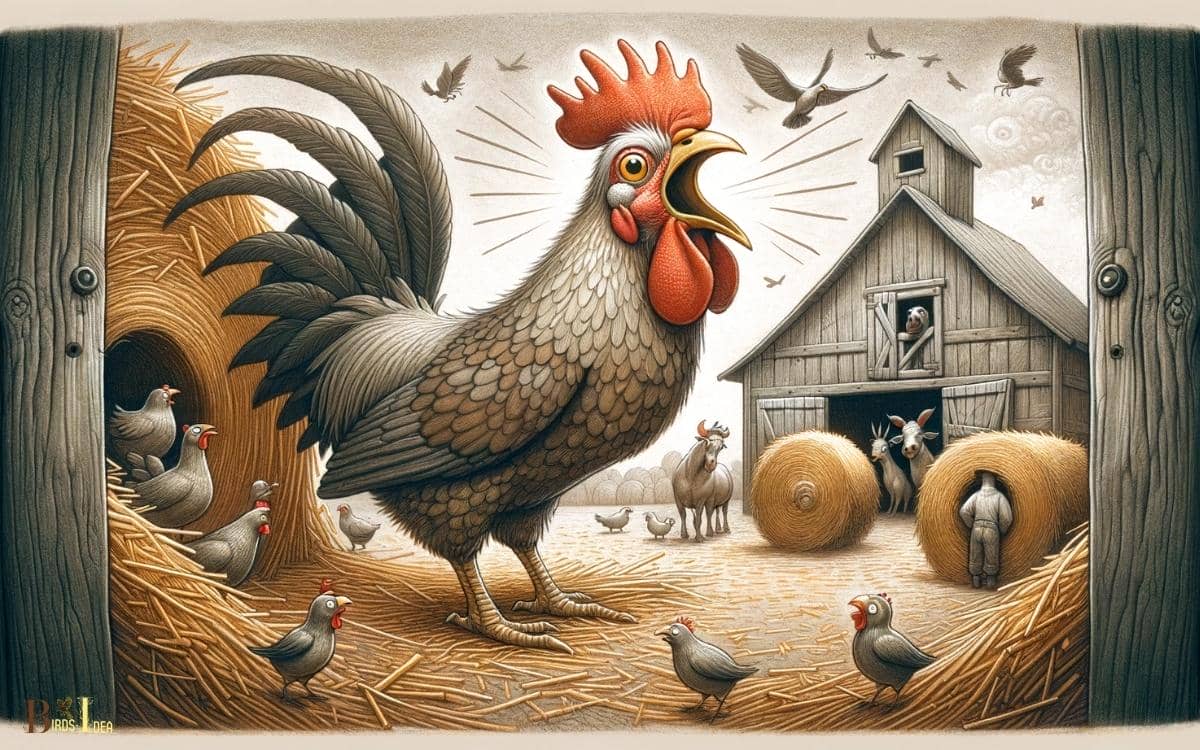 Key Takeaway
Hen crowing can be caused by disruption in social order, hormonal imbalances, breed predisposition, behavioral issues, and environmental triggers.
Natural causes of hen crowing include hormonal changes, an increase in testosterone levels, aging, stress, or absence of a rooster, response to hierarchy within the flock, and assertion of dominance or filling a leadership vacuum.
Dominance within the flock influences crowing behavior, with more dominant hens being more likely to crow. Hen crowing serves as a form of communication, conveying information about dominance and the pecking order.
Hen crowing has important communication functions within the flock, including establishing the pecking order, serving as a warning signal, defining territorial boundaries, facilitating social bonding, and contributing to the overall well-being of the flock.
Natural Causes of Hen Crowing
The natural causes of hen crowing are influenced by hormonal changes and social dynamics within the flock.
Typically, hens crow when they experience changes in their hormonal balance, such as an increase in testosterone levels.
This can occur due to various factors, including aging, stress, or the absence of a rooster. Social dynamics among the flock play a role in hen crowing, as it can be a response to the hierarchy within the group.
When a dominant hen is absent or challenged, lower-ranking hens may exhibit crowing behavior to assert their position.
Understanding these natural causes of hen crowing provides insight into the complex interplay of hormones and social interactions within a flock.
Moving on to the subsequent section, it is essential to delve into the relationship between social hierarchy and hen crowing.
Social Hierarchy and Hen Crowing
Social hierarchy plays a crucial role in understanding the phenomenon of hen crowing. Dominance within the flock can influence which hens are more likely to crow, as it is often the more dominant hens that exhibit this behavior.
Furthermore, hen crowing can also serve as a form of communication within the flock, conveying important information about dominance and pecking order.
Dominance and Hen Crowing
When considering dominance and hen crowing, how does the social hierarchy influence this behavior?
In the context of a flock, hens establish a social hierarchy through various means, including crowing.
The table below outlines the typical behaviors and traits associated with dominant and subordinate hens in a flock.
| Dominant Hens | Subordinate Hens |
| --- | --- |
| Assertive | Submissive |
| Control resources | Limited access to resources |
| Larger body size | Smaller body size |
| Aggressive towards subordinates | Avoids confrontations |
Explore the dynamics of poultry social hierarchy with this table highlighting behaviors and traits distinguishing dominant and subordinate hens. Uncover the intricacies of their interactions in the flock.
Dominant hens often crow to assert their authority and communicate their status within the flock. Subordinate hens may crow less frequently to avoid conflict and maintain harmony within the group.
Understanding the influence of social hierarchy on hen crowing provides valuable insight into the complex dynamics of poultry flocks.
This behavior ties into how hens communicate within the flock.
Communication Within the Flock
Communication within a poultry flock hinges on established dominance and the use of hen crowing to assert authority and maintain harmony.
The social hierarchy and communication dynamics among hens are essential for the overall well-being of the flock.
Here are key aspects of communication within the flock:
Established Pecking Order: Hens use a combination of body language, vocalizations, and pecking to establish and maintain a pecking order within the flock.
Warning Signals: Hen crowing can serve as a warning signal to other members of the flock, alerting them to potential dangers or disturbances.
Territorial Boundaries: Hens may use crowing to delineate and defend their territory within the coop or free-ranging area.
Social Bonding: Communication, including hen crowing, plays a role in reinforcing social bonds and interactions within the flock.
Understanding these communication dynamics is crucial for managing and maintaining a harmonious poultry flock.
As we delve into the hormonal influences on hen crowing, it becomes evident that these biological factors play a significant role in the communication dynamics within the flock.
Hormonal Influences on Hen Crowing
Hens crowing can be influenced by hormonal changes, impacting their behavior and vocalizations.
Hormones play a crucial role in regulating the reproductive and social behaviors of hens, which can lead to crowing.
The table below provides an overview of the key hormones involved in hen crowing and their effects:
| Hormone | Function | Influence on Crowing |
| --- | --- | --- |
| Estrogen | Regulates reproductive behavior and vocalizations | Increase in crowing during mating and egg-laying |
| Testosterone | Influences aggression and territorial behavior | Higher levels linked to more frequent crowing |
| Progesterone | Regulates nesting and brooding behaviors | May lead to decreased crowing during incubation |
| Thyroid | Controls metabolism and energy levels | Imbalances can affect overall activity, including crowing |
| Prolactin | Stimulates parental care and incubation behaviors | May reduce crowing during nesting and chick-rearing |
Explore hormonal dynamics in hen crowing: estrogen boosts vocalizations, testosterone fuels aggression, and prolactin tempers crowing during parenting.
Understanding these hormonal influences provides valuable insight into the complex nature of hen crowing behavior.
Moving forward, we will delve into the environmental triggers for hen crowing.
Environmental Triggers for Hen Crowing
Environmental triggers for hen crowing can include:
Stressors such as overcrowding, loud noises, or sudden changes in the environment.
Social dynamics within the flock, such as the presence of dominant or aggressive birds, can also impact a hen's crowing behavior.
Additionally, hormonal influences, such as increased testosterone levels, can be triggered by environmental factors and contribute to crowing behavior.
Stress and Crowing
The crowing behavior in hens can be triggered by various environmental stressors.
These can include:
Predation: The presence of predators or perceived threats can induce stress in hens, leading to crowing behavior as a warning signal to other flock members.
Overcrowding: Hens may crow in response to overcrowded living conditions, which can cause stress and lead to social tension within the flock.
Resource competition: Limited access to food, water, or nesting space can create stress for hens, prompting crowing as a means of asserting dominance or signaling distress.
Sudden environmental changes: Abrupt changes in lighting, temperature, or surroundings can disrupt hens' sense of security, triggering crowing as a response to the unfamiliar or threatening stimuli.
Understanding these environmental stressors can help in managing hen welfare and behavior.
Moving on to the subsequent section about 'social dynamics impact' will provide further insight into this complex behavior.
Social Dynamics Impact
Experiencing social dynamics impacts can significantly influence the crowing behavior of hens.
Hens are highly social animals, and their crowing behavior can be influenced by interactions within their social groups.
Factors such as pecking order, overcrowding, or the presence of new members can trigger crowing in hens.
When hens experience social stress or competition for resources, they may crow as a means of asserting their position within the flock.
Furthermore, hens may crow in response to the crowing of other hens, as it is a form of communication within their social structure.
Understanding the social dynamics impact on crowing behavior is crucial for effectively managing and maintaining a harmonious environment for hens.
This insight provides a foundation for further exploring the hormonal influences on crowing behavior.
Management of Hen Crowing in Flocks
Effective management of hen crowing in flocks requires careful observation and understanding of the underlying reasons for crowing behavior.
To effectively manage hen crowing in flocks, consider the following:
Provide adequate space: Ensure that the flock has enough space to minimize crowding, which can lead to stress and crowing behavior.
Maintain a balanced diet: A well-balanced diet can help reduce stress and keep hens healthy, potentially minimizing crowing behavior.
Minimize disturbances: Limiting loud noises and disturbances can help keep the flock calm and reduce instances of crowing.
Nesting boxes: Providing sufficient nesting boxes can help hens feel secure and reduce the likelihood of crowing as a response to feeling threatened or stressed.
Conclusion
Hen crowing can be attributed to a variety of natural, social, hormonal, and environmental factors. It serves as a form of communication and can indicate changes in the social hierarchy within a flock.
Managing hen crowing in flocks requires understanding and addressing the underlying causes.
Like a complex symphony, the reasons for hen crowing are multifaceted and interconnected, requiring careful observation and management to maintain harmony within the flock.