What is Crow Medicine? Discover!
Crow medicine refers to the spiritual and cultural significance attributed to crows, often seen as a source of wisdom, transformation, and connection with life's magic.
It is a concept embraced in various traditions to symbolize the change and adaptability that crows embody.
Crow medicine is rooted in the belief that animals have spiritual energy that humans can learn from. In many cultures, crows are revered as totems or guides.
They are associated with:
Mystery and Magic: Often seen in mythology as the keeper of sacred laws.
Intelligence: Crows are known for their problem-solving skills.
Adaptability: They can thrive in various environments.
Transformation: In some beliefs, crows are seen as messengers of change.
For example, in Native American cultures, crows are considered a symbol of balance, manifesting the unknown and unseen.
Embracing the insights of crow medicine can lead to heightened awareness and a deeper understanding of one's journey through life's ebbs and flows.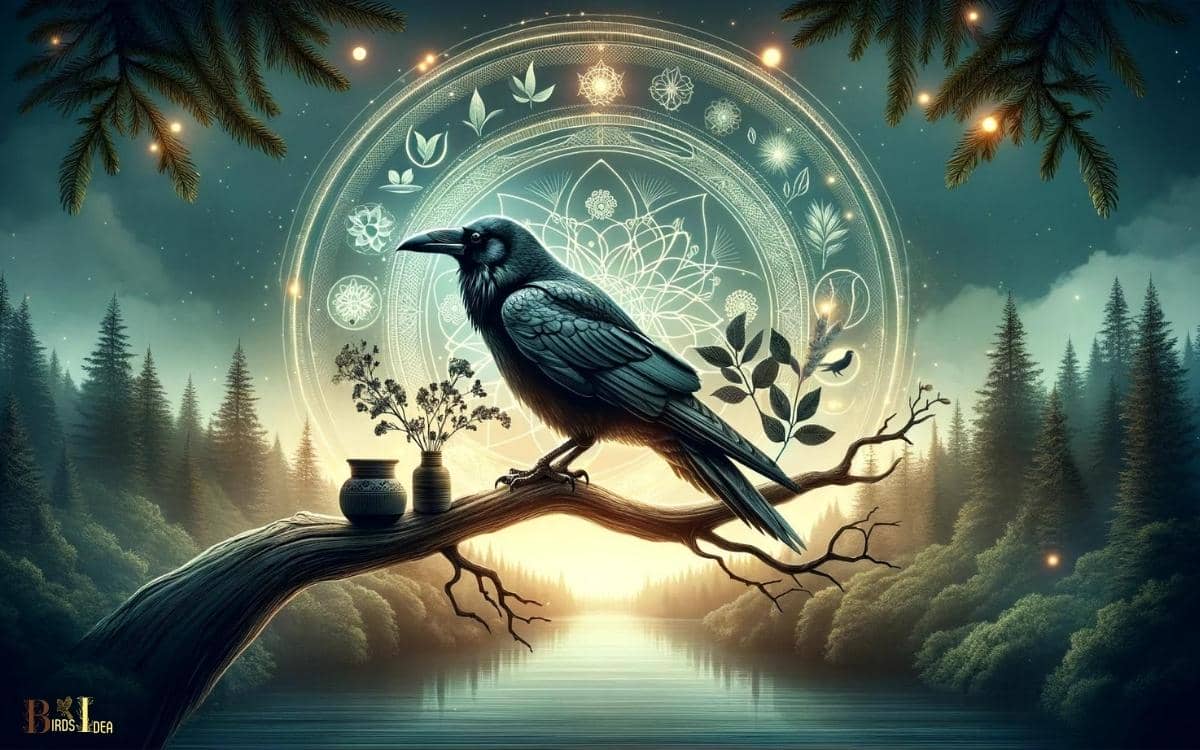 Key Takeaway
Crows are revered as sacred and spiritual beings in many cultures.
Crow medicine symbolizes magic, mystery, and transformation.
Crow medicine encompasses physical, emotional, and spiritual healing.
Practicing mindfulness and introspection can help connect with crow energy.
The Significance of Crows in Culture
The significance of crows in culture lies in their widespread symbolism and representation across various civilizations and belief systems.
In many cultures, crows are seen as symbols of intelligence, adaptability, and mystery. They have been revered as sacred and spiritual beings, often associated with deities or carrying messages between the earthly realm and the spirit world.
Crows are also frequently depicted in folklore and mythology, playing roles that range from trickster figures to omens of change.
Their presence in literature, art, and oral traditions further underscores their cultural significance.
Additionally, crows are often viewed as symbols of freedom, with their ability to soar through the skies and adapt to diverse environments serving as a powerful metaphor for the human desire for liberation and independence.
Spiritual and Metaphysical Aspects of Crow Medicine
Crow Medicine as a Spiritual Guide
Transformational Guidance: Crow medicine serves as a spiritual guide, offering insights into transformative processes, encouraging personal growth, and navigating life's changes.
Inner Wisdom Activation: By embracing crow symbolism, individuals tap into their inner wisdom, unlocking the ability to make profound spiritual decisions and choices.
Symbolic Presence: The presence of crows is often seen as a symbolic guide, signaling the need for introspection and a deeper connection with the spiritual self.
Connection to the Spirit World
Bridge Between Realms: Crows are believed to act as intermediaries between the physical and spirit worlds, facilitating communication and understanding between these realms.
Ancestral Spirits: In various spiritual traditions, crows are associated with ancestral spirits, offering a conduit for ancestral wisdom and guidance to flow into the present.
Symbolic Omens: Observing the behavior of crows is considered a form of divination, interpreting their movements and calls as messages from the spirit world.
Spiritual Protection: Crow medicine is often invoked for spiritual protection, creating a shield against negative energies and promoting a harmonious connection with the unseen.
Exploring crow medicine's spiritual dimensions unveils its role as a guide, connecting individuals with the profound wisdom of the spirit world, and fostering a transformative journey towards spiritual enlightenment.
The Healing Powers of Crow Medicine
Crow medicine holds a myriad of healing powers that have been revered across cultures and traditions.
The healing powers of crow medicine are believed to encompass physical, emotional, and spiritual aspects, providing holistic well-being.
Here are some of the healing powers associated with crow medicine:
| Healing Power | Description |
| --- | --- |
| Transformation | Crow medicine is associated with the ability to transform and adapt. |
| Intuition | It is believed to enhance intuition and the ability to trust instincts. |
| Wisdom | Crow medicine symbolizes deep wisdom and the ability to see beyond. |
"Unlock transformation, intuition, and wisdom with Crow Medicine—a source of healing power for profound personal growth and spiritual insight."
These healing powers demonstrate the profound significance of crow medicine in promoting personal growth, inner healing, and spiritual evolution.
The ancient wisdom of crow medicine continues to inspire and empower individuals seeking freedom and holistic healing.
Incorporating Crow Medicine Today
Modern Interpretations and Practices
Crow Medicine, rooted in ancient wisdom, finds relevance in modern spiritual practices. Embrace its transformative energy through:
Mindfulness and Adaptability: Cultivate a mindful approach to life, adapting to change with the resilience symbolized by crow energy.
Intuitive Development: Practice exercises to enhance intuition, fostering a deeper connection with your instincts and inner guidance.
Symbolic Integration: Incorporate crow symbolism into daily rituals, using it as a reminder of the constant potential for growth and transformation.
Integrating Crow Medicine into Contemporary Spirituality
Crow Medicine seamlessly integrates into contemporary spiritual frameworks, offering:
Energy Healing: Explore energy healing modalities, envisioning crow energy as a catalyst for healing and positive transformation.
Meditative Practices: Infuse crow imagery into meditation, tapping into the wisdom associated with these intelligent birds for profound insights.
Community Connection: Foster a sense of community by sharing experiences and insights related to crow medicine, creating a collective energy of growth.
Artistic Expression: Express your connection to crow energy through art, music, or dance, allowing for a creative exploration of transformation and wisdom.
Incorporating Crow Medicine into contemporary spirituality enriches personal growth, fostering resilience, intuition, and a deeper understanding of the transformative journey.
Connecting With Crow Energy
Frequently, individuals seeking to connect with the energy of the crow can benefit from practicing mindfulness and introspection. Crow energy is often associated with intuition, transformation, and the mysteries of life.
To tap into this energy, one can start by spending time in nature, observing the behaviors of crows, and recognizing their intelligence and adaptability.
Cultivating a sense of awareness and deep observation can help in understanding the messages and symbolism that crows bring.
Engaging in meditation and visualization exercises can also aid in connecting with the essence of crow energy.
Moreover, keeping a journal to record encounters with crows, dreams, and synchronicities can provide valuable insights.
Conclusion
The significance of crow medicine in culture, the understanding of crow symbolism, and the healing powers of crow energy offer valuable insights into embracing crow wisdom.
Through connecting with crow energy, individuals can tap into the healing and transformative powers of this ancient symbol.
Embracing the wisdom of crows opens up new possibilities for growth and understanding in the spiritual and natural world. Explore the depths of crow medicine and unlock the mysteries that await.