What is the Size of a Crow? A Complete Chart!
A typical crow measures between 16 to 21 inches in length.
The size of a crow can vary depending on the species.
For instance, the American Crow (most common) measures about 17.5 inches in length.
The larger species like the Common Raven can reach up to 26 inches in length.
The wingspan of a crow can also range from 33 to 39 inches.
Crows are formidable birds known for their adaptability and intelligence. Their size, which typically ranges from 16 to 21 inches in length, gives them an imposing presence in many urban and wild environments.
However, it's not just about size; different species of crows exhibit variation in size with the Common Raven being one of the largest.
With a wingspan that can reach up to almost over three feet, these birds are built for powerful flight and survival in various habitats around the world.
From open woodlands to city streets, their dimensions have played a significant role in their ability to thrive and adapt across diverse ecosystems.
7 Different Crows Species Size Chart
| Species | Body Length (cm) | Wingspan (cm) | Weight (g) |
| --- | --- | --- | --- |
| American Crow | 40-50 | 85-100 | 315-620 |
| Northwestern Crow | 41-46 | 85-94 | 320-570 |
| Hooded Crow | 44-51 | 98-104 | 370-650 |
| Carrion Crow | 44-52 | 84-100 | 460-600 |
| Rook | 45-47 | 82-98 | 340-510 |
| Jackdaw | 34-39 | 70-90 | 220-270 |
| Raven | 56-78 | 115-130 | 690-1600 |
7 Different Crows Species Size Chart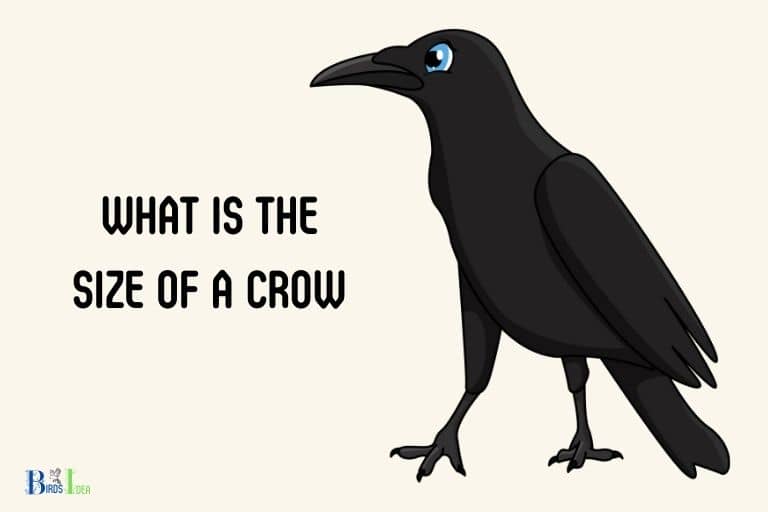 Physical Characteristics Of A Crow
The crow belongs to the family corvidae and is prevalent in different continents worldwide. They are incredibly intelligent birds known for their problem-solving capabilities, complex social relationships, and extensive vocalizations.
In this section, we will discuss the physical characteristics of a crow, including their weight, length, wingspan, and tail length.
Average Weight And Length Of A Crow
The weight of a crow varies between 300 to 600 grams, with an average weight of around 450 grams.
Male crows tend to be slightly larger than females, with some species displaying minimal size differences.
The total length of a crow ranges from 40 to 45 centimeters, with some species reaching up to 60 centimeters in length.
Comparison Of Male And Female Crow
Male crows are typically heavier and more substantial in size than females, with females having a more streamlined appearance.
In several crow species, males' distinctive features include a broader bill, a more prominent head, and a deeper throaty call.
Females, on the other hand, have a sharper and more high-pitched call.
Crow's Wingspan And Tail Length
The wingspan of a crow ranges from 85 to 100 centimeters, with some species having a maximum wingspan of over one meter.
The crow's wingspan in flight allows them to soar and glide over long distances while expending the least amount of energy.
The tail length of a crow varies from 15 to 20 centimeters and helps them steer and balance in flight.
Crows are fascinating birds with unique physical characteristics. The male crows are typically larger than females, with a broader bill and deeper throaty call.
Crows' wingspan ranges from 85 to 100 centimeters, and their tail length ranges from 15 to 20 centimeters.
These features enable crows to soar great distances and balance in flight effortlessly. The crow is truly an impressive bird!
Factors Affecting Crow Size
The size of a crow varies depending on several factors. These factors include its geographic location and habitat, age and diet, and the variation in crow species. Let's take a closer look at each of these factors.
Geographic Location And Habitat
Crows are widely distributed across the world, and their size can vary depending on their location.
In general, crows living in colder environments tend to be larger in size than those living in warmer regions.
Crows living in urban environments may also be larger due to better access to food and an increased level of protection.
Age And Diet Of The Crow
Young crows are generally smaller in size than fully grown adults.
Diet also plays a crucial role in crow size. Crows that have access to more sources of food tend to be larger.
Additionally, crows that consume more protein tend to be larger in size as protein is essential for growth.
Variation In Crow Species
Crow species can vary in size, with the largest being the common raven, which can reach up to 64 cm in length.
Smaller crow species include the fish crow and the little crow, which are around 40 cm in length.
There may also be subtle differences in size among different populations of the same species, depending on their geographic location.
The size of a crow is influenced by several factors, including geographic location and habitat, age and diet, and variation in species.
Understanding these factors can help us better appreciate the diversity of these intelligent birds.
Why Is Knowing The Size Of A Crow Important?
When it comes to crows, one of the most intriguing yet elusive aspects regarding them is their size.
While crows are commonly seen in urban areas, and their cacophonic cawing can be heard far and wide, not many people are aware of their actual size.
However, understanding the size of these birds, and its broader implications in ecological studies, can further our knowledge and understanding of the environment.
Ecological Significance Of Crow Size:
Crows are omnivorous, and their diet varies across different ecosystems. However, the size of the crows can affect their consumption rate of organisms, as large crows can survey larger prey than smaller crows.
Crow size can also be an indicator of environmental pollution and habitat quality. In polluted areas, crows tend to be smaller in size due to impaired growth resulting from toxic substances.
Crow size can affect their role in seed dispersal, as larger crows can disperse larger seeds over long distances, whereas smaller crows may be limited to smaller seeds only.
Study Of Population Dynamics:
Knowledge of crow size helps in the study of population dynamics, such as estimating population numbers, determining breeding success, and understanding the age structure of populations.
Crow size has been linked to mating patterns, with larger males having a higher chance of mating success than smaller males. This knowledge is useful in understanding the dynamics of crow breeding.
Implications For Wildlife Conservation And Management:
Understanding crow size is essential for wildlife conservation, particularly for endangered species.
This knowledge can be used to monitor habitat quality, such as monitoring pollution levels and the quality of prey available within a given habitat.
Estimating population size and understanding the factors affecting breeding success can help in the development of effective conservation measures.
Understanding the size of crows is crucial for ecological studies, population monitoring, and wildlife conservation. By looking closely at the size of crows, we can gain insights into broader environmental issues and develop strategies for future management and conservation efforts.
Conclusion
Based on our analysis, we have discovered that the size of a crow can vary depending on the species. While some crows can have a wingspan of up to 4 feet, others can be as small as a pigeon.
However, it is important to note that most crows have a similar build, with a stocky body and a short tail.
Furthermore, it is fascinating to learn that these intelligent birds have adapted to their environment, making them one of the most successful and adaptable bird families in the world.
Crows are known for their intelligence, problem-solving skills, and social behavior, making them an intriguing subject for researchers and bird enthusiasts alike.
The size of a crow is not determined by a single measurement, but rather a combination of factors such as species, location, and age.
Despite their varying sizes, crows continue to fascinate and inspire people all around the world with their unique characteristics and undeniable intelligence.