What Deity Is Associated With Crows: Norse God Odin!
The deity most commonly associated with crows is the Norse god Odin. Other deities linked to crows include the Greek goddess Athena, the Celtic Morrigan, and the Native American trickster figure, Raven.
In mythology, crows are often aligned with deities due to their perceived qualities such as intelligence, foresight, and connection to the afterlife. For example:
Odin: In Norse mythology, crows are symbolic of knowledge and magic. Odin, the Allfather of the Norse gods, is accompanied by two ravens, Huginn (thought) and Muninn (memory), who fly around the world and bring him news.
Athena: The ancient Greeks associated the crow with Athena, the goddess of wisdom and war. The crow was originally white and served as her sacred bird before being turned black as a punishment for delivering bad news.
Morrigan: In Celtic mythology, the Morrigan is a goddess of war and fate, often taking the form of a crow or raven during battles.
Raven: Among various Native American cultures, the Raven is seen as a trickster god but also as a creator figure in some creation myths.
These examples illustrate the multifaceted roles crows and ravens play in mythological contexts.
Crows' global mythological prominence underscores their status as powerful symbols in human culture, transcending mere avian curiosity to divine emblem.
Odin's association with crows is particularly highlighted by his raven companions, Huginn and Muninn, who serve as extensions of his wisdom and awareness.
This connection between Odin and crows reflects the symbolic significance of these birds in Norse culture, representing knowledge and the ability to see beyond the immediate realm.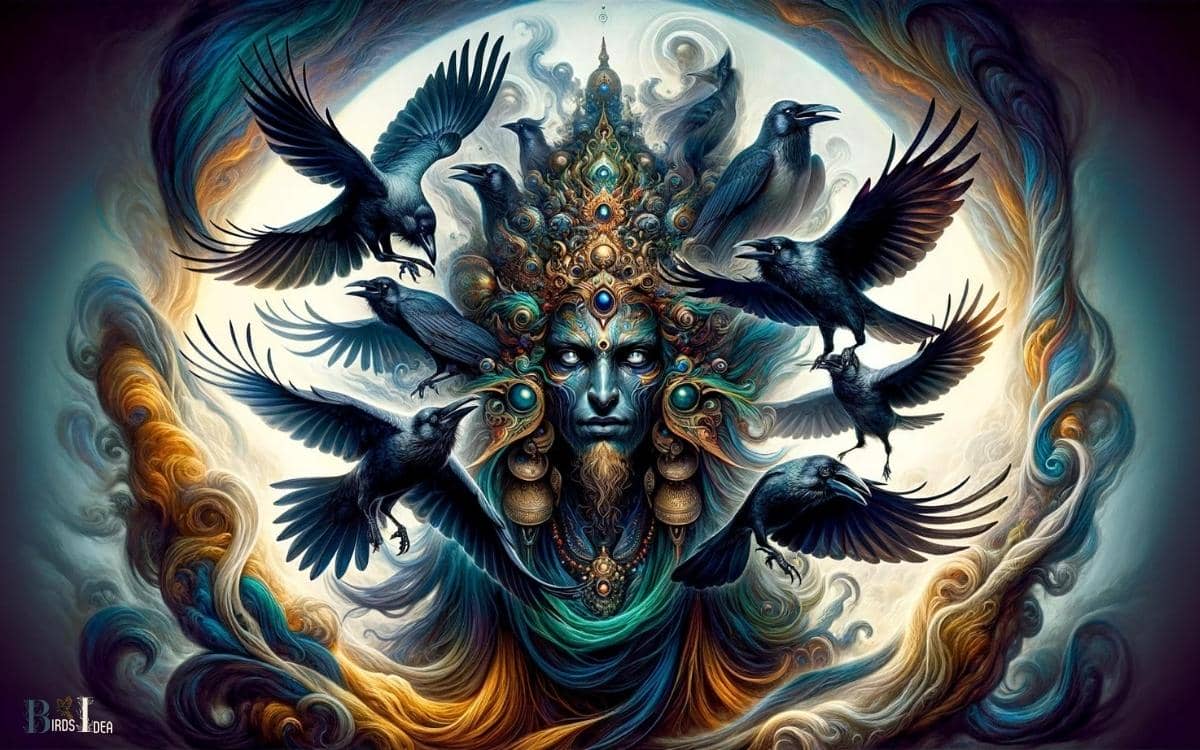 Key Takeaway
Norse god Odin is associated with crows, symbolizing knowledge and magic.
Greek goddess Athena had a sacred crow before it turned black.
Celtic goddess Morrigan takes the form of a crow or raven.
Native American cultures view the crow as a trickster god and creator figure.
Ancient Mythology and Crows
In ancient mythology, crows are often associated with various deities and hold significant symbolic meanings.
Across cultures, crows have been revered as messengers of the divine, representing intelligence, mystery, and transformation.
In Norse mythology, Odin, the chief of the gods, was accompanied by two ravens, Huginn and Muninn, who served as his eyes and ears, bringing him information from the world of men.
In Hindu mythology, the god of death, Yama, is said to have a crow as his vahana, or mount, symbolizing the link between the mortal world and the afterlife.
The association of crows with deities reveals the deep-rooted significance these birds held in ancient belief systems, portraying them as bearers of wisdom and guardians of the otherworldly realms.
This association between crows and deities sets the stage for understanding the profound symbolism embodied by the deity of crow symbolism.
Deity of Crow Symbolism
The deity of crow symbolism embodies profound spiritual significance within various cultural and mythological contexts.
In many belief systems, crows are associated with deities representing wisdom, transformation, and the mysteries of life and death.
In Norse mythology, Odin, the all-father god, is often accompanied by two ravens, Huginn and Muninn, who symbolize thought and memory.
In Hinduism, the crow is considered a vehicle of the god of death, Yama. In Native American traditions, the crow is often depicted as a trickster god, known for its cleverness and ability to shape-shift.
The association between deities and crows reveals a deep understanding of the natural world and the human psyche, offering insight into the complexities of existence.
This profound symbolism transcends cultural boundaries, demonstrating the enduring significance of crows in religious and mythological narratives.
Cross-Cultural Connections
The cross-cultural connections between crows and deities highlight the universality of their symbolic importance across various belief systems and mythologies.
This demonstrates the enduring significance of crows in human consciousness and spiritual traditions.
In Norse mythology, Odin, the chief deity, is often accompanied by two ravens, Huginn and Muninn, who represent thought and memory.
In Hinduism, the crow is considered a symbol of ancestral spirits and is associated with the god of death, Yama.
In Native American cultures, the crow is a complex symbol, representing both intelligence and trickery, and is often associated with creation stories and transformation.
In Celtic folklore, the crow is linked to the goddess Morrigan, who is associated with fate, battle, and prophecy.
In Japanese mythology, the crow is considered a divine messenger and is associated with various deities, including the sun goddess Amaterasu.
These cross-cultural connections underscore the enduring and multifaceted significance of crows in religious and mythological narratives, reflecting their deep-rooted symbolism across diverse cultures and belief systems.
This rich tapestry of associations adds to the intrigue and mystique surrounding these enigmatic birds.
These connections also provide valuable insights into the shared human experience and the universal themes that underpin our diverse spiritual traditions.
This understanding of the cross-cultural connections lays the groundwork for a deeper exploration of modern interpretations and crows.
Modern Interpretations and Crows
Cross-culturally connecting crows with deities underscores their enduring significance, leading to modern interpretations of their symbolism and relevance.
In modern times, crows have come to symbolize intelligence, adaptability, and transformation.
Their keen intelligence and ability to problem-solve have garnered admiration, while their adaptability to various environments has led to interpretations of resilience and survival.
crows are often associated with mystery and magic in contemporary culture, further enhancing their symbolism as messengers of hidden truths and secrets.
Furthermore, their presence in popular culture, literature, and art has solidified their status as powerful symbols with rich, multifaceted meanings.
In a modern context, the significance of crows continues to evolve, reflecting the ever-changing perspectives and interpretations of these enigmatic creatures.
The Divine Role of Crows
Associated with various deities across different cultures, crows have historically played diverse and significant roles in religious and mythological narratives.
The divine role of crows encompasses a range of interpretations and beliefs, including:
Messengers of the Gods: In many cultures, crows are seen as messengers between the earthly realm and the divine realm, carrying messages and information between deities and mortals.
Guardians of the Spirit World: Some belief systems depict crows as guardians of the spirit world, guiding and protecting souls as they journey between life and the afterlife.
Harbingers of Change: Crows are often associated with change and transformation, symbolizing the ability to navigate and adapt to life's transitions.
Wisdom and Knowledge: In several mythologies, crows are revered for their intelligence and wisdom, embodying the pursuit of knowledge and understanding.
Tricksters and Shape-Shifters: In certain traditions, crows are viewed as mischievous tricksters and shape-shifters, capable of manipulating and challenging conventional norms.
Conclusion
The deity associated with crows has been a significant figure in ancient mythology and continues to hold symbolic importance across various cultures.
The crow's role as a messenger, a guide, and a symbol of wisdom and intelligence has been revered and respected throughout history.
Its presence in modern interpretations further solidifies its divine significance, proving that the crow continues to hold a powerful and meaningful place in human consciousness.