What Sound Does Hummingbird Make? Soft & Buzzing!
Hummingbirds make a soft, buzzing or humming sound created by the rapid movement of their wings.
Hummingbirds are known for their incredible speed and agility. Their rapid wing-flapping generates a distinct sound that is associated with these tiny birds.
The humming sound is not vocal but rather created by the movement of their wings, which can flap at a rate of 50 to 80 times per second, depending on the species.
Hummingbirds create sound through wing movement, not vocalization.
Their wings can flap 50 to 80 times per second, producing a humming or buzzing sound.
The sound can vary slightly depending on the species and the speed of their wing movement.
The humming sound helps to identify the presence of a hummingbird even before seeing it.
The soft buzzing or humming sound produced by hummingbirds is a fascinating aspect of their behavior. Despite their small size, these birds are known for their speed and agility, which contributes to the distinct sound they make.
By paying attention to this characteristic sound, birdwatchers and nature enthusiasts can easily identify the presence of a hummingbird even before it comes into view.
Hummingbird Sounds Frequency Chart
| Hummingbird Species | Sound Description | Frequency Range |
| --- | --- | --- |
| Ruby-throated | High-pitched, rapid chirps | 4,000-6,000 Hz |
| Black-chinned | Soft, rapid ticking sounds | 3,000-5,000 Hz |
| Anna's | High-pitched, quick chirps | 4,000-7,000 Hz |
| Rufous | Rapid, buzzy trills | 3,500-6,500 Hz |
| Calliope | Soft, quick, high-pitched notes | 4,500-6,500 Hz |
| Allen's | Rapid, high-pitched trills | 4,000-6,000 Hz |
| Costa's | Soft, whistling twitter | 3,000-5,500 Hz |
Characteristics of Hummingbird Sounds
Key Takeaway
Hummingbird sounds are a mix of vocalizations, wing movements, and mechanical noises.
They produce different types of sounds for various purposes, including feeding, courtship, and territorial defense.
The wing beat of hummingbirds creates a humming sound, which is the origin of their name.
Each hummingbird species produces a unique sound, making them easily distinguishable by their calls.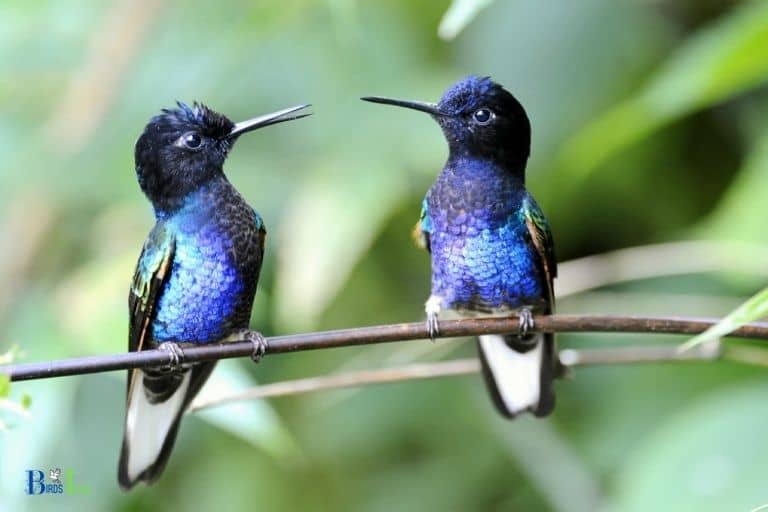 Five Facts About: Hummingbird Sounds
Hummingbirds create a characteristic humming sound as their wings beat rapidly, often at a rate of 50-200 times per second (source: National Geographic).
They have a variety of vocalizations used for communication, including chirps, buzzes, and whistles (source: BirdWatching).
Male hummingbirds perform an elaborate courtship display, diving through the air while making mechanical noises with their wings and vocalizing to attract a mate (source: Audubon.
Some species, like the Anna's hummingbird, produce unique mechanical sounds using their tail feathers during their courtship dives (source: ScienceDaily).
Hummingbirds use aggressive territorial calls to chase away intruders and defend their feeding areas, warning other birds to stay away (source: [The Spruce]
Delving Into The Buzzing Sounds Of Hummingbird Wing
Hummingbirds are fascinating creatures known for their incredible speed and unique features, such as their iridescent feathers and ability to hover in mid-air.
Another interesting characteristic of hummingbirds is the buzzing sound that their wings make when they flutter.
In this section, we'll take a closer look at the science behind this phenomenon and explore how hummingbirds create their signature buzzing sound.
How Hummingbird Wings Move At An Incredible Speed To Create Buzzing Sound
Hummingbirds have incredibly fast wings, which is what allows them to fly with such speed and agility.
But it's not just the speed of their wing movements that produces the buzzing sound – it's actually a result of the frequency at which they flap their wings.
Here are a few key points to keep in mind:
Hummingbirds flap their wings at an incredibly rapid rate – up to 80 times per second, depending on the species.
This rapid wing movement creates pressure waves in the air, which in turn produces the buzzing sound that we hear.
The sound frequency of the hummingbird's wing beats is usually between 200 and 300 hz.
The exact frequency can vary depending on factors such as the hummingbird's size and the size and shape of its wings.
The Role Of Wing Feathers In Hummingbird'S Buzzing Sound
While the rapid flapping of hummingbird wings is the primary contributor to the buzzing sound, the structure of their wings also plays a role.
Specifically, the shape and arrangement of wing feathers can influence the sound that the wings produce.
Here are a few key points to consider:
The feathers on hummingbird wings are highly specialized and arranged in a way that helps them generate lift and control motion.
The tips of the primary feathers on the wings have curved edges, which help to create vortices of air as the wings move. These vortices contribute to the buzzing sound.
In addition to the shape of the feathers, the stiffness of the feather shafts can also impact the sound that hummingbird wings produce. Stiffer shafts can create a higher-pitched buzzing sound than feathers that are more flexible.
Research Studies On The Wing Sounds Of Hummingbirds
Over the years, scientists have conducted various studies to gain a better understanding of how hummingbirds create their buzzing sound.
Here are a few examples of research findings:
A study published in the journal of comparative physiology in 2015 found that the structure of hummingbird feathers is responsible for creating the distinct sounds of each species.
Researchers at the university of california, berkeley used high-speed cameras and microphones to capture detailed footage of hummingbird wings in motion. They found that the birds' wingtips move in a unique figure-eight pattern, which plays a key role in generating lift and sound.
Another study published in the journal of experimental biology in 2012 found that hummingbirds produce different sounds when flying forward versus hovering in place. When flying forward, the birds' wings create more turbulent air flow, resulting in a louder buzzing sound.
The buzzing sound of hummingbird wings is a fascinating phenomenon that results from the rapid wing movement and specialized feather structure of these amazing creatures.
Through ongoing research and study, scientists are gaining a deeper understanding of how hummingbirds create this unique sound and what it can teach us about the natural world.
The Unique Vocalizations Of Hummingbirds
Hummingbirds are fascinating creatures known for their small size, high energy levels, and remarkable flying abilities.
But did you know that they also have unique vocalizations that are an important aspect of their behavior?
In this section, we will explore the vocalizations of hummingbirds in detail and answer some commonly asked questions related to their sounds.
What Hummingbirds Use Vocalizations For
Hummingbirds use their vocalizations for a variety of purposes.
Some of these include:
Communication between individuals
Territory defense
Mating and courtship displays
Alarm calls and warning signals
Do Hummingbirds Sing?
Yes, hummingbirds sing! They may not have a traditional song like birds such as robins or canaries, but they do produce a variety of vocalizations.
Some of these sounds are complex and melodious, while others are short and simple chirps or buzzes.
Hummingbird Vocalization Types And Meanings
Hummingbirds produce several different vocalization types that have different meanings.
Here are some examples:
Chirps: Short, high-pitched sounds that are often used in aggressive encounters between males.
Buzzes: Rapid, high-pitched sounds produced by the birds' wingbeats. These sounds are also used during competitive interactions.
Trills: A fast, rolling sound that is often heard during courtship displays by males.
Chips: A single, short chirp that is used as a contact call between birds.
Overall, hummingbird vocalizations are an important aspect of their behavior and play a crucial role in their social interactions with each other.
Whether it's defending their territory or attracting a mate, these tiny birds have a surprisingly diverse repertoire of sounds!
The Relationship Between Hummingbirds, Their Environment, And Sound
Hummingbirds are a fascinating and unique group of birds known for their aerial acrobatics and colorful feathers.
But did you know that hummingbirds also communicate through sound? In fact, hummingbirds are some of the most vocal birds in the world, producing a variety of different sounds to communicate with their environment and each other.
In this section, we'll explore the relationship between hummingbirds, their environment and sound.
How Hummingbirds Adapt To Their Environment To Communicate With Sound
Hummingbirds have developed a unique way of communicating with sound that allows them to adapt to their environment.
Here are some key points to consider about how hummingbirds use sound to communicate:
Hummingbirds produce several distinct vocalizations, including chirps, peeps, and trills.
These sounds are created by the vibration of the feathers or vocal cords, and can vary in pitch, tone, and duration.
Hummingbirds use sound to establish their territory, attract mates, and warn off predators.
Male hummingbirds will often perform elaborate aerial displays and singing to attract females.
The Natural Habitats And Ecological Factors That Affect Hummingbird Sounds
Hummingbirds are found in a variety of habitats across north and south america, including forests, grasslands, deserts, and coastal regions.
Environmental factors, such as altitude and temperature, can affect the sounds that hummingbirds produce.
Here are some key points to consider about the natural habitats and environmental factors that influence hummingbird sounds:
Some species of hummingbirds live at high altitudes, where the air is thinner and it's harder to produce sound.
Hummingbirds that live in colder regions may produce higher-pitched sounds to conserve energy and keep warm.
The type of flowers and insects in a hummingbird's diet can also affect the quality and tone of their vocalizations.
How Evolving Environments Affect Hummingbird Sounds Over Time
As environments change over time, so do the sounds that hummingbirds produce. Factors like climate change, habitat loss, and the introduction of new predators can all impact the way that hummingbirds communicate.
Here are some key points to consider about how evolving environments affect hummingbird sounds:
In some cases, hummingbird species may adapt their vocalizations to compete with other birds or to avoid predators.
Environmental factors like pollution, deforestation, and climate change can also affect the quality and volume of hummingbird sounds.
The introduction of new hummingbird species to an area can lead to competition for resources and changes in the soundscapes of that area.
Hummingbirds use sound to communicate with their environment and each other, adapting their vocalizations to suit their surroundings over time.
By understanding the relationship between hummingbirds and sound, we can appreciate the unique ways that these birds interact with their world.
How Sound Differs Between Hummingbird Species
What Sound Does Hummingbird Make?
Hummingbirds are remarkable creatures that have the ability to fly backwards, hover in place, and flap their wings up to 200 times per second.
However, their unique physical attributes are not the only impressive thing about hummingbirds. They also produce a range of distinct sounds that vary across species, age, gender, and even genetics.
Specific Hummingbird Species And Their Distinct Sounds
There are over 300 species of hummingbirds, and each has its own unique sound.
Here are some examples:
Rufous hummingbirds: Their sound is sharp and piercing, with a metallic quality to it. They make a distinct "chip" or "tick" sound when they are communicating with each other.
Anna's hummingbirds: Their sound is more musical and flute-like, with a series of chirps, whistles, and trills. They produce a unique "chee-dit" sound during courtship displays.
Ruby-throated hummingbirds: Their sound is more subdued and buzzy, with a rapid series of chirps and squeaks. They produce a distinct "tchew" sound during territorial disputes.
How Hummingbird Sounds Vary With Age And Gender
Hummingbirds are sexually dimorphic, meaning that males and females exhibit different physical traits. However, they also produce different sounds that vary with age and gender.
Here are some examples:
Male hummingbirds produce more complex and variable sounds than females, especially during courtship displays.
Juvenile hummingbirds produce simpler and less frequent sounds than adults, as they are still developing their vocal abilities.
Genetic Factors That Affect Hummingbird Vocalizations
Hummingbird vocalizations are not solely determined by their environment or behavior. Genetics also play a role in the sounds that hummingbirds produce.
Scientists have found that there are specific genes that are associated with vocal learning and development in birds, including hummingbirds.
Additionally, different populations of the same species may have slight variations in their vocalizations due to genetic differences.
Hummingbirds are masters of sound production, with distinct vocalizations that vary across species, age, gender, and even genetics.
Their sounds are yet another fascinating aspect of these remarkable creatures that continue to captivate and amaze us with their abilities.
FAQ About What Sound Does Hummingbird Make
What Is The Hummingbird Sound Like?
Hummingbirds make a high-pitched buzzing sound with their wings, similar to bees.
Do All Hummingbirds Make The Same Sound?
Different species of hummingbirds produce different sounds, including chirps, tweets, and whistles.
How Far Away Can You Hear A Hummingbird?
The sound of hummingbird wings flapping can be heard up to 40 feet away.
Why Do Hummingbirds Make Sound?
Male hummingbirds use their sound to attract female hummingbirds as part of their mating ritual.
Can You Imitate A Hummingbird Sound?
Yes, you can mimic a hummingbird sound by cupping your hands and making a fast flapping motion.
Conclusion
As we have learned, despite their small size, hummingbirds are powerful creatures known for their signature sound.
Whether you hear a high-pitched buzz or a soft hum, the hummingbird's unique wing sound is the result of their rapid wing beats per second.
The sound can be different based on factors such as size, speed, and type of wing stroke, but it never fails to exhibit their agility and vibrancy.
Hummingbirds also make vocalizations, producing chirping or chattering noises that are audible and distinct.
Studying their sounds and behaviors can help us appreciate their place in our ecosystems and protect their habitats.
Overall, learning more about the hummingbird's sound not only provides us with a fascinating insight into nature but also serves as a testament to the magnificent creatures that inhabit our world.