Do Hummingbirds Abandon Their Nests? No!
No, hummingbirds do not abandon their nests unless they sense danger or disturbance.
Hummingbirds are extremely dedicated parents and will not easily abandon their nests.
However, if they perceive any threats or disturbances in the surrounding environment, they might choose to leave in order to protect themselves and their offspring.
Additionally, once the nesting period is over and the chicks have fledged, they will naturally leave the nest.
Hummingbirds are dedicated parents and do not easily abandon their nests.
They may leave their nest if they feel threatened or disturbed.
A hummingbird's nesting period generally lasts between 15 to 18 days.
The female hummingbird is the one responsible for nest-building, incubation, and chick-rearing.
Hummingbirds show great dedication to their nests, ensuring they are well-constructed and inconspicuous to predators.
They are known to use a variety of materials, such as spider silk, plant fibers, and lichen, to build their tiny cup-shaped nests.
The female hummingbird takes the primary role in nest-building and child-rearing while the males focus on defending their territory.
Once the chicks have fledged, they will leave the nest and begin their life independently, allowing the parent hummingbirds to move on to their next nesting endeavor.
 Facts & Situation Why Hummingbirds Abandon Their Nests
| Situation | Do Hummingbirds Abandon Their Nests? |
| --- | --- |
| Nest disturbance | Yes, if the nest is disturbed too frequently or severely |
| Predators | Yes, if predators are a constant threat or the nest is damaged |
| Weather damage | Yes, if the nest is severely damaged by weather events |
| Human intervention | Yes, if humans are interfering or damaging the nest |
| Failed nesting attempt | Yes, if eggs do not hatch or chicks die early, they may abandon and rebuild elsewhere |
| Migration | Yes, after breeding season, they'll abandon the nest to migrate |
 Facts & Situation Why Hummingbirds Abandon Their Nests
Key Takeaway
Hummingbirds are meticulous nest builders and choose their nesting location with great care.
A variety of factors can cause them to abandon their nests, including disturbances, bad weather, and predators.
In some cases, if the nest is destroyed or abandoned, the mother hummingbird might build a new nest nearby and continue raising her offspring.
Raising awareness of hummingbird habitats can help protect their nesting sites and ensure the survival of their populations.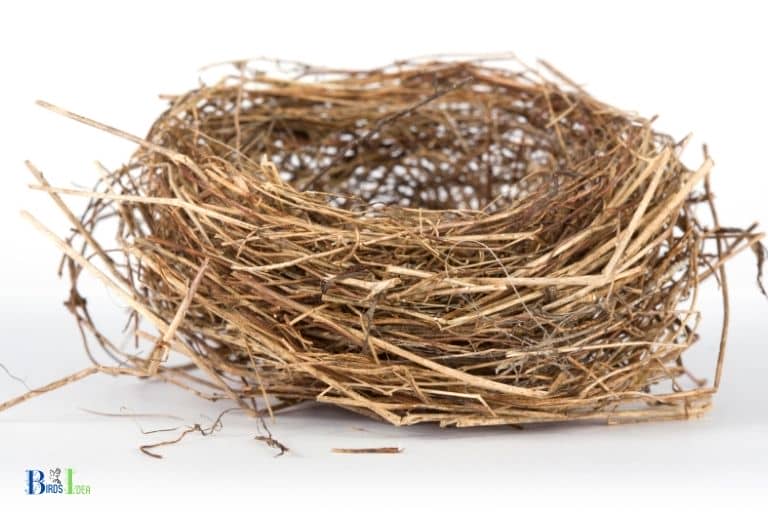 Five Facts About Hummingbird Nests
Hummingbirds typically build their nests on the branches of trees or shrubs and camouflage them well with various materials. (Source: Audubon Society).
These small birds can be skittish when it comes to disturbances, so any consistent noise or presence of humans or pets can cause them to abandon their nest. (Source: Wild Birds Unlimited)
Harsh weather conditions, such as heavy rains or strong winds, can damage or destroy hummingbird nests, forcing them to abandon or relocate their residence. (Source: Bird Watching HQ)
Predators such as snakes, squirrels, and other birds can pose a significant threat to hummingbird nests, resulting in abandonment or loss of eggs and chicks. (Source: BirdNote)
To help protect hummingbirds and their nests, it is essential to avoid using chemicals in gardens, provide natural food sources, and minimize disturbances in their habitat. (Source: Audubon Society)
The Intriguing World Of Hummingbird Nesting
Hummingbirds are fascinating creatures, known for their beauty and agility. However, what's even more interesting is their nesting behavior.
In this section, we will explore the world of hummingbird nesting and provide you with a quick overview of the birds.
Quick Overview Of Hummingbirds
Hummingbirds are the smallest birds in the world, with sizes ranging from 2 to 8 cm.
They are known for their unique flying abilities, such as hovering in place and flying upside down.
Hummingbirds have a high metabolism, which allows them to flit around and burn energy quickly.
These birds live in north and south america, with the most common species being the ruby-throated hummingbird.
Their diet consists mainly of nectar, but they also eat insects and tree sap.
Female Hummingbirds And Nesting Behavior
Only female hummingbirds build nests.
They usually construct them in hidden places such as tree branches, near the ground, or even on wires.
The nests are very small, about the size of a golf ball, and take up to eight days to complete.
The materials used for the nests include soft plant fibers, spider webs, and lichen, which help camouflage the nest from predators.
Female hummingbirds lay one to three eggs, with incubation lasting around two weeks.
Once hatched, the chicks grow rapidly and are ready to fly in about three weeks.
Significance Of Hummingbird Nests
Hummingbird nests are significant for several reasons.
They provide a safe place for the eggs to develop, away from predators.
They are also important for the survival and reproduction of the species.
By building nests, the female hummingbirds contribute to the population growth of these beautiful creatures.
Observing hummingbirds in their nests can be an enjoyable and educational activity for all ages.
The world of hummingbird nesting is an intriguing subject. The quick overview of hummingbirds, female nesting behaviors, and the significance of the nests provide a better understanding of these unique creatures.
Reasons Why Hummingbirds May Abandon Their Nests
Hummingbirds' nests are known for their uniqueness. These tiny birds construct intricate nests with remarkable precision and attention to detail.
However, have you ever wondered if these nests, once built, are permanent homes for hummingbirds? Do hummingbirds abandon their nests?
In this blog post, we will explore the reasons that may lead to nest abandonment by hummingbirds.
Natural Causes Of Nest Abandonment
Hummingbirds are sensitive to their environment, and various natural causes may lead to nest abandonment.
Here are some of the key points:
Predators: Predators such as ants, snakes, and squirrels can threaten hummingbird eggs and chicks. Hummingbirds may abandon their nests to protect themselves and their young.
Weather: Extreme weather conditions can destroy hummingbird nests altogether. High winds, heavy rain, and hail can damage the nest, and the hummingbirds may abandon it to seek shelter elsewhere.
Disease: Hummingbirds are susceptible to various diseases, and if the nest is infected, they may leave to stop the spread of disease.
Human-Caused Nest Abandonment
Human activities can also contribute to nest abandonment by hummingbirds.
Here are some of the key points:
Disturbance: Hummingbirds' nests are hidden in trees, and people may accidentally disturb them while pruning trees or gardening. The disturbance can cause hummingbirds to abandon the nest and search for a safer location.
Pesticides: The use of pesticides in the garden can inadvertently harm hummingbirds, leading to nest abandonment. The chemicals in the pesticides can also contaminate their food sources.
Habitat loss: As humans expand their territory, hummingbirds' natural habitats are shrinking. Encroachment by humans may force hummingbirds to abandon their nests and seek shelter elsewhere.
Hummingbirds may abandon their nests due to natural or human-induced causes. It is essential to be aware of these factors and take measures to protect hummingbirds and their nests.
By understanding the reasons behind nest abandonment, we can better appreciate and support these amazing birds.
Knowledge And Skills Required To Study Hummingbird Nesting
Hummingbirds are truly remarkable creatures that can perform incredible feats. With their unique characteristics and seemingly magical abilities, hummingbirds are creatures that many people find fascinating.
One of the most interesting aspects of hummingbirds is their nests. These tiny birds build nests that are intricate and beautiful.
However, studying hummingbird nesting is not an easy task. So, let's delve into the knowledge and skills required to study hummingbird nesting.
Techniques For Hummingbird Nest Observation
Hummingbirds are little birds that are difficult to observe continually. They are delicate creatures, and their nests are often too small to identify. So, observing hummingbird nests requires unique techniques.
Here are some methods for hummingbird nest observation:
Use binoculars to observe hummingbirds from a safe distance
Use a spotting scope to get a closer view of the birds
Place a hidden camera or other recording device near the nest
Wear camouflage clothing or use a disguise to blend in with the surrounding environment
Knowledge Of Hummingbird Nesting Biology
Studying hummingbird nesting also requires understanding the biology of these creatures. You must know that hummingbirds are territorial and will defend their nests vigorously. Therefore, it is crucial to keep a safe distance to prevent disturbing the birds or damaging their nests.
Here are some key points to keep in mind when studying hummingbird nesting biology:
Understand hummingbird behavior and characteristics
Identify different species of hummingbirds and their nesting habits
Recognize the best times of the year for hummingbird nest observation
Learn the basics of hummingbird breeding and nesting
Recording And Collecting Data
Recording and collecting data accurately is essential for any scientific study. It's no different when studying hummingbird nesting. You'll need to use a standardized sheet or form to record data, such as nest location, date, time of day, weather conditions, and observations.
Here are some essential points to keep in mind when recording and collecting data:
Take photographs or videos of the nests and hummingbirds to document their activity
Use gps tracking devices to pinpoint the location of the nests
Collect and analyze data over time to track changes in hummingbird nesting behavior
Studying hummingbird nesting is an exciting yet challenging task that requires a lot of patience and practice.
However, with the right knowledge, skills, and techniques, observing hummingbird nests and collecting data is a satisfying experience that contributes to the greater understanding of these fascinating creatures.
The Implications Of Nest Abandonment On Hummingbird Conservation
Hummingbirds are one of the most fascinating and charismatic bird species, known for their small size and incredible flying ability. These birds are also known to be loyal to their nests, often returning to the same place year after year.
However, there are times when hummingbirds can abandon their nests. This may happen due to various reasons, such as predation, human disturbance, habitat loss, or disease.
In this section of the blog post, we'll discuss the impact of nest loss on hummingbird populations and provide some best practices for preventing nest abandonment.
Impact Of Nest Loss On Hummingbird Populations
Nest loss can have a significant impact on hummingbird populations.
Here are some of the key points to consider:
Nest abandonment can lead to a decrease in the number of young hummingbirds that survive to adulthood.
Hummingbirds that lose their nests may have to spend extra energy and time searching for a new nesting site, which can be a daunting task.
Nest loss can lead to a decrease in overall hummingbird population size, which in turn can have a cascading effect on the ecosystem.
Best Practices For Preventing Nest Abandonment
As hummingbirds face increasing threats to their habitats, it's more important than ever to take steps to help protect their nests.
Here are some best practices for preventing nest abandonment:
When observing hummingbirds, keep a safe distance from their nests to avoid disturbing them.
If you're planning to install feeders, make sure that they're placed in an area where hummingbirds can easily access them without being disturbed.
Create a hummingbird-friendly habitat by planting flowers and shrubs that provide food and cover for these birds.
If you find a hummingbird nest, avoid getting too close to it or touching it. Hummingbird parents are very protective of their nests, and any disturbance can cause them to abandon it.
By following these best practices, we can help ensure that hummingbirds have a safe and comfortable environment to raise their young. This, in turn, can help to conserve these incredible bird species for generations to come.
FAQ On Hummingbird Nest Abandonment
How Often Do Hummingbirds Abandon Their Nests?
Hummingbirds abandon their nests infrequently, only when facing a threatening situation or egg/ chick mortality.
What Are The Reasons For Hummingbirds To Abandon Their Nests?
Hummingbirds abandon their nests due to predators, nest infestations, unsuccessful hatching, or when threatened.
Will Checking Or Disturbing Hummingbird Nests Cause Them To Abandon It?
Hummingbirds seldom abandon their nest due to human interferences, unless the disturbance is frequent and alarming.
Do Hummingbirds Come Back To Their Abandoned Nests?
Hummingbirds do not repair or reuse their abandoned nests, but may revisit for nesting or roosting purposes.
How Can We Prevent Hummingbirds From Abandoning Their Nests?
We can protect hummingbird nests, avoid making noise or touching their nests, discourage predators, or remove parasitic infestations.
Conclusion
Hummingbirds are fascinating creatures that leave us in awe of their natural abilities to fly, feed and breed. The question of whether or not hummingbirds abandon their nests is one that has puzzled many bird watchers and nature enthusiasts for years.
As we have discussed throughout this article, there are various reasons why hummingbirds may leave their nests, ranging from predation to human interference. However, it's important to understand that even though hummingbirds abandon their nests, they will usually build new ones and move on with their lives.
As conscious bird watchers, it's important for us to respect these creatures and their natural habitat. By providing a suitable environment for these birds, we can help ensure their survival and continue to marvel at their amazing abilities for generations to come.