What Type of Sugar for Hummingbirds: White Granulated
The best type of sugar to use for hummingbirds is plain white granulated sugar.
Plain white granulated sugar is the closest alternative to natural nectar, which hummingbirds feed on in the wild. It's safe for them and easy to digest.
You should avoid using honey, brown sugar, or other types of sugar as they can cause fungal growth and harm the birds..
White granulated sugar is the best sugar to use when feeding hummingbirds
Hummingbirds should be given a solution of four parts water to one part sugar
This mixture is a safe and healthful sweetener for hummingbirds
This sugar mixture is easy to make and a reliable source of nutrition for hummingbirds
Hummingbirds benefit from a sugar water solution, which helps them to maintain health and to fuel the intense amounts of energy they need to survive.
The simple recipe of four parts water and one part white granulated sugar can provide them with the required nutrition they need.
7 Types of Sugar Used for Hummingbird Feeding
| | | |
| --- | --- | --- |
| Type of Sugar | Safe For Hummingbirds? | Additional Notes |
| White Granulated Sugar | Yes | This is the safest type of sugar to use. Always dissolve it in water |
| Raw Sugar | No | Contains iron, which can be harmful to hummingbirds |
| Brown Sugar | No | Contains molasses, which can be harmful to hummingbirds |
| Honey | No | Can cause lethal fungus infections in hummingbirds |
| Organic Sugar | No | It often has a high iron content, which can be harmful to hummingbirds |
| Red Food Coloring | No | It's unnecessary and could be harmful to hummingbirds |
| Artificial Sweeteners | No | They provide no nutritional value and could be harmful to hummingbirds |
7 Types of Sugar Used for Hummingbird Feeding
Key Takeaway
Plain, white granulated cane sugar is the best type of sugar to use for hummingbirds.
Creating a homemade nectar solution using this plain cane sugar appropriately simulates the natural nectar that hummingbirds find in flowers.
It's crucial to avoid artificial sweeteners, honey, or colored sugars as these can cause harm to the birds.
A proportion of 1 part sugar to 4 parts water is generally accepted as the best ratio for the hummingbird's diet.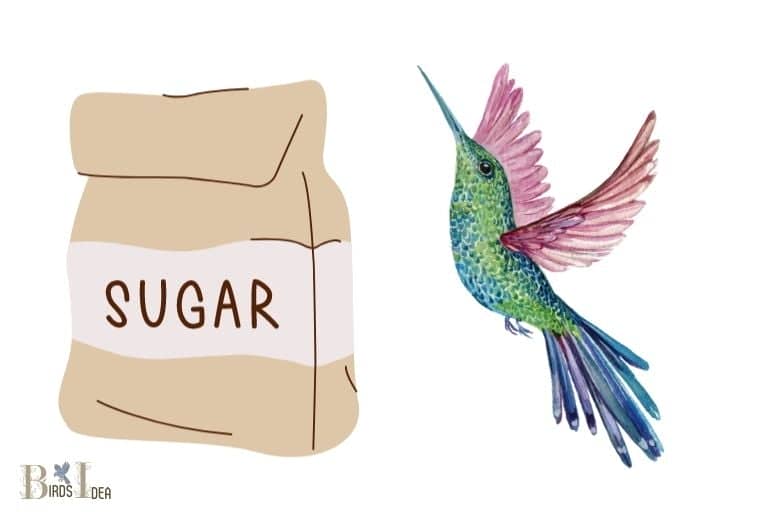 Five Facts About: Sugar for Hummingbirds
The natural diet of a hummingbird is rich in sugar because they feed on flower nectar, which is high in sugar. The ideal sugar for creating their feed at home is plain, white sugar. (Source: Bird Watcher's Digest)
Use of honey, artificial sweeteners, or sugar substitutes can be harmful to hummingbirds as they do not provide the necessary energy and can even promote dangerous fungal growth. (Source: The Spruce)
It's not recommended to use red-dyed nectar in your hummingbird feeder. Natural nectar produced by plants isn't red, and the dye can lead to health problems. (Source: Audubon Society)
Plain, white granulated sugar to water ratio for hummingbird nectar is typically 1:4. This mimics the average sucrose content (21%) in many of the hummingbird's favorite flowers. (Source: Hummingbird Central)
The feeders also need to be regularly cleaned and refilled with fresh sugar solution to avoid the growth of mold and yeast, which can cause lethal fungal infections in these tiny birds. (Source: The Spruce)
DID YOU KNOW
Hummingbirds need to consume around one-third of their body weight in nectar each day to maintain their health and energy levels.
What Type of Sugar Hummingbirds Consume
Hummingbirds primarily drink nectar, which is a mixture of sucrose, fructose, and glucose in a simple sugar form. Other than nectar, hummingbirds also consume insects and spider webs as a source of necessary proteins.
Insects also provide essential vitamins, which help feed their diet. Additionally, Hummingbirds will consume mineralized ledges of salts, tree sap, and many other sweet & nutritious foods.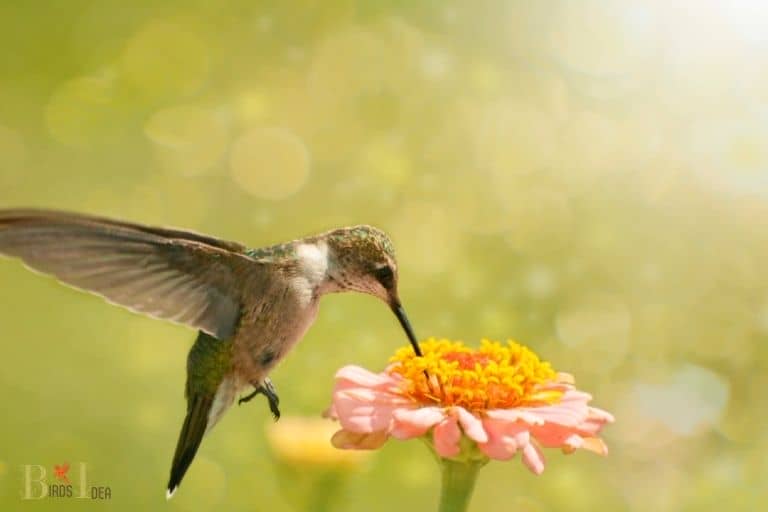 List of Items Hummingbirds Consume:
Nectar – Mixture of simple sugar sucrose, fructose, and glucose.
Insects – Provide proteins & vitamins necessary for their diet.
Spider Webs – Essential proteins.
Mineralized Salts – found in ledges and bath pools.
What Is the Best Sugar Solution for Hummingbirds?
The best sugar solution for hummingbirds is a simple one part white granulated sugar to four parts water mixture.
Boil the mixture and let it cool before offering it to the hummingbirds. Remember to keep feeders clean and full at all times.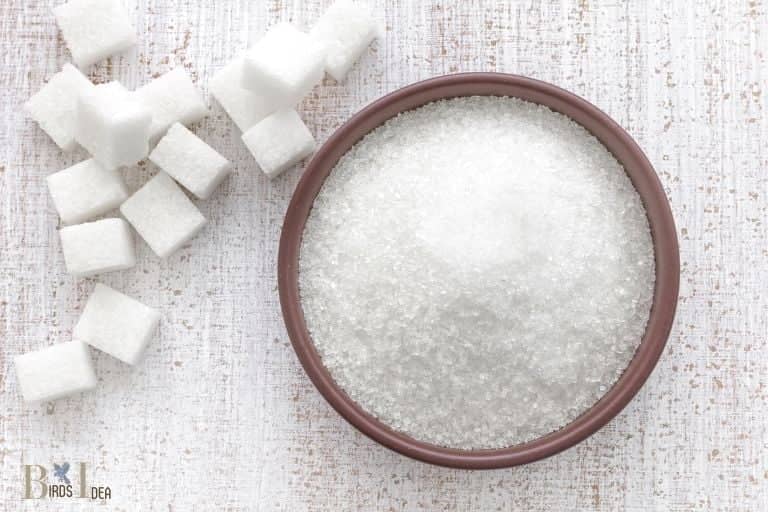 Here are five things to consider when making hummingbird sugar solution:
Boil the solution: Boiling the solution helps to not only sterilize the mixture, but also helps to make the sugar dissolve faster.
Use white granulated sugar: It is important to use white sugar when preparing hummingbird sugar solution. Other types of sugar, such as brown sugar may contain molasses and other additives that can be harmful to hummingbirds.
Use non-chlorinated water: Chlorine in tap water can be harmful to hummingbirds, so use filtered or spring water for the sugar solution.
Use an equal sugar to water ratio: Maintaining a consistent ratio of white sugar to water will help to provide enough energy and hydration for hummingbirds.
Don't use honey: While honey seems like an all-natural alternative, it is not good for hummingbirds because they are not able to digest it in the same way as they can digest sugar.
What Ingredients Are Needed to Make a Hummingbird Sugar Solution?
Making a hummingbird sugar solution is simple and easy to do at home.
In order to make a hummingbird sugar solution the following ingredients are needed: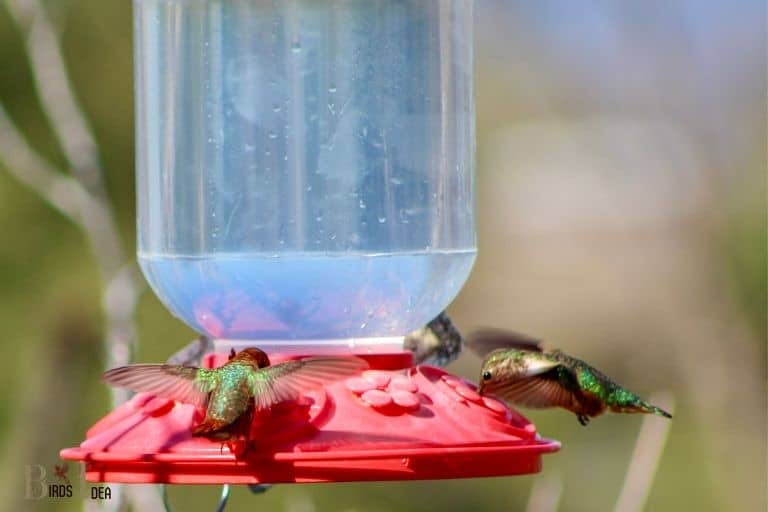 White granulated sugar
Boiled water
Natural food coloring (optional)
Start with one cup of granulated white sugar, add four cups of boiled or distilled water, stir until all of the sugar is dissolved.
For a more colorful solution, you may add a drop or two of natural food coloring. Once the mixture is complete, let cool and use within a few days.
Keep the solution out of direct sunlight and store any unused portion in the refrigerator.
How Often Should Hummingbirds Be Fed?
Hummingbirds should be fed regularly and have a predictable pattern of food availability. They need to be fed throughout the day and often several times during peak hunger hours.
A good rule of thumb is to feed hummingbirds every 2-3 hours from dawn to dusk.
Some of the factors to consider when feeding hummingbirds include season, type of feeder, nectar and water level, and environmental conditions.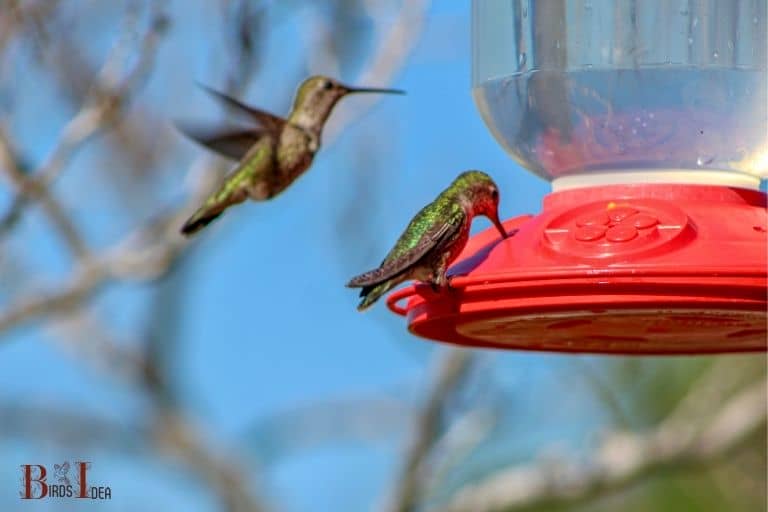 Type of Feeder: Feeders should be designed to be easy for the hummingbirds to feed from, and it is important to check the feeder often for hygiene and freshness.
Nectar: Provide a homemade nectar of 1 part sugar to 4 parts water to ensure that hummingbirds are getting enough nutrition.
Water Level: Hummingbirds require access to water to both drink and bathe in, so it's important to keep this clean and refreshed.
Season: During the winter months, a hummingbird will require additional food. Consider adding more sugared water, fat-based foods, and sugar substitutes in order to keep the hummingbirds well-fed.
How Do I Know When There are Hummingbirds in My Area?
Knowing when and where hummingbirds are present in any given area can be a tricky endeavor due to their highly mobile and migratory nature. However, there are a few signs that indicate their presence.
These include: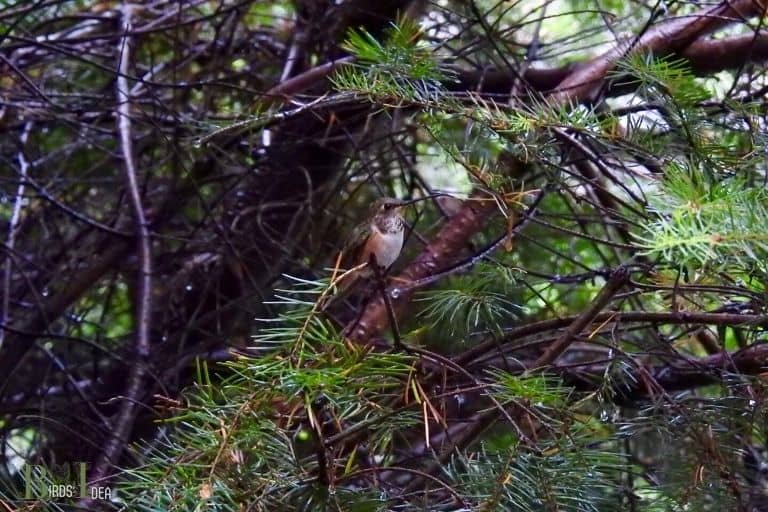 Hummingbird feeders – providing a sugar water solution in a feeder is one of the best ways to attract hummingbirds
Flowering plants – their brightly colored flowers provide an inviting food source for hummingbirds
Areas with trees – they need areas with trees, shrubs, and other vegetation to find food and nesting spots
Are There Any Risks in Feeding Hummingbirds?
There are some risks associated with feeding hummingbirds, including attracting predators or insects, as well as potential changes in health and behavior.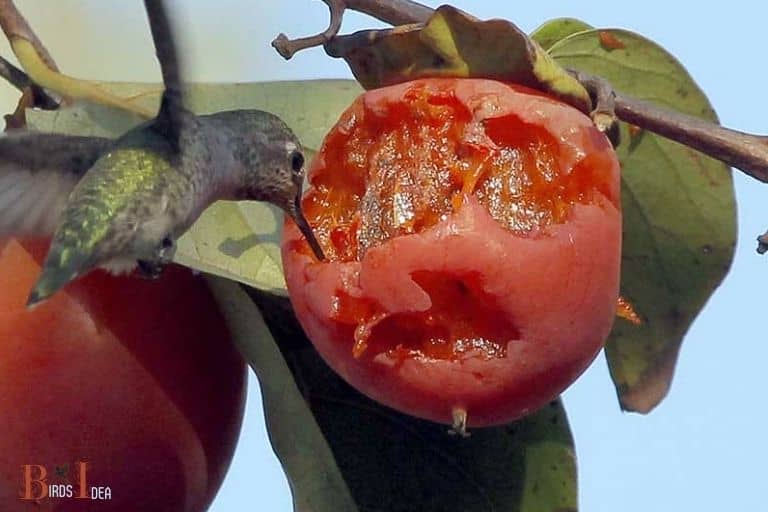 Hummingbirds may become accustomed to humans and put themselves in danger.
Over-sweetened nectar or unclean feeders can cause health problems.
Feral ants and other aggressive insects can be attracted to feeders.
Stings and infections can occur if hummingbird feeders don't have a proper perch.
Adding food coloring or artificial sweeteners to nectar can harm hummingbirds.
Mice, cats and other wildlife can be drawn to feeders and pose a threat to hummingbirds.
Poor quality nectar can cause nutritional deficiencies and disease.
Setting up a feeder too close to window may cause collisions and injuries.
Sugar water can attract out of season and migrating hummingbirds, deterring them from going south.
Hummingbirds can be fed safely and responsibly by keeping feeders clean, using only sugar water and avoiding the use of additives. Natural nesting materials should also be provided nearby, to give them a place to rest and build their homes.
Are There Other Foods Hummingbirds Enjoy?
Hummingbirds have a highly specialized diet that includes nectar from flowers and small insects. Although they are mainly nectarivorous, they also enjoy a variety of other foods.
Here are some other treats that hummingbirds may enjoy: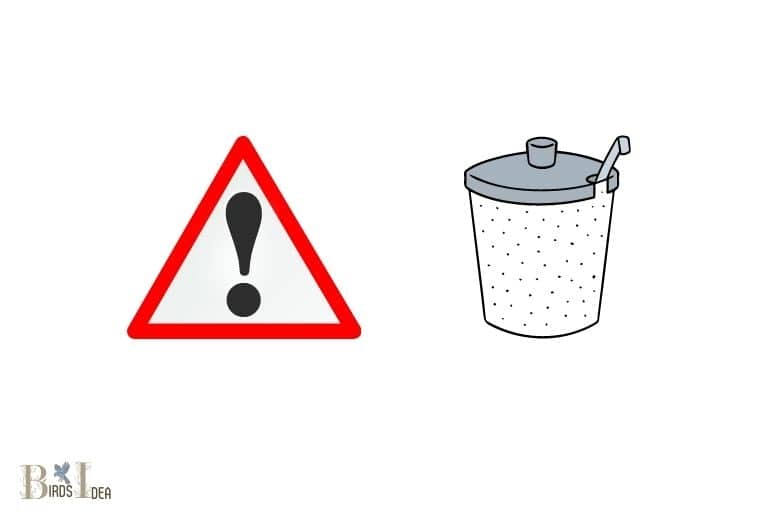 Hummingbird nectar: Homemade hummingbird nectar made from boiling and cooling table sugar mixed with water is a favorite treat for these birds.
Soft fruits: Soft fruits, such as bananas, pears, and grapes, are favorites for hummingbirds. Cut up the fruits into small pieces and watch the birds come to enjoy the sweet treat.
Insects: Hummingbirds feed on a variety of small insects, such as spiders, aphids, and moscitos.
Mealworms: Mealworms are another favorite food of hummingbirds and are often used to attracted them to feeders.
Natural nectar sources: Naturally occurring nectar sources such as honeysuckle, columbine, and penstemon are great for hummingbirds to enjoy.
Sugary syrups: Hummingbirds will often visit bird baths and backyard pool specifically for sugary syrups.
Nutrient-rich jelly: Nutrient-rich jelly, made from boiling and chopping mulberry fruits, is also a welcome treat for hummingbirds.
Protein-rich insects: Protein-rich foods such as flies and midges are another favorite of hummingbirds.
FAQ of What Type Of Sugar For Hummingbirds
What type of sugar should I use to feed hummingbirds?
Hummingbirds are attracted to sugar water and you should use a mix of 4 parts water to 1 part sugar. It's best to use regular granulated sugar as opposed to artificial sweeteners, honey, or other types of sugar.
Are there any health benefits to feeding hummingbirds sugar water?
Yes, hummingbirds consume sugar water as a source of energy, which helps them to sustain their active lifestyles and feed their young.
Is it safe to feed hummingbirds sugar water?
Yes, providing sugar water as a supplement to the natural sources of nectar, such as flowers and woodland habitats, is safe.
Is there an ideal temperature for the sugar water I give to hummingbirds?
For safety reasons it's best to serve the sugar water at room temperature or slightly cool. Avoid giving them sugar water that is hot or cold.
How often should I feed sugar water to hummingbirds?
Frequency of feeding depends on the availability of natural nectar sources. During summer months it's recommended to replace the sugar water every
Conclusion
Hummingbirds require a reliable and healthful source of nutrition.
White granulated sugar mixed with water in a ratio of four parts water to one part sugar, is an easy-to-make solution that is beneficial for hummingbirds and can help them to maintain their health and energy.