What Flowers Attract Hummingbirds And Butterflies
Flowers that attract hummingbirds and butterflies include Salvia, Flowers in the genus Lantana, Trumpet Creeper, Scarlet Sage, Verbena, Columbine, Foxglove, and Tiger Lily.
These flowers offer a special low-calorie treat for flying creatures, since they contain high concentrations of nectar and often boast brightly-colored petals.
Salvia: Hummingbirds and butterflies love Salvia due to its sweet fragrance, color, and size.
Lantana: Lantana flowers come in a variety of vibrant colors that attract both hummingbirds and butterflies.
Trumpet Creeper: Trumpet Creeper is a very sweet and fragrant climbing flower that blooms in mid-summer, making it a hummingbirds and butterflies favorite.
Scarlet Sage: The scarlet sage is a flowering shrub with clusters of tiny, brightly-colored petals that attract many different species of hummingbirds and butterflies.
These flowers are used to attract hummingbirds and butterflies to gardens. They provide these flying creatures with a naturally sweet and sugar-filled treat, allowing them to flourish and thrive in their environments.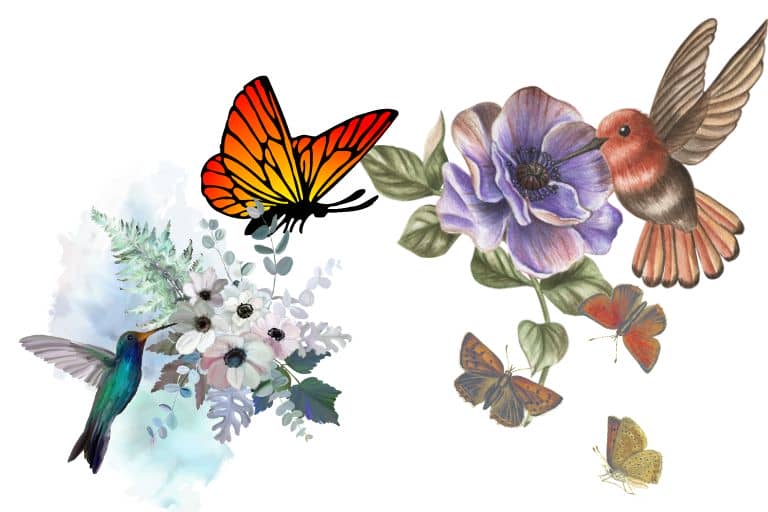 DID YOU KNOW
Over 187 species of butterflies are found in North America.
Types of Flowers that Attract Butterflies
Types of flowers that attract butterflies include Oregano, Marigold, Asters, Tiger's Eye, Purple Coneflower, Lavender, Buddleia or Butterfly Bush, Dandelion, Zinnia, and Verbena.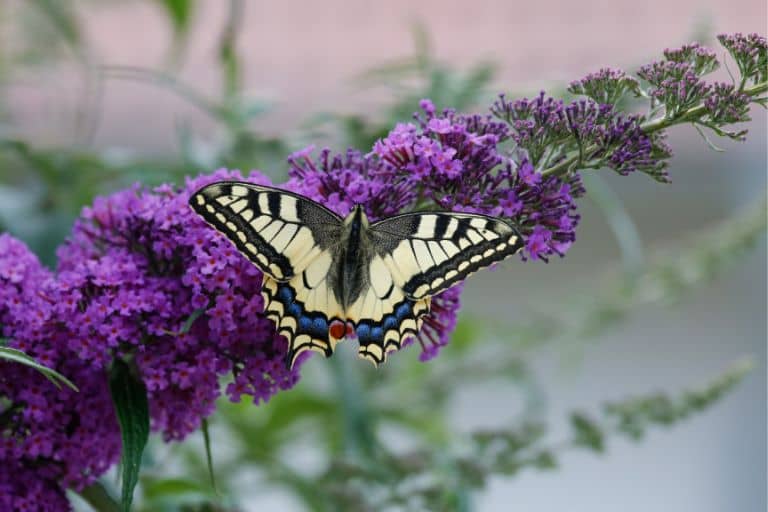 Oregano: Oregano is an herb that is native to the Mediterranean and produces white clusters of flowers. Butterflies love it for the nectar and for the little spots it provides for resting.
Marigold: These bright orange and yellow flowers not only add vibrant color to any garden but are an excellent source of nectar for butterflies.
Asters: Asters are white and come in a range of colors, making them great for adding color to the garden. Butterflies love them both for their color and their nectar.
Tiger's Eye: This plant is a great choice for attracting butterflies because it produces clusters of orange and copper flowers.
Purple Coneflower: This flower is an excellent nectar-producing wildflower that butterflies love. It comes in a range of colors and can be an excellent addition to a butterfly garden.
Lavender: Lavender is a fragrant flower that produces a purple or white flower. It attracts not only butterflies but bees and hummingbirds as well.
Buddleia or Butterfly Bush: This bush is known for its large clusters of flowers that attract butterflies. It comes in
The Benefits of Attracting Hummingbirds and Butterflies
Attracting hummingbirds and butterflies to a garden or backyard can be a joyous experience. It also provides a number of environmental and health benefits, including: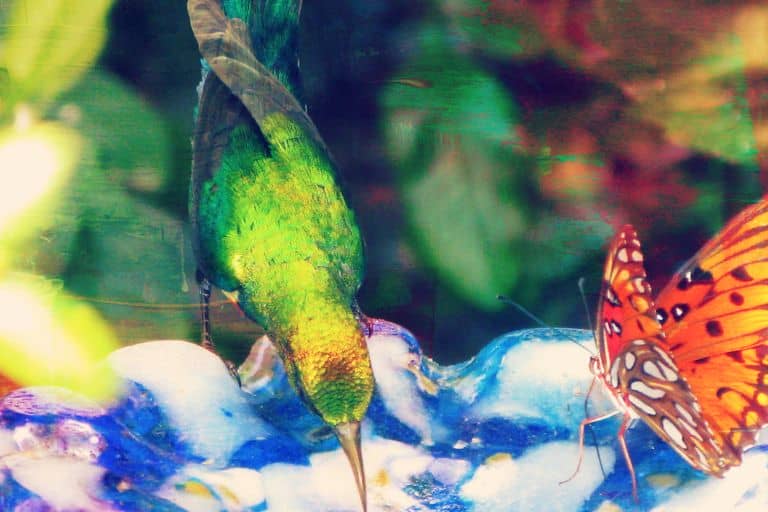 1. Pollination: Pollination is an essential process that helps plants, flowers, shrubs, and trees reproduce.

Hummingbirds and butterflies play a vital role in many species of plants' reproductive cycle by helping move pollen between the male and female parts.
2. Aesthetic Appeal:
The sight of hummingbirds and butterflies flitting around colorful flowers can be a sight to behold. Liven up any garden space with the addition of
lively hummingbirds
and butterflies.
3. Reduce Insect Pests: Hummingbirds and butterflies consume vast amounts of insects such as aphids, mosquitoes, and other small insects that can harm garden plants.

The presence of these nectar-eating creatures will help keep insect pest populations in check.
4. Produce Biodiversity: The presence of hummingbirds and butterflies adds to the garden's natural biodiversity and creates a pleasant, healthy habitat for all involved.
5. Better Air Quality:
Nectar-producing plants, such as flowers, help purify the air.
Attracting hummingbirds
and butterflies helps the production of nectar and blooms, which in turn helps clean the garden environment.
6. Improve Mental Health: As we enjoy the presence of these beautiful creatures, our mental health improves. Watching hummingbirds and butterflies fl
What Colors Do Hummingbirds and Butterflies Prefer?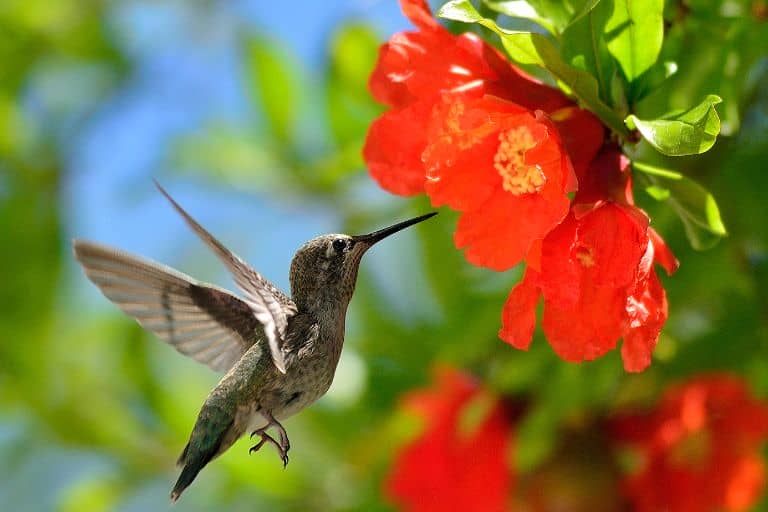 Hummingbirds and butterflies are both attracted to bright, vibrant colors like red, yellow, and orange. They also like pink, purple and blue shades.
Hummingbirds are also attracted to ultraviolet shades of colors as well, whereas butterflies prefer light pastel colors.
They also prefer clustered flowers, as they are easier to spot from their perches in the air. For example, a mass of bright yellow daisies can attract both hummingbirds and butterflies.
How to Attract Hummingbirds and Butterflies
Attracting hummingbirds and butterflies requires providing food, water, shelter, and a place to lay eggs. Here are five strategies to attract them: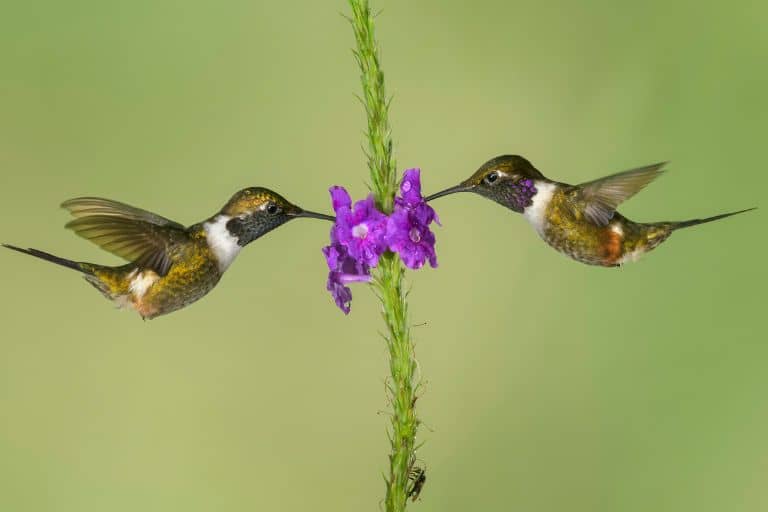 Plant flower-rich nectar gardens: Flowers provide nectar for hummingbirds and butterflies to feed on. Plant a variety of native, brightly colored, and long-blooming flowers like lilies, columbines, and cosmos, which can provide nectar for months.
Provide sugary water or nectar for hummingbirds: You can purchase a hummingbird feeder or make your own with a simple sugar solution.

Mix one part white sugar and four parts boiling water and wait for it to cool. Refill the feeder and clean it regularly, as the sugar solution can spoil.
Allow puddling areas to form: Butterflies and hummingbirds will linger in the shallow water of puddles. Let the puddles form naturally and consider adding a few larger rocks to increase the depth and size of the puddles.
Provide shelter: Place structures like brush piles and bird boxes in your garden. Hummingbirds may also take shelter in overgrown shrubs and other vegetation to rest.
Installing a water fountain or waterfall: Moving water is attractive to hummingbirds and butterflies and across their range, they depend on it for drinking and cleaning. Installing a water fountain or waterfall is sure to attract hummingbirds and butterflies.
What Other Types of Attractants Can Be Used?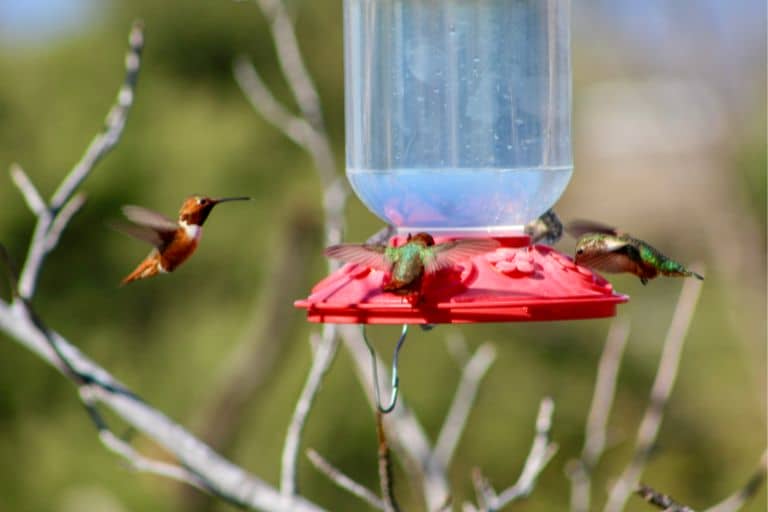 There are many different types of attractants that can be used to draw hummingbirds.
These include flowering plants, hummingbird feeders, hanging baskets and feeders, hummingbird baths, and artificial nectar.
Flowering plants should be chosen based on the species of hummingbird one wishes to attract, as not all flowering plants provide a food source for every hummingbird species.
Hummingbird feeders should be cleaned regularly, as a dirty feeder may deliver contaminated food and put the hummingbird's health at risk.
Hanging baskets and feeders can provide quick access to nectar and can be hung in locations that hummingbirds can easily find.
Hummingbird baths can help provide birds with a place to take a refreshing splash, and artificial nectar can be used to supplement a poor flower season.
All of these attractants can be used to draw hummingbirds to one's garden.
How Often Should Flowers Be Replaced?
The frequency of replacing flowers will depend on the type of flower and its environment. Generally, cut flowers should be replaced every 4-7 days, while potted flowers may stay in bloom longer.
To prolong the life of flowers, it is best to keep them in a cool location away from direct sunlight, in an area with the right humidity, and out of drafts.
Additionally, keep fresh water in the vase and regularly refresh it to keep the blossoms looking vibrant. Here are some tips for making flowers last longer: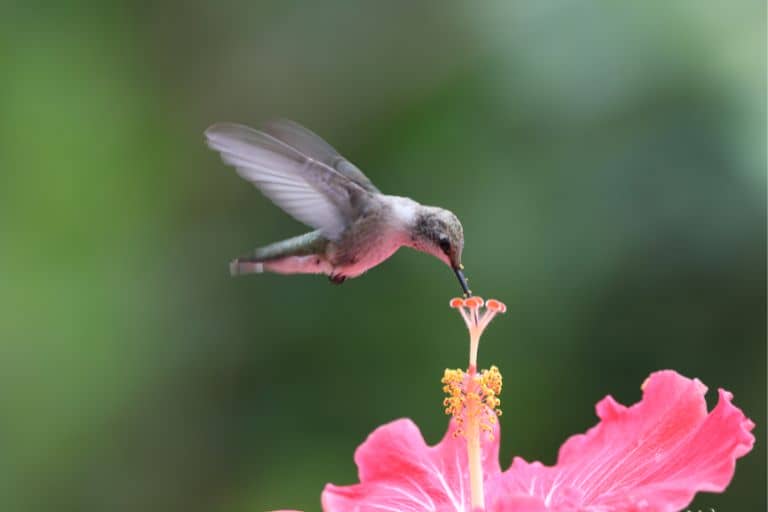 Remove any foliage from the stem as it will suck the nutrients from the water
Trim the stem at an angle to ensure that it has the best uptake of water
Add flower food to the water to provide extra nutrients
Change the water regularly and trim the stems daily
Check for dead or dying flowers and remove them from the arrangement
Avoid extreme temperatures and direct sunlight
Keep flowers away from ripening fruits or vegetables as this will release natural gases that can speed up the fading of the blossoms.
FAQ
What type of flowers attract hummingbirds and butterflies?
Hummingbird and butterfly attractants include non-messy annuals and perennials such as impatiens, petunias, foxglove, butterfly bush, and coneflower.
Are there any specific colors of flowers that attract hummingbirds and butterflies?
Yes. Hummingbirds tend to be more attracted to bright, red flowers while butterflies generally prefer bright, pastel colors such as pink, purple, yellow, and orange.
Do hummingbirds and butterflies prefer certain shapes or sizes of flowers?
Hummingbirds favor long, tubular, or trumpet-shaped flowers, while butterflies tend to prefer flat, open-faced blooms. They also tend to look for flowers that have plenty of nectar and are the right size for their bodies
What type of plants attract both hummingbirds and butterflies?
A variety of plants attract both hummingbirds and butterflies, including hibiscus, zinnia, bee balm, and buddleia.
Conclusion
Flowers like Salvia, Lantana, Trumpet Creeper, Scarlet Sage, Verbena, Columbine, Foxglove, and Tiger Lily are a great way to attract both hummingbirds and butterflies to a garden.
Not only do they offer a low-calorie treat, but they also provide bright colors and sweet scents that will delight the senses.