When to Take Down Hummingbird Feeders? Tips & Factors!
Hummingbird feeders should ideally be taken down after the first hard frost in fall or when you haven't observed any hummingbirds for about a week or two.
This usually occurs between late September and late October, depending on your geographical location.
Quick Overview
Taking down the feeders does not mean that hummingbirds will stop migrating. They are guided by changes in day length and their biological instincts, not by food availability.
Leaving the feeder up too long might encourage some species to stay longer than they should, potentially causing them difficulties with cold temperatures and scarce natural food sources.
If you live in a region with mild winters where some species remain all year round, it's okay to leave your feeders up but ensure regular cleaning and refilling.
Maintaining a hummingbird feeder requires understanding the birds' migratory patterns. Many people worry that leaving their feeders up too long will deter these little creatures from heading south for winter.
However, this isn't the case as hummingbirds are programmed by nature to migrate when they need to.
The right time to take down your hummingbird feeder is usually after the first hard frost of fall or when you have not seen any activity at your feeder for a week or two.
If you live in an area where hummingbirds reside year-round due to milder climates, be sure to keep those feeders clean and full throughout winter for these resident species. It's important to offer a helping hand without hindering their natural life cycle.
Month & Reasons: Take Down Hummingbird Feeders
| Month | When to Take Down Hummingbird Feeders | Reasons |
| --- | --- | --- |
| January | No need | Hummingbird feeders are generally not used in winter |
| February | No need | Hummingbird feeders are generally not used in winter |
| March | No need | Hummingbirds begin to migrate north, but feeders are generally not needed yet |
| April | No need | Consider putting up feeders to welcome early migrating hummingbirds |
| May | Keep it up | Peak migration season for hummingbirds; keep feeders filled and clean |
| June | Keep it up | Breeding season begins; feeders help support hungry parents and fledglings |
| July | Keep it up | Breeding and nesting season continues; keep feeders filled and clean |
| August | Keep it up | Late summer feeding frenzy before migration; maintain feeders |
| September | Monitor activity | Begin to watch for decreased activity; consider taking down feeders in late September if fewer birds are visiting |
| October | Take down | Most hummingbirds have migrated south by this time; clean and store feeders for next season |
| November | No need | Hummingbird feeders are not needed during this time |
| December | No need | Hummingbird feeders are generally not used in winter |
Month & Reasons: Take Down Hummingbird Feeders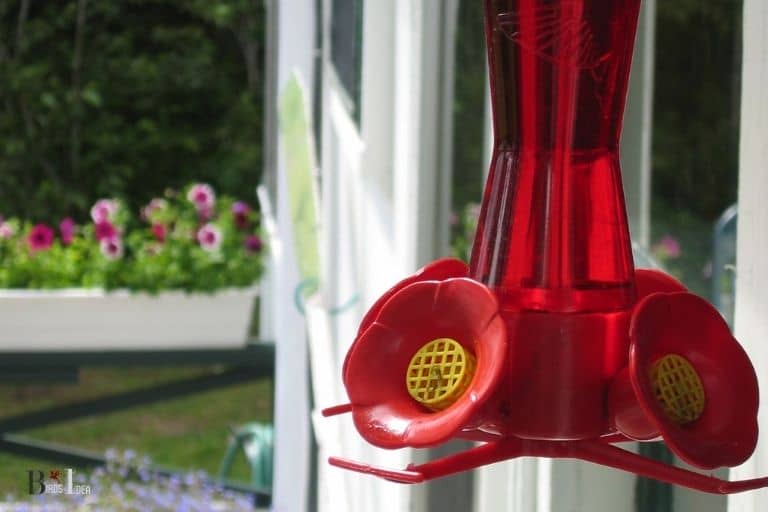 Understanding When to Take Down Your Hummingbird Feeders
In most areas of North America, it's best to leave hummingbird feeders up until two weeks after seeing the last bird of the season to ensure that late migrants are fed.
In places like Arizona and Florida where hummingbirds live year-round, feeders can be left up permanently without worrying about affecting migration patterns.
It's not the presence of feeders that encourages hummingbirds to stay in colder climates longer. They're triggered to migrate based on hours of daylight and instinctual changes in their bodies.
However, hummingbird feeders can become a source of disease transmission if not properly cleaned and maintained, potentially leading to fatal infections in the birds.
If you take down your feeders for the winter, be sure to put them back up in early spring to provide a source of food for returning hummingbirds.
When Is the Best Time to Take Down Hummingbird Feeders?
The best time to take down hummingbird feeders is when they are no longer being visited by hummingbirds, which usually happens in late autumn.
This is because most hummingbird species, particularly those found in North America, migrate south for the winter, and their feeding habits change with the seasons.
By understanding the natural migration patterns and behaviors of hummingbirds, you can determine the ideal time to remove your feeders to avoid attracting undesirable pest species.
While still providing ample nourishment for your feathered friends throughout the warmer months.
Hummingbird species in your area
Local migration patterns and seasonal changes
Feeder activity and frequency of visits
What to Look for Before Taking Down Hummingbird Feeders?
Before taking down hummingbird feeders, it is important to consider several factors to ensure you are not disrupting the hummingbirds' feeding habits and migration patterns.
Keep an eye on bird activity: If you notice a significant drop in the number of hummingbirds visiting your feeder, it may be time to take it down. However, don't remove it as soon as you see a decrease, as some stragglers may still pass through your area.
Watch for signs of migration: Hummingbirds tend to migrate towards warmer climates as the seasons change. Pay attention to local birdwatching groups and online forums for updates on hummingbird migration patterns in your region
Climate and season: In many areas, hummingbirds will leave during the winter months. If you live in a region with a colder climate, you can safely remove your feeder after the first frost of the season.
Leave it up a bit longer: To support late-migrating hummingbirds, you can leave your feeder up for an additional week or two after you stop seeing them around your yard. This will ensure those migrating later still have access to food sources.
How to Clean Hummingbird Feeders Before Taking Down?
Hummingbird feeders should be properly cleaned before being taken down for storage or replacement.
This ensures the feeders remain free of mold, mildew, and harmful bacteria that can cause harm to the hummingbirds.
Additionally, a clean feeder will ensure that the birds are attracted to it when put back up in the next season.
To clean a hummingbird feeder, follow these steps:
Empty the feeder: Remove any remaining nectar from the feeder.
Disassemble the feeder: Take apart the feeder into individual components, if possible.
Soak and scrub: Soak each component in a mixture of water and white vinegar (1 part vinegar to 4 parts water) for 10-15 minutes, then use a soft brush to scrub all surfaces.
Rinse: Rinse each component thoroughly with clean water to remove any debris and traces of vinegar.
Dry: Allow each part to air dry completely to prevent mold growth.
Store: Once the feeder is clean and dry, store it in a cool and dry place to avoid any damage.
The Benefits of Leaving Hummingbird Feeders Up in the Winter
As the temperatures drop, natural food sources such as insects and nectar become scarce, making it difficult for hummingbirds to find sustenance.
By keeping feeders filled and accessible, you are providing a reliable food source for these tiny creatures, ensuring their survival during harsh winter conditions.
Additionally, having hummingbirds around in the winter can bring joy and beauty to your outdoor space, breaking up the monotony of long, cold winter months.
Provide a consistent food source for hummingbirds
Help hummingbirds survive harsh winter conditions
Maintain a healthy and diverse ecosystem in your garden or yard
Offer a visually pleasing sight and enjoyable birdwatching experience for humans throughout the winter
To prevent hummingbird feeder nectar from freezing, use a hummingbird feeder heater or bring the feeder inside at night and return it outdoors during the day.
This way you can continue to help hummingbirds without risking any damage to your feeder from freezing temperatures.
How to Attract Hummingbirds with the Right Feeder in Early Summer?
Attracting hummingbirds to your garden during the early summer months is a delightful way to enjoy their beauty and help support their needs.
Choosing a brightly colored feeder with red accents, easy-to-clean parts, and multiple feeding ports will increase your chances of seeing hummingbirds in your garden.
Select a feeder with vibrant red accents
Look for a feeder with easy-to-clean components
Opt for a feeder with multiple feeding ports
Conclusion
In summary, timing the removal of hummingbird feeders is crucial for their care. Observe hummingbird activity, note migration patterns, and follow proper cleaning and storage procedures.
Taking down the feeders at the right time ensures that they will return to the area when food is available, while leaving them up in winter can also benefit the birds.
By following these guidelines and tips, you can enjoy the beautiful presence of hummingbirds in your garden all year round.