Why Do Hummingbirds Stop Coming To Feeders? 10 Reason!
Hummingbirds stop coming to feeders due to lack of food, poor feeder maintenance, migration, and competition with other birds.
Several factors can cause hummingbirds to cease visitations to feeders; ranging from seasonal changes to issues related to the feeders themselves.
Lack of food: If the feeder runs out of nectar, hummingbirds will find alternative food sources.
Poor feeder maintenance: Dirty feeders, spoiled nectar, or an unhygienic environment may deter hummingbirds.
Migration: Seasonal migration makes hummingbirds leave an area as they follow their routes.
Competition: The presence of larger, aggressive birds may discourage hummingbirds from frequenting feeders.
It is vital for bird enthusiasts to ensure their hummingbird feeders are clean, filled with fresh nectar, and strategically positioned away from potential competitors.
This increases the likelihood of hummingbirds continuing to visit and enjoy the feeders.
10 Reason About Hummingbirds Stop Coming To Feeders
| Reason | Explanation |
| --- | --- |
| Empty or dirty feeder | Hummingbirds avoid feeders that are empty or have dirty, spoiled nectar. |
| Change in nectar quality | If the nectar becomes cloudy or fermented, hummingbirds will stop visiting the feeder. |
| Presence of predators | The presence of predators, such as cats or larger birds, can deter hummingbirds from coming to a feeder. |
| Strong wind or bad weather | Hummingbirds may avoid feeders during strong winds or stormy weather to conserve energy and protect themselves. |
| Competition from other birds | If there are too many birds competing for the same feeder, hummingbirds might choose to search for food elsewhere. |
| Migration season | Hummingbirds migrate seasonally, and they will stop coming to feeders when they leave the area for migration. |
| Availability of natural food sources | If there are abundant natural food sources, such as flowering plants, hummingbirds may prefer them over feeders. |
| Change in feeder location or visibility | If the feeder is moved or becomes less visible, hummingbirds may have difficulty finding it. |
| Human activity or disturbance | Frequent human activity or loud noises near the feeder can deter hummingbirds from coming. |
| Feeder design or color | Some hummingbirds may prefer certain feeder designs or colors and may avoid others. |
10 Reason About Hummingbirds Stop Coming To Feeders
Key Takeaway
Hummingbirds may stop coming to feeders due to several reasons such as seasonal migration, presence of predators, feeder location, cleanliness of the feeder, and change in the nectar solution.
Seasonal migration is a crucial factor that influences the presence of hummingbirds. They usually migrate due to changes in the availability of food and favorable breeding conditions.
Predators in the vicinity of the feeder can scare off hummingbirds, causing them to steer clear of the area for their safety.
An improperly placed feeder might not be attractive to hummingbirds. They prefer feeders that are in safe, shady areas with plenty of perches around.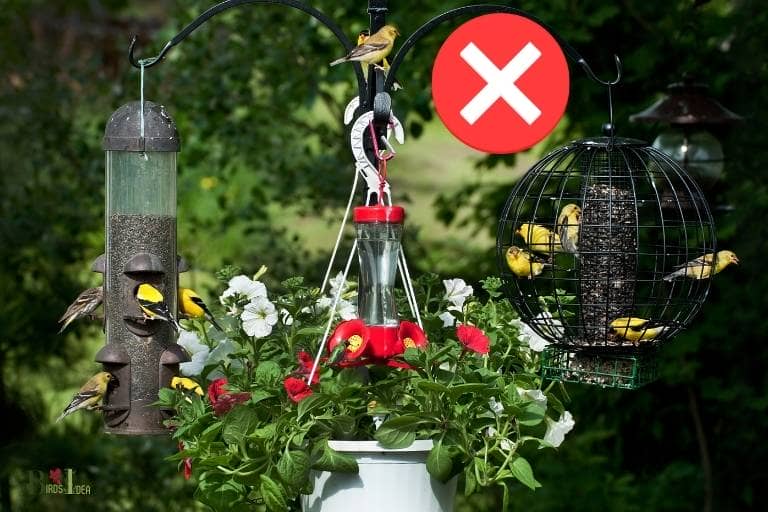 Four Facts About: Hummingbirds Stop Coming To Feeders
Hummingbirds migrate seasonally, usually twice a year, and this is often the primary reason they stop coming to feeders. They travel south for the winter due to food scarcity and return back north in the spring for mating reasons. Source: The Spruce
Predators, including cats and larger birds, can deter hummingbirds from approaching feeders. They would find safer food sources elsewhere rather than risk predation. Source: Wild Birds Unlimited
The location of the feeder plays a significant role. A feeder placed in full sun can cause the nectar to spoil quickly, and hummingbirds won't feed from it. They also prefer feeders near bushes or trees where they can easily escape from predators. Source: Bird Watching HQ
Hummingbirds avoid dirty feeders with spoiled nectar. Feeders should be cleaned regularly, and the nectar should be.
Environment Factors That Deter Hummingbirds From Feeders
Several environmental factors can deter hummingbirds from visiting feeders. These factors may cause them to find other sources of food or even relocate completely.
Paying attention to these factors and making adjustments can help keep your backyard hummingbird-friendly and encourage these beautiful birds to visit your feeders more often.
Lack of natural food sources: Hummingbirds need more than just the sugar water provided by feeders, such as nectar from flowers or small insects and spiders
Predators: The presence of cats, squirrels, or predatory birds can scare hummingbirds away from feeders.
Unsanitary feeders: Dirty or moldy feeders can be harmful to hummingbirds and deter them from visiting. Clean your feeders regularly to ensure they are free from mold, mildew, and debris.
Wrong sugar-water ratio: Hummingbirds prefer a specific sugar-to-water ratio (4-to-1). Mixing the solution incorrectly or using substitute sweeteners can deter hummingbirds from your feeder.
Competition from other hummingbirds: Sometimes, aggressive or territorial hummingbirds can monopolize feeders and prevent other hummingbirds from..
Weather conditions: Extreme weather conditions like high winds, heavy rains, or intense heat can discourage hummingbirds from flying to feeders.
"Hummingbirds are known to have a strong memory and will return to reliable food sources. Make sure your feeder is clean and the nectar is fresh to keep them coming back."

birdsidea
How to Improve Conditions to Bring Hummingbirds to Feeders?
Hummingbirds are attracted to feeders when the conditions are right, but they may stop coming if their needs aren't met or if they have better sources of food elsewhere.
To improve the conditions and encourage hummingbirds to visit your feeder, you must create a suitable environment, maintain cleanliness, and provide quality nectar for them.
Here are some effective strategies to help you attract more hummingbirds to your feeders:
Choose the right feeder: Hummingbirds prefer feeders that are easy to access and visually appealing. Opt for bright red or orange feeders, as these colors naturally attract them.
Make homemade nectar: Prepare a simple sugar solution for the nectar (1 part sugar to 4 parts water) and avoid using artificial colors or preservatives, which can harm the birds.
Keep the feeder clean: Clean the feeder every few days to prevent mold and bacteria buildup. This ensures the nectar stays fresh and safe for the birds to consume.
Provide a perching spot: Adding nearby perches such as branches or small shrubs can give hummingbirds a place to rest, making it more likely they'll stay and feed.
Add more feeders: Multiple feeders in various locations can encourage more hummingbirds to visit your yard, reducing competition and territorial behavior.
Create a bird-friendly habitat: Plant flowers that attract hummingbirds, such as trumpet vine, bee balm, or salvia. This provides natural nectar sources and encourages the birds to visit your feeders more frequently.
Provide a water source: Hummingbirds need a shallow water source for bathing and drinking. Adding a birdbath or water mister to your garden can make the area more enticing for them.
By implementing these tips, you can create a favorable environment that attracts and keeps hummingbirds coming back to your feeders.
Pro tip: Be patient! It may take some time for hummingbirds to discover your feeder, especially if there are other food sources in the area. Be consistent with your efforts, and eventually, you'll see these beautiful birds visiting your yard regularly.

birdsidea
How the Lack of Hummingbirds in Your Yard Affects Nature?
The absence of hummingbirds in your yard can have a ripple effect on the balance of nature. These small birds play a significant role in pollination, pest control, and maintaining biodiversity.
When they stop visiting your garden, it could indicate an imbalance in the local ecosystem, which can lead to diminished plant life and a decline in the overall health of the environment.
Pollination: Hummingbirds help in the cross-pollination of various plant species, ensuring their survival and growth.
Pest control: They consume many small insects, reducing the need for harmful pesticides.
Biodiversity maintenance: Their presence in an ecosystem supports native flora and fauna.
Tips for Attracting Hummingbirds to Feeders
Attracting hummingbirds to feeders can be a delightful addition to any garden or outdoor space, providing a unique opportunity to observe these fascinating creatures up close.
However, it can be frustrating if the hummingbirds suddenly stop coming to the feeders.
To ensure the regular presence of hummingbirds and maximize your chances of attracting and maintaining their interest, follow these tips:
Choose the right feeder: Opt for bright red feeders, as red is the most attractive color to hummingbirds. Pick a feeder with multiple feeding ports and a built-in ant moat to keep ants away.
Provide fresh nectar: Replace the nectar every 2-3 days, or more frequently in hot weather, to prevent fermentation and the growth of mold.
Keep the feeder clean: Clean and sanitize the feeder each time you refill it to reduce the spread of bacteria and disease.
Position your feeder strategically: Place your feeder in a sheltered location out of direct sunlight and strong winds, but visible from windows to easily observe the hummingbirds.
Plant hummingbird-friendly flowers: Incorporate red, tubular flowers in your garden to attract hummingbirds with their natural food source.
Create multiple feeding stations: Set up multiple feeders in different locations to prevent territorial behavior and provide ample opportunities for more hummingbirds to visit.
Provide a water source: Hummingbirds are attracted to misting water sources and birdbaths, so consider adding one to your garden.
Maintaining a clean and well-stocked feeder, along with a thoughtful garden set-up, will increase the likelihood of attracting hummingbirds and keeping them coming back.
Warning on Hummingbirds 🐦 NOT using Your Hummingbird Feeder Weather/Reasons KNOW the Nectar Recipe
Why do hummingbirds stop coming around?
There could be several reasons why these feathered friends have abandoned your feeder. Factors like weather changes, migration patterns, and feeder cleanliness can all play a role in hummingbirds' feeding habits.
Moreover, some natural sources of nectar and insects preferred by hummingbirds may be more abundant elsewhere.
Don't fret, though – hummingbirds will likely return to your feeder if you make a few adjustments.
Why do hummingbirds poop around feeders?
Hummingbirds are fascinating creatures that delight us with their swift movements and colorful feathers.
Anyone who loves watching them may have noticed that they sometimes poop around feeders. There are a few reasons why hummingbirds poop around feeders.
One reason is territorial marking. Hummingbirds are territorial creatures that defend their food sources and breeding areas.
By pooping around the feeder, they mark the area as their own and deter other hummingbirds from entering their territory. Another reason is digestive efficiency.
Hummingbirds have a rapid metabolism and have to eat frequently to fuel their energy needs.
They can digest their food quickly, but there are undigested particles that pass through their system and need to be eliminated.
Pooping around feeders is a convenient way to get rid of waste and make more space for food intake.
Tips for Cleaning Hummingbird Feeders
Clean feeders once a week with hot water and white vinegar.
Use a bottlebrush to scrub the feeder ports and crevices.
Rinse thoroughly with hot water and allow it to air dry.
Avoid using detergents, bleach, or soap as they can harm the hummingbirds.
Replace the nectar solution every few days to prevent bacterial growth.
If you notice sick or dead birds around your feeder, take it down and clean it thoroughly to avoid spreading diseases.
Knowing why hummingbirds poop around feeders can help us appreciate their behavior and protect their environment.
You can create a hummingbird-friendly garden by planting nectar-producing flowers, offering fresh water sources, and providing clean feeders.
By taking good care of these amazing birds, we can continue to enjoy their presence and learn from their beauty.
Where should you not hang a hummingbird feeder?
Hummingbirds are delightful creatures that add vibrancy and life to your garden. Installing a hummingbird feeder is an excellent way to attract these winged beauties to your yard.
However, choosing the right place to hang a feeder is crucial.
You don't want to make the mistake of hanging them in the wrong places, as it can be dangerous for the hummingbirds.
Here is a list of places to avoid when hanging hummingbird feeders:
Near a window: Hummingbirds who feed near windows can fly into them, and it may cause severe injury or death.
Near ants: Ants can be attracted to the sweet nectar and invade the feeder, contaminating the food source or harming the hummingbirds.
In direct sunlight: Direct sunlight can cause fermentation in the nectar, making it detrimental for the hummingbirds.
In extremely windy areas: High winds can tip over feeders, posing a risk of injury to the hummingbirds.
By avoiding these places when installing a hummingbird feeder, you can help to keep your feathered friends safe and healthy.
Hang the feeder where it can be seen from the window, but not too close to the window.
Choose a shaded area that's not too hot or cold.
Look for an area where ants won't be able to get to the feeder.
Make sure the feeder is secure and doesn't sway too much in the wind.
FAQ for Why Do Hummingbirds Stop Coming To Feeders
Why do hummingbirds stop coming to feeders?
Hummingbirds may stop coming to feeders if the feeder isn't regularly cleaned and refilled with fresh nectar or if the flowers in the area have started to bloom. They may also move on to another region depending on the season.
What can I do to get hummingbirds to stay?
Clean and refill the feeder regularly with fresh nectar and avoid using any additives like red food coloring. Plant native flowers to provide natural nectar sources and place feeders close to flowering plants to provide nesting and shelter sites.
What kind of nectar should I use?
The best type of nectar for hummingbirds is a four-part solution of one part white sugar to four parts of water. Boil the mixture for a few minutes and allow it to cool completely before filling the feeders.
How often should I clean and refill the feeder?
You should clean and refill the feeder every few days to ensure the nectar does not spoil. Boil the mixture for a few minutes and allow it to cool before filling the feeders.
Conclusion
In conclusion, there could be several reasons why hummingbirds stop visiting feeders.
Factors like changing weather patterns, the presence of predators or pests, poor feeder maintenance, and limited nectar availability could deter hummingbirds from visiting your yard.
It is essential to take measures to improve conditions to attract these delightful birds to your feeders continually.
Regular feeder cleaning, using fresh nectar, planting hummingbird-friendly flowering plants, offering a water source, and avoiding pesticides can help attract hummingbirds.
Seeing these magnificent creatures in your yard not only brings joy and beauty, but it also contributes to the larger ecosystem by pollinating flowers.
Taking small actions to attract hummingbirds can make a big difference for the environment.