Can You Put Hummingbird Feeders in the Dishwasher: No!
No, you should not put hummingbird feeders in the dishwasher.
Hummingbird feeders are often made of delicate materials like glass, plastic, and metal components that can be damaged by the high heat and harsh detergents used in dishwashers.
Moreover, some feeders have intricate designs and small parts that can be difficult to clean in a dishwasher effectively.
Dishwashers can damage delicate feeder materials
High heat in dishwashers may warp plastic feeder parts
Dishwasher detergents may leave residue harmful to hummingbirds
Hand washing is the preferred method for cleaning hummingbird feeders
To ensure your hummingbird feeders are clean and safe for your feathered friends, it is best to hand wash them regularly with a mild soap and warm water.
Use a soft brush to clean the feeding ports and other hard-to-reach areas, and rinse thoroughly to remove any soap residue.
This will help maintain the feeder's quality and prevent any potential harm to the hummingbirds from contaminants or residues.
10 Topics: Put Hummingbird Feeders in the Dishwasher
| | |
| --- | --- |
| Topics | Answer |
| Can you put hummingbird feeders in the dishwasher? | It depends on the material and manufacturer's instructions |
| Glass feeders | Generally safe, but check manufacturer's instructions |
| Plastic feeders | Some may be dishwasher safe, but check manufacturer's instructions |
| Ceramic feeders | Generally safe, but check manufacturer's instructions |
| Metal feeders | Not recommended |
| Top rack vs bottom rack | If dishwasher safe, place on top rack for gentler cleaning |
| Using dishwasher detergent | Use only if feeder is dishwasher safe and detergent is not harmful to birds |
| Alternative cleaning methods | Hand washing with warm water and mild soap is recommended for most feeders |
10 Topics: Put Hummingbird Feeders in the Dishwasher
Key Takeaway
Cleaning a
hummingbird feeder
regularly is essential for the birds' health
The material of the feeder plays a crucial role in its dishwasher safety
Some feeders are dishwasher-safe, while others are not recommended
Hand-washing might be the best choice for delicate or non-dishwasher-safe feeders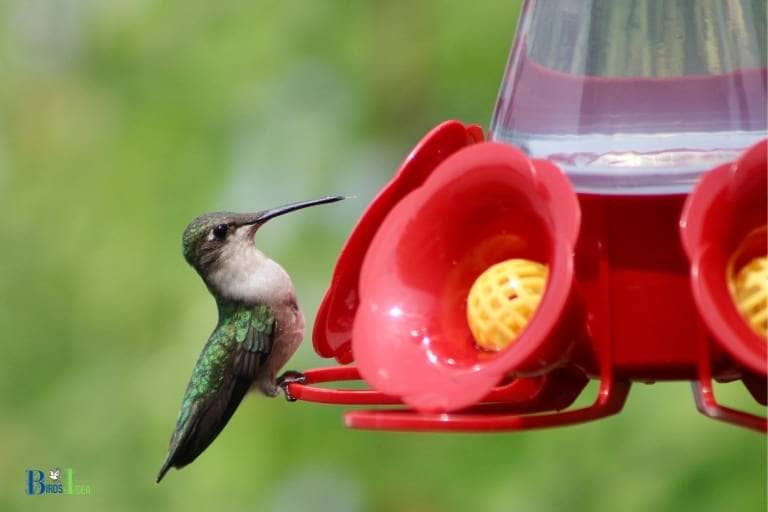 Four Facts About: Hummingbird Feeders in the Dishwasher
Hummingbird feeders require thorough cleaning to prevent mold and bacteria growth, which can cause harm to the birds. (Source: Wild Birds Unlimited)
While some hummingbird feeders are labeled as dishwasher-safe, others made from materials like glass, delicate acrylic, or with small intricate parts are not recommended for dishwasher cleaning. (Source: The Spruce)
Dishwasher-safe feeders usually have that information listed on the product label, packaging, or manufacturer's website. It's always best to check these sources before putting a feeder in the dishwasher. (Source: Hummingbird Guide)
When a feeder is not dishwasher-safe or the material is unknown, it's best to hand wash them using a mild soap solution and specialized brushes to reach small crevices. Rinsing thoroughly is essential to remove any soap residues. (Source: Perky-Pet)
What Are Hummingbird Feeders?
Hummingbirds are fascinating creatures that are a treat to watch as they buzz around your garden. If you're a bird-lover, you may be wondering what type of feeder is best for attracting these whimsical creatures.
In this blog post, we're going to explore hummingbird feeders, and specifically answer the question, can you put hummingbird feeders in the dishwasher?
Definition And Types Of Hummingbird Feeders
Definition:
Let's start by defining what a hummingbird feeder is. A hummingbird feeder is a container or vessel that's filled with a sweet nectar solution to attract hummingbirds.
These feeders usually have small openings or ports that allow the birds to feed on the nectar.
Types:
There are several types of hummingbird feeders you can choose from, depending on your style and preferences.
Below are the different types of hummingbird feeders:
Plastic feeders: These are the most common type of hummingbird feeder. They're affordable, lightweight, and easy to clean. They come in various sizes, shapes, and colors.
Glass feeders: These are the perfect choice for people who want something more stylish. They're usually more expensive than plastic feeders but they're also more decorative.
Bottle feeders: These types of hummingbird feeders are made from glass or plastic bottles and have feeding ports on the bottom or sides. Some models come with perches for the birds to rest while feeding.
Top-fill feeders: These types of hummingbird feeders make filling a breeze. They have a removable top, making it simple to fill the feeder with nectar.
Window-mounted feeders: These are feeders that attach to your window with suction cups, allowing for an up-close and personal hummingbird viewing experience.
When it comes to hummingbird feeders, there are various options available to choose from. Each type has its own benefits and disadvantages.
Regardless of which type of feeder you choose, make sure to carefully read the instructions on how to clean and maintain your hummingbird feeder to ensure it stays in good condition for your flying visitors.
Can you put hummingbird feeders in the dishwasher? We'll answer that question in the next section.
Hummingbird Feeder Cleaning: Why Is It Important?
Hummingbirds are beautiful and captivating creatures that people love to attract to their backyards. However, one crucial aspect of caring for hummingbirds is keeping their feeders clean.
This is important for a multitude of reasons.
The Role Of Cleanliness In Attracting Hummingbirds
Hummingbirds are attracted to brightly-colored tube feeders filled with nectar. However, they are more likely to visit a feeder that is clean.
Dirty feeders can cause hummingbirds to avoid feeding stations, potentially leading to a decrease in their population.
Here are a few benefits of cleanliness:
Clean feeders attract more hummingbirds, leading to more opportunities for birdwatching.
Clean feeders prevent the spread of harmful bacteria, keeping our feathered friends healthy.
Clean feeders keep the nectar fresh, making it more appealing to hummingbirds.
The Dangers Of Dirty Hummingbird Feeders
Dirty or moldy feeders can cause harm to hummingbirds, leading to their decline in numbers.
Feeding from moldy nectar or a dirty feeder can lead to the growth of harmful bacteria in the hummingbird's digestive system, leading to illness or even death.
A dirty feeder can also attract unwanted pests such as ants or bees, making it difficult for hummingbirds to feed.
Therefore, it's important to know how to properly clean hummingbird feeders.
Always wear gloves and clean feeders with hot, soapy water.
Use a mixture of white vinegar and water to disinfect and prevent mold growth.
Scrub feeders with a brush, paying close attention to any spots that may be hard to reach.
Rinse thoroughly with water before refilling with fresh nectar.
Keeping a clean hummingbird feeder is important in maintaining these beautiful birds in your backyard. To prevent harm to hummingbirds, taking the time to properly clean feeders is a crucial part of birdwatching.
Methods Of Cleaning Hummingbird Feeders
Hummingbirds are fascinating creatures, and watching them sip nectar from a feeder can be a delight. But with regular use, hummingbird feeders can become a breeding ground for mold and bacteria, which can harm the birds' health.
To keep them clean and in top shape, it's essential to clean your hummingbird feeders regularly.
But what is the right way of cleaning them? Can you put hummingbird feeders in the dishwasher? Let's find out.
Handwashing: Pros And Cons
Handwashing the hummingbird feeder is one of the most popular and effective ways to clean it.
Below are the pros and cons of this method:
Pros:
Cost-effective: Handwashing requires no additional equipment, making it a budget-friendly option to clean your feeder.
Versatile: You can easily reach every nook and corner of the feeder while handwashing.
Conducive to repairs: As you clean your feeder, you can also inspect it for cracks, breaks, or other damage that may require repair.
Cons:
Labor-intensive: Handwashing requires more effort and time to scrub the feeder properly.
Risk of contamination: If not done thoroughly, handwashing may leave soap residue, which can be harmful to the birds.
Dishwasher: Pros And Cons
Using a dishwasher is another option to clean your hummingbird feeder.
Let's explore its pros and cons:
Pros:
Less time-consuming: Cleaning your feeder in the dishwasher is faster and requires less elbow grease.
More sanitary: The high water temperature in the dishwasher helps kill bacteria, making it a more hygienic option.
Convenient: If your feeder is dishwasher safe, all you have to do is put it in and let the dishwasher do the work.
Cons:
Only applicable to dishwasher-safe feeders: Not all types of hummingbird feeders can go in the dishwasher, so be sure to check the product label.
May damage the feeder: A dishwasher's high water pressure and temperature can cause the plastic feeder to warp or crack
Chemical residue: Dishwashing detergent may leave a residue that can be harmful to birds if not rinsed off adequately.
Whether you handwash or use a dishwasher, cleaning your hummingbird feeder is a crucial task that shouldn't be neglected. We hope this information has helped you decide the best method to clean your feeder.
Remember to give your feeder a thorough cleaning at least once a week, or more if needed, to keep the birds healthy and happy.
Pros And Cons Of Putting Hummingbird Feeders In The Dishwasher
Hummingbirds are fascinating creatures to observe. If you have a hummingbird feeder at home, you know how important it is to keep it clean for the birds' health.
Washing hummingbird feeders after each use is essential, but can you put them in the dishwasher for quick and easy cleaning?
In this post, we will explore the pros and cons of putting hummingbird feeders in the dishwasher, taking a close look at how effective, safe, and practical this method is.
Pro: Time-Saving And Easy Method
Putting hummingbird feeders in the dishwasher is a quick and straightforward way to clean them.
You can save time and effort by simply putting the feeder in the dishwasher, rather than washing it by hand.
Most dishwasher-safe feeders can be washed on the top rack, meaning that they don't take up much space and don't require pre-washing.
Con: High Heat And Chemicals
Dishwashers use high heat and strong chemicals to clean dishes, including hummingbird feeders.
The heat and chemicals can damage the plastic or metal components of the feeder over time, lowering its durability and lifespan.
Over time, the chemicals can build up inside the feeder, contaminate the nectar, and harm the birds.
Pro: Effective Cleaning Method
When used correctly, dishwashers can be an effective method for cleaning hummingbird feeders.
Dishwashers can reach high temperatures that kill any bacteria or mold that may be growing inside the feeder.
The combination of high heat, water pressure, and detergent can remove even tough stains and residue from the feeder.
Con: Risk Of Damaging Feeders
Although dishwashers can be effective in cleaning hummingbird feeders, there is a risk that the feeder may get damaged during the washing.
The high heat and fast water flow can cause the feeder to crack, break, or deform, making it unusable.
The dishwasher's cycle may not adequately clean inside the feeder, resulting in tough-to-remove stains or odors.
Putting hummingbird feeders in the dishwasher may seem like a time-saving and convenient method, but there are several pros and cons to consider before doing so.
While it can provide effective cleaning, using the dishwasher can also damage the feeder over time.
Therefore, it's essential to follow the manufacturer's instructions and use safe and reliable cleaning methods to ensure the feeder's longevity and safety for the birds.
FAQ Of Put Hummingbird Feeders In The Dishwasher
Can Hummingbird Feeders Be Put In The Dishwasher?
Yes, you can put hummingbird feeders in the dishwasher, but only some types are dishwasher-safe.
How Do You Clean Hummingbird Feeders?
To clean a hummingbird feeder, remove old nectar and wash with a solution of vinegar and hot water.
How Often Should Hummingbird Feeders Be Cleaned?
Hummingbird feeders should be cleaned at least once a week, or more often in hot weather.
Are There Any Parts Of A Hummingbird Feeder That Should Not Be Put In The Dishwasher?
The rubber stopper, plastic flowers, and any glued parts should not be put in the dishwasher as they may become damaged.
Conclusion
Cleaning hummingbird feeders can be a daunting task for many bird-lovers. But the good news is that it's easy to maintain these feeders by cleaning them with soap and hot water.
While it might be tempting to clean them in your dishwasher, it's not recommended, as dishwashers can damage the feeder's plastic parts and cause the solution to leak out.
Instead, manual cleaning is best with a bottle brush, hot soapy water, and vinegar solution. Not only does cleaning your feeder regularly ensure the health of the birds, but it also helps keep your feeder looking good as new.
Taking care of your hummingbird feeder doesn't have to be a complicated task.
With a little bit of effort and regular cleaning, your feeder can last for years and provide a safe and healthy environment for the hummingbirds, making it a delightful addition to your garden. So, go ahead and grab a brush, soap, and warm water, and keep your feeder clean.
Your feathered friends will thank you for it!