Will Mockingbirds Keep Hummingbirds Away: No!
No, mockingbirds will not keep hummingbirds away. The two species can coexist peacefully.
Mockingbirds and hummingbirds are two different species of birds, with distinct characteristics and feeding habits. Mockingbirds are known for their territorial nature and may occasionally be aggressive towards other birds.
However, hummingbirds are quick and agile, allowing them to coexist with mockingbirds and share the same environment without significant interference.
Mockingbirds are territorial birds and can sometimes be aggressive towards other species
Hummingbirds are fast and agile, allowing them to evade potential threats easily
Both birds have different feeding habits, reducing competition for resources
Providing separate feeding areas can further minimize conflicts between mockingbirds and hummingbirds
While mockingbirds and hummingbirds can coexist peacefully, taking steps to minimize potential conflicts between the two species can make the shared environment more comfortable for both.
Consider providing separate feeding areas for each bird species or placing hummingbird feeders out of reach for mockingbirds.
Planting a variety of flowers that appeal to both species can also help reduce competition for food and promote a harmonious environment for these beautiful birds.
5 Factors of Mockingbirds on Hummingbirds' Presence
| | | | |
| --- | --- | --- | --- |
| Factor | Description | Impact on Hummingbirds | Mockingbird Behavior |
| Territory | Mockingbirds can be territorial and defend their space. | This may deter hummingbirds from feeding in the same area. | Mockingbirds may chase away hummingbirds if they enter their territory. |
| Food Competition | Both mockingbirds and hummingbirds consume insects. | Increased competition for food sources may affect hummingbird populations. | Mockingbirds may dominate food sources and reduce the availability for hummingbirds. |
| Noise | Mockingbirds are known to make loud noises and mimic other birds' songs. | Loud noises may temporarily deter hummingbirds from visiting an area. | Mockingbirds may unwittingly scare off hummingbirds with their loud calls. |
| Nesting Sites | Both species require suitable nesting sites. | Competition for nesting sites could lead to fewer hummingbirds in the area. | Mockingbirds may take over preferred nesting sites and drive hummingbirds away. |
| Aggressive Behavior | Mockingbirds can be aggressive towards other birds. | This may lead to hummingbirds avoiding areas with high mockingbird populations. | Aggressive mockingbirds may chase or attack hummingbirds, keeping them away. |
5 Factors of Mockingbirds on Hummingbirds' Presence
Key Takeaway
Mockingbirds can deter hummingbirds due to their territorial behavior.
Aggressive interactions between mockingbirds and hummingbirds occur, though not consistently.
A diverse garden can encourage peaceful coexistence between hummingbirds and mockingbirds.
Interventions can be made to reduce competition for resources between these two bird species.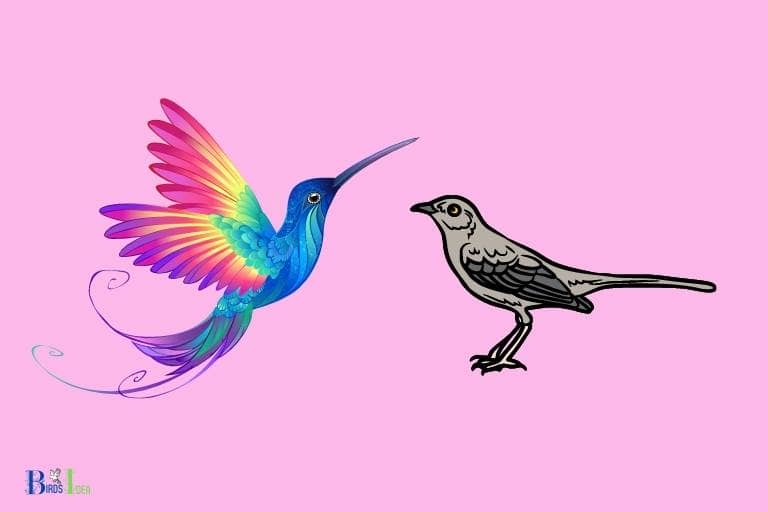 Five Facts About: The Relationship between Mockingbirds and Hummingbirds
Mockingbirds are considered territorial birds and are known to sometimes scare away smaller birds, including hummingbirds, to protect their claimed area (source: The Spruce).
Aggressive interactions between the two bird species may include chasing, dive-bombing, and calling activities to ward off potential competitors (source: The Spruce).
Creating a diverse garden with a mix of plants, multiple feeding stations and water sources can help reduce competition and provide safe spaces for both hummingbirds and mockingbirds to coexist (source: Birds and Blooms).
Hummingbirds can still be found near mockingbirds if there are adequate resources available for both birds to get their required food, water, and nesting spots (source: Hummingbird Central).
Providing cover and places to hide for hummingbirds, such as dense shrubs, can help them avoid potential attacker birds like mockingbirds and increase the chances of peaceful coexistence (source: The Spruce).
Understanding The Situation: Hummingbirds And Mockingbirds Coexisting In A Backyard
Hummingbirds and mockingbirds are two of the most fascinating bird species. While both of them have unique features and habits, some people might wonder if these two birds can coexist peacefully in their backyard.
Importance Of Having Hummingbirds And Mockingbirds In Your Backyard
Having hummingbirds and mockingbirds in your backyard is not only entertaining but also beneficial for your ecosystem.
Here are some reasons why they are essential:
Hummingbirds play a considerable role in pollination, which helps plants grow and produce fruits.
Mockingbirds are songbirds that can produce over 200 songs, adding beautiful music to your backyard.
Both birds can help control insects and pests naturally, eliminating the need for harmful pesticides.
How Hummingbirds And Mockingbirds Interact With Each Other
While both birds may coexist peacefully, they may compete for food, territory, or nesting spots.
Here's how they might interact with each other:
Hummingbirds may exhibit territorial behavior when defending their food source against mockingbirds.
Mockingbirds may chase hummingbirds away when they get too close to their nesting area.
In some cases, they may share the same food source without any conflict.
Factors That May Affect The Coexistence Of Hummingbirds And Mockingbirds
Several factors may affect the coexistence of hummingbirds and mockingbirds.
Here are some of them:
Availability of food and water sources: Providing a variety of food and water sources for both birds can decrease the likelihood of competition.
Nesting area availability: Having enough nesting areas will reduce any possible competition for nesting spots.
Birdhouse placement: Placing birdhouses at appropriate distances from each other can encourage both birds to live in your backyard peacefully.
Understanding the relationship between hummingbirds and mockingbirds can help you create an ideal environment for both of these bird species to flourish in your backyard.
By providing them with enough food and nesting areas while minimizing the possibility of competition, you can enjoy watching these beautiful birds in your backyard for years to come.
Mockingbirds' Aggressive Behavior: Myth Or Reality?
Debunking The Myth Of Mockingbirds Keeping Hummingbirds Away
It is a widely circulated belief that mockingbirds drive away hummingbirds, but this is a myth that needs to be debunked.
While mockingbirds are known for their territorial behavior, they do not pose a significant threat to hummingbirds.
Hummingbirds are agile and swift flyers that are difficult for most birds to catch, including mockingbirds.
Although hummingbirds and mockingbirds may occasionally share a feeder, they tend to avoid each other and are not direct competitors for food or nesting sites.
Research Studies On Mockingbirds' Aggression Towards Hummingbirds
Research studies have shown that mockingbirds do exhibit aggressive behavior towards specific birds, including hummingbirds.
However, there is no evidence to suggest that the birds pose a significant threat of harm to hummingbirds.
Studies have noted that mockingbirds tend to attack hummingbirds more frequently during the nesting season when they perceive a threat to their young ones.
This aggressive behavior is often short-lived and does not cause any serious harm to the hummingbirds.
The Reason Why Mockingbirds Sometimes Attack Hummingbirds
While mockingbirds may occasionally attack hummingbirds, it is important to understand the reason behind this behavior.
The most common reason for mockingbirds' aggression towards hummingbirds is territoriality, where they perceive hummingbirds as a threat to their territory or nesting sites.
Another reason for the aggressive behavior is competition for resources within a limited area.
While mockingbirds may show some aggression towards hummingbirds, there is no evidence to suggest that they pose a significant threat to them.
It is important to understand the reasons behind mockingbirds' aggressive behavior and give each bird its space to avoid any unnecessary conflicts.
What Attracts Mockingbirds And Hummingbirds In A Backyard?
Are you wondering if mockingbirds will keep hummingbirds away? It's a common question among bird enthusiasts and gardeners. While both birds share many similarities, they have different preferences and needs.
Let's explore what attracts mockingbirds and hummingbirds in a backyard.
Nectar Feeders: Pros And Cons Of Using Them For Hummingbirds
Using nectar feeders is a popular method to attract hummingbirds to a backyard. However, it's important to know the pros and cons before investing in one.
Here are some of them:
Pros:
Easy to set up
Allows for close bird watching
Provides an additional food source
Cons:
Requires frequent cleaning and refilling
Can attract bees, wasps, and other unwanted pests
Might cause hummingbirds to become territorial
Food Sources That Attract Mockingbirds
Mockingbirds are omnivorous and have a varied diet.
Here are some food sources that can attract them to a backyard:
Insects, such as ants, beetles, and caterpillars
Fruits, such as berries and grapes
Nutritious seeds, such as sunflower seeds
Providing these food sources can entice mockingbirds to visit your yard. However, be mindful of using insecticides or pesticides, as they can harm birds and their food sources.
Plants That Attract Hummingbirds And Mockingbirds
Planting the right flowers and shrubs can attract both hummingbirds and mockingbirds.
Here are some plants that can entice both birds to visit your backyard:
Salvia
Bee balm
Hollyhock
Petunia
Lantana
Bottlebrush
By incorporating these plants in your backyard, you'll not only attract both hummingbirds and mockingbirds but also add beauty to your surroundings.
Mockingbirds and hummingbirds have different preferences and needs. However, by using the right feeders, food sources, and plants, you can attract both birds to your backyard and create a haven for them.
Tips On Encouraging Hummingbirds To Stay In Your Backyard
Hummingbirds are an essential part of the ecosystem. They are not only beautiful to watch, but they are also pollinators. Observing these tiny creatures in your backyard is fascinating, and you may want to attract them to your garden.
However, you may be wondering if mockingbirds keep hummingbirds away.
Let's explore this myth and ways to encourage hummingbirds to stay in your backyard.
Providing A Suitable Habitat For Hummingbirds
Hummingbirds are attracted to areas that provide a suitable habitat.
Here are some tips to create a friendly environment for them:
Provide a water source such as a bird bath or a water fountain in your garden. Hummingbirds need to drink water and take regular baths to maintain their feathers.
Plant shrubs and bushes that produce bright flowers. Hummingbirds are attracted to red, orange, and pink flowers. Choose plants that bloom at different times throughout the year to provide a consistent source of nectar.
Avoid using pesticides in your garden. Pesticides can harm the hummingbirds and other beneficial insects.
Provide perching spots like a small branch or a clothesline. Hummingbirds need to rest frequently during the day.
How To Make A Hummingbird-Friendly Garden
Creating a hummingbird-friendly garden is easy, and you don't need a large yard to get started.
Here are some tips:
Choose the right location: Hummingbirds prefer gardens that receive both sun and shade. Place your feeder and flowers in a visible spot where they can easily find it.
Use feeders: Hummingbirds love sugar water. Place a feeder in your garden, and replace the solution every few days to prevent fermentation.
Maintain hygiene: Clean your feeders regularly to prevent mold and bacteria. Use a solution of one-part vinegar and four parts water to clean your feeder and rinse it thoroughly before refilling.
Offer a variety of flowers: Mix and match different types of flowers in your garden. Hummingbirds love to feed from tubular flowers such as fuschia, salvia and impatiens.
Provide nesting material: Hummingbirds need soft, flexible material to build their nests. Provide materials such as spider webs, soft cotton, and small twigs.
Tips For Creating A Safe And Inviting Environment For Hummingbirds
Creating a safe environment for hummingbirds will encourage them to stay in your garden.
Here are some ideas:
Keep cats indoors: Cats are natural predators and can harm hummingbirds. Keep your cat indoors to prevent accidents.
Use window decals: Hummingbirds can fly into windows and hurt themselves. Use window decals to deter them from flying into the glass.
Keep insects away: Ants, wasps, and bees can be a nuisance for hummingbirds. Use ant moats, wasp traps, or bee guards to keep insects away from the feeder.
Monitor for disease: Hummingbirds can contract diseases like avian pox or salmonella. Keep an eye on your visitors for any signs of illness.
Mockingbirds do not keep hummingbirds away. Attracting hummingbirds to your backyard is a simple task that requires a little effort and knowledge on their needs.
By providing a suitable habitat and creating a safe environment, you will be rewarded with the joy of watching these amazing birds in your garden.
FAQ On Will Mockingbirds Keep Hummingbirds Away
Are Mockingbirds Aggressive To Hummingbirds?
Mockingbirds are territorial and may chase insects, but they do not harm hummingbirds.
Do Hummingbirds And Mockingbirds Share Feeders?
Although they may share the same feeder, hummingbirds and mockingbirds do not usually occupy it at the same time.
Will A Hummingbird Stay Away From A Mockingbird'S Territory?
Hummingbirds may avoid areas with mockingbirds, but they can coexist peacefully.
How Can You Attract Both Mockingbirds And Hummingbirds?
To attract both birds, create a diverse habitat with fruiting, flowering plants, and different feeders.
Can Hummingbirds And Mockingbirds Live Together In Harmony?
Hummingbirds and mockingbirds can coexist peacefully if they have enough space and resources.
Conclusion
After thoroughly examining the behavior of mockingbirds and hummingbirds, we can conclude that mockingbirds do not keep hummingbirds away.
While it is true that mockingbirds can be aggressive towards other birds, they generally do not target smaller species like hummingbirds.
In fact, hummingbirds are capable of defending themselves against larger birds and have been observed chasing off mockingbirds on occasion.
It is important to remember that birds interact with each other in complex ways, and there are a myriad of factors that can influence their behavior.
Ultimately, the relationship between mockingbirds and hummingbirds is one of coexistence rather than competition. By providing the right habitat and food sources, we can encourage both species to thrive in our backyards and enjoy their unique beauty and charm.
So, next time you see a mockingbird and a hummingbird in the same area, rest assured that both can happily coexist together.