When Do Hummingbirds Nest in Oregon? late February-late July
Hummingbirds typically nest in Oregon from late February through July.
Hummingbirds, specifically Anna's and Rufous hummingbirds, are common residents of Oregon. These tiny birds migrate to Oregon for breeding and nesting purposes.
The nesting season for hummingbirds in Oregon usually begins in late February and continues through July, with peak activity occurring between April and June.
Anna's hummingbirds are year-round residents in Oregon, while Rufous hummingbirds arrive in spring.
Hummingbirds build their nests using materials such as lichen, moss, and spider webs.
The female hummingbird lays two eggs in her nest, which she will incubate for 15-18 days.
After hatching, the chicks remain in the nest for about 3 weeks before fledging.
In Oregon, Anna's hummingbirds can be found nesting throughout the state, while Rufous hummingbirds are more commonly seen in the western part of the state.
These hummingbirds build their small, cup-shaped nests on the branches of trees and shrubs, often near a water source.
The nest is constructed using various materials such as lichen, moss, and spider webs, which help to camouflage and secure it.
The female hummingbird takes care of the entire nesting process, from building the nest to feeding her chicks, without assistance from the males.
Nesting Season Of Hummingbirds in Oregon
| Nesting Season | Start Month | End Month |
| --- | --- | --- |
| Early Season | February | March |
| Peak Season | April | June |
| Late Season | July | August |
Nesting Season Of Hummingbirds in Oregon
Key Takeaway
Hummingbird nesting season in Oregon primarily occurs during the warmer months
Nests are built in strategic locations to provide safety and shelter
Hummingbirds are primarily attracted to native plants as food sources
Conservation efforts in Oregon have helped boost hummingbird populations in the state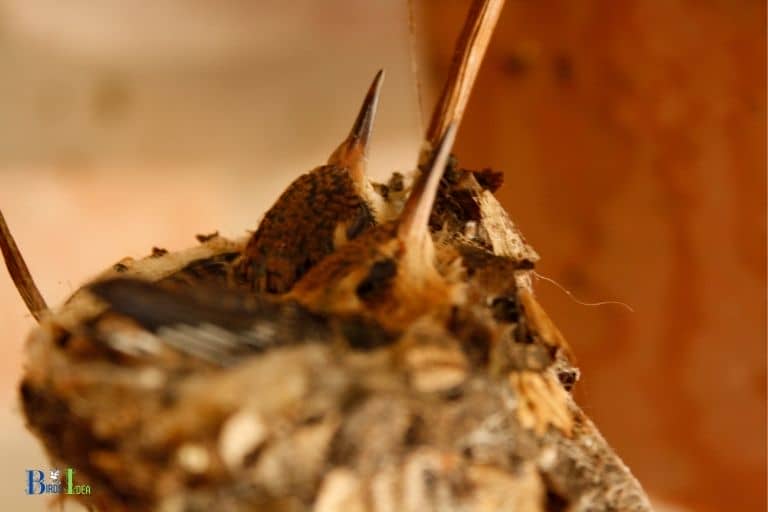 Five Facts About Hummingbirds Nesting in Oregon
Hummingbirds in Oregon typically begin nesting around April and continue through August. They prefer the warmer months for nesting, as there is an abundance of food sources and milder weather conditions. (Source: Oregon State University Extension Service)
Nests are generally found at heights around 10 to 90 feet in trees, shrubs, or other tall vegetation. They are built in strategic locations to provide protection from predators and harsh weather conditions. (Source: The Oregonian)
Hummingbirds in Oregon are primarily attracted to native plants as food sources. These plants include red flowering currant, salvia, fuchsia, and foxglove. Providing these plants in your yard can help attract and support hummingbirds during nesting season. (Source: Portland Audubon Society)
Some of the commonly seen hummingbird species in Oregon include Anna's humingbird, Rufous hummingbird, and Black-chinned hummingbirds. These species have different nesting habits and preferences, which can influence when they choose to nest in the state. (Source: The Oregonian)
Conservation efforts in Oregon, including habitat restoration projects and education programs, have helped boost hummingbird populations and protect their nesting habitats. These efforts have contributed to a healthier ecosystem and increased opportunities for bird-watching and enjoyment of nature. (Source: Oregon Department of Fish and Wildlife)
Life Cycle Of Hummingbirds: An Overview
Introducing Hummingbirds And Their Unique Life Cycle
Hummingbirds are delightful little birds that are commonly found throughout oregon. They are known for their vibrant colors, powerful wings, and remarkable flying abilities.
These tiny birds have an exceptionally unique life cycle that sets them apart from all other birds.
Here are some interesting facts to help you better understand the life cycle of hummingbirds:
The average lifespan of a hummingbird is around 3 to 5 years in the wild.
Hummingbirds are incredibly proficient flyers, capable of flying up to 60 miles per hour!
They have a very high metabolism, allowing them to consume twice their body weight in nectar each day.
Hummingbirds have an intricate mating ritual that involves a series of aerial displays.
Their nests are tiny and often hard to spot, as they are constructed with moss, lichens, and spiderwebs.
Once the hummingbird eggs hatch, the mother feeds the chicks with a regurgitated mixture of nectar and insects until they are old enough to fly.
Brief Discussion On Their Habitats And Migration
Hummingbirds can be found living throughout a wide range of habitats in oregon, including forests, gardens, and meadows. They require a lot of nectar-rich flowers in their habitat to fulfill their high energy needs.
Here are some interesting facts about hummingbirds and their migration:
Hummingbirds migrate to oregon in the spring and summer months to breed and find a new food supply.
They fly an incredible distance during migration, averaging about 23 miles per day.
Hummingbirds are known to migrate as far as 3000 miles to reach their breeding grounds in oregon.
Many people are fascinated by hummingbirds and set up feeders in their yards to attract these beautiful birds.
The best time to see hummingbirds in oregon is during the months of may to august when they are most active.
Hummingbirds are fascinating little creatures with a unique life cycle. Their ability to fly, high metabolism, and intricate mating rituals are just a few of the things that make them stand out from other birds.
If you want to see hummingbirds in oregon, remember to look for areas with lots of nectar-rich plants and setup hummingbird feeders in your backyard.
The Nesting Process Of Hummingbirds In Oregon
When Do Hummingbirds Nest In Oregon?
Oregon is considered the hummingbird capital of the united states, with almost thirty different species routinely spotted throughout the state.
Hummingbirds are highly regarded for their bright colors and unique behavior, such as hovering in place while feeding. One of the most fascinating aspects of these birds is their nesting process.
In this post, we'll discuss when hummingbirds nest in oregon and delve deeper into their nesting behaviors.
When Do Hummingbirds Nest In Oregon?
Hummingbirds typically nest in the spring and summer months, between march and august, in oregon. The exact time of nesting may vary depending on the species.
For instance, the rufous hummingbird, known for their stunning coppery feathers, may start nesting in late february to early march.
On the other hand, the anna's hummingbird, a common year-round resident in oregon, may start nesting as early as december.
However, most species of hummingbirds will start their nesting process in the spring, after the winter months have passed.
Understanding The Nesting Behaviors Of Hummingbirds
Hummingbirds are known to be fiercely territorial when it comes to their nests, which are often well hidden and challenging to spot.
Once they find a suitable spot, they will begin constructing their nest using spider silk and plant material. The nest's size is typically no more significant than a golf ball, with a small opening at the top.
Here are some key points to know about hummingbird nesting behaviors:
Hummingbirds will lay a maximum of two eggs at a time.
The eggs are incredibly tiny, about the size of a coffee bean.
The mother hummingbird will incubate the eggs for around two weeks before they hatch.
After the chicks hatch, the mother will feed them every fifteen to twenty minutes, even through the night.
The chicks will leave the nest about three weeks after hatching but will still rely on their mother for food for a few more weeks.
By understanding hummingbird nesting behaviors, you can attract these beautiful birds to your garden and provide a safe place for them to build their nests.
Creating a hummingbird-friendly environment may include planting native flowers and providing a water source for them to drink and bathe.
Hummingbirds are remarkable birds with unique nesting behaviors. They typically nest between march and august in oregon, with the exact timing varying depending on the species.
Understanding hummingbirds' nesting behaviors can help attract these birds to your garden and provide a safe place for them to build their nests and raise their young.
Caring For Hummingbirds During Nesting Season In Oregon
When it comes to hummingbirds nesting in oregon, it is vital to care for them during their nesting season. This period runs from late april until early august when the birds mate, nest, and hatch their young.
During this time, hummingbirds may stay in one area, and thus, it's necessary to provide them with a suitable environment, food, and protection to prevent predators.
Feeding Hummingbirds During The Nesting Season
Hummingbirds need enough food, which contains nectar and protein, to provide energy for building nests and nursing their young. Nectar can be found in flowering plants while proteins are found in insects such as spiders and gnats.
During the nesting season, follow the following feeding guidelines:
Provide a hummingbird feeder filled with 4 parts water to 1 part sugar.
Hang the feeder in a shaded area, away from the wind and direct sunlight.
Clean the feeder every two to three days to prevent mold growth.
If possible, plant native flowers that bloom during the nesting season.
Preventing Predators During The Nesting Season
Hummingbirds are vulnerable to predators such as cats, squirrels, and snakes while nesting. They build their nests in tree branches and shrubs, making it necessary to provide a safe environment to protect them.
Here are some ways to prevent predators from approaching their nests:
Clear away any dense bushes or shrubs around your yard where predators can hide.
Hang feeders and nesting material from a high place where predators can't reach them.
Cover windows and glass doors to prevent collisions.
Install a predator guard on the feeder.
Place a chicken wire around the nests to keep predators at bay.
Caring for hummingbirds during the nesting season is crucial to their survival and growth. Providing enough food, a safe and secure environment, and keeping predators at bay can ensure the survival of these extraordinary creatures.
The End Of The Nesting Season
When do hummingbirds nest in oregon: the aftermath of nesting season
Oregon is home to several species of hummingbirds like rufous, anna's hummingbird, and calliope hummingbird. These tiny creatures are famous for their quick movements and vibrant colors.
However, the state's unique climate and geographic location determine the pattern of their nesting season.
The End Of Nesting Season
The end of the nesting season is an eventful time for hummingbirds and bird enthusiasts in oregon.
Here are some key points explaining what happens during this time:
Hummingbirds begin to migrate towards warmer climates in search of food and shelter.
Male hummingbirds depart first, followed by the females and young ones.
The birds that breed in oregon typically leave in late summer or early fall.
It is not uncommon to see a straggler or two after migration, especially if there is a ready food source.
The Aftermath Of Nesting Season
Once the hummingbirds have migrated away from oregon, a lot of activity happens.
Here are some things to know:
Maintenance and cleaning of feeders and nesting sites can begin.
Field experts and enthusiasts start compiling data that has been gathered during the nesting season.
This data is then used to formulate strategies for hummingbird conservation, researching migration patterns, and improving habitat.
Birdwatchers also get excited about the prospect of observing other migratory bird species.
With the nesting season over, it's important to remember that hummingbirds are a crucial part of oregon's ecosystem.
The birds play an essential role as pollinators of various plants, and their presence also indicates the overall health of the region's environment.
By being mindful of their habitats and providing support, we can keep these tiny beings thriving within our state's borders.
FAQ On Hummingbirds Nesting In Oregon
What Is The Best Time To See Hummingbirds In Oregon?
The best time to see hummingbirds in oregon is from april to september.
What Do Hummingbird Nests In Oregon Look Like?
Hummingbird nests in oregon are small cups made of spiderwebs, lichens and plant fibers.
How Can I Attract Hummingbirds To Nest In My Garden?
Attract hummingbirds to nest in your garden by planting nectar-rich flowers and providing a water source.
How Many Eggs Do Hummingbirds Lay In Oregon?
Most hummingbirds in oregon lay 2 eggs per clutch, but some species can lay up to 4 eggs.
How Long Do Baby Hummingbirds Stay In The Nest In Oregon?
Baby hummingbirds stay in the nest in oregon for 18-22 days before fledging.
Conclusion
As we wrap up our discussion on when hummingbirds nest in oregon, it is important to remember that these tiny creatures are a true delight to observe. From their flashy colors to their rapid wingbeats, they are a reminder of the beauty of nature.
It is also crucial to note that they rely on certain types of flowers for food and nesting materials, so it's our responsibility to protect their habitat. As for the timing of their nesting season, one should keep in mind the temperature, the availability of food sources and the daylight hours.
To attract hummingbirds to your yard, you can plant native flowers, provide sugar water, and avoid using pesticides. Ultimately, the best way to learn about oregon's hummingbirds is to observe them in their natural habitats. So, grab your binoculars and head out to appreciate the wonders of these tiny feathered wonders.