How Do Hummingbirds Survive Storms? 5 Strategies!
Hummingbirds survive storms by seeking shelter among dense foliage or shrubs, often retreating to the same locations they use at night to sleep.
They wedge themselves among strong branches that offer protection from rain and wind.
During heavy storms, hummingbirds also can go into a state known as torpor, which is a deep sleep-like state where their body temperature drops and their metabolism slows down significantly, helping them conserve energy.
They use the updrafts of wind to fly to new locations, find shelter, and stay away from the high winds and driving rain.
Hummingbirds are lightweight and have an average weight of around 3 to 5 grams.
Hummingbirds tuck their beak and feathers close to their body and press against foliage or nest walls to protect themselves during storms.
Hummingbirds are able to use the updrafts of wind to fly away from the storm.
Hummingbirds seek new, sheltered locations during storms, such as tree hollows, sheltered places along cliff faces, or the eaves of buildings.
Hummingbirds have adapted in a way that allows them to survive storms, thanks to their light weight, ability to tuck their beak and feathers, and use of the updrafts of wind to fly away and find shelter.
This allows them to stay safe and away from the storm's high winds and rain.
5 Survival Strategies of Hummingbirds in Storms
| | |
| --- | --- |
| Survival Strategies | Description |
| Seeking Shelter | Hummingbirds usually seek out sheltered spots like thick bushes or dense trees to protect themselves from the weather. |
| Conserving Energy | They slow their metabolism to a torpor state, significantly reducing their energy requirements and helping them survive harsh conditions. |
| Ground Feeding | If the storm is too intense making it hard to feed in the air, hummingbirds can feed off the ground from small flowers and insects. |
| Migrating | Hummingbirds may sense a coming storm and migrate to safer areas beforehand. This largely depends on the species and their migration habits. |
| Using Their Tail | Their flexible tail feathers can serve as a rudder, providing stability and control during flight in heavy winds. |
5 Survival Strategies of Hummingbirds in Storms
Key Takeaway
Hummingbirds have inherent adaptability skills that allow them to weather storms.
They use lots of energy and need constant food intake to survive. During a storm, this becomes an extreme challenge.
Hummingbirds can also drop their body temperature to enter a state of torpor that enables them to conserve energy during harsh weather conditions.
Creating a hospitable environment like providing feeders can be a helpful lifeline for these creatures during a storm.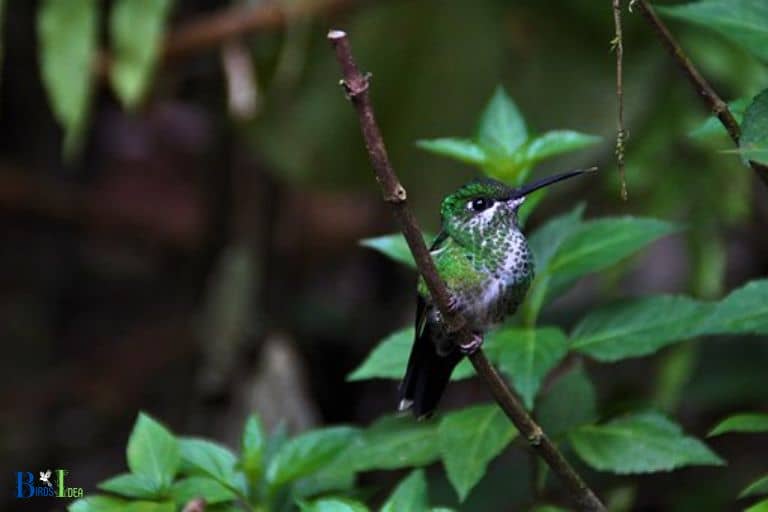 Five Facts About: Survive Storms
Hummingbirds are among the smallest species of birds, typically ranging from 7.5 to 13 cm in length and weighing only a few grams. (source: National Geographic)
These birds are well-equipped for harsh weather conditions. They have a rapid metabolism to keep their body temperature stable, can fly in all directions to avoid storm fronts, and can even hover in place against high winds. (source: The Spruce)
When food sources are scarce like during storms, Hummingbirds can enter a state called torpor. It's a deep sleep-like state where their body temperature drops and metabolic rate slows down, allowing them to conserve up to 60% of their energy. (source: Wild Birds Unlimited)
Despite their small size, Hummingbirds are extremely territorial, especially near food sources, as they need to consume approximately half of their body weight in food each day. (source: National Geographic)
You can assist hummingbirds during stormy weather by providing sugar-water feeders. They're a good emergency food source when natural nectar may not be readily available. However, make sure to place these feeders under a shelter to keep the nectar dry. (source: Bird Watchers Digest)
DID YOU KNOW
The ruby-throated hummingbird can reach speeds of up to 34 miles per hour, allowing them to avoid the worst effects of storms.
---
Hummingbird Adaptations That Help Them Survive Storms
Hummingbirds are tiny birds that have evolved incredible adaptations to survive storms.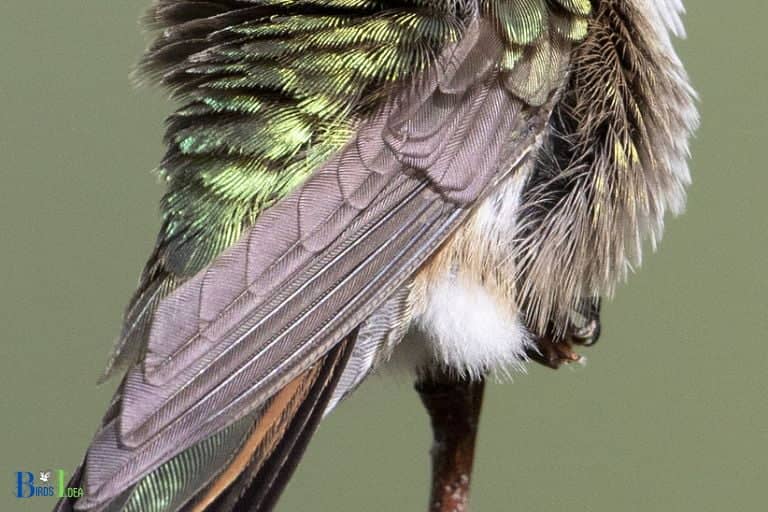 Here are some of their adaptations:
Feathers:
Hummingbirds have a dense layer of feathers that help them stay warm and dry during storms. The feathers also help them maintain their body temperature and reduce losses due to evaporation.
Wings:
Hummingbirds have small wings that quickly move up and down like a propeller, allowing them to hover in place and make sudden movements to avoid gusts of wind.
High Metabolism:
Hummingbirds have a very high metabolic rate which helps them generate heat, allowing them to stay warm during cold weather.
Physiology:
Hummingbirds have a unique physiology that helps them survive the cold. Their bodies have a strong ability to retain heat, and their hearts beat at a very high rate to keep their body temperature stable.
Adaptable Diet:
Hummingbirds are able to adapt their diet to take advantage of the available food sources during storms. They may eat more insects than usual, which makes them more resilient during storms.
These adaptations help hummingbirds survive the stormy weather and make it possible for them to thrive in many climates.
Weigh and Structure of Hummingbirds
Hummingbirds are the smallest known bird species in the world. They weigh from 2-20 grams, depending on the species, and have a slender body structure.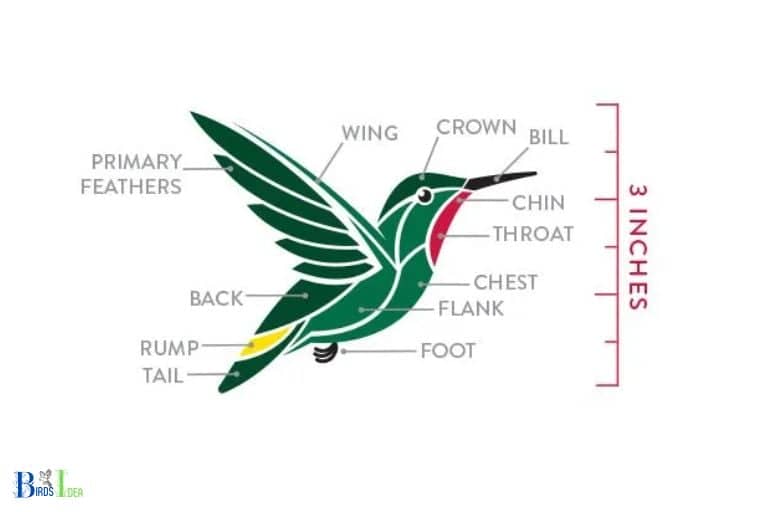 The characteristics of hummingbirds include:
A small body size
Long wings
A long, thin beak
A long tongue
Their ability to hover and fly backwards
Hummingbirds have a unique diet which consists of nectar, small insects and spiders. They have an incredibly high metabolism and feed frequently throughout the day. They also have the ability to enter a state of torpor to conserve energy.
Hummingbirds are one of the most interesting species due to their size, structure, diet, and ability to fly. They have an important role in the ecosystem and pollination of plants.
Ability of Hummingbirds to Tuck Beak and Feathers
Hummingbirds have the unique ability to tuck their beak and feathers, which helps them survive in the wild.
Tucking their beak and feathers serves several purposes for the birds, including:
Preserving body heat in colder temperatures
Camouflaging from predators
Minimizing wind resistance when flying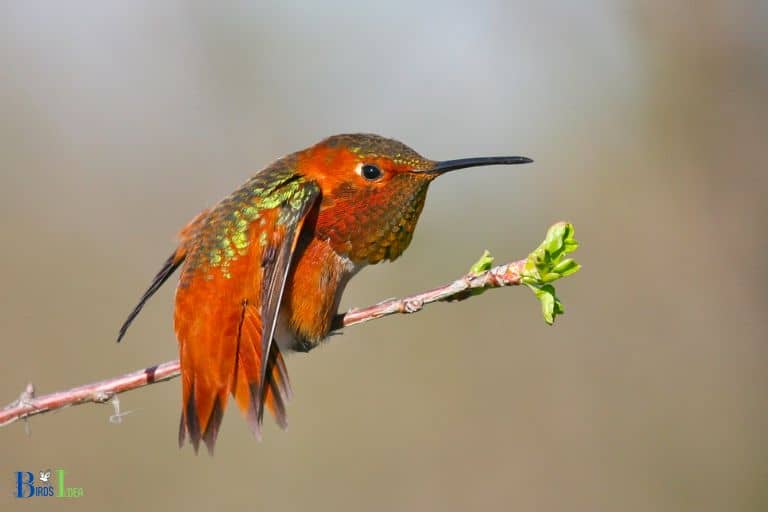 The process of tucking their beak and feathers is called "roosting" and is done with a quick tuck of their beak into their feathers, followed by a tuck of their wings against their back.
This roosting action is instinctive and provides extra protection during colder weather as it helps to keep the bird's body warm.
In addition to preserving body heat, tucking their beak and feathers also helps hummingbirds to camouflage in their natural environment, making it more difficult for predators to spot them.
By tucking their wings and feathers, they blend in with the environment, making them harder to spot.
Finally, tucking their beak and feathers also helps hummingbirds reduce drag and maximize speed when in flight.
By reducing the surface area of their body exposed to air, they are able to travel faster and with less energy.
Use of Updrafts of Wind by Hummingbirds
Hummingbirds are known for their agility and aerial prowess. They can hover in mid-air and fly backward and sideways, a capability that is unique among all bird species. A major factor that contributes to this remarkable flying ability is their use of updrafts of wind.
Updrafts are the invisible columns of air that are created when the wind strikes an object, such as a mountain, and is forced upward.
Hummingbirds use updrafts to fly higher, faster and for longer periods of time with less energy expenditure.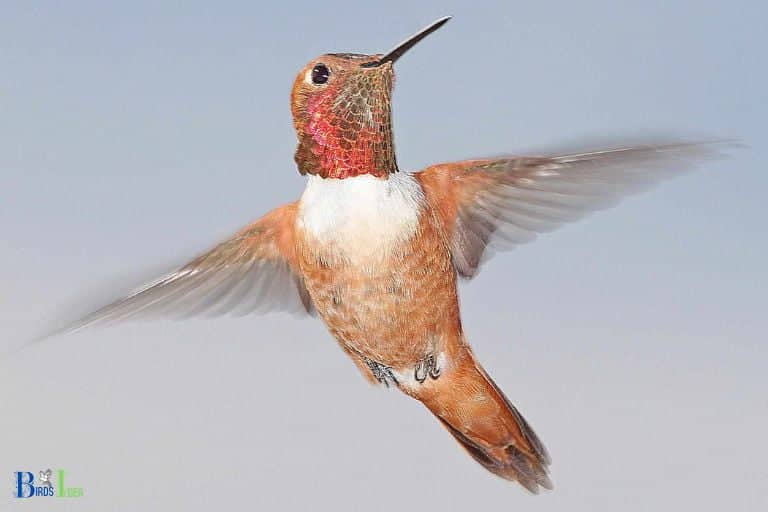 Some of the benefits of using updrafts of wind for hummingbirds include:
Reduced energy expenditure:
Flying against the wind requires more effort and energy as compared to flying with the wind. By taking advantage of updrafts, hummingbirds can achieve greater height with less effort.
Increased efficiency:
By using the wind to its advantage, a hummingbird can reach a greater speed and fly for longer distances in the same amount of time.
Improved maneuverability:
By riding the wind, hummingbirds can easily ascend, move in different directions, and ascend or descend with relative ease.
Hummingbirds use the gusts of wind to perform complex aerial maneuvers and to travel great distances with minimal effort.
By using the energy of the wind, these delightful birds are able to perform feats of aerial acrobatics with remarkable efficiency and control.
Places Hummingbirds Seek Out During Storms
Hummingbirds seek places that offer shelter and food during storms.
Here are some of the places they visit: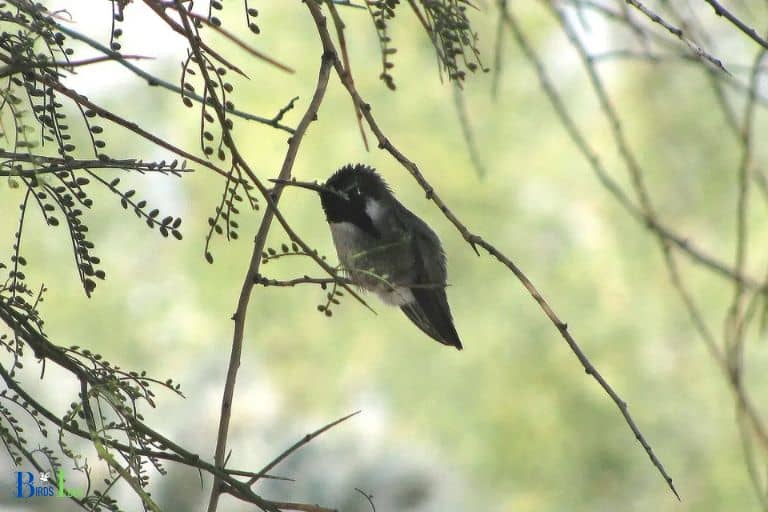 Trees: Hummingbirds often hide in trees when storms come. They look for trees with dense foliage that can offer more protection.
Porches and verandas: Hummingbirds can find shelter on porches and verandas, as they look for a place to wait out the storm.
Feeders: If a hummingbird has access to a feeder, it will often seek shelter at the feeder, as it provides both food and protection from the storm.
Hummingbirds also look for places near windows and doors, as they offer some shelter from the wind and rain.
Finally, hummingbirds may seek out covered spots such as carports, roof gutters, or overhangs if they are available.
These areas offer some protection from the elements, allowing the hummingbirds to wait out the storm.
Benefits of Hummingbird Adaptations During Storms
Hummingbirds have a variety of adaptations, including physical and behavioral, that help them survive during storms.
These adaptations allow the birds to remain safe and secure in adverse conditions.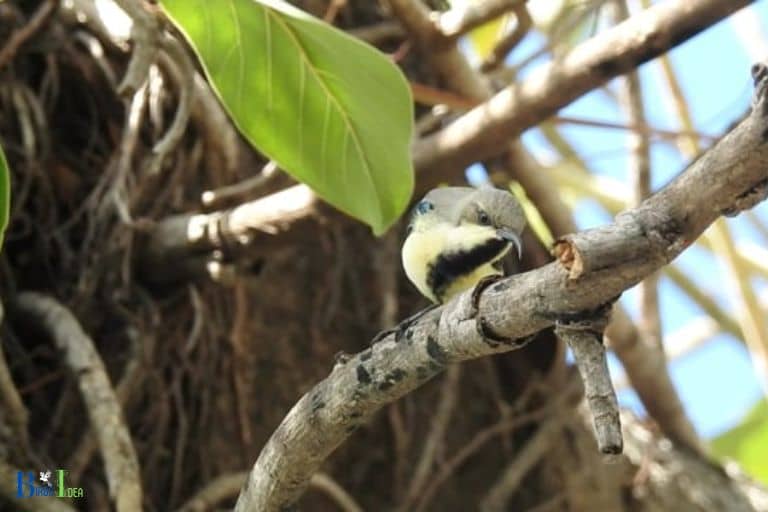 Below are some of the benefits of hummingbird adaptations during storms:
Flight: Hummingbirds have the ability to fly quickly and maneuver in tight spaces, making them adept at avoiding storms and navigating turbulent winds.
Thermoregulation: Hummingbirds' feathers and bright colors help them maintain a comfortable body temperature regardless of the weather outside.
Camouflage: Their brightly colored bodies make them hard to detect when perched on a branch, helping them to remain hidden from potential predators during a storm.
Migration: The birds are able to migrate to more hospitable climates, traveling thousands of miles each year to find an area with more food and safety from storms.
Hummingbirds are well-adapted to handle the toughest of storms, allowing them to survive and thrive during inclement weather.
With the ability to fly, thermoregulate, camouflage, and migrate, these birds are equipped to handle whatever Mother Nature throws their way.
How These Adaptations Help Hummingbirds Survive Storms?
Hummingbirds are small birds, but they are well-adapted to survive storms. They have several physical and behavioral adaptations that help them cope with these conditions.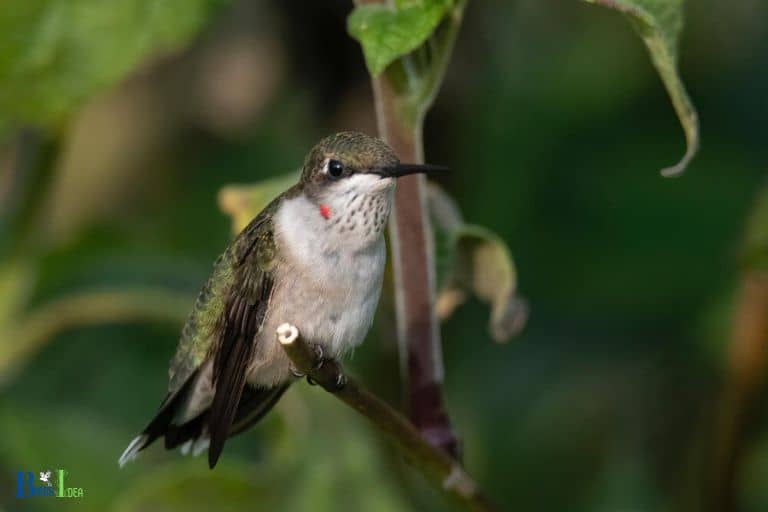 Physical Adaptations:
Hummingbirds have a small body shape and size, which helps them to remain in the air and keep moving during storms.
Additionally, they have large wings and a lightweight body, which allows them to fly quickly and maneuver around trees and other obstacles.
Behavioral Adaptations:
Hummingbirds are known to fly close to the ground and perch on trees or other structures during storms. This helps them to avoid strong winds and turbulent air.
Additionally, they may seek shelter in dense vegetation or small caves, which can provide protection from the elements. They also take advantage of heated air currents by flying up and down thermals to stay warm.
---
Overall, hummingbirds have several adaptations that help them survive storms and other adverse conditions. These adaptations enable them to remain safe and continue life's activities.
FAQ of How Do Hummingbirds Survive Storms
How do hummingbirds stay safe during storms?
Hummingbirds protect themselves during storms by seeking shelter. This can include sheltering in foliage or dense growth, seeking shelter under eaves of buildings, or taking refuge in cavities or shelters provided by humans.
How do hummingbirds stay warm in extreme weather?
Hummingbirds are able to regulate their body temperature by entering a state of torpor, where their temperature and metabolism drops significantly.
This allows them to survive cold winters and hot summers. Hummingbirds will also fluff up their feathers to trap heat and conserve energy.
Are hummingbirds at risk of electrocution during storms?
Yes, hummingbirds are particularly susceptible to electrocution during storms as they may be attracted to exposed wires or power lines.
To help keep hummingbirds safe, bird-safe wires and insulation should be used to reduce the risk of electrocution.
Do storms affect hummingbirds' food sources?
Yes, storms can affect hummingbird feeding grounds as heavy rain can cause flowers and nearby food sources to become inundated with water.
Hummingbirds will then be forced to find alternative food sources during this time.
How do hummingbirds prepare for storms?
Hummingbirds are capable of identifying a storm before it starts and will often prepare ahead of time by collecting extra food and nesting materials, as well as seeking shelter in a safe location.
Hummingbirds may also gather in large flocks ahead of a storm to coordinate their response.
Conclusion
Hummingbirds are incredibly adaptive and use several strategies to survive storms. Among them include seeking shelter, reinforcing feathers, and reducing flight.
Keeping suitable plants in the garden can also provide safe spaces for hummingbirds when storms come.