How Do You Get a Hummingbird to Trust You? 8 Steps!
To get a hummingbird to trust you, you need to create a safe and welcoming environment by providing food, water, and shelter, maintaining consistency, practicing patience, and avoiding sudden movements.
Hummingbirds are small, delicate creatures that can be easily scared away if they feel threatened or unsafe.
By creating a space that caters to their needs and demonstrating patience, you can eventually gain their trust and have them become more comfortable in your presence.
Set up a hummingbird feeder filled with nectar
Provide a water source, like a shallow dish or bird bath
Create shelter with nearby plants or trees
Be consistent with the time and location of your presence
Setting up a hummingbird feeder is one of the most effective ways to attract these beautiful birds to your space.
Choose a feeder that is easy to clean and fill, and place it in an area where you can observe the hummingbirds without disrupting their feeding. Make sure to keep the nectar fresh, as this will ensure the birds return to your feeder regularly.
Additionally, providing a water source such as a shallow dish or bird bath will encourage hummingbirds to come and bathe in your garden. Shelter in the form of plants or trees offers hummingbirds a place to rest and feel secure.
Lastly, practicing patience and consistency in your interactions with hummingbirds will allow them to gradually grow more comfortable around you, eventually leading to trust.
8 Steps for Gaining a Hummingbird's Trust
| Step | Action | Details |
| --- | --- | --- |
| 1 | Choose a location | Find a spot in your garden, balcony or yard where hummingbirds are frequently seen or known to visit. |
| 2 | Set up a hummingbird feeder | Purchase a feeder designed for hummingbirds and fill it with a sugar solution (4 parts water to 1 part sugar) to attract them. |
| 3 | Regular feeder maintenance | Clean and refill the feeder regularly to ensure the solution remains fresh and sanitary for the birds. |
| 4 | Be consistent | Keep the feeder in the same location so that hummingbirds become accustomed to its presence. |
| 5 | Create an inviting environment | Plant flowers, such as salvia or trumpet vine, that are known to attract hummingbirds for additional food sources. |
| 6 | Observe from a distance | Watch the hummingbirds from a distance at first to allow them to become comfortable with your presence. |
| 7 | Gradually move closer | Slowly and calmly move closer to the feeder over time as the hummingbirds become more accustomed to your presence. |
| 8 | Remain still and quiet | When in close proximity, remain still and quiet to avoid startling the birds and to gain their trust. |
| 9 | Offer a handheld feeder | Once the hummingbirds are comfortable with your presence, try holding a small feeder in your hand near the larger feeder. |
| 10 | Be patient | Gaining the trust of hummingbirds takes time and patience; continue to follow the steps above and eventually, they may trust you enough to feed from your hand. |
8 Steps for Gaining a Hummingbird's Trust
Key Takeaway
Building trust with hummingbirds takes time and patience
Providing a consistent and safe environment is crucial
Offer food sources, such as nectar and fruit, to attract them
Observing hummingbirds without disturbing them is key to gaining their trust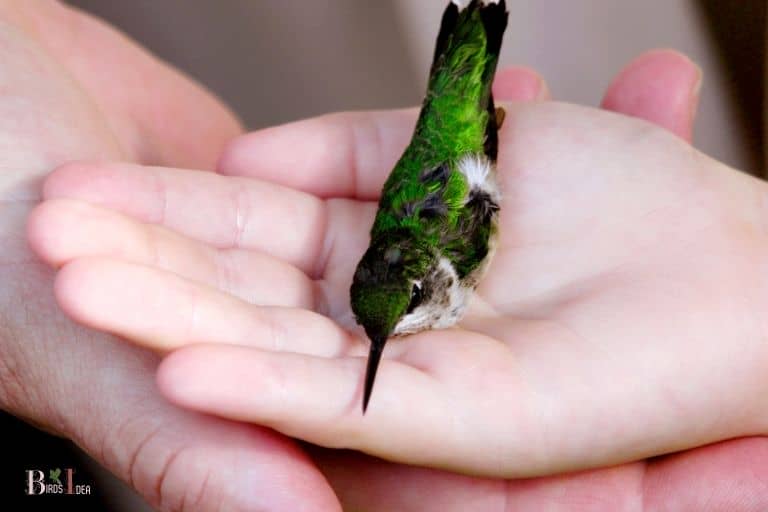 Five Facts About Win Hummingbird's Trust
Hummingbirds are attracted to bright colors, so wearing bright clothing or placing brightly colored feeders in your garden can help to gain their trust. (Source: Audubon)
Providing a consistent food source by regularly refilling hummingbird feeders with fresh, homemade nectar will encourage these birds to visit more often. (Source: Hummingbird Central)
Creating a safe environment for hummingbirds, such as choosing feeders with built-in perches and placing them away from windows or potential predators, is important in earning their trust. (Source: Birds and Blooms)
Offering multiple feeders placed at different heights and locations can help attract more hummingbirds and reduce territorial behavior. This allows the hummingbirds to feel more comfortable and trusting. (Source: Wild Birds Unlimited)
Remaining still and quiet while observing hummingbirds is essential, as sudden movements and loud noises can scare them away. Over time, they will become more accustomed to your presence and trust you more. (Source: Wild Birds Unlimited)
Understanding The Nature Of Hummingbirds
Hummingbirds are small, colorful birds that are known for their unique and fascinating characteristics.
These birds are native to the Americas, and there are over 300 different species of hummingbirds. Before you can gain the trust of a hummingbird, it's essential to understand their nature.
In this section, we'll explore the unique characteristics of hummingbirds, their habitats, and their diet.
The Unique Characteristics Of Hummingbirds
Hummingbirds are the smallest birds in the world, and they have some remarkable characteristics that set them apart from other birds.
Here are some of the unique features of hummingbirds:
Hummingbirds can fly forwards, backward and even upside down, making them the only birds capable of sustained hovering.
Their wings can beat up to 80 times per second, allowing them to move in any direction quickly.
Hummingbirds have a high metabolism and can consume two times their body weight in nectar each day.
With a heart rate of up to 1,200 beats per minute, hummingbirds are the fastest birds in terms of their heartbeats.
Their tiny size and colorful feathers make them stand out from other birds effortlessly.
The Habitats Of Different Hummingbird Species
Hummingbirds can be found in a range of habitats across the americas.
Different species inhabit different environments, and their favorite habitats include:
Forests and woodlands
Deserts and arid regions
Mountains and high-altitude areas
Coastal regions and wetlands
Some species of hummingbirds are migratory, while others remain in one area throughout the year.
It's essential to know the habitat of the species you're trying to attract to your garden or backyard to offer them the best environment to thrive.
The Diet Of Hummingbirds
Hummingbirds have a unique diet that is high in sugar. They mainly rely on nectar from flowers to provide their energy needs, but they also consume insects and spiders.
Here are some interesting facts about the hummingbird diet:
Hummingbirds have an exceptionally high metabolism and require frequent feeding to maintain their energy levels.
They consume a lot of nectar, which is high in sugar, to fuel their high-energy lifestyle.
Insects and spiders provide additional protein and other essential nutrients for their health.
Hummingbirds can locate food sources by their color, odor, and shape.
Understanding the unique characteristics, habitats, and diet of hummingbirds can help you attract and gain their trust.
By offering a suitable environment and the right food sources, hummingbirds will be more likely to choose your garden or backyard as their home.
The Importance Of Building Trust With Hummingbirds
Hummingbirds are fascinating creatures that are known for their agility, speed, and beauty. They are a joy to watch, and many people are eager to attract them to their gardens.
However, building trust with these incredible birds can be a challenge. In this section, we'll explore the importance of building trust with hummingbirds and how to do it effectively.
Why Trust Is Key To Hummingbird Interaction
Building trust with hummingbirds is essential if you want to have a positive interaction with them.
Here are a few reasons why trust is so important:
Hummingbirds are cautious creatures and are easily frightened. If they do not trust you, they will not come near you or your feeder.
Trusting humans is not natural for hummingbirds since they instinctively view humans as potential threats.
Building trust with hummingbirds takes time and patience, but once they learn to trust you, you'll be rewarded with amazing interactions and close-up views of these incredible creatures.
To gain a hummingbird's trust, it's important to understand the difference between trust and attraction.
Trust Vs. Attraction: What'S The Difference?
Attracting hummingbirds to your garden is easy. All you need is a brightly colored feeder filled with sugar water and some brightly colored flowers.
However, attracting hummingbirds is not the same as building trust with them. Attraction is simply getting hummingbirds to come to your feeder or garden.
Trust, on the other hand, is when the hummingbirds feel safe enough to approach you and your feeder without fear. Trust requires a deeper level of interaction and understanding between you and the hummingbirds.
While attraction can be achieved by creating an appealing environment with bright colors and sweet nectar, earning a hummingbird's trust requires consistency, patience, and a gentle approach.
How Trust Benefits Both Humans And Hummingbirds
Building trust with hummingbirds benefits both humans and the birds themselves.
Here are a few benefits:
Hummingbirds are curious creatures and will often investigate anything new in their environment. Once they trust you, you'll be rewarded with amazing close-up views of these incredible creatures.
Feeding hummingbirds can be a relaxing and rewarding experience. By building trust with the birds, you can create a peaceful environment where you can observe and appreciate their beauty.
Hummingbirds play an essential role in pollinating flowers and spreading plant seeds. By building trust with them, you're helping to support these critical ecological functions.
Building trust with hummingbirds may take time and patience, but it's well worth the effort.
By understanding the importance of trust, the difference between trust and attraction, and the benefits that trust can bring, you'll be well on your way to forging a deeper connection with these amazing creatures.
Building Your Trustworthiness As A Hummingbird Companion
As a hummingbird enthusiast, building trust with these tiny, beautiful creatures is essential. While it might seem like a daunting task to gain their trust, it is possible with patience and understanding.
Here are some ways to make hummingbirds consider you as a trusted companion.
Learning To Observe Hummingbird Behavior
Observation is the first step to understand hummingbirds. By paying close attention to their behavior, you'll be able to learn their character.
Several behavioral patterns are critical to observe, such as feeding, flying habits, and fighting with other hummingbirds. Watching them up close will help you understand what they want and when they want it.
Here are some things to note:
Keep an eye on their feeding routine and note the amount of nectar they consume.
Observe when the birds often visit the feeder and what time they come.
Check for signs of aggression or stress, such as hovering, chirping, or fighting.
Finding Ways To Become A Part Of Their World
Gaining their trust requires that you become a part of their world. It is all about building a connection between the hummingbird and yourself.
Here are some ways to do that:
Locate a comfortable spot near the hummingbird feeder and spend time there quietly.
Wear bright, colorful clothing since hummingbirds are attracted to bright colors.
Speak to the birds in a calm, soft tone to let them know it is safe to be near you.
Providing Nourishment And Support
Providing nourishment and support is crucial to building trust with hummingbirds. These tiny creatures depend on food and shelter for survival, and providing them in abundance will make them feel secure and comfortable in your presence.
Here are some ways to provide nourishment and support:
Keep the feeder clean and full of fresh nectar.
Plant flowers that hummingbirds love, such as salvia, petunias, and columbine.
Offer small water sources, such as birdbaths or misters, for hummingbirds to take a bath and stay refreshed.
By following these tips and consistently providing food and shelter, you will soon win the trust of hummingbirds and become their trusted companion.
Remember that building trust is a process that requires time, patience, and care. Enjoy the ride and appreciate the opportunity to connect with these fascinating creatures.
Tips On Earning The Trust Of Hummingbirds
Hummingbirds are fascinating creatures that captivate the hearts of bird lovers everywhere. These tiny birds are known for their extraordinary speed, agility, and beauty.
If you are hoping to establish a bond with these lovely winged creatures, there are easy ways to earn their trust.
In this section, we will discuss tips on earning the trust of hummingbirds, including patience, non-threatening behaviors, and providing shelter.
Being Patient And Taking Your Time
One of the most important things you can do when trying to gain the trust of hummingbirds is to be patient and take your time. Since hummingbirds are naturally cautious, it takes time for them to feel comfortable enough to let their guard down.
Here are some helpful tips on being patient and taking your time:
Start by watching from a distance: Taking the time to observe hummingbirds from a distance will allow you to see their behavior patterns and become familiar with their routines.
Stay still: Once you have found a hummingbird's preferred spot, do not make any sudden movements. Stay very still and avoid making any noise. This will help the hummingbird to feel safe.
Avoid eye contact: Direct eye contact can be seen as a threat, so it's best to avoid eye contact with a hummingbird, especially when they are close by.
Offering Consistent, Non-Threatening Behaviors
Hummingbirds are very sensitive to their environment, and any behavior that seems threatening can make them feel uncomfortable and less likely to approach.
The following tips on offering consistent, non-threatening behaviors will help hummingbirds feel more at ease:
Use a red feeder: Hummingbirds are attracted to the color red, so using a red feeder can entice them to come closer.
Change the nectar regularly: Stale nectar can make hummingbirds ill, so it's important to change their nectar at least once a week.
Keep the feeder clean: Dirty feeders can harbor bacteria that can make hummingbirds sick, so it's essential to keep them clean.
Avoid sudden movements: Any sudden movement can cause hummingbirds to fly away, so it's crucial to move around slowly and avoid any sudden movements.
Using Perches And Providing Shelter
Providing perches and shelter for hummingbirds is an excellent way to earn their trust. Perches and shelter offer a safe place for hummingbirds to rest and avoid predators.
Here are some tips on using perches and providing shelter:
Offer multiple perches: Having multiple perches can give hummingbirds a sense of security, since they can fly from one perch to another.
Use natural perches: Hummingbirds prefer natural perches, such as branches and twigs, so using those will help them feel more at home.
Provide shelter: Shrubs, trees, and brush piles can provide shelter for hummingbirds, allowing them to take cover from predators and harsh weather conditions.
Earning the trust of hummingbirds requires patience, consistency, and a willingness to provide them with a safe and comfortable environment.
By using the tips discussed in this section, you can establish a bond with these lovely creatures and enjoy the beauty of their company.
FAQ About Winning Hummingbird's Trust
How Do You Attract Hummingbirds To Your Yard?
Make your yard a hummingbird paradise by planting their favorite flowers and using a brightly colored feeder.
What Do Hummingbirds Feed On?
Hummingbirds feed on flower nectar and sugar water. They may also eat insects and spiders as a source of protein.
How Do You Gain A Hummingbird's Trust?
Start by standing still and letting them get used to you. Hummingbirds appreciate soft noises, so avoid sudden movements.
How Long Does It Take For A Hummingbird To Trust You?
Building trust can take weeks or even months, but with patience and consistent efforts, you can create a bond with your feathered friends.
What Are Some Common Mistakes To Avoid When Attracting Hummingbirds?
Avoid using red dye in your nectar mixture and placing your feeder in direct sunlight. Also, be sure to clean your feeder regularly to prevent the spread of disease.
Conclusion
Overall, gaining the trust of a hummingbird may seem like a daunting task, but it is entirely possible with the right approach. Patience, consistency, and respect for their boundaries are key factors in building a bond with these tiny yet magnificent creatures.
By creating a welcoming environment with a variety of nectar sources and strategically placed feeders, staying still and calm when in their presence, and avoiding sudden movements or loud noises, you can gradually earn the trust of hummingbirds in your area.
Whether you are a seasoned bird enthusiast or just starting, taking the time to build a relationship with hummingbirds can bring a sense of joy and wonder to your daily life and help to support the well-being of these important pollinators.
So, grab a pair of binoculars and get ready to embark on a journey of trust-building with these lively and fascinating winged friends.