How to Keep Hummingbirds Warm in the Winter? 7 Method!
To keep hummingbirds warm in the winter, provide them with adequate food sources, shelter, and a heated water source to help them maintain their body temperature and energy levels.
Hummingbirds have a high metabolic rate and are vulnerable to cold temperatures. During winter, they require additional resources to stay warm and survive.
By providing them with the necessary food, shelter, and water, you can help these tiny birds maintain their body temperature and energy levels, ensuring their survival.
Provide sugar water feeders with a 4:1 water to sugar ratio regularly
Offer a heated water source, such as a heated birdbath or water dish
Plant winter-blooming flowers rich in nectar, like mahonia and winter honeysuckle
Create sheltered areas for them to rest and stay warm, like dense shrubs or a roosting box
Consistently maintain clean sugar water feeders throughout the winter months, as this is a crucial energy source for hummingbirds to maintain their body heat.
Ensure that the sugar water does not freeze by using a feeder heater or bringing the feeder indoors during the coldest parts of the day.
Additionally, providing a heated water source encourages the birds to bathe and drink, preventing dehydration and helping them maintain their body temperature.
By following these guidelines, you can play a vital role in keeping hummingbirds warm and healthy during the winter season.
7 Effective Method for Keeping Hummingbirds Warm in the Winter
| Method | Description |
| --- | --- |
| Provide Shelter | Install birdhouses or hanging nest boxes for hummingbirds to provide a safe and warm place for them to rest and sleep. |
| Use a Heated Hummingbird Feeder | Replace your regular hummingbird feeder with a heated one to prevent the nectar from freezing and provide a warmer area for the birds to feed. |
| Install Heat Lamps | Place heat lamps near hummingbird feeders or sheltering areas to provide additional warmth during cold winter nights. |
| Create a Windbreak | Plant bushes or shrubs or install a fence near hummingbird feeding areas to help block wind and create a warmer microclimate. |
| Provide Warm-Weather Flowering Plants | Plant flowers that bloom in the winter months, such as camellias and winter-blooming jasmine, to provide natural sources of nectar and warmth for visiting hummingbirds. |
| Insulate Birdhouses or Nest Boxes | Add insulation materials, such as feathers, moss, or soft fabrics, to birdhouses or nest boxes to help retain heat and provide a warmer environment for hummingbirds. |
| Provide Fresh Water | Provide a heated bird bath or water dish to ensure that hummingbirds have access to liquid water during freezing temperatures. |
7 Effective Method for Keeping Hummingbirds Warm in the Winter
Key Takeaway
Providing proper shelter and warmth for hummingbirds in winter is essential.
Providing food sources with high-energy content helps keep hummingbirds warm.
Proper feeder maintenance and placement can aid in their survival.
Hummingbirds can adapt to colder temperatures by entering torpor at night.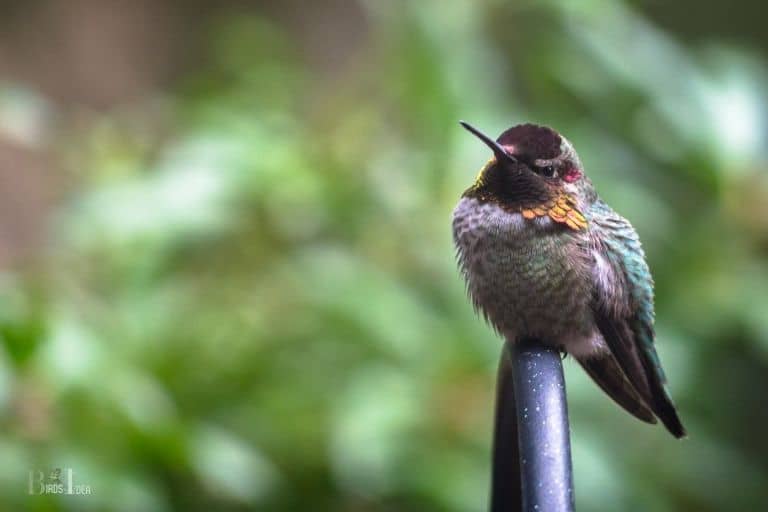 Five Facts About Keeping Hummingbirds Warm in the Winter
Hummingbirds are known to be hardy creatures, capable of adapting to various climates, including cold winters. (source: (audubon.org)
One way to keep hummingbirds warm in winter is by offering nectar feeders with sugar water as it provide them with the sufficient energy needed to generate warmth. (source: thespruce.com)
Providing natural sources of nectar by growing winter-blooming plants rich in nectar can help attract and feed hummingbirds while also offering shelter and warmth. (source: hummingbirdsplus.org)
It is crucial to keep the nectar feeders clean and check them for ice regularly, ensuring the birds have continuous access to the food source. [
(source: backyardchirper.com)
During winter nights, hummingbirds can enter a state of deep sleep known as torpor. As a survival mechanism, this dramatically reduces their heart rate and energy use in order to conserve heat. (source: allaboutbirds.org)
Understanding Hummingbirds In Winter
Hummingbirds are known for their vibrant colors and lightning-fast wings, but what happens when winter arrives? Unlike most birds, hummingbirds do not migrate in flocks.
Instead, each bird travels independently, seeking a suitable habitat for the winter months. However, not all hummingbirds leave the colder regions, and some stay put all year round.
Discuss The Migration Habits Of Hummingbirds During Winter
Hummingbirds that breed in north america typically migrate to warmer regions like mexico and central america during the winter.
Depending on the location, migration can occur as early as august or as late as october.
During migration, hummingbirds travel vast distances and can fly non-stop for up to 20 hours.
Explain The Role Of Torpor In The Hummingbird'S Survival During Winter
Torpor is a state of reduced metabolic activity that allows hummingbirds to conserve energy during cold nights or food scarcity.
During torpor, a hummingbird's body temperature can drop drastically, and its heart rate slows down to a fraction of its usual speed.
Hummingbirds can conserve up to 60-70% of their energy during torpor, making it a crucial survival tactic during the winter months.
Highlight The Importance Of Proper Nutrition For Hummingbirds During The Winter Months
Winter is a period of scarcity for hummingbirds, and finding an adequate food source can be a challenge.
Hummingbirds rely on nectar and insects for their diet, but nectar-producing flowers and insects are scarce in colder regions.
Providing hummingbirds with a sugar-water feeder and keeping it above freezing can go a long way to help them survive the winter months. It is essential to clean the feeder frequently to prevent the growth of harmful bacteria.
Understanding hummingbirds' behavior during winter is crucial to providing them with the necessary support they need.
Knowing the significance of migration, torpor, and proper nutrition can ensure that we protect these magical creatures and enjoy their presence all year round.
Creating A Hummingbird Friendly Environment
Discuss The Importance Of Shelter For Hummingbirds In The Winter
Providing shelter for hummingbirds during winter is important to protect them from the harsh cold weather. Hummingbirds that are exposed to the cold weather can suffer from hypothermia, which can lead to death.
Therefore, it is important to create an environment that mimics their natural habitat to keep them warm and healthy during the winter season.
The following are some ways to provide shelter for hummingbirds:
Use shrubs and bushes as natural shelters for hummingbirds
Place hummingbird houses or nesting boxes in your garden or backyard
Provide a windbreak by planting evergreen trees
Highlight The Different Types Of Heaters And Heat Lamps That Can Be Used To Provide Warmth For Hummingbirds
Installing heaters and heat lamps is another effective way of providing warmth for hummingbirds.
Here are some types of heaters and heat lamps that you can use:
Ceramic heaters: These are safe and efficient heaters that emit infrared heat that warms up the environment quickly.
Heat lamps: Heat lamps provide warmth by using an incandescent bulb. These lamps are often used in commercial settings and larger spaces.
Radiant heaters: Radiant heaters provide heat by emitting electromagnetic waves that warm up objects in their proximity.
Provide Tips On Creating An Environment That Is Conducive For Hummingbirds To Thrive During Winter
Creating an environment that is conducive for hummingbirds during winter is critical for their well-being.
Here are some tips to help hummingbirds thrive during the colder months:
Provide enough food by placing hummingbird feeders in your yard or garden. Make sure the nectar doesn't freeze by changing it frequently.
Ensure there is enough water in the environment for the hummingbirds to drink by providing a heated bird bath.
Plant winter-blooming flowers such as honeysuckle, quince, and winter jasmine to provide a natural source of food for hummingbirds.
Keep predators such as cats and snakes away from the environment to prevent them from attacking the hummingbirds.
Keeping hummingbirds warm during winter is vital to their survival. By providing shelter, heating, and creating a conducive environment, these beautiful birds can thrive and survive even during the coldest months of the year.
Feeding Hummingbirds In Winter
Discuss The Importance Of Feeding Hummingbirds In Winter
Winter is a tough season for hummingbirds as they struggle to find natural sources of food.
They rely heavily on flower nectar and insects, which become scarce during the colder months. Providing food for them is not only a helpful action but also crucial for their survival.
Provide A List Of Essential Foods For Hummingbirds
Apart from flower nectar, hummingbirds require high protein and fat-rich foods to survive the winters.
Some of the essential foods to feed hummingbirds during winter include:
Nectar: To make nectar, mix 4 parts boiled water with 1 part white granulated sugar.
Suet: Suet is high in protein and fat, and can be made at home or purchased from a store.
Fruit: Fruits like apples, pears, and bananas can be cut into small pieces and placed in the feeding stations.
Mealworms: Mealworms are high in protein and can be purchased from pet stores.
Sugar water: Mixing 1 part sugar in 4 parts boiled water can provide hummingbirds with the energy they need.
Explain How To Make Homemade Nectar And The Ideal Feeding Times During Winter
Making nectar at home is easy and cost-effective. To make homemade nectar, boil water and dissolve sugar at a ratio of 4 parts water to 1 part sugar. Let it cool and store it in a clean feeder.
The ideal feeding times during winter are early morning or late afternoon when the temperature is relatively warm. It's essential to change the nectar frequently, at least once a week, to prevent mold and bacteria growth.
Overall, providing the necessary foods and nectar during winter is an excellent way to ensure hummingbirds survive during the harsh winter season.
Protecting Hummingbirds From Predators And Extreme Weather
Winter can be a challenging time for hummingbirds, especially as they try to find ways to stay warm and avoid predators. However, with some simple tips and tricks, you can help keep hummingbirds safe and healthy during the colder months.
Below are some key ways to protect hummingbirds from predators and extreme weather.
Identify Common Predators Of Hummingbirds During Winter
While all birds face some level of threat from predators, hummingbirds have a few specific predators they need to look out for during the winter months.
These predators include:
Hawks
Owls
Domestic cats
Snakes
Raccoons
Discuss The Different Ways To Deter Predators From Attacking Hummingbirds
To ensure the safety of hummingbirds during winter, it is necessary to take measures to deter predators.
Some techniques to consider include:
Placing feeders in locations that are hard for predators to reach
Using specialized hummingbird feeders with bee guards and ant moats to prevent predators from finding the feeders
Installing cages or netting to protect feeders from predators
Feeding hummingbirds at dawn and dusk when predators are less active
Explain How To Protect Hummingbirds From Extreme Winter Weather
In addition to predators, harsh winter weather can also pose a significant threat to hummingbirds.
Here are some steps you can take to keep hummingbirds safe in extreme weather:
Providing insulation by wrapping insulation tape around the feeder or using heated feeders to keep the sugar water from freezing
Regularly clean and refill hummingbird feeders to help prevent the nectar from freezing
Planting winter-friendly flowers such as mahonia, coral bells, and hellebore to provide a natural source of food and warmth for hummingbirds
By following these tips and guidelines, you can help protect hummingbirds during the winter months and ensure they thrive.
With a little extra attention and care, you can keep your hummingbird visitors happy and healthy all year round.
FAQ On Keeping Hummingbirds Warm in the Winter
How Do Hummingbirds Survive In Winter?
Hummingbirds survive in winter by increasing their metabolism and fluffing their feathers.
Can Hummingbirds Die From Cold Weather?
Yes, hummingbirds can die from cold weather if they are unable to find enough food.
What Kind Of Food Should I Give To Winter Hummingbirds?
Provide winter hummingbirds with high-energy food sources such as nectar, sugar water, and insects.
Is It Okay To Use Heating Lamps For Hummingbirds In Winter?
No, it is not recommended to use heating lamps as they can be dangerous for the birds.
How Can I Create A Warm Environment For Winter Hummingbirds?
Creating a warm environment for winter hummingbirds can be done by providing shelter, windbreaks, and placing feeders in sunny areas.
Conclusion
After reading this post, you have learned how to keep hummingbirds warm in the winter by providing them with the necessary food, shelter, and water sources. Remember to choose the right type of feeder and food, provide warm nesting materials, offer a heated bird bath, and keep predators away from the hummingbirds.
With these simple steps, you can ensure that these beautiful creatures stay warm and safe during the winter months. These small birds are tough survivors, but they still need our help to make it through the harsh winter season.
By following the suggestions in this post, you can make your backyard a welcoming haven for hummingbirds all year round. So, grab your binoculars, start observing and enjoy keeping hummingbirds in your backyard throughout the winter.