Do Male Hummingbirds Sit on the Nest? No!
No, male hummingbirds do not sit on the nest.
In the hummingbird world, the responsibility of nest-building, incubation, and caring for the young primarily falls on the female.
Male hummingbirds do not contribute to these tasks and focus on territory defense, mating, and feeding themselves.
Female hummingbirds are solely responsible for nest-building and incubation.
Male hummingbirds focus on defending territory and mating.
The female also takes care of the young without any help from the male.
Males may mate with multiple females during the breeding season but provide no parental care.
In the world of hummingbirds, it is the female that takes up the essential roles of nest-building, incubating eggs, and caring for the hatchlings.
The male hummingbird, on the other hand, focuses on defending his territory and mating with as many females as possible to ensure the continuation of his genetic lineage.
While this may seem like an unequal distribution of responsibilities, it is a common pattern in many bird species, where the female is the primary caregiver for the offspring.
Different Type Male Hummingbirds and Their Nest Sitting Habits
| Male Hummingbirds | Nest Sitting Behavior |
| --- | --- |
| Anna's Hummingbird | No |
| Ruby-Throated Hummingbird | No |
| Black-Chinned Hummingbird | No |
| Rufous Hummingbird | No |
| Allen's Hummingbird | No |
| Broad-Tailed Hummingbird | No |
| Calliope Hummingbird | No |
| Costa's Hummingbird | No |
Different Type Male Hummingbirds and Their Nest Sitting Habits
In general, male hummingbirds do not sit on the nest. Only female hummingbirds are responsible for nest building, incubation, and caring for the chicks.

birdsidea
Key Takeaway
Male hummingbirds do not build nests or incubate eggs
They primarily focus on courting females and defending their territory
Females are solely responsible for nest construction, incubation, and chick rearing
The role division between male and female hummingbirds is attributed to evolutionary and energetic adaptations.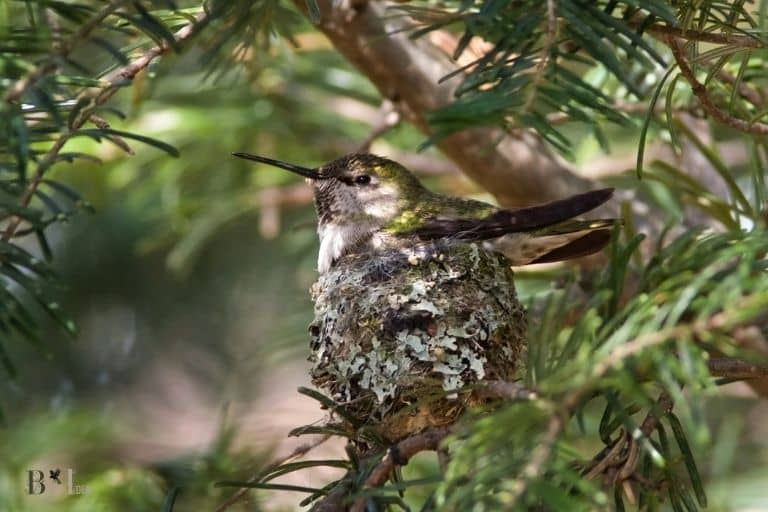 Five Facts About Male Hummingbird Nesting Habits
Male hummingbirds are known for their vibrant and iridescent plumage, which they use to attract females during mating displays (source: National Geographic)
In contrast, female hummingbirds have duller feathers that help camouflage them while they sit on their nests, protecting them from predators (source: Smithsonian Migratory Bird Center)
A female hummingbird will build a nest made of materials like plant fibers, spider webs, and lichen, creating a small cup-shaped structure for her eggs (source: Birds and Blooms)
Typical hummingbird nests are about the size of a walnut half and can hold up to three eggs the size of jellybeans (source: World Birds)
Once the female lays her eggs, she takes on the responsibility of incubating them for about 14-23 days, depending on the species, and then caring for the chicks after they hatch for roughly 21-28 days until they fledge (source: Avian Report)
Understanding The Nesting Behaviors Of Hummingbirds
Hummingbirds are fascinating creatures known for their speedy flight and quick movements. But, did you know that they also exhibit unique nesting behaviors?
In this section, we will break down the nesting behaviors of hummingbirds, and understand why it's crucial to learn about them.
Brief Overview Of Hummingbird Behavior
Hummingbird behavior is fascinating, as they have adapted specific mechanisms to survive.
Here are some of the key points:
Hummingbirds are territorial and fiercely protect their space from others.
They are insectivorous and nectarivorous, feeding on insects and nectar.
Hummingbirds use their wings to hover in place and reverse their flight direction quickly.
They can fly backward, upside-down, and make sharp turns.
Hummingbirds need to consume their body weight in nectar daily and have a high metabolism.
They have a unique heart rate of 1,200 beats per minute and require more sleep than other birds.
Importance Of Understanding Their Nesting Behaviors
Understanding the nesting behaviors of hummingbirds is crucial for various reasons, including:
Conservation efforts: By understanding their nesting behaviors, we can help protect the breeding areas and conserve the hummingbird species.
Nest placement: Knowing how hummingbirds build their nests and where they build them can help us identify potential nesting spots.
Biology and evolution: Studying the nesting behaviors of hummingbirds can help us better understand their biology and evolutionary process.
Enjoyment: Observing hummingbirds nesting and raising their young is a fantastic experience and can generate a lot of enjoyment.
Now, let's take a closer look at the nesting behaviors of hummingbirds.
Hummingbird Nesting Behaviors
Hummingbirds possess specific nesting behaviors, and these behaviors may vary within the species.
Here are some of the key points:
Nest building: Female hummingbirds construct their nests using lichen, moss, spider silk, and plant fibers. They craft their nests in a cup shape and take about 6-10 days to complete.
Location: Hummingbirds build their nests on small branches, twigs, and leaves, usually near sources of water, food, and shelter.
Nesting season: Hummingbirds breed during the summer season, and most species lay two eggs at a time.
Incubation period: The female hummingbird incubates the eggs for around 14-23 days.
Fledging: The baby hummingbirds fledge (leave the nest) 18-28 days after hatching. They can fly within three weeks, and the mother still feeds them a week after they've fledged.
Understanding the nesting behaviors of hummingbirds is important, as it helps us protect the species, identify nesting spots, study their biology and evolution, and enjoy observing these fantastic creatures.
By knowing these essential behaviors, we can appreciate the unique mechanisms hummingbirds possess and become better stewards of nature.
Physical Characteristics And Life Span
Do Male Hummingbirds Sit On The Nest?
Hummingbirds, the smallest birds in the world, are known for their distinctive physical characteristics and unique life span.
While the female hummingbirds are responsible for constructing and incubating the eggs, many people wonder whether male hummingbirds sit on the nest as well.
We'll discuss the physical characteristics of male hummingbirds and explore their fascinating life span.
Discussion Of The Physical Characteristics Of Male Hummingbirds
Male hummingbirds possess certain physical characteristics that distinguish them from their female counterparts.
These include:
Coloration: Male hummingbirds have a more vivid and iridescent plumage, which varies depending on the species. Some of the most striking colors include bright greens, blues, and purples.
Bill size: Male hummingbirds typically have longer bills, which are used in competition and courtship displays.
Size: While male and female hummingbirds may appear similar in size, males are usually slightly larger in most species.
Courtship displays: Male hummingbirds perform intricate courtship displays to attract mates. These displays often involve aerial feats and posturing to showcase their physical abilities and beauty.
Explanation Of Their Unique Life Span
Hummingbirds have a fascinating life span, which is worth exploring.
Here are some key points to keep in mind:
Longevity: Despite their diminutive size, hummingbirds have relatively long life spans compared to other similar-sized birds. Most hummingbirds can live up to 5-8 years, with some species living up to 12 years in the wild.
Metabolism: One unique aspect of hummingbirds' life span is their high metabolic rate, which allows them to burn a lot of energy quickly. They have to eat frequently throughout the day to maintain this level of energy, and they can consume up to twice their body weight in nectar daily.
Migration: Many hummingbirds also migrate over long distances, covering thousands of miles each year to breed and feed in different regions. This migration helps them access more abundant food sources and suitable breeding areas.
Male hummingbirds do not sit on the nest, but they do have intriguing physical characteristics and a unique life span worth exploring.
By understanding these aspects of their biology, we can appreciate these fascinating birds even more.
Nest Building And Incubation
Female hummingbirds are exceptional creatures, fiercely independent yet nurturing when it comes to protecting their young.
However, when it comes to nest building and incubation, males take a back seat. So, do male hummingbirds sit on the nest? Let's find out.
Highlighting The Process Of Nest Building By Female Hummingbirds
Female hummingbirds are responsible for building the nest, either alone or with the male's help, depending on the species.
Here are the key points to consider when looking at the process of nest building by female hummingbirds:
Nest building takes two to ten days and is a meticulous process. The female hummingbird starts by collecting soft materials such as plant down, spider silk, or moss.
She places the materials one by one in a circular pattern, binding them with spider silk to form a cup shape.
The nest's interior is lined with finer materials such as feathers and soft plant fibers, while the outside is camouflage with lichens or mosses and sometimes decorated with other materials such as spider egg sacs.
The finished nest is tiny and only around two inches in diameter, but strong enough to hold two pea-sized eggs.
Discussion Of How They Incubate Their Eggs
Once the female has finished building the nest, she will lay her eggs, typically one or two.
Here's how they will incubate their eggs:
Female hummingbirds incubate the eggs alone, with the male contributing only by bringing food to the nest.
During the day, the female spends most of her time sitting on the eggs, occasionally leaving for a few minutes to find food and water.
At night, female hummingbirds reduce their body temperature to conserve energy and allow their eggs to stay warm.
The incubation period lasts around two weeks for most species, although some can take up to a month. Once the eggs hatch, the female will continue to care for the nestlings until they are ready to leave the nest.
Male hummingbirds do not sit on the nest, as it is entirely the female's responsibility to build and incubate her eggs.
It's fascinating how these tiny birds can build structures so elaborate and delicate, and it's a testament to their remarkable abilities.
We hope you've enjoyed learning more about the nest-building and incubation process of female hummingbirds.
Paternal Care And Incubation
Male hummingbirds are often seen as beautiful creatures that flit and flutter around while seeking nectar from different flowers. However, what often goes unnoticed is their active role in breeding, specifically the incubation of eggs.
In this blog post, we shall look into the role of male hummingbirds in nesting, particularly their contributions to paternal care and incubation, exploring the different ways they take on these responsibilities.
Explanation Of How Male Hummingbirds Contribute To Nesting
Male hummingbirds play an active role in the breeding process right from the start. From finding a mate to building a nest, they are equally responsible for the survival of their offspring.
Here are some ways that male hummingbirds contribute to the breeding process:
Constructing nests: Unlike other bird species where females construct nests, male hummingbirds are in charge of building nests. They typically build a nest from spider silk and plant material, which includes: tree buds, moss, and bark.
Attracting females: Male hummingbirds use courtship behaviors to attract females. They perform aerial displays and other impressive moves to prove their worth and secure a mate.
Provisioning: Male hummingbirds provide food for their offspring and mate. They often bring insects or nectar to the nest, especially during incubation.
Discussion Of Male Hummingbirds' Role In Incubating Eggs
One of the outstanding features of male hummingbirds' role is that they are capable of incubating eggs. This is a unique aspect of the breeding process, as most birds leave the incubation process solely to the female.
Below are some ways male hummingbirds help in incubating eggs:
Time-share incubation: When it comes to incubation, the male hummingbird and the female hummingbird tag-team the process of incubating eggs by alternating after about 1-2 hours each. This ensures that both birds share the responsibility of incubation.
Ensuring the right temperature: During incubation, the male hummingbird ensures that the temperature of the eggs is optimal by covering the eggs with their bodies or fanning them to regulate temperature.
Predators: Male hummingbirds are also responsible for protecting their nests from predators during incubation. They will often aggressively chase away potential predators, ensuring the safety of their offspring.
Hummingbirds play a vital role in the ecosystem by providing a vital service of pollination.
Their contributions to breeding and incubation cannot go unnoticed, and it is fascinating to discover how both male and female hummingbirds share responsibilities during the entire breeding process.
FAQ On Male Hummingbirds
Do Male Hummingbirds Sit On The Nest?
Male hummingbirds do not sit on the nest. It's the sole responsibility of the female hummingbird.
How Long Does The Male Hummingbird Stay With The Female?
Male hummingbirds typically mate and then leave. Sometimes they might stick around for several days.
How Do Male Hummingbirds Help With Nesting?
Male hummingbirds do not help with nesting. They may help with providing food for the female, but the nest-building and incubation are solely the female's responsibility.
How Do Female And Male Hummingbirds Differ In Appearance?
Female and male hummingbirds have different physical characteristics. Females tend to be larger, duller in color, and have shorter bills.
Do Male And Female Hummingbirds Build Nests Together?
No, only female hummingbirds build nests. Male hummingbirds have no role in nest building.
Conclusion
Male hummingbirds have always been considered as the protectors of the nest. But, as researchers delve more into the habits of these tiny creatures, they have found some evidence regarding the role of male hummingbirds in nesting.
While their contributions are limited, it has been observed that they occasionally sit on the nest to provide warmth and protect the eggs while the females are away.
It is interesting to note that males of different species exhibit different nurturing habits. For instance, the female anna's hummingbird, is known to leave the nest entirely to the male's care.
These findings highlight the complex and unique behaviours exhibited by these feathered species. As we continue to study, observe, and understand different species, it leaves us with a sense of amazement and respect for the incredible biodiversity that surrounds us.