How Far Do Hummingbirds Fly from Their Nest? 50 miles
Hummingbirds typically fly up to 50 miles away from their nest during migration.
Hummingbirds are known for their incredible flight abilities, agility, and speed. These small birds have a built-in instinct to migrate to find food and suitable breeding grounds.
During migration, hummingbirds can travel great distances from their nest. While they usually fly around their territory, which can be up to 50 miles away from their nest, they may cover much longer distances during such migratory periods.
Hummingbirds are capable of flying long distances due to their specialized wing structure and fast metabolism.
They can fly at speeds of up to 34 miles per hour (55 kilometers per hour) in normal flight and 50 miles per hour (80 kilometers per hour) in a dive.
During migration, some species of hummingbirds travel up to 500 miles (800 kilometers) or more in a single journey.
Hummingbirds need to consume a large amount of nectar and insects daily to support their energy-intensive flight.
Hummingbirds' migratory behaviors and long-distance flying abilities have fascinated researchers and bird enthusiasts for many years.
These tiny birds are known to fly thousands of miles each year, traveling between breeding and feeding territories, showcasing their incredible endurance and navigational skills.
The Rufous hummingbird, for example, has one of the longest migratory journeys of any hummingbird species, with some individuals covering up to 3,000 miles (4,828 kilometers) during their round-trip migration.
10 Species of Hummingbird & Their Average Distance from Nest
| Species of Hummingbird | Average Distance from Nest |
| --- | --- |
| Ruby-throated | 0.5 – 1.5 miles |
| Black-chinned | 1 – 2 miles |
| Anna's | 0.5 – 1 mile |
| Costa's | 1 – 1.5 miles |
| Rufous | 1 – 3 miles |
| Calliope | 1 – 1.5 miles |
| Broad-tailed | 0.5 – 1 mile |
| Allen's | 1 – 2 miles |
| Violet-crowned | 0.5 – 1.5 miles |
| White-eared | 1 – 2 miles |
10 Species of Hummingbird & Their Average Distance from Nest
Key Takeaway
Hummingbirds' flying distance from their nest varies depending on the species and environmental factors.
An essential aspect of their flight is the migration process, which can cover thousands of miles.
Hummingbird's ability to hover, fly backward, and upside-down is unique among bird species and aids in their survival.
The energy expenditure during hummingbird flight is incredibly high, requiring a massive intake of nectar and insects to maintain their metabolism.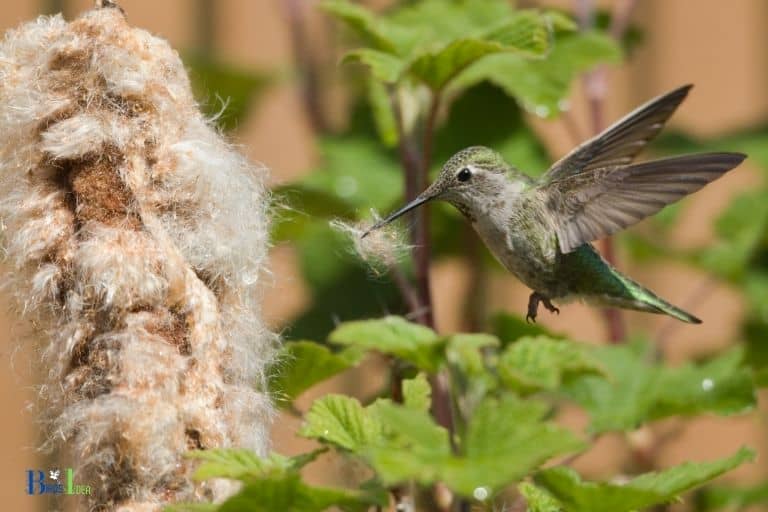 Four Facts About Hummingbird Migration
Hummingbirds can fly as far as 1-2 miles from their nest in search of food during the breeding season. This distance can vary depending on the availability of resources (source: The Hummingbird Guide).
Ruby-throated Hummingbirds are known to fly an incredible 18 to 22 hours non-stop across the Gulf of Mexico during the migration season, covering approximately 500 miles (source: The Cornell Lab of Ornithology).
One of the main reasons for hummingbirds to fly far from their nest is to escape unfavorable conditions such as cold weather and low availability of food resources during the winter months (source: National Audubon Society).
Hummingbirds are capable of sustaining intense wing beats of around 50-80 beats per second during flight. This high energy expenditure necessitates the consumption of approximately 3.14-7.6 calories per day or around 1.5 times their body weight in nectar and insects (source: Animal Diversity Web).
Factors Affecting Hummingbird Flight Range
Hummingbirds are remarkable creatures that are known for their unique ability to fly backwards, hover, and stay stationary in the air.
They are also known for their long flights, which can take them great distances away from their nests. However, the distance a hummingbird can fly depends on several factors.
Environmental Conditions (Temperature, Wind, Precipitation)
Hummingbirds are very sensitive to changes in weather conditions. They have a high metabolism that requires them to consume a lot of energy to stay warm in colder temperatures.
Therefore, they tend to fly away from their nests in search of warmer temperatures. As a result, cold weather may limit their range to a shorter distance.
Additionally, strong winds and heavy precipitation may make it difficult for them to fly and limit their range.
Availability Of Food And Water Sources
Hummingbirds require a constant supply of food and water to sustain their energy levels. They primarily feed on nectar from flowers, but they also feed on insects for protein.
The availability of food and water sources is one of the most significant factors affecting the flight range of hummingbirds.
Therefore, they tend to fly longer distances in search of these resources when they are scarce near their nests.
Predators And Threats
Hummingbirds face several predators and threats in their natural habitats. They are at risk of being preyed upon by larger birds, snakes, and domestic cats. Additionally, natural disasters such as fires and floods can also pose a threat to their survival.
Hummingbirds tend to fly away from their nests when they sense danger. Therefore, the presence of predators and threats influences their flight range.
Mating And Reproductive Behavior
Hummingbirds are known for their complex mating and reproductive behavior. During the breeding season, male hummingbirds defend their territories and perform elaborate courtship rituals to attract females.
These activities may require them to fly longer distances away from their nests. Additionally, female hummingbirds also fly long distances to lay their eggs in safe and suitable locations.
Therefore, mating and reproductive behavior also influences the flight range of hummingbirds.
The flight range of hummingbirds is influenced by several factors, including environmental conditions, availability of food and water sources, predators and threats, and mating and reproductive behavior.
By understanding these factors, we can gain a better appreciation for these remarkable creatures and their unique capabilities.
Research And Findings
Hummingbirds are the smallest birds that are known to hum and fly around flowers. These birds are not only famous for their vibrant colors and beaks but also for their incredible long flights.
We will analyze the research and findings on the flight range of hummingbirds.
Studies On The Flight Range Of Hummingbirds
Several studies have been carried out to understand the exquisite birds' flight range, and have shown that they can indeed travel great distances despite their small size.
Some key research findings are:
As per a study in 2005 published in the journal 'auk,' hummingbirds could fly over 1000 km non-stop over the gulf of mexico.
Another study from the university of california found that ruby-throated hummingbirds could fly up to 18 hours non-stop over the ocean.
A research study from the ucla, university of oklahoma and university of tulsa determined that rufous hummingbirds could travel 810 km non-stop over the gulf of mexico.
Comparison Of Different Hummingbird Species
Hummingbird species vary in size and need to meet nutrition needs in different habitats. Whether they are in a rainforest, desert or mountain region, hummingbirds can travel different distances depending on the species.
Here are some comparisons to highlight their differences:
The smallest hummingbird species, bee hummingbird, has been recorded to fly around 10 miles per hour over short distances.
In contrast, the larger black-chinned hummingbird species have been known to travel up to 2000 miles during migration each year.
Some species, like the ruby-throated hummingbird, are known to fly up to 20 hours non-stop, whereas others, like the anna's hummingbird, are capable of flying short distances at high speeds.
Common Patterns And Trends
Despite the differences between different hummingbird species, some patterns are noticed in their flights.
The following are some common trends:
Most species of hummingbirds travel during daylight hours for relatively long periods of time and then roost in trees or shrubs at night.
When migrating, most hummingbirds follow the same travel routes year after year.
Hummingbirds migrate in different directions, depending on the species and location; some species prefer a north to south journey while others east to west and vice versa.
Hummingbirds indeed fly long-range distances despite their miniature size. The research and findings outlined demonstrate the incredible capabilities of these birds and their unique flying patterns.
Implications And Significance
Hummingbirds may be small, but these birds possess extraordinary capabilities, including their ability to fly at high speeds and even hover in the air.
But how far can they travel from their nests? Let's explore the implications and significance of hummingbird flight range.
Why Knowledge Of Hummingbird Flight Range Is Essential
Understanding the flight range of hummingbirds is crucial for several reasons:
Helps researchers study their behavior and ecology
Enhances wildlife management strategies
Enables conservation and preservation efforts
Conservation And Preservation Efforts
As hummingbirds play a critical role in pollination, it is essential to preserve their habitat and conserve their populations.
Knowledge of their flight range can aid in designing protected areas or corridors that connect habitats.
Moreover, it helps identify crucial stopover sites that could serve as natural refueling stations for long-distance travelers.
Future Directions For Research
Future research should focus on enhancing our knowledge of hummingbirds' physiology, behavior, and genetics, which are essential for developing effective conservation strategies.
Here are some areas that require further exploration:
How hummingbird migration patterns are changing due to climate change
The relationship between their flight capacity and physiology
How they navigate during long-distance travel
Understanding the flight range of hummingbirds is essential, not only for studying their behavior and ecology but also for conserving their populations.
Future research can help us gain new insights into these remarkable birds, which can inform conservation efforts and preservation strategies.
FAQ About Hummingbird Migration
How Far Do Hummingbirds Fly In A Day?
Hummingbirds can fly up to 25-30 miles in a day.
Do Hummingbirds Fly South For The Winter?
Yes, hummingbirds will migrate as far as south america for the winter.
How Far Do Hummingbirds Travel During Migration?
Hummingbirds can travel up to 2000 miles during migration.
Do Hummingbirds Always Return To The Same Nest?
Female hummingbirds usually return to the same area, but not necessarily the same nest.
How High Do Hummingbirds Fly?
Hummingbirds can fly up to 15 meters high, but usually fly much lower.
Conclusion
As we learned, hummingbirds are remarkable creatures capable of impressive feats. Their small size and quick movements make them a wonder to observe in the wild.
How far hummingbirds fly from their nest depends on various factors, including species, habitat, and time of year.
Some have been known to travel thousands of miles during migrations, while others may stay within a few miles of their nest. As researchers continue to study these fascinating birds, we can learn more about their behavior and habits.
However, one thing is certain: regardless of how far they fly, hummingbirds remain an intriguing and beloved part of the natural world.
So, the next time you spot one hovering by a flower in your garden, take a moment to appreciate the incredible journey they've made just to be there.