Do Hummingbirds Use Spider Webs in Their Nests? Yes!
Yes, hummingbirds use spider webs in the construction of their nests.
Hummingbirds are known for their unique and intricate nest building skills. They use a variety of materials to construct their nests, with spider webs being a crucial component.
The spider webs provide strength, flexibility, and structure to the nest, allowing it to expand as the baby hummingbirds grow.
Spider webs offer strong, flexible, and elastic fibers for nest construction.
Hummingbird nests can expand due to the elasticity of spider webs.
The use of spider webs helps to camouflage the nest, as it blends in with the surrounding environment.
Some hummingbird species also utilize spider webs to attach their nest to tree branches, providing additional stability and protection.
Spider webs play a vital role in the overall durability and adaptability of hummingbird nests.
They not only enhance the nest's ability to withstand harsh weather conditions, but also allow it to grow in size as the baby birds develop.
This remarkable use of natural materials showcases the extraordinary ingenuity and resourcefulness of these tiny creatures.
Nesting Habits of Hummingbirds: Use of Spider Webs in Nests
| Fact | Use of Spider Webs in Nests | Example Species |
| --- | --- | --- |
| Utilization | Yes | Ruby-Throated Hummingbird |
| Function | Nest building material | Anna's Hummingbird |
| Purpose | Elasticity and strength | Black-Chinned Hummingbird |
| Importance | Help nest expand with chicks | Costa's Hummingbird |
| Interactions | Foraging for spider webs | Rufous Hummingbird |
Nesting Habits of Hummingbirds: Use of Spider Webs in Nests
Key Takeaway
Hummingbirds utilize spider webs as a key component in nest-building
Spider webs provide structural support and flexibility to the nest
This unique building material allows for nest expansion as the chicks grow
The sticky nature of spider webs also helps in camouflaging the nest with other materials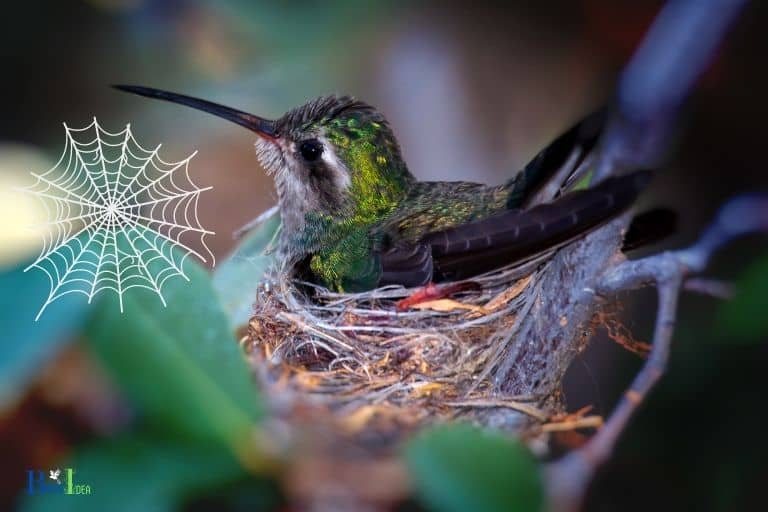 Four Facts About Hummingbirds Using Spider Webs in Their Nests
Hummingbirds make use of spider webs as an essential material for building their nests, as they provide strength, flexibility, and adaptability (Source: National Wildlife Federation).
The elasticity of the spider webs allows the hummingbird nest to expand as the chicks grow and require more space, eliminating the need for constant rebuilding (Source: Smithsonian Magazine).
Camouflaging is crucial to protect the nest from predators, and the sticky nature of the spider webs helps bind other materials such as lichens, moss, and bark fragments to the nest (Source: Audubon.
Creating a nest with spider silk contributes to a lightweight and resilient structure that can withstand harsh weather conditions, such as strong winds or heavy rain (Source: BioOne).
Hummingbirds: A Closer Look
Hummingbirds are intriguing creatures that never fail to amaze people with their fast movements and iridescent feathers. These tiny birds belong to the trochilidae family, and they are found in north and south america.
Let's explore their characteristics and nesting habits.
Brief Overview Of Hummingbirds' Characteristics And Behaviors
Hummingbirds have unique characteristics that set them apart from other birds.
Here are some notable facts:
Hummingbirds are the smallest birds in the world, ranging from 2 to 8 cm in length.
They have a high metabolism, which is necessary to support their rapid wing movement.
Hummingbirds have a long, thin beak that allows them to reach nectar from deep flowers.
They have excellent eyesight and can see colors that humans cannot see.
Hummingbirds consume half their body weight in nectar and insects every day.
Hummingbirds' Nesting Preferences And Habits
Hummingbirds build intricate nests for their young ones, and they have specific preferences for their nesting sites.
Here are some interesting facts:
Hummingbirds build their nests using lichens, mosses, spider silk, and other materials.
They prefer to make their nests on a firm foundation, such as a twig.
Hummingbirds are very protective of their nests and will fiercely defend them against predators.
They typically lay 2 eggs, which hatch after 14-21 days.
Baby hummingbirds develop quickly and leave the nest within 3-4 weeks.
Hummingbirds are fascinating creatures that are worth studying. Their unique characteristics and nesting habits are a testament to their adaptability and resilience.
Next time you spot a hummingbird, take a moment to marvel at their beauty and appreciate their importance to our ecosystem.
Spider Webs In Hummingbirds' Nests: Fact Or Fiction?
Discussion Of The Debated Topic Of Spider Web Usage In Hummingbird Nests
Hummingbird nests are tiny and can be found in various places, including low branches, shrubs, and the eaves of buildings.
It has long been debated whether spider webs are used in their construction. Let's explore the facts and fiction behind this debated topic.
Highlighting Of Recent Research And Studies On The Subject
The use of spider silk in hummingbird nests was first documented in the scientific literature in the 1880s.
However, recent research has shown that not all hummingbird species use spider silk in their nests. In studies of various hummingbird species, only half of the observed nests had spider silk.
Examples Of Hummingbird Species Known To Use Spider Webs In Nest-Building
The black-chinned hummingbird is a species commonly observed using spider silk in their nests, along with the broad-tailed hummingbird and the rufous hummingbird.
Spider silk is mainly used for binding and strengthening the nest structure, and it can help keep eggs and chicks from falling out of the nest.
Black-chinned hummingbird
Commonly uses spider silk in nest-building
Broad-tailed hummingbird
Uses spider silk in nest-building in some locations
Rufous hummingbird
Uses spider silk in nest-building
The use of spider silk in hummingbird nests is not universal and varies across species. The discovery of this unique material usage showcases the various natural resources at the disposal of different avian ecological niches.
Why Do Hummingbirds Use Spider Webs In Their Nests?
Do hummingbirds use spider webs in their nests? The answer is yes, and not just a little bit; spider webs play a vital role in the construction of hummingbird nests.
But why is that? In this section, we will explore the benefits of spider webs in nest construction, how they reinforce the structure of the nest, and how they protect the nest and its eggs.
Explanation Of The Benefits Of Spider Webs In Nest Construction
Spider webs are one of the most crucial materials used in building hummingbird nests.
Here are some reasons why:
Spider webs are sticky, which makes them an excellent adhesive. When mixed with other materials like moss and lichen, spider webs make a tough, durable nest.
Spider webs are very soft and provide good cushioning, making them ideal for lining the nest cavity.
Discussion Of How Spider Webs Reinforce The Structure Of The Nest
Hummingbird nests need to be sturdy enough to withstand the elements and protect the eggs. That's where spider webs come in.
Here's how they help:
Spider silk is flexible and very strong, making it an excellent structural component for the nest. It can stretch as the nest expands, ensuring that the nest remains secure as the chicks grow.
Spider silk also allows the nest to remain lightweight while still being strong and secure, making it easier for hummingbirds to construct.
Mention Of How Spider Webs Protect The Nest And Its Eggs
Hummingbird eggs are tiny, delicate, and need to be protected from predators. That's why spider webs are so important.
Here's why:
Spider silk acts as camouflage, making it harder for predators to locate the nest and eggs.
Spider silk is tough, making it difficult for predators to break through and get to the eggs.
Spider webs play a crucial role in the construction of hummingbird nests. They provide adhesive, cushioning, and structural support while also protecting the nest and its eggs from predators.
It's incredible to think that such tiny birds can build such intricate and well-designed structures, and spider webs are an integral part of that process.
FAQ About Hummingbirds Using Spider Webs in Their Nests
How Do Hummingbirds Use Spider Webs?
Hummingbirds use spider webs to hold their nests together.
What Types Of Spiders Do Hummingbirds Use?
Hummingbirds typically use spider webs from orb-weaver spiders in their nests.
Why Do Hummingbirds Use Spider Webs?
Hummingbirds use spider webs to strengthen and secure their nests.
How Do Hummingbirds Collect Spider Webs?
Hummingbirds collect spider webs by stretching out their bills and rubbing them against spider silk.
Can Hummingbirds Be Harmed By Using Spider Webs?
No, hummingbirds are not harmed by using spider webs in their nests and it is a natural behavior for them.
Conclusion
From what we've learned, it seems that hummingbirds do indeed use spider webs in their nests! While not all species incorporate spider silk into their construction, those that do may benefit from the increased structural integrity and insulation it provides.
While the exact mechanics of the process are still being studied, it's clear that hummingbirds are capable of creating intricate and resourceful homes, despite their tiny size.
Further research could help us better understand the full extent of the role spider silk plays in hummingbird nesting behavior, as well as shed light on other fascinating aspects of this avian species.
Ultimately, whether you're simply a bird enthusiast or a researcher seeking scientifically valuable insights, the world of hummingbird nests and their use of spider webs is a fascinating topic worth exploring further.