How Many Hummingbird Feeders Should I Have? 1 Per 250sq
The number of hummingbird feeders one should have depends on the size of their yard and the number of hummingbirds they are aiming to attract.
Generally, one feeder per 250 square feet is ideal, but it can be up to one feeder per 100 square feet if the hummingbirds are plentiful.
Additionally, two feeders placed 10 to 15 feet away from each other will minimize the competition between the birds.
Here are four tips for setting up hummingbird feeders:
Place feeders in an open area with lots of sun exposure.
Make sure the feeders are spaced out far enough to reduce competition between the birds.
Regularly clean and refill feeders, as hummingbird nectar spoils quickly.
Hang the feeders at least five feet from the ground so cats and other predators cannot reach them.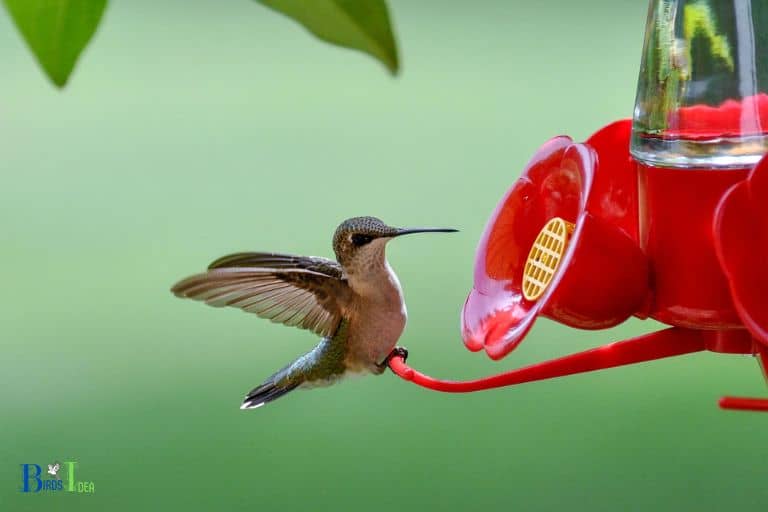 Hummingbirds love sugar water and if you give them the necessary amount of feeders, they will be sure to come and visit your garden or backyard.
By having multiple feeders, you can attract more of these delicate and beautiful birds and create quite a spectacle for your friends and family.
DID YOU KNOW
Hummingbird populations in North America have reportedly been declining in recent years, with approximately 72 hummingbird species documented.
How Many Hummingbird Feeders Should I Have?
Having multiple hummingbird feeders is a great way to attract more hummingbirds to your garden or backyard.
The number of feeders you should have depends on several factors, including the size of your yard, the number of hummingbirds in the area, and how much time you can devote to maintaining the feeders.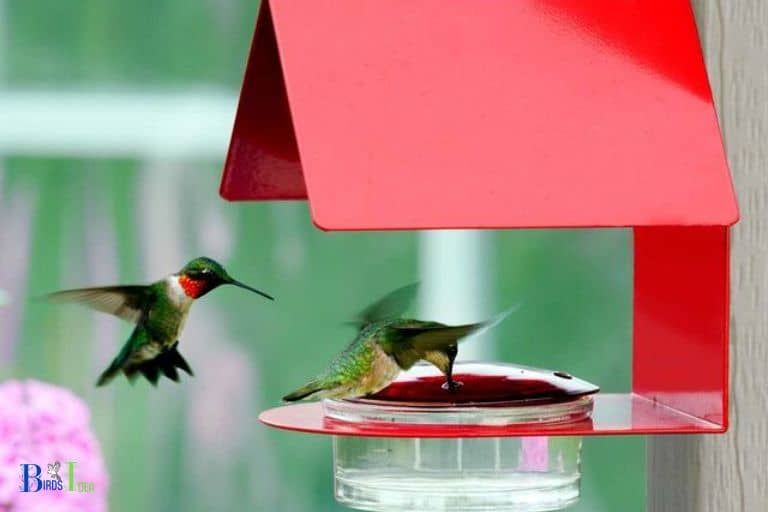 Generally, having two to four hummingbird feeders should be sufficient. Here are some tips to help you determine how many feeders you should have:
Consider the size and shape of your space: If your yard is small, two feeders may be enough. If your yard is large and open, having more than four feeders could be beneficial.
Determine how many hummingbirds you're likely to attract: If you live in an area with a high concentration of hummingbirds, more feeders will likely be needed.
Factor in the time and effort required for maintenance: Hummingbird feeders need to be cleaned regularly and refilled with fresh nectar. If you have limited time, having fewer feeders may be a better option.
Ultimately, it's up to you to decide how many hummingbird feeders you should have. It may take some trial and error to find the perfect number for your space.
Hummingbirds Swarm Food Feeders
Benefits of Having Multiple Feeders
Having multiple feeders comes with a number of advantages. These include: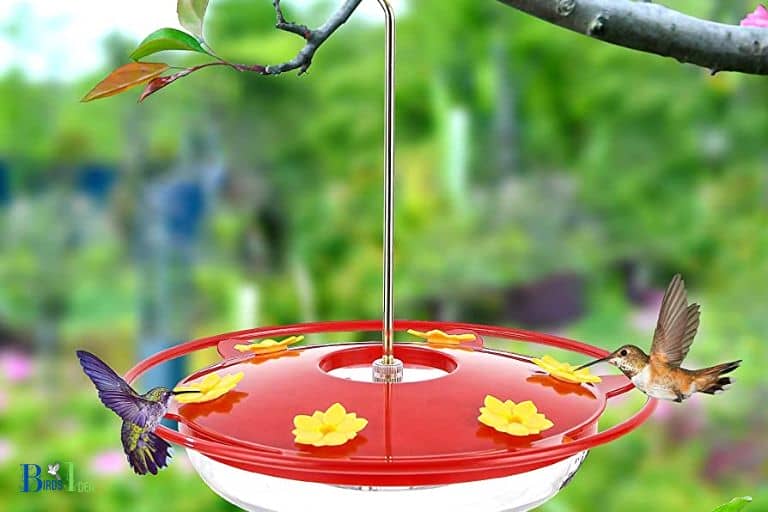 Reduced Stress: Multiple feeders means more birds will be able to eat at the same time. This reduces the amount of fighting and stress between birds vying for access to food.
Balanced Nutrition: Having multiple feeders also means that different types of foods can be offered, providing birds with a more balanced diet.
Improved Health: Since birds are more likely to eat a balanced diet with multiple feeders, their health is improved. Better nutrition means better overall health for the birds.
Higher Diversity of Birds: Having multiple feeders increases the variety of bird species in the area, as different species may prefer different feeders.
Overall, having multiple feeders can be beneficial for both the birds and their environment. It helps improve their health, nutrition, and reduces stress, while also allowing for a higher diversity of bird species.
Tips for Setting Up Hummingbird Feeders
Setting up hummingbird feeders can be an enjoyable activity for birdwatchers and nature lovers alike. Here are some tips for setting up a hummingbird feeder: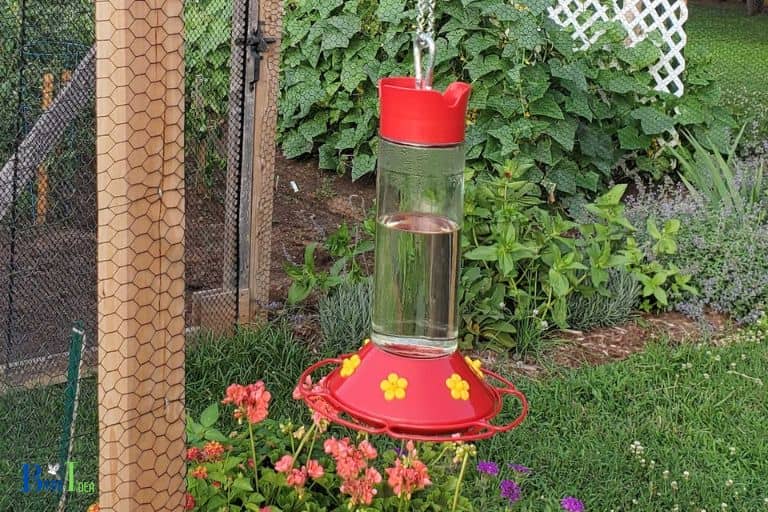 Place the hummingbird feeder at least 5 feet away from any other feeder to avoid overcrowding.
Hang the feeder in a sheltered spot that is out of the wind.
Fill the feeder with one part white sugar to four parts water and be sure to change the solution about every 3-4 days.
Place the feeder in a spot that gets plenty of sunlight to help keep the nectar from freezing.
Be sure to keep the feeder clean and free of mold.
With these tips in mind, setting up a hummingbird feeder should be a relatively easy and enjoyable task. Enjoy watching the hummingbirds in your backyard!
Ideal Feeder to Square Foot Ratio
The ideal feeder to square foot ratio for a flock of chickens is 1:10. This means for every 10 square feet of space, you should provide one feeder.
It is important to provide enough feeders to prevent overcrowding and to ensure that all birds have access to food and water.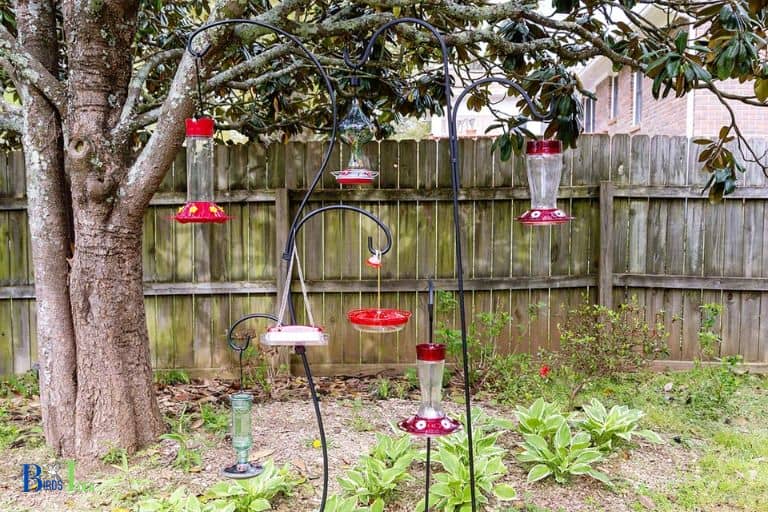 Here are some additional tips to consider:
Make sure the feeders are placed in a easily accessible area that the chickens can reach.
Choose feeders that are large enough to accommodate your flock size.
Make sure the feeders are spaced out properly so that the chickens have enough room to eat.
Ensure that the feeders are kept clean and free of debris.
Replace old, broken, or damaged feeders with new ones.
By having the right feeder to square foot ratio and following the tips above, you can ensure that your chickens have the best possible nutrition and health.
Placement of the Feeders
Feeders are an important component in any electrical wiring system, as they provide power to downstream loads.
When placing feeders, it is important to consider factors such as the type of feeder, the number of feeders, the distance between the feeders, and the clearance to surrounding objects.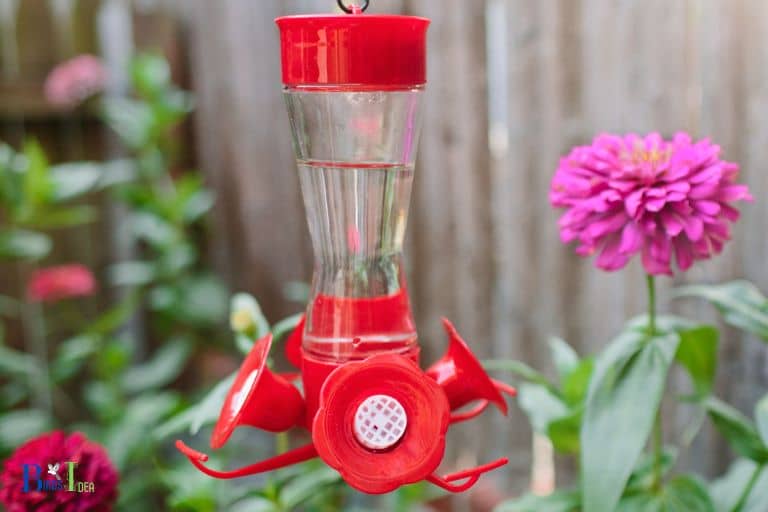 Type of Feeder:
The type of feeder should be chosen based on the intended application. For example, underground feeders are better suited for wet or corrosive environments, while overhead feeders are more appropriate for areas where temperature and humidity may fluctuate.
Number of Feeders:
The number of feeders should be determined based on the load and the distance between the feeders. The greater the load, the higher the number of feeders.
The distance between the feeders should also be taken into consideration, as too much distance between the feeders may result in power loss.
Distance Between Feeders:
The distance between the feeders should be sufficient to allow for proper installation and maintenance of the feeders.
As a general rule of thumb, the distance between the feeders should be at least 3 feet for overhead feeders, and at least 6 feet for underground feeders.
Clearance to Surrounding Objects:
The clearance to surrounding objects should be taken into consideration when placing the feeders.
The clearance should be sufficient to allow for proper installation, operation, and maintenance. The minimum clearance should be at least 6 inches for overhead feeders, and should be at least 18 inches for underground
Keeping the Feeders Clean & Refilled
Keeping the bird feeders clean and refilled is an essential part of bird watching. It ensures a healthy, thriving bird population in your yard, and helps keep birds safe from diseases.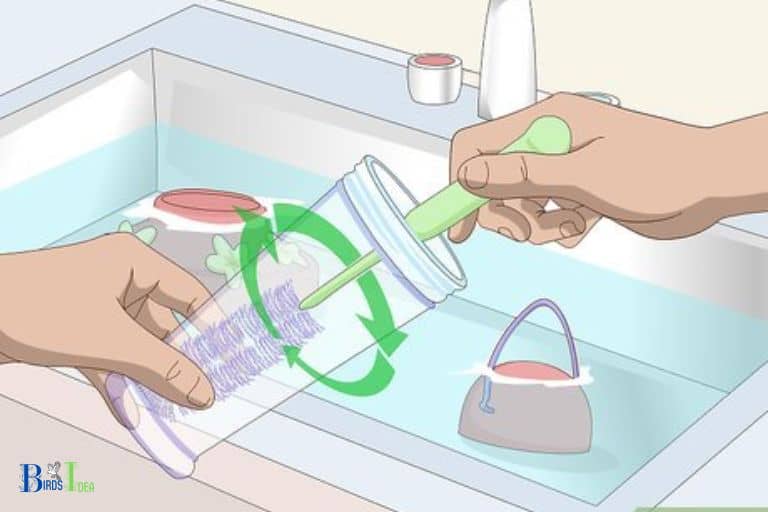 Here are some tips for keeping feeders clean and refilled:
Clean feeders at least every two weeks, or when you notice a build-up of debris.
Use warm water and a mild detergent to scrub and rinse the feeders.
Dry the feeders thoroughly before refilling.
Use a brush or soft cloth to remove dirt and debris from feeders.
Refill feeders as needed—this varies depending on the type of feeder and how many birds you have in your yard.
Taking the time to properly clean and refill bird feeders will help ensure a healthy and diverse bird population in your yard.
Not only will you have more birds to watch, but it will also help ensure the health of our feathered friends.
Ensuring Feeders Are Out of Reach of Predators
Install feeders in places that are out of reach of predators such as cats, raccoons, and squirrels.
Place feeders at least 6 feet away from any structure, such as trees, fences, or buildings.
Place feeders at least 8 to 10 feet away from the ground.
Securely hang feeders with metal rods and wires in order to prevent predators from accessing them.
Install baffles to keep predators away from the feeders.
Keep feeders clean and free of spills and debris which may attract predators.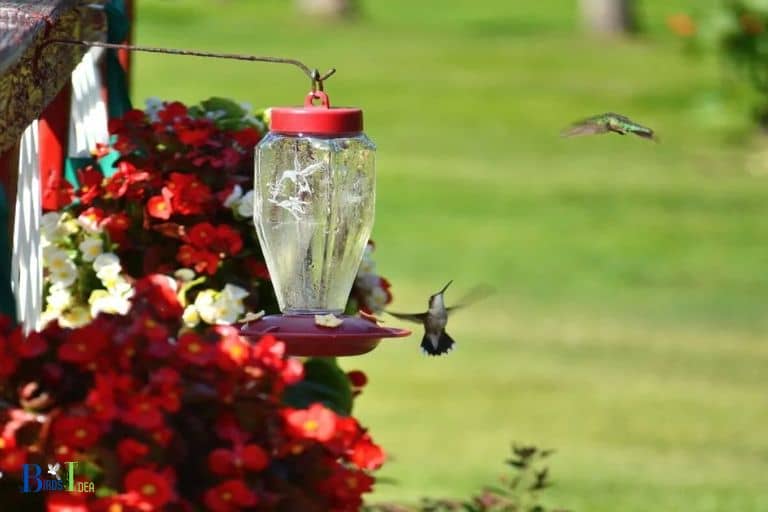 These steps will ensure that feeders are out of reach of predators.
By installing feeders in areas that are out of reach and by using baffles and other safety measures, birds can access their food in a safe environment.
Keeping the feeders clean and free of debris also helped to reduce the attraction of predators.
FAQ
How many hummingbird feeders should I have?
Generally, it is recommended to have one hummingbird feeder per 20 to 25 feet of a long flower bed or garden area.
How often should I feed hummingbirds?
Refilling hummingbird feeders every three to five days is usually sufficient to meet the needs of a healthy hummingbird population.
What type of food should I put in the feeders?
A popular recipe for hummingbird feeders consists of four parts water to one part white sugar.
Always use purified or distilled water to avoid any potential issues with chlorine and other chemicals.
How do I attract more hummingbirds to my feeder?
Planting certain flowers with red or orange blooms to your gardenspreads the word about your feeders.
Additionally, keeping feeders away from high-traffic areas can help attract Hummingbirds, as they prefer more peaceful environments.
How should I clean my hummingbird feeder?
Clean your hummingbird feeders often with a mild soap and warm water solution, then rinse it with hot water and dry thoroughly.
Do not use bleach, detergent or other chemicals when cleaning your hummingbird feeder.
Conclusion
To attract hummingbirds, having multiple feeders spread across your yard is the way to go. For best results, the ideal placement for a feeder is one per 250 square feet, but it can be one per 100 square feet if the hummingbirds are plentiful.
Additionally, ensure your feeders are placed far enough apart to reduce competition and are also safe from predators.