How to Care for Hummingbirds? Best Tips & Practices
To care for hummingbirds, provide them with clean sugar water, maintain a safe and healthy environment, and offer a diverse range of natural food sources.
Hummingbirds are small, energetic, and colorful birds that require specific care to thrive. They are known for their rapid wing movements and incredible agility in the air.
By offering the right care, you can attract these beautiful creatures to your garden and help support their survival.
Provide sugar water feeders: Mix 1 part sugar and 4 parts water, ensuring it's thoroughly dissolved, and refill the feeders every 2-3 days.
Keep the feeders clean: Regularly clean the feeders to prevent mold and bacteria buildup, which can harm hummingbirds.
Plant nectar-rich flowers: Plant a variety of flowers that produce nectar, such as bee balm, salvia, and trumpet vine, to supplement their diet.
Create natural perches: Provide small branches or wire perches near feeders for hummingbirds to rest and survey their surroundings.
Attracting hummingbirds to your garden is not only a delightful experience but also helps support their population.
By providing clean sugar water, maintaining a safe and healthy environment, and offering a diverse range of natural food sources, you can create a haven for these small, colorful birds.
Ensure you keep the area clean and free from predators, like cats and larger birds, to keep the environment safe and welcoming for hummingbirds.
Essential Tips for Caring for Hummingbirds
| Action | Description | Frequency |
| --- | --- | --- |
| Provide nectar | Mix 4 parts water to 1 part white granulated sugar to create a nectar solution for hummingbirds. | Refill every 2-3 days |
| Clean feeders | Clean hummingbird feeders with hot water and a soft brush or sponge. Avoid using soap or harsh chemicals. | Every 4-5 days |
| Change nectar location | Rotate the location of your nectar feeders to prevent a build-up of waste and to encourage hummingbirds to explore your yard. | Every 2-3 weeks |
| Plant flowers | Plant native, brightly colored, tubular flowers to attract hummingbirds and provide a natural nectar source. | Seasonal |
| Provide water | Provide a shallow dish or birdbath with fresh water for hummingbirds to drink and bathe in. | Refill daily |
| Eliminate pesticides | Avoid using pesticides in your garden, as they can harm hummingbirds and reduce their access to insects, which are also a part of their diet. | Continuous |
| Offer perches | Provide small, twig-like perching spots near feeders for hummingbirds to rest on. | As needed |
| Keep feeders in shade | Place nectar feeders in shaded areas to prevent nectar from spoiling due to heat. | As needed |
Essential Tips for Caring for Hummingbirds
Key Takeaway
Create a hummingbird-friendly habitat by planting native flowers and providing nectar-rich plants.
Maintain clean and fresh feeders to prevent the growth of harmful mold and bacteria.
Provide water sources like bird baths or shallow dishes for these birds to drink and bathe.
Keep predators away by placing feeders and nesting areas out of reach from cats and other potential dangers.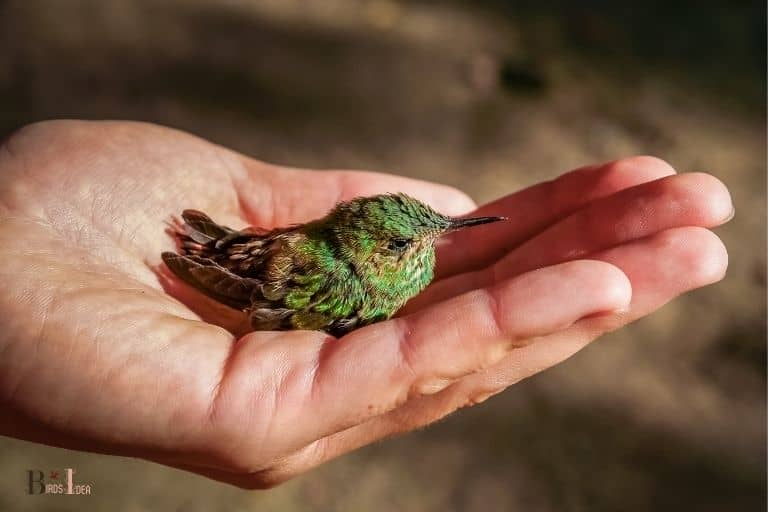 Five Facts About Important Tips for Caring for Hummingbirds
Hummingbirds are one of the smallest bird species in the world, with some species weighing as little as 2-3 grams. (source: National Audubon Society)
These tiny birds have an extremely high metabolism and need to eat every 10-15 minutes, consuming up to half their body weight in nectar daily. (source: Smithsonian's National Zoo & Conservation Biology Institute)
Hummingbirds are the only birds that can fly backwards, due to their unique ball and socket joint at the shoulder. (source: National Geographic)
In their natural habitat, hummingbirds help with pollination as they feed on nectar from flowers by transferring pollen between plants. (source: United States Department of Agriculture Forest Service)
There are over 300 species of hummingbirds, most of which are found in Central and South America. However, there are about a dozen species that can be found in the United States. (source: National Audubon Society)
Benefits Of Hummingbird Gardening
Hummingbirds are fascinating little creatures that are a joy to watch. Watching them flit from flower to flower, hovering mid-air, and zipping around in a blur of feathers is an enthralling experience.
If you want to bring these little wonders to your garden, you need to take care of them and create an environment that invites them to stay.
Here are some practical and aesthetic benefits of gardening for hummingbirds.
Practical And Aesthetic Benefits Of Gardening For Hummingbirds
Hummingbirds are not only a delight to watch; they are also beneficial to have in your garden.
By attracting these birds to your garden, you can enjoy the following benefits:
Pollination: Hummingbirds help with pollination by transferring pollen from one flower to another on their beak and feathers. With their long beaks, they can reach the deepest nectarines of flowers other pollinators can't reach. This improves plant fertility and reproduction, aiding in your garden's growth and ecosystem.
Pest control: Hummingbirds feed on nectar, but they also need protein in their diet. They obtain proteins from eating insects such as aphids, spiders, and gnats. This clears your garden of pests, preventing them from harming your plants and flowers.
Aesthetic appeal: Hummingbirds add an aesthetic appeal to your garden. With their striking colors and graceful movements, they add a unique charm that cannot be matched by any other bird. Everyone enjoys the sight of these beautiful creatures fluttering about the garden.
How To Get Started With Attracting Hummingbirds To Your Garden
Creating a hummingbird-friendly environment is easy. From selecting the right plants to providing the proper feeding station, here are some steps to follow when attracting hummingbirds to your garden:
Plant native flowers: Hummingbirds have a specific food preference that varies based on their geographic location. Planting nectar-producing native flowers will help them feel at home, provide them with proper nutrition, and help them thrive in your garden.
Use bright colors: Hummingbirds are attracted to bright-colored flowers, especially red, orange, and pink. The brighter the flower, the easier it is for them to locate and identify it.
Provide a water source: Hummingbirds need a constant supply of water. Create a shallow water source that is no more than one to two inches deep, and change the water regularly.
Provide feeding stations: You can attract hummingbirds with feeding stations that dispense nectar solutions. These stations should ideally have red-colored parts to attract hummingbirds' attention. Homemade nectar is easy to make, but it is crucial to avoid using red food coloring as it's harmful to the birds.
Creating a hummingbird garden is easier than you think and beneficial for you and these beautiful little birds. These enchanting creatures bring joy and a unique touch to your garden that is unmatched by any other creature.
What To Feed Hummingbirds
Hummingbirds are fascinating creatures that can sometimes be seen in our gardens, especially during summer. But how exactly can you attract and care for hummingbirds?
Well, one of the most important things is to provide them with appropriate nectar and feeders. We will discuss the key points when it comes to feeding and caring for hummingbirds.
Appropriate Types Of Nectar And Feeders
Hummingbirds are attracted to the color red, so choose feeders that are brightly colored, such as red or orange
Opt for a feeder that has perches as it will allow the hummingbirds to rest while they feed
Make sure that the feeder has a suitable depth and width.
Avoid using feeders with yellow or white parts, which could potentially attract bees or wasps.
If you're not using a commercial feeder, it's best to use glass or plastic containers, as metal containers can get too hot, especially when it's sunny.
How To Make Your Own Hummingbird Food At Home
Begin by mixing 1 part white granulated sugar with 4 parts water
Boil the mixture for at least a minute to kill any bacteria and let it cool
Fill the feeder with the nectar, leaving a little bit of space at the top to prevent overflowing
Do not add any red food coloring to the nectar as it is a natural instinct for hummingbirds to seek out the color red and the coloring can actually harm them.
Refill the feeder regularly, about every 2 to 3 days, and more often in hot weather as the nectar can spoil quickly.
Tips For Maintaining Clean And Safe Feeders
Clean the feeder with hot water and soap at least once a week to prevent the growth of bacteria and mold
Rinse the feeder thoroughly and dry it completely before refilling it with fresh nectar
Discard any leftover or spoiled nectar before refilling the feeder to prevent contamination
Place the feeder in a safe and visible location, away from predators like cats and near foliage where hummingbirds can rest
If ants are a problem, try using an ant moat or a special hummingbird feeder that has an ant-resistant mechanism
By using these tips, you can create a safe and welcoming environment for hummingbirds in your garden. Remember, it's crucial to keep the feeders clean and the nectar fresh to prevent the birds from getting sick.
Happy hummingbird watching!
Creating A Hummingbird-Friendly Habitat
Hummingbirds are fascinating creatures that are known for their unique ability to hover in mid-air and fly backwards. These tiny birds require a lot of energy to sustain their rapid and erratic movements.
As a result, they need a lot of food in the form of nectar and insects. However, providing them with food is just one part of caring for hummingbirds.
You can also create a hummingbird-friendly habitat to attract and retain these winged beauties. Here are three key points to consider:
Ideal Plants And Flowers For Hummingbirds
Attracting hummingbirds to your yard starts with the right plants and flowers.
Here are some of the most popular options that you can consider:
Trumpet creeper
Cardinal flower
Bee balm
Salvia
Hibiscus
Fuchsia
These flowers are rich in nectar and have bright, bold colors that hummingbirds love. They are also easy to care for and can thrive in a range of climates.
Tips For Designing A Hummingbird Garden
Once you've selected the right flowers and plants, you can begin designing your hummingbird garden.
Here are some tips to help you get started:
Choose a sunny location: Hummingbirds prefer sunny areas that provide ample warmth and light.
Add a water feature: A small fountain or birdbath will provide hummingbirds with a place to drink and bathe.
Incorporate different levels: Add hanging baskets and plants of varying heights to create a diverse environment for hummingbirds to explore.
Avoid pesticides: Pesticides can be harmful to hummingbirds and their food sources, so opt for natural pest control methods instead.
Importance Of Providing Shelter And Nesting Opportunities
Finally, it's important to provide hummingbirds with the right shelter and nesting opportunities to keep them coming back to your garden year after year.
Here are some things you can do:
Provide shade: Hummingbirds need shade to rest and cool off between meals.
Keep your garden clean: A clean garden is less likely to attract predators and disease.
Add nesting materials: Hummingbirds are known for building intricate nests using spider silk and twigs, so consider adding these materials to your garden.
Provide perches: Hummingbirds need perches to rest and survey their surroundings.
Creating a hummingbird-friendly habitat takes time and effort, but the results are worth it. By following these tips, you can attract these tiny birds to your garden and provide them with a safe and welcoming environment to thrive.
Common Health Issues And How To Avoid Them
Hummingbirds are lovely creatures that add color and beauty to our surroundings. Caring for them requires a lot of attention and understanding of their behaviors.
As much as we love these birds, they can sometimes be exposed to various health issues. We'll discuss some common health issues that affect hummingbirds and how to avoid them.
Diseases That Affect Hummingbirds
Hummingbirds are susceptible to several diseases that can be life-threatening if not addressed promptly.
Here are some of the most common diseases that affect hummingbirds:
Fungal infections – a fungus called candida can cause intestinal and respiratory infections in hummingbirds. This disease is common during the breeding season.
Parasites – hummingbirds are prone to external parasites such as mites and lice. These parasites can cause feather loss, skin irritation, and even death.
Salmonella – this bacterial infection can cause inflammation in the hummingbird's gut, leading to dehydration and starvation.
Avian pox – a virus that causes warty growths on the bird's skin and beak.
Best Practices For Preventing And Addressing Health Issues
Preventing hummingbird health issues should be your top priority.
Here are some best practices on how to prevent and address hummingbird health issues:
Keep your feeders clean – dirty feeders can harbor harmful bacteria and fungi, which can cause diseases. Clean your feeders at least once a week to avoid illnesses.
Use fresh nectar – stale nectar can harbor bacteria that can cause digestive issues in hummingbirds. Change your nectar every two to three days during the breeding season and once a week during the non-breeding season.
Provide water in shallow dishes – hummingbirds use water for bathing and drinking. Provide shallow dishes for water, and clean them regularly.
Monitor hummingbirds regularly – observe the hummingbirds' behavior, and if you notice any signs of illness, such as lethargy, weight loss, or abnormal droppings, seek veterinary advice promptly.
Tips For Monitoring Hummingbird Behavior And Identifying Signs Of Illness
Hummingbirds can be challenging to monitor since they have quick movements and are small in size. However, it is crucial to observe their behavior to detect any signs of illness.
Here are some tips on how to monitor and identify signs of illness in hummingbirds:
Observe hummingbird behavior at the feeding station – observe how often hummingbirds visit the feeder and how much nectar they consume. If you notice a hummingbird that sits for extended periods or doesn't drink much nectar, this could be a sign of illness.
Watch hummingbirds in flight – check hummingbirds' wings to ensure they fly correctly and that there are no broken feathers. If you see a hummingbird with broken feathers, this could be a sign of an underlying health issue.
The best way to care for hummingbirds is to understand their behaviors and needs. With these tips, you can provide them with the care they need and keep them healthy and happy.
FAQ On Hummingbirds
How Often Should I Refill My Hummingbird Feeder?
Refill your feeder every three to five days, or sooner if the nectar appears cloudy.
What Is The Best Nectar Mixture For Hummingbirds?
The best nectar mix for hummingbirds is a solution of one-part white granulated sugar to four parts water.
How Can I Attract Hummingbirds To My Yard?
You can attract hummingbirds to your yard by using a bright red feeder, planting brightly colored flowers, and providing perches and water sources.
What Predators Should I Watch Out For Around My Hummingbird Feeder?
Watch out for outdoor cats and praying mantises that can catch hummingbirds. Also, keep an eye out for wasps that may steal nectar.
When Is The Best Time Of Day To Refill My Hummingbird Feeder?
The best time of day to refill your hummingbird feeder is at night when the hummingbirds are less active.
Conclusion
As we come to the end of this post on how to care for hummingbirds, it's clear that these tiny birds require special attention and care. By providing them with a regular source of food, shelter, and a clean environment, you can help these magnificent creatures thrive.
Remember to use red or orange feeders, avoid using pesticides on plants and flowers, and make sure your feeders are cleaned often. Encouraging hummingbirds to visit your garden or balcony is a wonderful way to connect with nature and appreciate the beauty of the natural world.
With a little effort and dedication, you can create a haven for hummingbirds in your own backyard. So why not give it a try and enjoy the beauty of these tiny wonders?