How to Save a Hummingbird That Hit a Window: Simple Steps
To save a hummingbird that hit a window, you should follow these steps: gently pick up the bird, place it in a safe container, keep it warm, offer a sugar solution, and release it when recovered.
Hummingbirds are small, delicate creatures that can easily become disoriented or hurt when they collide with windows.
This can happen due to reflection confusion, where the bird mistakes the window for an open space.
If you find a hummingbird that has hit a window, it's important to act quickly and carefully to help it recover and fly again.
Gently pick up the bird with clean, soft hands.
Place it in a safe container, like a shoebox with air holes.
Keep the bird warm using a non-electric heating pad or a soft cloth.
Release the bird when it shows signs of recovery, such as alertness and movement.
When gently picking up the hummingbird, make sure to avoid squeezing it or causing further injury. Once inside the safe container, the bird can rest and regain its strength.
Keeping it warm is essential, as hummingbirds can quickly lose body heat when injured or stressed.
Provide a sugar solution (4:1 water to sugar ratio) to help with energy and hydration needs. Finally, release the bird when it shows signs of recovery.
This may take anywhere from a few minutes to a few hours, depending on the severity of the impact. Be sure to release it in a quiet, safe area away from windows.
10 Steps to Save a Hummingbird that Hit a Window
| | |
| --- | --- |
| Step | Description |
| 1 | Approach the hummingbird with caution |
| 2 | Check if the bird is still alive |
| 3 | Gently pick up the hummingbird using a soft cloth |
| 4 | Place the bird in a small box with air holes |
| 5 | Keep the box in a quiet and warm place |
| 6 | Prepare sugar water (1 part sugar, 4 parts water) |
| 7 | Offer sugar water to the hummingbird using a dropper or small spoon |
| 8 | Observe the bird for signs of recovery |
| 9 | Release the hummingbird in a safe area if fully recovered |
| 10 | Contact a local wildlife rehabilitator if the bird cannot fly or shows signs of injury |
10 Steps to Save a Hummingbird that Hit a Window
Key Takeaway
Immediate action is crucial for the hummingbird's survival
Provide a safe and comfortable environment for recovery
Sugar water can be helpful in reviving the hummingbird
Monitor the bird's recovery before releasing it back into the wild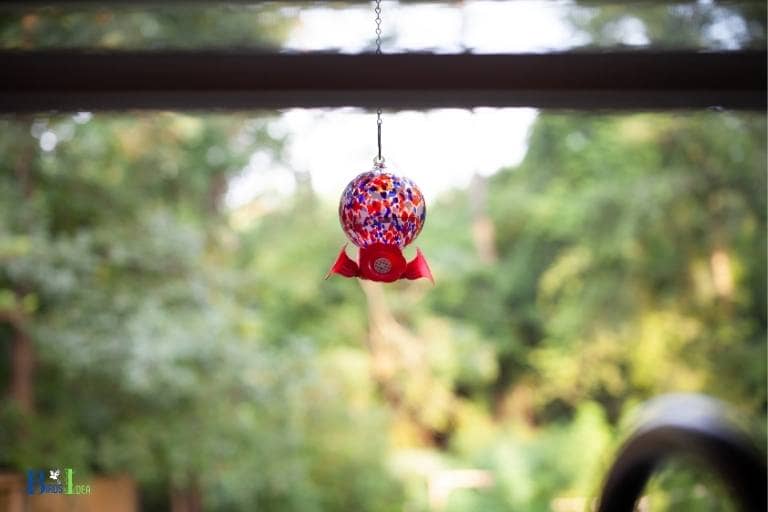 Five Facts About: Saving a Hummingbird that Hit a Window
Window collisions are a significant cause of injury and death for many bird species, including hummingbirds. (source: Fatal Light Awareness Program)
After a hummingbird hits a window, it might be just stunned or seriously injured. Assessing the bird's condition is crucial before taking any further action. (source: Hummingbird-central.com)
Gently placing the hummingbird in a small box with soft padding can provide a safe and comfortable space for the bird to recover, protecting it from predators and adverse weather conditions. (source: Hummingbirdsociety.org)
Offering a mixture of sugar water (1 part white sugar to 4 parts water) helps in reviving the bird by providing it with necessary energy and hydration. Using a dropper or clean spoon, you can offer this mixture to the bird every half hour. (source: Hummingbirdsociety.org)
Before releasing the rescued hummingbird, it is essential to observe its recovery progress. It should show increased strength and alertness. If the bird's condition does not improve or it struggles to fly independently, it might need professional care. In such cases, contact a local wildlife rehabilitation center or expert. (source: Audubon Society);
Understanding The Situation
Imagine relaxing in your backyard, enjoying nature's beauty, when you suddenly hear a thud by your window. You go over to investigate and see a tiny hummingbird lying on the ground, motionless.
Despite the bird's small size, hummingbird injuries can be severe.
In this section, we will discuss the dangers of window collisions and the symptoms of a hummingbird injury.
The Dangers Of Window Collisions
Window collisions are a significant hazard for birds, and hummingbirds are no exception. They usually occur when birds mistake the reflection in the window for an opening and fly straight into them.
Here are some potential dangers linked to these collisions:
Severe and sometimes fatal injuries
Predation – exposing the stunned bird to predators such as cats
Prolonged stress, causing a slow and painful death.
Symptoms Of A Hummingbird Injury
It's crucial to know the signs of a hummingbird injury to take the right steps in helping them recover.
Below are some symptoms to look out for:
The bird is dazed or stunned and unable to move
The bird is lying on the ground and cannot fly
Signs of labored breathing
The bird is bleeding from the beak or mouth
The bird's wing is twisted or broken.
If you notice any of these signs, the hummingbird needs rehabilitation, and you should call a licensed wildlife rehabilitator immediately.
Remember that window collisions can be distressing for both you and the bird. By understanding the hazards and recognizing the symptoms of a hummingbird injury, you can take the appropriate steps to help save these fragile creatures.
Ways To Give First Aid To A Hummingbird
Step-By-Step Approach To Helping A Hummingbird
Hummingbirds are remarkable little creatures known for their beautiful iridescent plumage, incredible speed, and agility.
Given their speed, it is not unusual to see a hummingbird who has flown into a window or glass door while in flight.
If you ever come across such an incident, it is essential to know how to help the little bird.
Here are the steps you should follow:
Check the bird's condition: Before you try to help the bird, check its physical condition. If it appears healthy, you must provide an opportunity for it to recover in a safe and secure place.
Provide a comfortable space: Place the bird in a small container like a shoebox with ventilation holes poked into the lid. Put a small towel in the box's bottom or, better yet, a clean natural cloth.
Monitor the bird: Keep the bird in a quiet and dark place, away from children and pets, to monitor its condition. Check every 15-20 minutes; do not offer food or water if the bird is unconscious.
Tools And Supplies To Prepare Before Helping A Hummingbird
It is essential to prepare the necessary items before attempting to help a hummingbird.
These are some of the tools and supplies you must have on hand:
Gloves: Thin, disposable gloves can protect you from potential exposure to the bird's harmful bacteria.
Netting: A small, fine bird net can help you capture the hummingbird safely.
Stainless steel tweezers: These can help you remove broken glass shards or other debris from the bird's feathers or skin.
Saline solute: It can help flush out the bird's eyes and clean the injury site in emergencies.
Heating pad: It is essential, especially if you live in a cold climate or if the bird is in shock and needs to stay warm.
Clean rags: These can help you clean up any blood or saliva from the bird's feathers or skin.
If you ever come across a hummingbird which has flown into a window, do not hesitate to help it. Use the step-by-step approach to help the bird, and make sure to prepare all the necessary tools and supplies beforehand.
With patience and care, you can give the bird the chance to recover and fly once more.
How To Move A Hummingbird After An Injury
Saving a hummingbird that has hit a window can seem daunting, but it's not impossible. With a few precautionary measures and proper care, a hummingbird can quickly recover from injury.
However, moving an injured hummingbird requires specific procedures to avoid further damage or harm.
Let's explore the steps to move a hummingbird after an injury.
Precautionary Measures To Take When Moving A Hummingbird
Moving an injured hummingbird can be stressful for both the bird and you.
To ensure a safe and successful transportation, observe the following precautionary measures:
Wear protective gloves to prevent spreading diseases or harming the bird unintentionally.
Do not touch the bird's delicate wings or feathers, as this can cause further harm.
Avoid sudden movements or loud noises that could startle the bird, leading to further injury.
Keep the bird warm by wrapping it gently in a soft cloth or towel; a cold hummingbird is more susceptible to shock.
Use a small, sturdy container to transport the bird to its proper resting place.
Proper Resting Place For An Injured Hummingbird
After moving a hummingbird, it's essential to provide a proper resting place where it can recover safely.
Place the injured hummingbird in a small, warm, and dark container to reduce stimulation and allow it to rest.
Keep the container away from direct sunlight, as excessive heat can stress the bird.
Provide a small amount of water or a sugar solution to help the hummingbird replenish lost energy.
Observe the hummingbird for several hours in its resting place to ensure that it is safe and regaining strength.
Moving an injured hummingbird may seem daunting, but with proper care, it can quickly recover and return to its natural habitat. Rmember to take precautionary measures, and provide a proper resting place with proper nutrition and care.
Follow these steps to provide the best possible care to help the hummingbird recover its strength and vitality.
Providing Rehabilitation To An Injured Hummingbird
Creating A Healing Environment For A Hummingbird
Hummingbirds are delicate and sensitive, and a healing habitat can be vital in their rehabilitation.
Consider some factors when creating a healing environment for a hummingbird:
Humidity: Most hummingbirds thrive in warm and humid conditions since their natural habitat is tropical and subtropical regions.
Temperature: Hummingbirds prefer temperatures between 72°f to 78°f, but higher temperatures can cause dehydration and heatstroke. A heating pad can be placed under the enclosure.
Lighting: Dim lighting in the healing environment can reduce stress and anxiety for hummingbirds. Harsh lighting can increase aggressive behavior and activity level.
Space: Hummingbirds need ample space to fly around and exercise their wings. A large enclosure with sufficient room for plants, perches, and a shallow water dish will provide the birds with optimal comfort.
Steps For Feeding A Hummingbird
Hummingbirds have a high metabolism and need to consume a lot of nectar to maintain their energy levels.
When feeding injured hummingbirds, follow these simple steps:
Use a small syringe to feed the hummingbird nectar. A 1-ml syringe is perfect to mimic how the bird would feed on flowers in the wild.
The nectar should be made up of four parts boiled water to one part white granulated sugar. This recipe mimics the naturally occurring nectar of flowers that hummingbirds prefer.
Clean the syringe with warm water after each feeding session. Do not expose any sugar residues on the surface as it can cause harmful bacteria to grow.
Feed hummingbirds every 15 to 20 minutes throughout daylight hours, except during the night and early morning.
With these simple steps, you can help a hummingbird regain its health and energy in no time!
FAQ On How To Save A Hummingbird That Hit A Window
What Do I Do If I Find A Hummingbird On The Ground?
If you find a hummingbird on the ground, gently pick it up and place it on a nearby branch. Stay and observe to ensure that it is okay.
How Can I Help A Hummingbird That Hit A Window?
You can help a hummingbird that hit a window by monitoring it and providing a safe space to rest. Keep it hydrated by offering sugar water and keep pets away.
Can I Touch A Hummingbird To Help It?
It's best to avoid touching a hummingbird if possible. They are delicate and can easily be injured. If you must handle one, do so gently and with clean, dry hands.
How Do I Make Sugar Water For A Hummingbird?
Mix four parts water to one part white granulated sugar. Boil the water first, then measure and add sugar, stirring to dissolve. Allow the mixture to cool before offering to the hummingbird.
How Long Should I Monitor A Hummingbird That Hit A Window?
You should monitor a hummingbird for at least an hour after it hits a window. If it appears alert and able to fly, it's best to let it go. If not, seek advice from a wildlife rehabilitator.
Conclusion
Saving a hummingbird that hit a window can be a big responsibility. It's important to act fast and handle the bird with care. Remember to check for injuries and take precautions while helping the bird recover.
By following these simple steps, you can make a difference and help save a life.
Prevention is the best cure, so make sure to take measures like placing decals on windows or installing screens to prevent future incidents. At the end of the day, every life matters and it's our responsibility to protect and help our wildlife.
By spreading awareness and educating others, we can make a significant impact in saving our environment and its creatures. Remember, every small act counts, and together, we can make a difference.