How to Make a Hummingbird Pool: A Guide!
To make a hummingbird pool, you need to create a shallow water source with a gentle flow that attracts these tiny birds, providing them with a place to drink, bathe, and cool off.
Hummingbirds are small, energetic creatures that require regular sources of water to stay hydrated and maintain their body temperature. Unlike other bird species, they prefer shallow pools with a gentle flow, as deep or still water can be dangerous for them.
Making a customized hummingbird pool in your garden or backyard will not only help these birds thrive, but it will also provide an opportunity for you to observe their intriguing behavior up close.
Choose the right location for the pool
Opt for a shallow design with an incline
Create a gentle flow of water
Add perches and natural elements for an inviting environment
To build an attractive hummingbird pool, first choose a location in your garden or backyard that is easily visible for you to enjoy watching the birds, but also safe from predators.
The pool's design should be shallow, ideally with an incline, so the birds can wade into the water safely. Introduce a gentle flow of water, either through a solar-powered pump or a dripper, to mimic their natural habitat and discourage mosquitoes.
Adding perches and natural elements, like rocks and foliage, will make the pool more inviting and allow the hummingbirds to rest and preen after bathing.
8 Steps to Create a Hummingbird Pool
Step
Task
Materials
Instructions
1
Choose a location
–
Find a shady and quiet spot in your garden that is visible from your house, away from predators such as cats.
2
Select a shallow container
– Shallow container (e.g., birdbath, shallow dish, or plant saucer)
Hummingbirds prefer shallow water sources, so choose a container with a depth of 1 to 2 inches.
3
Assemble and prepare the container
– Container
– Clean water
– Soft cloth or sponge
Clean the container thoroughly using a soft cloth or sponge and water. Rinse well to remove any soap or detergent residue.
4
Add water and create shallow areas
– Clean water
– Pebbles or small rocks
Fill the container with clean water, maintaining a depth of 1 to 2 inches. Add pebbles or small rocks to create shallow areas for birds to perch.
5
Include water movement
– Dripper, mister, or small fountain
Hummingbirds are attracted to the sound of moving water. Add a dripper, mister, or small fountain to your container to create water movement. Ensure the water's depth remains shallow.
6
Add perching spots
– Twigs or small branches
Place twigs or small branches near the container for hummingbirds to perch and rest.
7
Plant hummingbird-friendly flowers
– Nectar-producing flowers (e.g., salvia, bee balm, or trumpet vine)
Plant nectar-producing flowers around the pool to attract more hummingbirds. Choose native species to provide the best habitat.
8
Maintenance
– Clean water
– Soft cloth or sponge
Change the water in the container every 2-3 days to keep it fresh and clean. Clean the container with a soft cloth or sponge at least once a week.
8 Steps to Create a Hummingbird Pool
Key Takeaway
Creating a hummingbird pool can provide a reliable water source for these fascinating birds
Proper pool placement and maintenance encourages regular visits from hummingbirds
Adding enticing features can increase the attractiveness of the pool for these birds
Ensuring safety and cleanliness of hummingbird pools is essential for their long-term use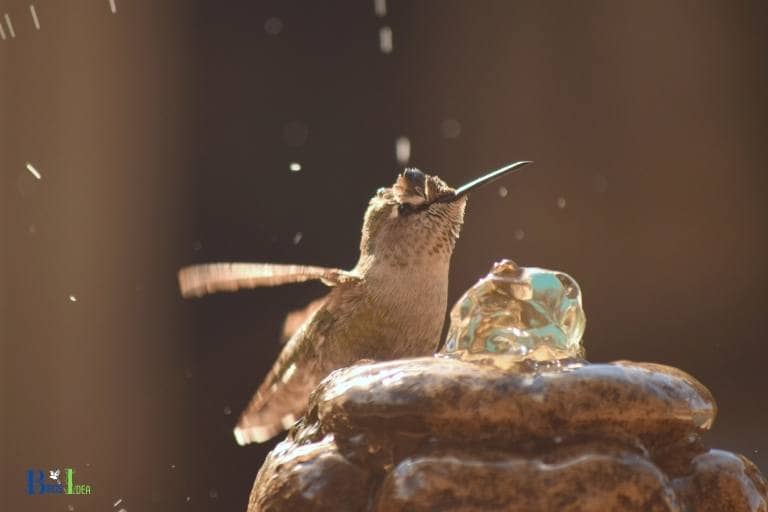 Five Facts About: Hummingbird Pools
Hummingbirds
not only need nectar for sustenance, but they also need water for drinking and bathing to maintain their health and hygiene (Source:
The Spruce
)
To create a welcoming pool, one should opt for a shallow water source, such as a birdbath or saucer, that's about 1/4 to 1/2 inches deep and preferably with a slightly rough surface to prevent slipping (Source: Bird Watcher's Digest)
Placing your hummingbird pool in partial sunlight can make it more inviting, as it allows the birds to warm up after bathing, while also providing nearby shady areas for perching (Source: Bird Watcher's Digest)
Adding dripping water features or a small fountain can make the pool more noticeable by generating sound and movement as hummingbirds are attracted to the sound of moving water (Source: The Spruce)
To keep the hummingbird pool safe and clean, it's essential to change the water regularly (at least once every day) and to periodically scrub the pool to minimize algae growth, mold, or other contaminants that may harm the birds Source:
What You Will Need
Hummingbirds are fascinating birds known for their unique capabilities, one of which is their ability to hover in mid-air by beating their wings rapidly.
If you want to enjoy watching these beautiful creatures up close, building a hummingbird pool in your backyard is the perfect solution.
To get started, here is what you will need:
Types Of Hummingbird Pools To Consider
Before you begin building your hummingbird pool, it's essential to choose the right type of pool.
Here are some popular options to consider:
Bowl: This is the simplest type of hummingbird pool, and you can buy one from a bird supply store. Its small size makes it easy to maintain and place in different spots in your backyard.
Basin: This type of pool is typically a bit larger than a bowl and needs to be placed on a sturdy base for stability purposes.
Fountain: A combination of beauty and functionality, this type of hummingbird pool is also great for providing a stunning visual display. However, it requires a more substantial base since it usually includes a water feature.
Materials Needed To Create The Perfect Pool
Once you have decided on the type of hummingbird pool you want, it's time to gather the necessary materials to build it.
Here are some things you'll need:
Shallow container: Depending on your preferred type of pool, you'll need to choose a shallow basin, bowl, or container.
Water: It goes without saying that clean water is crucial for your hummingbird pool.
Rocks or stones: This will help to provide a stable base and also create a natural look.
Flowers or plants: You can add some flowers or plants around the pool to attract more hummingbirds.
The Importance Of Designing For Stability
Stability is crucial when building a hummingbird pool. The pool must be placed on a flat surface and have a secure base.
Here are some considerations for stability:
Make sure to choose a sturdy and level spot that can withstand the weight of the pool and hummingbirds.
Add some large rocks or stones around the base of the pool to provide additional support.
Avoid placing the pool in an area with strong winds that can cause it to tip over.
Considerations For Proper Placement In Your Backyard
Proper placement is vital when building a hummingbird pool.
Here are some factors to consider when determining where to place it:
Sunlight: Hummingbirds love to bask in the sun, so it's essential to find an area that gets a decent amount of sunlight throughout the day.
Safety: Place the pool in an area where the hummingbirds can easily spot any predators in the vicinity.
Accessibility: Make sure to place the pool within easy reach so you can refill it with clean water regularly.
By following these guidelines, you can easily create a hummingbird pool that offers an inviting space for these unique and charming birds to come and visit.
Building Your Hummingbird Pool
Hummingbirds add beauty and life to any home. If you want to attract these colorful and small winged creatures into your yard, building a hummingbird pool is a great idea.
Here are the easy, step-by-step instructions for constructing a hummingbird pool:
Determine the location: Choose a spot shielded from the wind, away from your bird feeders, and close to shrubs or trees where hummingbirds can perch. Make sure the location receives plenty of sunlight throughout the day.
Dig the hole and insert the basin: Dig a shallow hole that can accommodate the basin. Place the basin in the hole, making sure the rim of the basin is level with the ground.
Create a pool environment: Decorate the basin with rocks to provide a surface for birds to perch while drinking water. Fill the basin with water, but don't immerse the rocks.
Choose a water source: Install a drip irrigation system or a small fountain nearby to attract hummingbirds.
Add fresh water regularly: Change the water frequently, ideally every three to four days, to prevent stagnant water and to eliminate the need for harmful chemicals.
Tips For Creating A Safe And Inviting Environment For Hummingbirds
Hummingbirds are delicate birds and require a suitable environment for their survival.
Here are some tips to ensure your hummingbird pool is inviting and safe for hummingbirds:
Keep the pool clean: Regular cleaning every week with a mild soap and water is essential to prevent the spread of diseases among birds.
Don't use chemicals: Refrain from using chemicals like chlorine, bleach, or other cleaning agents as these are hazardous to hummingbirds.
Provide shade: It is essential to provide a source of shade around the pool to prevent the water from becoming too hot for hummingbirds.
Limit interaction: While watching hummingbirds can be fascinating, it is best to minimize your presence around the pool to avoid disturbing them.
Add food sources: Installing hummingbird feeders near your pool is an excellent way to attract more hummingbirds.
Methods For Maintaining A Clean And Healthy Pool
Maintaining a clean and healthy hummingbird pool is crucial to keep hummingbirds visiting your yard.
Here are some tips to keep your pool in tip-top condition:
Check for mold: Inspect the basin for signs of mold or algae buildup. If you see any, clean it immediately.
Scrub the basin: Scrub the basin using a stiff-bristled brush to remove any dirt or grime.
Rinse the basin: Rinse the basin using a garden hose to remove any remaining dirt or grime.
Refill the pool: Once the basin is clean, refill it with fresh water.
With these easy steps and tips, you can create an inviting and safe hummingbird pool that will attract the small, colorful birds into your yard. Enjoy the beauty and life they bring to your home.
Decorating Your Hummingbird Pool
Hummingbirds are fascinating creatures to watch, and one way to attract them is by setting up a hummingbird pool.
But how do you add features that are attractive to hummingbirds? What kind of decorations should you use to make the pool more appealing?
Here are some tips for decorating your hummingbird pool:
How To Add Features That Attract Hummingbirds
Add a fountain or waterfall: Hummingbirds love moving water, and the sound of a fountain or waterfall is a great way to attract them. The movement also helps to keep the water fresh.
Hang some feeders: Hummingbirds feed on nectar, so adding a hummingbird feeder near your pool is a must. You can also add other types of feeders, like a fruit feeder, to attract other types of birds to your pool.
Install some perches: Hummingbirds need a place to rest between flights. You can add perches around your pool to provide resting spots for them.
Tips For Choosing Complementary Decorations
Use bright colors: Hummingbirds love bright colors, so use decorations with red, orange, and pink hues to attract them. You can use brightly colored pots, decorative stones, or even colorful tiles to decorate your pool area.
Add some plants: Plant some flowers and plants around your hummingbird pool to make it more attractive to them. Hummingbirds are especially drawn to flowers like bee balm, salvia, and zinnias.
Keep it natural: Try to keep your pool area as natural as possible. Use natural wood for your perches and decks, and avoid using artificial features that could deter hummingbirds.
Creating a decorative hummingbird pool is not only fascinating, but also an excellent way to enjoy nature and attract these beautiful creatures to your garden.
These tips should help you get started on creating a hummingbird-friendly pool area that you and your family can enjoy for years to come.
FAQ Of How To Make A Hummingbird Pool
How Deep Should A Hummingbird Pool Be?
Hummingbird pools should be shallow, 1-2 inches deep, with textured surfaces for grip.
What Should I Use For A Hummingbird Pool?
Use a shallow container, such as a pie plate, with textured surfaces and clean water.
How Often Should I Change The Water In The Hummingbird Pool?
Change the water in the hummingbird pool every few days to prevent mosquitoes from breeding.
Where Should I Place My Hummingbird Pool?
Place your hummingbird pool in a shady, protected area and near hummingbird feeders or flowers.
Can Other Birds Use A Hummingbird Pool?
Yes, other small birds may use a hummingbird pool for bathing and drinking.
Conclusion
After reading this article, you now know how to make a hummingbird pool and attract these beautiful creatures to your backyard. Gathering the right materials, selecting a strategic location, and providing fresh water are key steps to creating a successful hummingbird pool.
Remember, hummingbirds are attracted to bright colors, so add flowers and other accessories to make the pool more inviting. It is also important to keep the pool clean and maintained to ensure the safety and well-being of any visiting hummingbirds.
With these tips, you can create a beautiful oasis for these amazing creatures and enjoy watching them as they flutter and play. So get started today and bring the beauty of hummingbirds into your own backyard.