How to Carve a Hummingbird Out of Wood: A Guide!
To carve a hummingbird out of wood, follow these steps: choose the right wood, create a template, gather carving tools, rough out the shape, add details, and apply the finish.
Carving a hummingbird out of wood is a process that requires patience, skill, and an understanding of the wood's properties.
By following a series of steps, you can create a beautiful, detailed wooden hummingbird that can be displayed or given as a gift.
Choosing the appropriate wood type
Drawing or printing a hummingbird template
Using various wood carving tools for precision
Techniques for adding intricate details
Using the template as a guide, rough out the shape of the hummingbird with a coping saw and knives.
Carefully add details like feathers and eyes using smaller carving tools, such as veiners and V-tools.
Finally, apply a finish like wood stain or paint to enhance the natural beauty of the wood and protect your carving.
8 Steps to Carving a Hummingbird Out of Wood
| | | |
| --- | --- | --- |
| Step | Tools Needed | Instructions |
| 1 | Wood block, pencil, carving pattern | Choose a suitable wood block and draw or transfer a hummingbird pattern onto it. |
| 2 | Band saw or coping saw | Carefully cut out the rough shape of the hummingbird, following the pattern lines. |
| 3 | Carving knives, gouges, and chisels | Begin shaping the hummingbird using various carving tools to remove excess wood. |
| 4 | Sandpaper, various grits | Smooth the carved surfaces using sandpaper, starting with a lower grit and progressing to a finer grit for a smooth finish. |
| 5 | Detailing knives, fine-tip gouges | Add details to the hummingbird, such as the beak, eyes, and feather patterns. |
| 6 | Watercolor paints, small paintbrushes | Paint the hummingbird, using a light touch to bring out the natural wood grain and create a realistic appearance. |
| 7 | Clear protective spray or wood finish | Apply a clear coat to protect the painted hummingbird and ensure longevity. |
| 8 | Display hook or stand | Display your carved hummingbird on a stand or hang it in a desired location. |
8 Steps to Carving a Hummingbird Out of Wood
Key Takeaway
Patience and attention to detail are crucial when carving a hummingbird out of wood.
Using the right tools and materials is essential for achieving a realistic and high-quality result.
Sketching your hummingbird design or using a template can serve as a helpful guide during the carving process.
Refining the carved hummingbird with sandpaper and adding paint or other finishes can enhance its appearance for a professional look.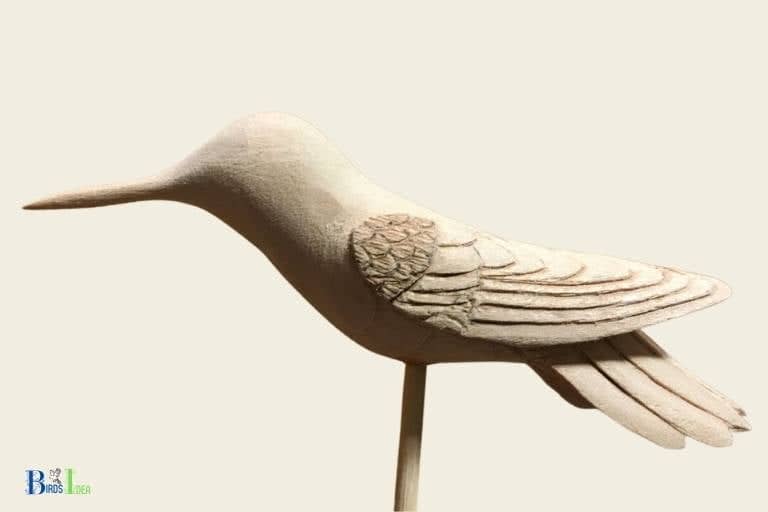 Five Facts About: Wood Carving Hummingbirds
Hummingbird wood carvings are often used as decorative pieces or ornaments and showcase the intricate details and dynamic poses of these small birds.
To create a detailed hummingbird carving, it's essential to use a variety of wood carving tools, such as knives, gouges, and chisels, to achieve different cuts and shapes.
When carving a hummingbird, it's advisable to choose a hardwood like maple, walnut, or cherry, as these woods provide more durability and better hold intricate details than softwoods.
Studying hummingbird anatomy and using photos or real specimens as references can help achieve a more accurate and realistic carving.
To add color and bring your hummingbird carving to life, consider using acrylic paint or wood stains. These can help emphasize individual feathers, the bird's iridescence, and other intricate features.
Why Learn How To Carve A Hummingbird Out Of Wood
Benefits Of Learning Woodcarving
Woodcarving is a fascinating and intricate art that offers multiple benefits for people.
Here are some of the benefits of learning woodcarving:
Develops creativity and craftsmanship skills.
Provides an opportunity to express creativity in a tangible medium.
Enhances problem-solving and critical thinking skills.
Boosts confidence and self-esteem.
Improves manual dexterity and fine motor skills.
Provides a relaxing and stress-reducing activity.
Offers a sense of accomplishment after completing a project.
Importance Of Possessing Skills To Carve Different Birds
With woodcarving skills, you can carve various birds out of wood. Although each bird is different, carving them requires accuracy, patience, and creativity.
Here are some reasons why it's essential to possess skills to carve different birds:
It enables you to create one-of-a-kind artwork.
Helps you understand the anatomy and unique attributes of different bird species.
Encourages attention to detail and precision.
Boosts your knowledge of woodcarving techniques.
Unique Attributes Of A Hummingbird That Make It Worth Carving Out Of Wood
Among the many bird species, the hummingbird stands out for several reasons.
Consider these unique attributes that make a hummingbird worth carving out of wood:
The hummingbird's mesmerizing, rapid wing movements.
Their vibrant and striking colors.
Their small size and delicate features.
Their agility and swift movements.
The bird's association with symbolic meaning including joy, healing, and love.
How Carving A Hummingbird Out Of Wood Improves Creativity And Mental Wellness
Woodcarving can positively impact your mental wellness and creativity by letting you engage in a relaxing and mindful activity.
Here are a few ways that carving a hummingbird out of wood can benefit your mental wellness:
Encourages mindfulness and deep focus.
Provides an outlet for self-expression and creativity.
Promotes a sense of calmness and relaxation.
Helps reduce stress, anxiety, and depression.
Improves hand-eye coordination and sensory perception.
Carving a hummingbird out of wood provides multiple benefits to your mental and physical well-being while enhancing your creativity and woodcarving skills.
Start learning how to carve a hummingbird out of wood, and you'll see how this unique activity can transform your life.
Design A Pattern
The Importance Of Sketching A Pattern Before Commencing On Any Carving Process
Designing a pattern is a vital step before carving a hummingbird out of wood.
Here are some benefits of sketching a pattern before commencing on any carving process:
Helps you visualize the design: Sketching a design beforehand allows you to see what your hummingbird will look like. You can make changes to the sketch before carving out the wood, ensuring that the final product resembles a hummingbird.
Saves time and resources: Sketching your design helps you avoid making mistakes during the carving process. This can save you time and resources since you won't have to repeat the process several times.
Allows you to experiment with different designs: Sketching allows you to try different designs before settling on the final one. You can incorporate different features of the hummingbird, such as its beak, wings, and body, to create a unique design.
Determining The Right Wood Type For Carving A Hummingbird
Choosing the right wood type is crucial in carving a hummingbird.
Here are some factors to consider when selecting the right wood:
Hardness: A hard and dense wood type is ideal for carving a hummingbird. Hardwoods such as cherry, walnut, mahogany, and ebony are commonly used for carving.
Grain: The wood grain affects how your carving will look. A straight grain is ideal for carving out small details such as feathers, while a curved grain can be used for larger areas such as the body and wings.
Texture: Wood with a fine texture is ideal for carving. This allows you to carve out intricate details and patterns in your hummingbird.
Using A Picture Or A Drawing To Create Detailed Sketches For Designing The Pattern
Using a picture or drawing as a reference can help you create detailed sketches when designing the pattern.
Here's how:
Choose a high-quality reference image: A high-quality image allows you to see the fine details of the hummingbird. This can help you accurately sketch out the features in your design.
Use tracing paper: Tracing paper allows you to trace the image onto paper, ensuring that the proportions and details are accurate.
Make adjustments: Once you've traced the image, you can make adjustments to the sketch, including adding or removing features. This can help you create your unique hummingbird design.
Creating Templates To Finalize The Design
Creating a template is the final step in designing the pattern.
Here's how to create a template:
Print out the final sketch: Printing out the final sketch allows you to transfer the design onto the wood surface.
Trace the sketch onto paper: Tracing the sketch onto paper ensures that the design is accurate.
Transfer the design onto the wood: Once you've traced the sketch onto paper, you can transfer it onto the wood using carbon paper or by tracing it by hand.
Refine the design: Once you've transferred the design onto the wood, you can refine it, ensuring that it closely resembles a hummingbird.
Designing a pattern is an essential step in carving a hummingbird out of wood. It allows you to visualize the design, determine the right wood type, use a picture or a drawing to create detailed sketches, and create templates to finalize the design.
With these steps, you can create a unique and beautiful hummingbird carving.
Preparing The Wood Block For Carving
Selecting The Wood Size And Type
Choosing the correct wood type and size is critical when it comes to carving a hummingbird.
Here are some essential things you need to remember:
Pick a block of wood that is at least 4×6 inches or bigger. This size should be enough to create the details you require.
Consider the wood type. Basswood and butternut are the most common kinds of wood used for carving hummingbirds. Basswood is the best choice for beginners. It's easy to carve, and it has a soft texture that gives it a lovely finish.
If you want your hummingbird to be durable and sturdy, pick a harder wood type, such as butternut or mahogany.
Sanding The Wood Before Marking Out The Sketches
Before drawing your sketches on the wood, it's essential to sand the surface first.
Sanding the wood:
Helps with creating a smooth surface for drawing your hummingbird.
Removes any rough edges that can spoil your sketches.
Provides a clean surface that makes it easier to make your markings.
Use sandpaper to sand the surface of the wood gently. Begin with coarse sandpaper and work your way down to finer-grit sandpaper until the surface of the wood is smooth.
Preparing Workspace And Tools
Before you begin carving, take the time to prepare your workspace and tools.
Here are some crucial things you need to remember:
Choose a well-lit and spacious workspace with a comfortable chair.
Gather all the necessary tools such as a carving knife, chisels, gouges, and sandpaper.
Wear protective gear like a dust mask, apron, and gloves to protect your hands.
Make sure your tools are sharp and in good condition. Dull tools are hard to use and can lead to injuries. Keep your workspace organized and clean.
By following these guidelines, you'll be able to carve a hummingbird out of wood successfully. Be patient, practice often, and soon you'll be creating stunning pieces that will impress everyone.
Carving Tools And Techniques
Different Woodcarving Tools Available In The Market
Woodcarving is not just a skill; it is indeed an art form that requires precision, patience, passion and the right tools.
The following are some of the essential tools that you need to have before you start your carving project:
Carving knife: This is the most basic tool you'll need for any woodcarving. The carving knife is used for roughing out and shaping the wood.
Gouges: These are tools that come in different shapes and sizes. They are used for carving details, such as patterns or shaping curves.
V-tool: The v-tool is useful for carving out the small, intricate details, such as wings or beaks.
Chisels: Chisels come in different shapes and sizes, and they are ideal for wide, flat areas.
Characteristics And Uses Of Each Carving Tool
Each carving tool has unique characteristics and plays a crucial role in the outcome of your carving projects.
Here are some of the carving tools and their uses:
Carving knife: It is useful for doing the rough work and basic shaping, such as rounding the edges and removing excess wood.
Gouges: Gouges are ideal for shaping the curves, such as a hummingbird's body.
V-tool: It is perfect for creating the fine details of the hummingbird's wings or beak.
Chisels: Chisels come in various widths, and they are useful for creating flat surfaces or straight lines.
Identification Of The Precise Tool In Relation To The Bird Part Being Carved
Choosing the right tool for the job is essential and can make the difference between a beautiful hummingbird carving and a mediocre one.
Carving knife: Start with the carving knife to rough out the shape of the hummingbird. Then use it to carve out the basic shapes.
Gouges: Use gouges to carve soft and round areas, like the hummingbird's body.
V-tool: Use this tool to create clean, sharp lines and small details like the beak, eyes, and feathers.
Chisels: They are ideal for cutting flat areas like the wings, tail, and the sides of the bird.
Step-By-Step Guide On How To Carve A Hummingbird
Now that you have your tools ready, it's time to start carving your hummingbird.
Follow these steps:
Start by drawing the outline of your hummingbird on a piece of paper. Once you have a clear idea of what you want to carve, transfer that onto a wooden block.
Use the carving knife to start roughing out the basic shape of your bird, cutting away any excess wood.
Then use gouges to carve the body, making it smooth and rounded.
Take the v-tool to add details to the wings, eyes, and beak.
Use the chisels to shape the wings and tail, ensuring that they are flat and even.
In the end, sandpaper the entire carving to smoothen the edges and surface.
Finally, apply a coat of finish to enhance the texture and colour of your finished hummingbird.
Follow these steps, and soon you will have a beautiful hummingbird carving ready to display or give to someone as a gift. Happy carving!
Finishing And Polishing
Wood carving is a skill that requires patience, precision, and a passion for creating intricate wooden products from blocks of wood. One of the most popular items to carve out of wood is the hummingbird, which requires a lot of attention to detail.
While the carving process can be challenging, the finishing and polishing stage can be equally important in creating a well-crafted and beautiful final product.
We will discuss the significance of finishing the carving process, the different types of finishes available, how to apply different finishes to a carved wooden product, and the importance of polishing the finished product to achieve a stunning look.
The Importance Of Finishing The Carving Process For An Excellent Final Product
Finishing the carving process is crucial in creating a smooth and polished final product. Without proper finishing, the surface of the product may look rough, and the details of the carving may not be as evident.
Some of the reasons why you need to finish your carving include:
Increases durability: Finishing helps preserve the wood by protecting it from damage such as scratches, stains, and moisture.
Brings out the beauty of the wood: A good finish will help bring out the unique grain, colors, and pattern of the wood, making the product look sophisticated.
Enhances details: A well-finished product will highlight the intricate details of the carving.
Prevents splinters: A rough surface can cause splinters, which can be hazardous to the user. A smooth finish will help eliminate rough edges.
The Different Types Of Finishes Available
In woodworking, there are many different types of finishes available to choose from, and selecting the right one can be overwhelming.
Here are the most popular finishes:
Stain: Used to add color to the wood, with options ranging from light to dark shades.
Oil: Seeps into the wood's pores to provide deep and long-lasting protection.
Shellac: Quick-drying and easy to apply, shellac provides a clear glossy finish.
Varnish: Offers superior protection from moisture, scratches, and stains, and provides a shiny finish.
Wax: Used to provide a protective layer and add shine and luster to the product.
How To Apply Different Finishes To A Carved Wooden Product
The application technique will determine the success of the finish.
Here are some steps to help apply various finishes:
Identify the appropriate finish to use based on your desired look and application technique.
Sand the wood until it's smooth, and remove any dust.
Apply the finish using a brush, rag, or spray gun. Ensure an even application.
Wait for the finish to dry.
Repeat the process, if necessary, to achieve the desired coverage.
Polishing The Finished Product For An Exquisite Finish
Polishing the finished product is essential to create a smooth and glossy surface. It brings out the best in the wood by giving it a lasting shine.
Here are some steps involved in polishing a product:
Sanding: Use fine-grit sandpaper to smoothen the surface of the product.
Buffing: Use a soft cloth to apply wax or polish and buff it to create a shine.
Using a polishing wheel: A polishing wheel can be used to polish the product quickly and efficiently.
Applying liquid wax: Apply a small amount of wax using a cloth, let it dry, and buff it to achieve a long-lasting finish.
Finishing and polishing your carved wooden product can elevate it from a basic carving to a polished and sophisticated item.
By following the tips highlighted in this blog post, you can achieve an excellent final product that is both beautiful and long-lasting.
Safety Precautions When Carving A Hummingbird Out Of Wood
Carving a hummingbird out of wood can be a satisfying and rewarding experience. However, it is crucial to follow safety precautions to prevent injuries.
We will discuss some safety measures to take when carving a hummingbird out of wood, including handling different carving tools, using protective gear and clothing, basic first aid in case of minor accidents, and marking hazards and addressing them before starting work.
Safety Measures When Handling Different Carving Tools
When working with carving tools, it is vital to follow safety guidelines to prevent injuries.
Here are some essential safety precautions to take:
Always use sharp tools. Dull tools can slip and cause accidents.
Never carve towards your body.
Always carve away from your hands and fingers.
Use the appropriate carving tool for the job.
Keep your fingers and thumb away from the blade.
Using Protective Gear And Clothing
Wearing protective gear and clothing is essential when working with carving tools.
The following protective gear and clothing are recommended:
Safety goggles to protect your eyes from chips and dust.
A dust mask to prevent inhaling dust.
Heavy-duty gloves to prevent cuts and punctures.
Protective clothing, such as a long-sleeved shirt and pants.
Basic First Aid In Case Of Minor Accidents
In case of accidents when carving a hummingbird out of wood, you must be prepared to administer basic first aid measures.
Here are some basic first aid tips:
For cuts, clean the wound with soap and water and apply pressure until bleeding stops.
For punctures, wash the wound thoroughly and consult a doctor if necessary.
For eye injuries, flush the eye with water and seek medical attention immediately.
Marking Hazards And Addressing Them Before Commencing Work
It is essential to inspect your work area before starting to carve a hummingbird out of wood.
Here are some steps to take:
Identify any obstacles or hazards in your work area.
Address any hazards before starting work.
Mark any hazards that cannot be addressed.
Remember, safety should always be your top priority when carving a hummingbird out of wood. By taking these safety measures, you can enjoy a satisfying and rewarding experience while preventing injuries.
FAQ For How To Carve A Hummingbird Out Of Wood
How Do I Start Carving A Hummingbird Out Of Wood?
Begin by sketching the hummingbird's shape onto the wood, then use carving tools to remove the excess wood and carve the details.
What Kind Of Wood Should I Use For Carving A Hummingbird?
A light and soft wood such as basswood, butternut, or white pine is best suited for carving a hummingbird.
How Can I Ensure The Right Proportions For Carving A Hummingbird?
Use reference images of hummingbirds and measure the different body parts to ensure accurate proportions while carving.
What Types Of Carving Tools Are Required For Carving A Hummingbird?
Basic carving tools needed for carving a hummingbird include a carving knife, a chisel, a gouge, a mallet, and sandpaper.
How Do I Finish And Preserve A Carved Hummingbird?
Use sandpaper to smooth out the surface, apply wood stain or paint, and seal with a protective coating to preserve the carved hummingbird.
Conclusion
Overall, carving a hummingbird out of wood may seem like a daunting task, but with the right preparation and techniques, it can be a rewarding and enjoyable experience.
Starting with the right tools and materials, choosing a design that suits your skill level, and practicing patience and attention to detail are key components to creating a beautiful wooden hummingbird.
Remember to take breaks when necessary and allow your creativity to guide you as you carve.
With practice and dedication, you can become an expert at carving hummingbirds and even start selling them to others who appreciate the beauty and craftsmanship of this unique art form.
So go ahead and give it a try – you never know where this new skill may take you!