How to Warm Up a Hummingbird: Step-by-Step!
To warm up a hummingbird, create a conducive environment, provide a heat source, offer warm nectar, and protect them from harsh weather conditions.
Hummingbirds are delicate creatures that can be affected by cold temperatures.
When the temperature drops, their metabolism slows down, making it challenging for them to maintain their body temperature.
Therefore, it is essential to take some measures to help them stay warm and healthy during cold periods.
Set up a heated bird bath or water source
Offer warm sugar water in your hummingbird feeder
Provide shelter and protection from the wind
Insulate or heat the hummingbird feeder to prevent nectar from freezing
Additionally, placing the feeder in a sheltered area or providing some form of shelter can protect them from wind and snow.
To prevent the nectar from freezing during the night, consider insulating or using a heat source to keep the feeder warm, ensuring continuous access to food for the hummingbirds.
6 Steps to Warm Up a Hummingbird
| | | |
| --- | --- | --- |
| Step | Method | Description |
| 1 | Provide a warm environment | Move the hummingbird to a warm indoor location, away from drafts and cold temperatures. |
| 2 | Use a heating pad | Place a heating pad or a warm water bottle wrapped in a towel near the bird to provide extra warmth. |
| 3 | Provide a heat lamp | Set up a heat lamp several inches above the bird, ensuring it doesn't get too hot or cause injury. |
| 4 | Slightly cover | Cover the hummingbird partially with a soft, light cloth to help retain heat without restricting air flow. |
| 5 | Offer sugar water | Once the bird is warmed, provide sugar water (4 parts water, 1 part sugar) to help replenish its energy. |
| 6 | Monitor closely | Keep a close eye on the hummingbird to make sure it is recovering and not getting overheated. |
6 Steps to Warm Up a Hummingbird
Key Takeaway
Importance of warming up a hummingbird in cold conditions
Various methods to help hummingbirds stay warm
Providing proper nutrition to help hummingbirds generate heat
Recognizing signs of a cold-stricken hummingbird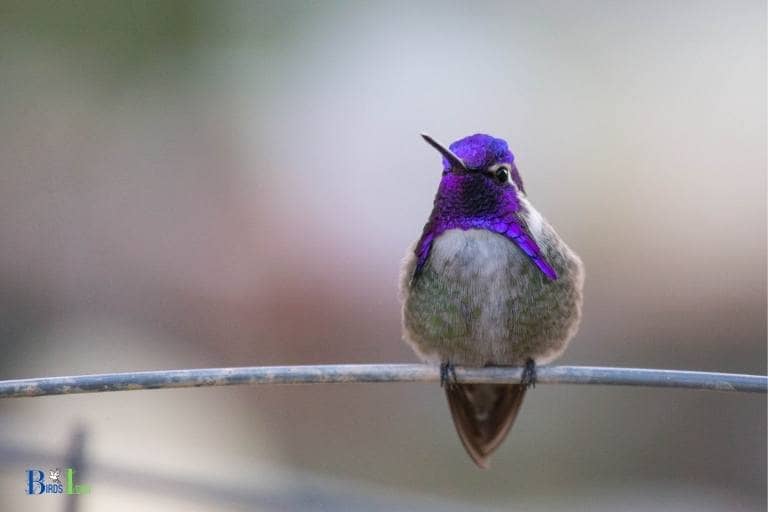 Four Facts About: Warming Up a Hummingbird
Hummingbirds are most active during the day, and at night they enter a state called torpor to conserve energy in cold temperatures. This state allows their heart rate and body temperature to drop significantly, helping them survive chilly nights. (Source: National Wildlife Federation)
To help hummingbirds stay warm, people can set up heated bird baths in their yards. A heated bird bath gives the hummingbirds a place to bathe and drink in cold temperatures, while preventing the water from freezing and helping them maintain their body heat. (Source: Perky-Pet)
Providing consistent food sources, such as nectar-rich flowers and hummingbird feeders containing sugar water, is crucial for the birds' survival in the cold, as they need plenty of fuel to generate body heat. (Source: Bird Watcher's Digest)
If you find a hummingbird on the ground or appearing lethargic, it may be suffering from the cold and requires help. It is recommended to gently warm the bird in your hands or with a heating pad on low heat before placing it in a box with air holes and contacting a wildlife rehabilitator for further assistance.
Understanding The Hummingbird'S Unique Needs
The Biology Of Hummingbirds: Understanding What Makes Them Different
Hummingbirds are the smallest birds in the world, weighing just a few grams. They have a unique biology that allows them to hover in mid-air and beat their wings up to 80 times per second.
Here are a few key points to understand the biology of hummingbirds:
Hummingbirds have a high metabolism, which allows them to process nectar quickly and keep their energy up.
They have a large heart that beats up to 1,200 times per minute, allowing them to deliver oxygen to their muscles quickly.
Hummingbirds have long, thin beaks that are perfectly adapted to retrieve nectar from flowers.
Why Hummingbirds Need To Stay Warm: The Importance Of Body Temperature Regulation
Hummingbirds are highly sensitive to temperature changes and need to stay warm to survive. Their body temperature is usually around 105 degrees fahrenheit, which is higher than most other birds.
Here are a few key points to understand why hummingbirds need to stay warm:
Hummingbirds are at risk of hypothermia when their body temperature drops too low. This can happen if they get wet or if the temperature drops too low at night.
They can regulate their body temperature by fluffing their feathers to trap warm air close to their body.
Hummingbirds also enter a state of torpor when they need to conserve energy, lowering their body temperature to as low as 50 degrees fahrenheit and slowing down their metabolism.
Identifying Cold Stress In Hummingbirds: Signs That Your Bird Is Struggling
It's essential to know the signs that your hummingbird is struggling with cold stress, so you can take action to keep them warm.
Here are a few key points to identify cold stress in hummingbirds:
The bird may appear listless, weak or sluggish, and show signs of shivering or trembling.
They may have trouble keeping their balance or may be unable to fly correctly.
The hummingbird's beak may become pale or discolored, indicating poor circulation due to the cold.
If you suspect your hummingbird is in distress due to cold stress, contact a wildlife rehabilitator or avian veterinarian as soon as possible.
Remember, hummingbirds are remarkable creatures with unique biology and specific needs that must be met to keep them healthy and warm.
Understanding the biology of hummingbirds, why they need to stay warm, and how to identify cold stress are critical elements to ensure they stay healthy and happy.
Preparing For The Winter Season: Hummingbird-Friendly Environments
Creating A Hummingbird-Friendly Garden: Choosing The Right Plants And Feeders
To make your garden hummingbird-friendly, follow these tips:
Choose red and orange colored flowers, as they attract hummingbirds. Good choices include bee balm, salvia, and cardinal flower.
Use hummingbird feeders filled with sugar water. Make sure to keep the feeder clean and refill it every few days.
Do not use pesticides in your garden as they can harm hummingbirds and other pollinators.
Preparing Your Garden For Winter: Key Tips To Ensure Your Hummingbirds Stay Warm
To prepare your garden for winter, follow these steps:
Keep the feeder filled with fresh sugar water, as hummingbirds need to eat frequently to keep their energy up in colder temperatures.
Keep the garden clean and free of debris, as hummingbirds need a clear space to fly and find food.
Consider planting evergreens or other plants with dense foliage, as they provide shelter and protection for hummingbirds in harsh weather.
Shelter And Nesting: The Importance Of Safe Spaces For Hummingbirds
Hummingbirds need safe spaces to rest, nest, and raise their young.
Here's what you need to know:
Provide nesting material like cotton or spiderwebs for hummingbirds to build their nests.
Don't disturb or remove hummingbird nests during nesting season (march-july).
Consider hanging birdhouses specifically designed for hummingbirds to provide a safe space for them to rest and nest.
Remember, creating a hummingbird-friendly environment is not only beneficial for these beautiful creatures but also helps to support pollinator populations in general.
By following these tips, you can enjoy the company of hummingbirds all year round.
Techniques For Warming Up A Hummingbird
Hummingbirds are amazing creatures that bring joy with their quick, fluttering wings and vibrant colors. However, sometimes these tiny birds can be found in distress, especially on cold days when they struggle to maintain their body temperature.
Quick Fixes: Easy Ways To Warm Up A Cold Hummingbird
If you spot a cold hummingbird and need to warm it up quickly, try some of these simple tips:
Bring the hummingbird indoors to a warmer room or garage.
Place the hummingbird near a heat source, such as a light bulb, or use a hairdryer set on low heat.
Wrap the hummingbird in a soft, warm cloth like a towel or blanket and hold it for a few minutes.
Hot Spot Solutions: Creating Safe And Effective Heat Sources
If you want to take proactive steps to help hummingbirds stay warm, consider creating a hot spot for them.
Here are some tips:
Install a heat lamp in the hummingbird feeder area, ensuring it is safe and away from the reach of other animals.
Use incandescent bulbs to create heat sources in the hummingbird habitat area.
Install a heated hummingbird bath or fountain to help keep their feet warm and prevent water from freezing.
Hand-Warming Techniques: Bringing A Cold Hummingbird Back To Life
Sometimes a cold hummingbird may appear lifeless, but it is not too late to save it.
Follow these steps to bring a hummingbird back to life:
Pick up the hummingbird, holding it head up with two fingers so that it can breathe properly.
Place the hummingbird in a soft cloth or towel, wrapping it up and tucking in its wings.
Hold the hummingbird close to your body, tucking it under a layer of clothing or inside your shirt to provide body heat.
Gently rub the hummingbird's throat to stimulate breathing.
Wait for at least 20 minutes for the hummingbird to regain its strength and fly away.
These techniques can help you warm up a hummingbird and save its life. Remember, it's essential to act quickly when you see a cold hummingbird to give it the best chance of survival.
With these tips, you can help these beautiful creatures thrive and continue to bring joy to those around them.
Emergency Care For Cold And Injured Hummingbirds
Key Signs Of Injury: How To Identify When A Hummingbird Needs Help
Hummingbirds are incredibly fragile creatures and are susceptible to getting injured or falling sick. It is essential to keep an eye on their physical well-being.
Here are some key indications that a hummingbird may be injured and require assistance:
Feather disorders, such as bent or missing feathers, can cause problems for a hummingbird's flight and need attention.
Unusual behavior, like the inability to fly or balance properly.
Obvious injuries, such as broken legs or beaks, or visible signs of bleeding.
Inactivity or remaining in one spot for an extended time.
Visible exhaustion, such as hanging their wings low, not flying and remaining stationary.
Please note that if you witness a hummingbird exhibiting one or more of the symptoms mentioned above, it is likely that the bird needs assistance.
The Do'S And Don'Ts Of Hummingbird Emergency Care
If you discover a hummingbird that needs assistance, there are a few crucial things you should and should not do. Emergency care for hummingbirds is a delicate process, and it is essential to follow the instructions carefully.
Here are do's and don'ts for hummingbird emergency care:
Do's:
Wear gloves to protect your hands from sharp beaks and talons carefully.
Place the injured bird in a warm and dark box to avoid any further stress.
Keep the bird warm by placing a heat source, like a hot water bottle or heating pad, in the box.
Provide the bird with a sugar-water solution (one part granulated sugar to four parts warm water), but make sure not to overfeed them.
Don'ts:
Do not attempt to feed the bird any other food besides the sugar-water solution.
Do not give the bird medicine unless instructed by an expert.
Do not attempt to raise the bird on your own.
Do not release the bird until it's entirely healed.
Where To Turn: Finding Your Local Hummingbird Rehab Centre
Finding a local hummingbird rehab center is vital if you come across a hummingbird that requires emergency care.
Here are some ways to find the nearest rehab center:
Do an online search to find the nearest hummingbird rehabilitation center.
Contact nearby avian or wildlife rescue centers for information and advice on locating a hummingbird rehab center.
Contact experts in the bird-watching community for help.
Check with your local vet clinic or animal hospital for recommendations.
If you come across a cold or injured hummingbird, always remember to handle the bird with care and follow the do's and don'ts of emergency care.
Also, be sure to identify the signs of an injured hummingbird, and if in doubt, contact a local rehab center for assistance.
By acting quickly and following the proper guidelines, you may be able to save the life of a beautiful hummingbird.
FAQ For How To Warm Up A Hummingbird
How Do I Know If A Hummingbird Is Cold?
Hummingbirds fluff up their feathers and shiver excessively when they are cold.
What Is The Best Way To Warm Up A Hummingbird?
Use a heating pad on a low or medium setting or a heat lamp and place the hummingbird on it.
How Long Does It Take For A Hummingbird To Warm Up?
It takes approximately 20 minutes for a hummingbird to warm up properly.
Can I Give A Cold Hummingbird Sugar Water?
No, do not give a cold hummingbird sugar water as it requires energy to digest it.
How Can I Prevent Hummingbirds From Getting Cold?
Provide hummingbirds with a sufficient amount of food, shelter, and cover in colder weather.
Conclusion
Hummingbirds are a wonderful and fascinating species that are essential to the ecosystem. They bring a beautiful balance to our environment with their unique pollination skills.
However, it's important to remember that they need to be cared for, especially in colder temperatures.
Warming up a hummingbird can be a delicate task, but following the tips and tricks outlined in this article will ensure that you're doing everything correctly.
From creating a safe space for them, to providing them with a cozy environment and offering nourishing food, warming up a hummingbird can be an enjoyable task for all involved.
With the right precautions, patience, and attention, you can ensure that your hummingbird stays healthy and happy during the cold months, making your garden the ideal spot for them to return to year after year.
Take care of your little feathered friends and enjoy the beauty they bring to your backyard.