How to Protect Hummingbirds from Cats: Few Steps!
To protect hummingbirds from cats, create a safe environment by placing feeders and plants out of reach, using bird-friendly landscaping, providing cover, and discouraging cats from the area.
Hummingbirds are small, fragile birds that are easy prey for cats. As a result, it's important to take measures to protect these beautiful creatures in your backyard.
Creating a safe environment for hummingbirds involves placing feeders and plants in strategic locations, using bird-friendly landscaping, providing cover, and discouraging cats from entering the area.
Place feeders and plants high and away from structures
Use bird-friendly landscaping with native plants
Provide cover for hummingbirds with dense shrubs
Discourage cats from entering the area with deterrents and barriers
Provide cover for hummingbirds by planting dense shrubs, such as evergreens or thickets, that offer shelter from predators.
Finally, discourage cats from entering your yard by using deterrents like motion-activated sprinklers, keeping pet cats indoors, or creating barriers with chicken wire or prickly plants around the hummingbird habitat.
8 Strategies to Protect Hummingbirds from Cats
| | | |
| --- | --- | --- |
| Strategy | Description | Effectiveness |
| 1. Keep cats indoors | Keep your cats inside, or provide a secure outdoor enclosure, to prevent them from attacking hummingbirds. | High |
| 2. Provide high perches for feeders | Place hummingbird feeders on high poles, branches, or other structures, at least six feet off the ground, to make it difficult for cats to reach them. | Moderate |
| 3. Use feeders with protective guards | Choose hummingbird feeders with built-in guards designed to keep predators, like cats, away from the feeding area. | Moderate |
| 4. Plant hummingbird-friendly plants | Plant flowers and shrubs that attract hummingbirds in areas where cats cannot easily access, like hanging baskets or tall trees. | Moderate |
| 5. Use motion-activated deterrents | Install motion-activated sprinklers or ultrasonic devices around your garden to scare away cats when they approach hummingbird feeding areas. | Moderate |
| 6. Create a bird-safe habitat | Provide a bird-safe habitat that includes dense shrubbery and thorny plants for hummingbirds to take refuge in and escape from predators. | Moderate |
| 7. Educate neighbors | Encourage your neighbors to also keep their cats indoors and practice responsible pet ownership to protect hummingbirds in the community. | Low to Moderate |
| 8. Monitor your yard | Regularly observe your backyard for signs of cat presence, and take action to remove or deter them if necessary. | Low to Moderate |
8 Strategies to Protect Hummingbirds from Cats
Key Takeaway
Importance of protecting hummingbirds from predators like cats
Implementing effective preventive measures to keep hummingbirds safe
Contributing to the conservation of hummingbird species
Encouraging a healthy ecosystem by protecting prey and managing predators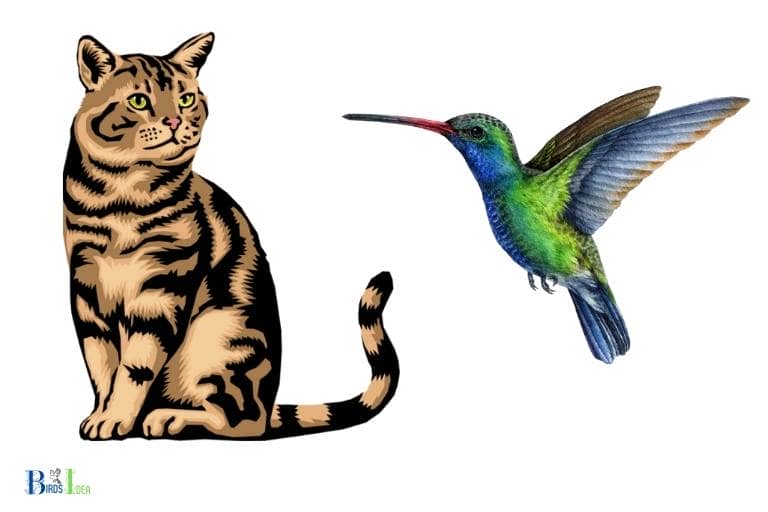 Five Facts About: Protecting Hummingbirds from Cats
Hummingbirds are small, colorful birds that are important for pollination and maintaining a healthy ecosystem. (Source: US Fish & Wildlife Service)
Cats, particularly domestic cats that are allowed to roam outdoors, pose a significant threat to hummingbirds due to their natural hunting instincts. (Source: Audubon)
One way to protect hummingbirds from cats is by providing bird feeders that are designed to deter predators, such as feeders with cages or moats. (Source: Perky-Pet)
Another method to safeguard hummingbirds is by strategically placing their habitat (feeders and plants) at a safe distance and height from fences or other structures that cats may use as ambush points.
Creating a cat-free zone in your garden by using barriers or deterrents, such as chicken wire or motion-activated sprinklers, is an effective way to keep cats away from hummingbird habitats. (Source: The Spruce)
Understanding The Threat Posed By Cats To Hummingbirds
Hummingbirds are highly vulnerable to cats, which are natural predators. Understanding the threat requires an analysis of the high mortality rate of hummingbirds caused by cats and the psychology of cats.
High Mortality Rate Of Hummingbirds
According to a scientific study, cats are responsible for the death of millions of birds annually in the united states alone. The hummingbird population is specifically at risk because of their small size and the high speed with which they fly.
When a cat spots a hummingbird, it prepares to stalk and attack it. The chase usually ends with the cat leaping and pouncing on the bird, severely injuring or killing it.
Here are some key points to consider:
Hummingbirds have relatively small bodies, which makes them more vulnerable to a cat's attack.
A hummingbird's high-speed flight pattern makes it difficult for a cat to capture. Instead, the cat will wait to attack the bird when it is stationary, often perched on a branch or in a nest.
Once caught, a hummingbird's fragile bones and small size make it difficult for it to survive.
The Psychology Of Cats
Cats are natural hunters, but domestication has altered their hunting behavior. The sight of a bird can trigger cats' ancestral predatory instincts, which they will act on.
They have a high level of curiosity and are opportunistic hunters, which means they are attracted to anything that moves fast.
Here are some key points to consider:
Cats will consider birds, including hummingbirds, as prey due to their natural predator instincts.
Cats are more likely to attack hummingbirds during mating season when males are likely to enter their territory to feed on flowers.
While some cats may view birds as something to chase or play with, others will consider them a source of food, which means they will be more aggressive in their pursuit.
With these points in mind, it becomes clear why it is essential to take steps to protect hummingbirds from cats.
Preparing the right environment for them and deterring cats from the area can help reduce their risk of becoming prey.
Effective Strategies To Protect Hummingbirds From Cats
Hummingbirds are beautiful, tiny creatures that are a delight to watch, but their small size makes them vulnerable. With various predators lurking around, one of the most dangerous ones is our furry feline friends – cats.
As much as we love our pets, cats can be a threat to the lives of these lovely birds.
Therefore, it is crucial to take the necessary steps to ensure their safety. In this post, we will discuss effective strategies to protect hummingbirds from cats.
Creating A Safe Environment For Hummingbirds
Creating a secure environment for hummingbirds is the first step towards protecting them from predators, including cats.
Here are some steps that can be taken:
Place the hummingbird feeder in a safe area – at a height and distance from surrounding objects so that cats can't leap on it or have easy access to it.
Provide some bushes or trees close to the feeder, allowing the birds to have an escape route if they sense danger.
Unclutter the area around the feeder, such as hiding places for cats or other predators.
Deterrents
One effective way to deter cats from coming near your hummingbird feeders is to use appropriate deterrents.
Here are some deterrence methods:
Use an ultrasonic cat repeller that emits a high-frequency sound that cats find unpleasant.
Planting cat-repelling plants like coleus canina, lavender, and rue could keep cats away.
Install a motion-detecting sprinkler system to surprise the cats who approach their hunting ground.
Collars And Bells: Do They Work?
Many people believe that putting a bell or a collar on their cats could help protect birds. But are these effective measures? The answer is no.
Cats are highly skilled predators, and their stealth approach could still lead to potential attacks on hummingbirds, even with a collar or a bell. They might also get entangled in branches, branches, and other objects, thus causing bodily harm.
Hummingbirds add a great value to our environment, and it is our responsibility to ensure their safety.
We have discussed creating a safe environment for hummingbirds, deterrents, and whether collars or bells work in protecting hummingbirds.
By adhering to these strategies, you can help safeguard the hummingbirds from cats and other predators and enjoy their presence for years to come.
Understanding Your Local Cat Laws And Regulations
If you're a hummingbird lover, the thought of outdoor cats can be daunting. Unfortunately, cats and hummingbirds don't usually get along.
Fortunately, though, your area may have laws and regulations that help you protect your feathered friends.
Here are some key points to know:
Some communities have laws requiring cat owners to keep their cats indoors.
Other communities encourage "trap, neuter, and release" programs.
In some areas, feral cats can be taken to shelters or animal control centers.
Local ordinances may require vaccination records for pet cats.
Enforcement of these laws may vary greatly from one jurisdiction to the next, so it's important to do your research in your area.
Laws Regarding Feral Cats
Feral cats are domestic cats that aren't socialized to humans and live independently. They can be a concern for hummingbirds because they pose a hunting threat.
Here are some laws regarding feral cats to keep in mind:
The legality of feeding feral cats varies by location. Some communities see it as a compassionate act, while others view it as encouraging the proliferation of feral cat colonies.
In many areas, feral cats are considered a nuisance and can be impounded.
Some communities don't allow relocation of feral cats because of the risk to local wildlife.
Feral cats are often euthanized due to limited space in shelters.
Legal Issues Surrounding Cat Control
Although it may seem straightforward to protect hummingbirds by controlling cats, legal issues can arise.
If you're considering taking action to try to protect hummingbirds, here are some issues to be aware of:
Follow the laws in your area – some methods of trapping or harming cats may be illegal.
Trespassing onto someone's property to deal with their cats can lead to legal issues.
Be sure that your actions are safe and humane for both the cats and the hummingbirds.
By understanding your local cat laws and regulations, you can be better equipped to protect hummingbirds from cats, while also staying in compliance with the law.
Remember to always be safe, humane, and conscious of local regulations when dealing with cats.
FAQ Of How To Protect Hummingbirds From Cats
How Do I Keep My Cat From Catching Hummingbirds?
To prevent your cat from catching hummingbirds, keep your cat indoors, use deterrents, and create a hummingbird-friendly landscape.
What Are Some Natural Deterrents To Keep Cats Away From Hummingbirds?
Plants like citronella, lavender, and pennyroyal can naturally deter cats. You can also use citrus peels or cayenne pepper as a deterrent.
What Is The Safest Way To Rescue A Hummingbird From A Cat?
If you find a hummingbird being captured by a cat, approach slowly and carefully. Use gloves to protect the bird, and place it in a ventilated box or cage.
How Can I Make My Yard Safe For Hummingbirds?
Make your yard safe for hummingbirds by removing hazards like windows, placing feeders away from foliage, and planting hummingbird-friendly flowers.
Why Are Hummingbirds Attracted To Cats?
Hummingbirds are not naturally attracted to cats. However, cats may hunt hummingbirds as they are predators and may attack anything that moves.
Conclusion
As bird lovers, we have a responsibility to ensure that we are not inadvertently putting our feathered friends at risk. By implementing the tips and tricks outlined in this article, we can protect hummingbirds from the dangers posed by outdoor cats.
From creating safe zones for hummingbirds to discouraging cats from entering your yard, there are a variety of strategies that can be used to ensure that these tiny creatures are protected.
By taking a proactive approach and making small changes to our outdoor spaces, we can help to ensure that hummingbirds are able to thrive and continue to bring joy and beauty to our lives for years to come.
Remember to always be vigilant when it comes to protecting these magnificent creatures and never hesitate to implement additional safety measures when necessary.