How to Feed Hummingbirds While on Vacation: Simple Steps!
To feed hummingbirds while on vacation, set up an automatic feeder with ample nectar supply and ensure a clean, shaded, and safe location for the birds.
Hummingbirds are creatures of habit and often rely on a steady supply of food from the feeders they are familiar with.
When you go on a vacation, ensuring that these delicate birds continue to have access to food is essential.
By setting up an automatic feeder and providing a safe environment, you can continue to support the hummingbirds even when you are away.
Purchase an automatic hummingbird feeder with a large nectar capacity
Place the feeder in a shaded location to prevent nectar spoilage
Install a dripless feeder to minimize ants and other pests
Monitor the feeder with a wildlife camera to ensure its functionality while you're away
Placing the feeder in a shaded location helps to prevent the nectar from spoiling, while a dripless feeder design will discourage ants and other pests.
To keep an eye on the feeder's performance and ensure its functionality, consider setting up a wildlife camera that can be monitored remotely.
This way, you can enjoy your vacation knowing that your feathered friends are well taken care of.
5 Steps for Feeding Hummingbirds During Vacation
| | | | |
| --- | --- | --- | --- |
| Steps | Feeder | Feeds | Cleaning |
| Preparing for Vacation | Feeder Type | Food Mix | Cleaning Schedule |
| Multiple Hummingbird Feeders | Tube Feeders | 4:1 Water to Sugar | Clean every 2-3 days |
| Easy Refilling and Cleaning System | Saucer Feeders | Clean with warm water | Replace food every 4-5 days |
| Automatic Fill Device | Window Feeders | No artificial colors | Monitor for mold or ants |
| Ask a Neighbor for Help | Fountain Feeders | DIY or store-bought | Dispose of old food |
5 Steps for Feeding Hummingbirds During Vacation
Key Takeaway
Proper preparation for hummingbird feeding during vacations
Using reliable feeding devices to ensure a constant food supply
Methods to maintain cleanliness of feeders
Involve neighbors or friends in the bird feeding process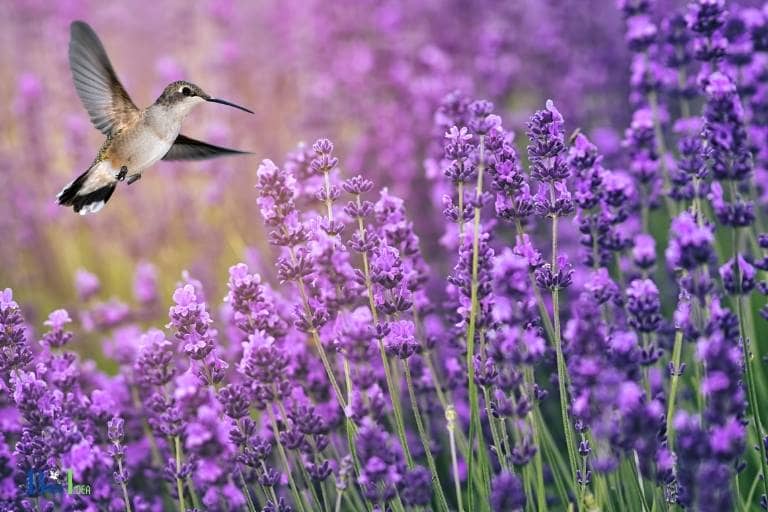 Five Facts About: Feeding Hummingbirds While on Vacation
Hummingbirds need to consume twice their body weight in nectar daily to sustain their high energy levels, making it essential for them to have a consistent food source, even while you're on vacation (source: Smithsonian's National Zoo & Conservation Biology Institute)
Utilize high-capacity hummingbird feeders that can hold more nectar to ensure the birds have enough food while you're away (source: Birds & Blooms)
Consider installing ant moats to prevent ants from reaching and contaminating the nectar, ensuring that the hummingbirds can feed safely (source: The Spruce)
Proper cleaning of feeders before leaving for vacation is important, as dirty feeders can lead to harmful bacteria and mold growth, which can be dangerous or even deadly to the birds (source: Bird Watcher's Digest)
You can ask a neighbor or friend to help keep feeders safe, clean, and full of nectar, as well as to report any issues while you are away, ensuring your hummingbird visitors are well taken care of (source: Perky-Pet)
Choosing The Right Feeder
Factors To Consider When Choosing A Hummingbird Feeder
When choosing a hummingbird feeder, there are a few factors to keep in mind to get the best one for your needs.
Here are some key things to consider:
Capacity: Determine how much nectar the feeder can hold. Larger feeders require less filling, but could also attract larger birds or animals that could scare off the hummingbirds.
Durability: Look for feeders made from sturdy materials, such as glass or plastic. Consider how often you'll be using the feeder and how much exposure it'll get to the weather and animals.
Design and color: Hummingbirds are attracted to bright colors, so choose a feeder with vibrant reds, pinks, or oranges. Also, make sure the feeder is designed for easy cleaning and filling.
Price: Hummingbird feeders come with varying price tags, so determine how much you're willing to spend before making a purchase.
Tips For Selecting A High-Quality Hummingbird Feeder
Selecting a high-quality hummingbird feeder can be overwhelming with so many options available.
Here are some tips to help you choose the right one for you:
Opt for a leak-proof feeder: Hummingbird nectar can be sticky and messy, so look for a feeder that is leak-proof to avoid wasting nectar and attracting unwanted insects.
Consider an ant moat: Ants are attracted to hummingbird feeders, but an ant moat creates a barrier to keep them from reaching the nectar.
Look for bee guards: Some feeders come with bee guards or screens to keep bees from getting into the nectar.
Choose an easy-to-disassemble feeder: Easy-to-disassemble feeders make filling and cleaning a breeze.
Check for the right shape and size: Hummingbirds prefer feeders with a saucer-like design that allows them to perch while feeding. Make sure the feeder is the right size for the number of hummingbirds you have in your area.
By considering these factors and tips, you're on your way to choosing the perfect hummingbird feeder to ensure the little winged creatures are happy and fed while you're away on vacation.
Preparing The Feeder For Vacation
Hummingbirds are fascinating creatures, and watching them feed can provide hours of entertainment. However, what happens when you go on vacation?
You don't want to neglect your winged visitors, but you also don't want to miss out on your travels.
This is where preparing the feeder for vacation comes in. Here are some essential steps to take before leaving for vacation.
Steps To Take Before Leaving For Vacation
Before you depart for vacation, it's important to make sure your hummingbirds will be well taken care of.
Follow these steps to prepare the feeder for vacation:
Clean the feeder thoroughly remove any remaining nectar in the feeder and clean it thoroughly. Use hot water and a bottle brush to scrub the interior of the feeder. Rinse it with hot water and allow it to dry completely before refilling.
Fill the feeder with fresh nectar refill the feeder with fresh nectar before leaving. A 4: 1 water-to-sugar ratio is ideal for hummingbirds, and it's important not to add any food coloring or honey to the nectar.
Place the feeder in the shade position the feeder in a shaded area if possible. Direct sunlight can cause the nectar to spoil quickly, and it can also promote the growth of harmful bacteria.
Freeze extra nectar if you're going to be gone for an extended period, consider freezing some extra nectar in ice cube trays. This way, whoever is looking after your feeder can defrost a cube of nectar when needed.
How To Safely Transport The Feeder
If you're taking your feeder with you on vacation, make sure to transport it safely to avoid leaks or spills.
Here are some tips to keep in mind:
Empty the feeder before transporting it's important to empty the feeder before transporting it to avoid any spills.
Wrap the feeder in a plastic bag wrap the feeder in a plastic bag to minimize any leaks during transportation.
Secure the feeder put the feeder in a secure, upright position to prevent any spillage.
Suggestions For Introducing The Feeder To Your Hummingbirds Before Going On Vacation
Before you go on vacation, it's a good idea to spend some time introducing the feeder to your hummingbirds. This way, they'll be more likely to use it while you're gone.
Here are some suggestions for introducing the feeder to your hummingbirds:
Place the feeder in a visible location position the feeder in a location where your hummingbirds can easily see it. This will encourage them to investigate the new feeding spot.
Wait patiently it may take a little time for the hummingbirds to discover the feeder. Be patient and keep watching.
Monitor the feeder keep an eye on the feeder to make sure the hummingbirds are using it. If they haven't discovered it within a few days, try moving it or changing the nectar recipe.
Preparing the feeder for vacation is an essential task for hummingbird enthusiasts. With a little planning and preparation, your hummingbirds can continue to feed happily while you enjoy your travels.
Providing Nourishment For Hummingbirds
Types Of Food To Give Hummingbirds When On Vacation
Hummingbirds are delightful creatures that require proper nutrition to thrive. If you are going on vacation, it's essential to provide food to sustain them while you're away.
Here are some food types that hummingbirds love:
Nectar (plain with no additives)
Fresh fruits, such as oranges, berries, and grapes
Insects, such as fruit flies or gnats
Sugar water or hummingbird feeders
How To Prepare Homemade Nectar As An Alternative To Commercial Mixes
Hummingbird feeders and nectar mixes can get expensive, and a more cost-effective solution is to make your nectar at home.
Here's how to do it:
Boil 4 parts of water and 1 part white granulated sugar until the sugar dissolves.
Cool the mixture and fill your feeder.
Ensure you replace the nectar every three to five days to avoid fermentation and the growth of harmful bacteria.
Recommendations For Snacks And Treats To Supplement The Hummingbirds' Diet
Hummingbirds require more than nectar to stay healthy, and while on vacation, you can supplement their diets with these snacks and treats.
Soft-billed insects, like mealworms, offer the right amount of protein.
Chopped fruits, like bananas and grapes, provide much-needed vitamins and nutrients.
Peanut butter, used sparingly, can boost the protein in hummingbirds' diets.
Water fountains or shallow bird baths can provide additional hydration.
Remember, hummingbirds are highly active, with fast metabolisms, which means they require a high amount of energy.
Whereas you're vacationing, taking care of these delightful creatures can be a fulfilling experience, as long as you feed them right.
Additional Tips And Precautions
Attracting hummingbirds to your feeder is an outdoor activity that can bring joy and positive energy to your surroundings. As a responsible bird feeder, it is essential to take additional precautions to keep your feathered friends healthy and safe while on vacation.
Here are some tips to help maintain the cleanliness of the feeder, recommendations for places to hang the feeder, and avoid attracting unwanted guests like ants, bees, and wasps.
How To Maintain Cleanliness Of The Feeder To Protect The Hummingbirds' Health
Keeping your hummingbird feeder clean is important to avoid contamination and prevent the spread of disease among the birds.
Here are some tips to help you maintain cleanliness:
Clean and refill the feeder every week using hot water and vinegar solution (1 part vinegar and 4 parts hot water).
Use a bottle brush to scrub all parts of the feeder, including the feeding ports, with the vinegar solution thoroughly.
Rinse the feeder with hot water, and allow it to air dry before refilling.
Consider using a dripless feeder that minimizes spills and reduces the chance of contamination.
Recommendations For Places To Hang The Feeder
Hummingbirds are cautious birds and prefer feeders placed in quiet, shady areas, away from distractions like traffic and large groups of people.
Here are some recommendations for hanging your feeder:
Hang your feeder in an area that is glistening with sunlight, preferably in a shady spot.
Choose a location where there are plants or trees nearby, to give hummingbirds a resting place and shelter from predators.
Avoid hanging the bird feeder near windows, as this could cause bird strikes and injuries.
Place the feeder in a spot that is at least five feet off the ground to keep the feeder away from predators like cats.
Precautions To Take To Avoid Attracting Unwanted Guests Like Ants, Bees, And Wasps
Hummingbirds are not the only creatures that are attracted to the sweet nectar in the feeder. Certain insects and other animals, like ants, bees, and wasps, are also attracted to it and may create problems for the birds.
Here are some tips to avoid attracting unwanted guests:
Wrap a moat of petroleum jelly around the feeder pole to deter ants from climbing up.
Avoid using yellow or other brightly colored feeders, which may attract bees and wasps.
Consider attaching ant moats above the feeder to catch ants before they reach the feeder.
Mix nectar with 1: 4 sugar to water ratio, creating a solution that is less sweet and less attractive to wasps.
By following these additional precautions for feeding hummingbirds while on vacation, it will not only ensure the safety and health of these delightful birds but also provide you with a memorable and enjoyable experience.
FAQ Of How To Feed Hummingbirds While On Vacation
What Do Hummingbirds Eat While I'M On Vacation?
Hummingbirds can eat from feeders filled with nectar or sugar water, or they can consume insects in your garden.
How Often Do I Need To Refill The Hummingbird Feeder?
Refill the hummingbird feeder every 2-3 days, or more frequently if you notice the food becoming cloudy or moldy.
Can I Leave The Hummingbird Feeder Out Overnight?
It is safe to leave the hummingbird feeder out overnight as hummingbirds may feed during the night or early morning.
How Can I Keep Ants From Getting Into The Hummingbird Feeder?
Use an ant moat, which is a small cup or guard with water around the hanger to the feeder to keep ants away.
Can I Use Honey Instead Of Sugar Water For The Hummingbird Feeder?
Honey is not recommended as a substitute for sugar water as it can ferment rapidly and cause fatal fungus in hummingbirds.
Conclusion
As a bird lover, taking care of the hummingbirds is a privilege. They are fascinating and beautiful creatures that bring joy to our lives. When planning a vacation, it is essential to ensure that our feathered friends are also well taken care of.
There are many tips on how to feed hummingbirds while on vacation, and they are all easy to follow. One of the most important things to remember is to plan ahead and invest in a good quality feeder.
Additionally, establishing a feeding routine before leaving will help attract the hummingbirds to the feeder.
By following these simple steps, we can rest assured that our hummingbird friends will be well-fed and happy while we are away. These tiny birds are so important to our ecosystem, and it is our responsibility to provide them with the best care possible.
With these tips in mind, we can enjoy our vacations while ensuring our feathered friends are well-fed and cared for.