How to Get Hummingbird Out of House: Simple Steps!
To get a hummingbird out of your house, remain calm and follow these steps: turn off all indoor lights, open a window or door, and use a broom or other long object to gently guide the bird towards the exit.
Hummingbirds are small, delicate creatures that can easily become stressed or injured when trapped inside a house. They are attracted to bright colors and light, which may cause them to fly indoors, seeking nectar or insects.
It is essential to be patient and careful when trying to guide a trapped hummingbird out of your house.
Turn off indoor lights to reduce distractions
Open a window or door to create an exit path
Use a broom or other long object to gently guide the bird
Be patient and avoid sudden movements that could scare or harm the hummingbird
It is crucial to maintain a calm and gentle approach when helping a trapped hummingbird exit your house. Sudden movements or loud noises can cause the bird unnecessary stress, which may lead to injury or exhaustion.
By turning off indoor lights, you minimize distractions, helping the bird focus on the open exit. Gently use a broom or long object as an extension of your arm, allowing you to guide the hummingbird towards the exit without causing harm.
Remember, patience is key in ensuring the hummingbird's safe return to the outdoors.
7 Steps to Safely Remove a Hummingbird from Your House
| | |
| --- | --- |
| Step | Description |
| 1 | Close all doors and windows except for one exit point |
| 2 | Turn off all lights and close curtains/blinds to reduce distractions |
| 3 | Place a bright colored object near the open exit to attract the hummingbird |
| 4 | Slowly approach the hummingbird with a towel or cloth, being careful not to scare it |
| 5 | Gently guide the hummingbird towards the exit using the towel or cloth |
| 6 | Give the hummingbird time to find the exit and fly out on its own |
| 7 | Once the hummingbird has left, close the remaining exit and take preventative measures to avoid future incidents |
7 Steps to Safely Remove a Hummingbird from Your House
Key Takeaway
Stay calm and patient while attempting to remove a hummingbird from your house
Utilize natural light and clear exits to guide the hummingbird outside
Avoid using nets or causing harm to the bird during the process
Prevent future incidents by securing windows and doors, keeping feeders outside, and using decals to minimize bird collisions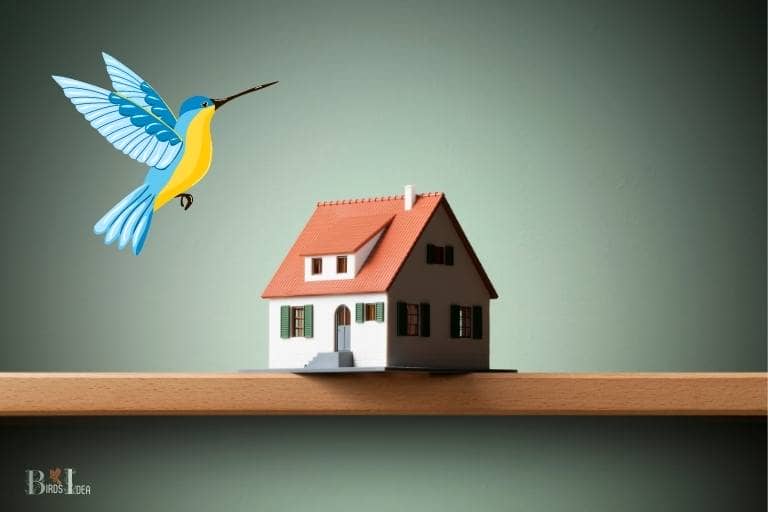 Five Facts About:  Hummingbirds and Their Behavior in Enclosed Spaces
Hummingbirds are small and fast creatures, known for their incredible agility and skill in flying (Source: Defenders of Wildlife)
They are commonly attracted to brightly colored flowers and feeders which sometimes leads them to accidentally enter human spaces (Source: World of Hummingbirds)
A trapped hummingbird can become stressed and disoriented, making it important to act quickly and calmly to help guide the bird outside (Source: Bird Watcher's Digest)
To coax a hummingbird towards an exit, one method is to turn off indoor lights and open windows and doors, so the bird can naturally be drawn to the brighter outdoor light (Source: Wild Birds Unlimited)
If the hummingbird remains trapped despite these efforts, gently using a light towel can help guide the bird without causing harm, and always reach out to local wildlife rescue centers for professional assistance if needed (Source: The Spruce)
Understanding The Hummingbird Behavior
Hummingbirds are tiny, colorful, and fascinating creatures that buzz around our gardens and patios. Their humming sound is soothing and adds an element of charm to our outdoors. However, at times, they can enter our homes by accident or misdirection.
In this post, we will discuss how you can get a hummingbird out of a house. But before that, let's understand the behavior of these lovely birds.
Characteristics Of Hummingbirds
Hummingbirds belong to the trochilidae family and are the world's smallest birds. They are native to the americas and are known for their unique flying abilities.
Here are some of the key characteristics of hummingbirds:
Hummingbirds can fly backward, forward, up, down, and even sideways.
They can flap their wings up to 80 times per second, creating the humming sound that they are famous for.
Hummingbirds have a high metabolism and need to feed frequently.
They can consume nectar that is twice their body weight in a day.
Why And How They Enter Houses
Although hummingbirds are outdoor birds, they can sometimes enter homes by mistake.
Here are some of the reasons why and how hummingbirds can enter houses:
They mistake a window or mirror for a clear pathway and try to fly through it.
Hummingbirds can get attracted to bright colors, including colorful curtains, flowers, and decorations, and fly towards them.
An open door or window can invite hummingbirds inside the house.
Sometimes, they can follow an insect or prey into the house.
The Potential Risks And Dangers Of Hosting Hummingbirds Indoors
While hummingbirds are delightful outdoors, hosting them indoors can be risky and dangerous for both the bird and humans.
Here are some of the potential risks and dangers of hosting hummingbirds indoors:
Lack of food: Hummingbirds need to feed frequently and may not find enough nectar or insects indoors.
Stress: When trapped indoors, hummingbirds can experience stress and panic, which can lead to exhaustion or even death.
Injury: Flying into walls or windows can cause injury to the bird's wings, beak, or feathers.
Disease: Hummingbirds can carry and spread diseases that can be harmful to humans and other pets.
Damage to property: Hummingbirds can damage indoor plants, curtains, and delicate decorations.
By understanding the behavior of hummingbirds, we can prevent them from entering our houses and ensure their safety. If a hummingbird does get trapped indoors, follow the steps in our next section to help them find their way back outside.
Preparing Tools And Equipment
Prepare Tools And Equipment For Hummingbird Rescue
Are you having trouble with hummingbirds invading your home? Worry not, as there are humane ways to capture them and release them back into the wild.
Before proceeding, here are the tools and equipment you need to prepare:
Humane Traps
Humane traps are the safest and most preferred way of capturing hummingbirds. These traps come in different sizes and styles, with the preferred size being a small mesh cage.
Before purchasing a humane trap, ensure that it has adequate ventilation and is not too big or too small for the hummingbird.
Humane traps usually come with instructions on how to set them up and use them to catch hummingbirds without causing any harm.
Protective Gear
When dealing with hummingbirds, it is essential to protect yourself from possible bites and scratches.
Wear gloves with a good grip to avoid dropping the hummingbird or overstressing it.
Cover your hands and arms entirely with long-sleeved clothing to minimize skin exposure.
Other Essential Equipment
In addition to humane traps and protective gear, having other necessary tools can make the process of capturing and releasing hummingbirds more successful.
A small, soft-bristled paintbrush can be used to gently coax the hummingbird out of hiding or into the humane trap.
A towel can be used to wrap the hummingbird gently and keep it calm during transportation.
Remember to handle hummingbirds with the utmost care and respect for these amazing creatures. With the right tools and equipment, you can safely capture and release hummingbirds back into their natural habitat.
Capturing Hummingbirds: Step-By-Step Guide
Hummingbirds are a tiny and delightful sight to behold. However, once they find their way into your house, getting them out can be a bit tricky. Capturing a hummingbird may seem like a daunting task, but with the right approach, it can be done safely and efficiently.
In this guide, we will provide you with tips on how to capture hummingbirds and release them back into their natural habitat.
How To Set Up Traps
Hummingbird traps are a useful tool for capturing hummingbirds safely and effectively.
Here is a step-by-step guide to set up hummingbird traps:
First, choose a trap that is designed specifically for hummingbirds. These traps are often made of clear plastic and have a small opening with a feeding port at the bottom.
Next, attach the trap to a secure location near a hummingbird feeder. This location should be in an open area with plenty of sunlight.
Fill the trap with a hummingbird food solution that is a mixture of four parts water and one part sugar.
Once the trap is set up, keep an eye on it regularly to ensure that the hummingbird is captured safely and released in a timely fashion.
Tips For Luring Hummingbirds
Hummingbirds are naturally attracted to bright colors and sweet fragrances.
Here are some tips to lure hummingbirds into the trap:
Use brightly colored feeders or flowers to attract hummingbirds.
Place the trap in a location with plenty of sunlight, as this will make the trap appear more inviting.
Use a hummingbird nectar that is a mixture of four parts water and one part sugar. This solution will not only attract the hummingbirds but also provide them with the necessary nutrients.
What To Do After Trapping Them
Once the hummingbird is trapped, it is important to release it back into its natural habitat as soon as possible.
Here are some tips for releasing a captured hummingbird:
Gently hold the hummingbird in your hand and check it for any injuries.
If the hummingbird appears to be uninjured, place it on a branch or within a flower bed and wait for it to fly away.
If the hummingbird appears to be injured, contact a licensed wildlife rehabilitation center to provide the necessary care.
Capturing a hummingbird may seem like a difficult task, but with the right approach, it can be done safely and with minimal stress to the bird. By following these steps, you can help to protect these tiny and beautiful creatures while also enjoying their delightful company.
Releasing Hummingbirds Back To The Wild
If you are looking for information on how to release a hummingbird into the wild after rescuing it from your house, then you have come to the right place.
You have dealt with half the problem already, which is getting the bird out of your home, but how do you make sure that the hummingbird is safe and healthy before releasing it back into the wild?
Here are some tips on safety precautions to take, how to soothe the bird before releasing it, and understanding hummingbirds' flight patterns and migration.
Safety Precautions When Releasing Hummingbirds
Before releasing a rescued hummingbird, you must take some safety precautions to protect both yourself and the bird.
Here are some key points to remember:
Always handle hummingbirds gently and with care. If you handle them roughly, they may get stressed, which can be dangerous for their health.
Wear protective gloves to avoid getting bitten or scratched, as birds can carry diseases that can be transmitted to humans.
Make sure the bird is well hydrated before you release it. You can offer it some sugar water in a feeder or a lid to drink from.
Pick a quiet and secluded spot to release the bird so that it can safely take off and fly away without getting hurt or attacked by predators.
How To Soothe And Comfort The Birds Before Releasing Them
Hummingbirds are tiny, delicate birds that can get easily stressed when in human contact. Before releasing them, you want to make sure you have provided them with a soothing environment and tried to comfort them as much as possible.
Here are some tips:
Keep the bird in a dark, quiet, and warm enclosed box with air holes to reduce stress. This also helps them regain their balance after being stuck in your house for hours.
Provide the bird with suitable food and fluids. You can offer a sugar-water solution in a feeder, fruits, or small insects.
If the bird appears disorientated, you may want to wait a bit longer to release it into the wild.
Understanding The Flight Patterns And Migration Of Hummingbirds
Hummingbirds are migratory birds that travel thousands of miles south or north every year. Before releasing a rescued hummingbird, it's crucial to understand their migration routes and flight patterns.
Here are some key points to remember:
Different hummingbird species have different migration routes and schedules. Some hummingbirds fly to central america or south america in winter, while others stay in the united states year-round.
Hummingbirds rely heavily on nectar for fuel during their flight. You should provide them with the appropriate food to help them stay healthy and fit.
Hummingbirds have sharp eyesight and can quickly navigate to their intended destinations. When releasing a hummingbird into the wild, make sure it has plenty of open and clear space to take off and fly swiftly.
Now that you have read these tips on safety precautions, comforting the bird before release, and understand hummingbirds' flight patterns and migrations, you are now ready to release the bird back into nature.
Remember, hummingbirds are an essential part of our ecosystem, and we must care for them and ensure their survival.
By releasing a rescued hummingbird safely, you have done your part to help protect these beautiful creatures.
FAQ For How To Get Hummingbird Out Of House
How Do Hummingbirds Get Inside A House?
Hummingbirds may enter through open doors and windows or vents without a screen.
What Should I Do If I Find A Hummingbird Inside My House?
Turn off all lights, close all windows and doors, and gently guide it toward an open window or door.
Why Should I Not Use A Net Or Try To Catch The Hummingbird?
Using a net or trying to catch the hummingbird can cause harm to the bird and is unnecessary.
How Do I Prevent Hummingbirds From Getting Inside My House?
Make sure all windows and doors have screens and close any vents. Use caution when opening doors and windows.
Is It Possible To Relocate A Trapped Hummingbird Back To The Wild?
If the hummingbird is trapped for an extended period and is showing signs of distress, it may need to be relocated using a humane trap. Contact a local wildlife rehabilitator for assistance.
Conclusion
After following these simple steps, you should now be able to gracefully remove a hummingbird from your house. Remember to always stay calm and patient when dealing with these delicate creatures.
It's important to acknowledge that hummingbirds play an important role in pollinating our world and should be treated with respect.
By taking preventative measures such as closing your windows and doors, and keeping plants away from entryways, you can reduce the chances of a hummingbird entering your home. In a situation where a hummingbird does get inside, try to give it time and space to find its way out on its own.
If all else fails, gently guiding it towards an open window or door will do the trick. With these tips, you can safely and effectively remove hummingbirds from your home and keep them where they belong – in the great outdoors.