How to Paint a Hummingbird: 9 Simple Steps!
To paint a hummingbird, follow these steps: choose the right materials, sketch the outline, apply the base colors, add details and shading, and finally add highlights.
Painting a hummingbird involves a combination of planning, attention to detail, and patience. By breaking down the process into manageable steps, you can create a beautiful and realistic representation of a hummingbird using various painting techniques.
Choose the right materials: quality paper or canvas, suitable paint (watercolor, acrylic, or oil), and appropriate brushes
Sketch the outline: use a reference image to create a light sketch, focusing on the shape, posture, and features of the hummingbird
Add details and shading: use a fine brush to add intricate details like feathers, eye, and beak, and create shading for a more realistic appearance
Add highlights: use lighter colors to add highlights on the wings, body, and head, giving the final touch to your hummingbird painting
When painting a hummingbird, it's crucial to observe their unique features and movements. Having a good reference image can help you capture the essence of this fascinating bird.
Don't hesitate to experiment with colors and technique until you achieve the desired effect. Most importantly, enjoy the process and have fun while exploring your artistic side!
9 Step-by-Step Guide on How to Paint a Hummingbird
| | | | |
| --- | --- | --- | --- |
| Step | Materials | Instructions | Tips |
| 1 | Sketchbook, Pencil or graphite, Reference image | Sketch a hummingbird on your sketchbook using a pencil or graphite, refer to a reference image for details | Ensure that the sketch proportionally represents a hummingbird |
| 2 | Watercolor paper, Pencil, Tracing paper (optional) | Transfer the sketch onto watercolor paper using a pencil or tracing paper | If using tracing paper, place it over your sketch and trace the hummingbird, then transfer it onto watercolor paper |
| 3 | Watercolor paints, Palette, Water | Prepare watercolor paints by placing desired colors on the palette and mixing them with water | Choose colors for the hummingbird based on reference images, typically bright shades of green, blue, and red |
| 4 | Paintbrushes, Water | Paint the background of the scene using a large paintbrush, leaving the hummingbird unpainted | Consider using a light wash of colors to avoid overpowering the main subject |
| 5 | Paintbrushes, Watercolor paints, Water | Paint the hummingbird's body using a small paintbrush, starting with lighter colors and gradually adding darker hues | Use a reference image as a guide for color placement and shading |
| 6 | Paintbrushes, Watercolor paints, Water | Paint the wings, tail, and beak using a small paintbrush, carefully adding details and shading | Focus on the curvature of the feathers and the shine on the beak |
| 7 | Paintbrushes, Watercolor paints, Water | Add shadows and highlights to the hummingbird using a small paintbrush | Shadows are typically found on the underside of the bird, while highlights can be found on the chest, head, and wings |
| 8 | White gouache or acrylic paint, Small paintbrush | Add any final details or highlights using white gouache or acrylic paint | Use sparingly to avoid over-highlighting |
| 9 | Let it dry | Allow the painting to dry completely | Drying time may vary depending on the thickness of the paint and environmental conditions |
9 Step-by-Step Guide on How to Paint a Hummingbird
Key Takeaway
Understanding the hummingbird anatomy is crucial for accurate painting.
Using the appropriate materials contributes to the success of the artwork.
Layering and blending colors is essential in achieving a realistic depiction.
Observing and taking inspiration from real hummingbirds enhances the final painting.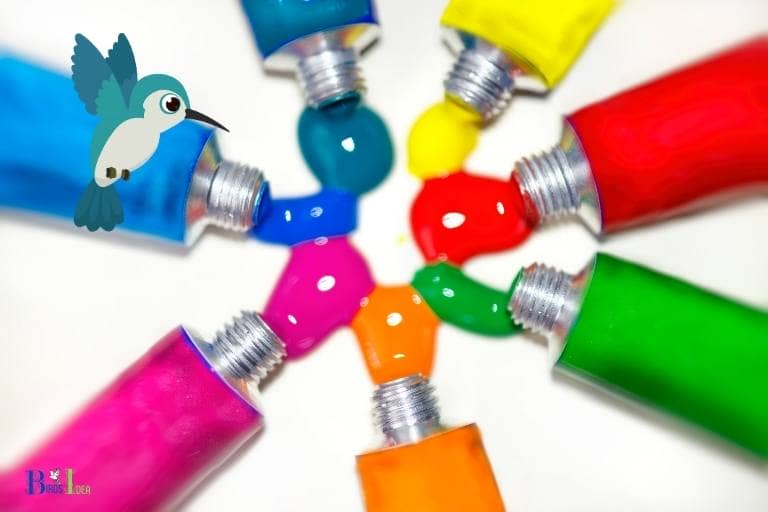 Five Facts About: Paint a Hummingbird
Hummingbirds are small birds with iridescent feathers that vary in colors depending on the species, making them a popular subject for paintings. (source: National Geographic)
There are over 300 species of hummingbirds worldwide, providing a wide range of options for artists to choose from for their paintings. (source: WorldAtlas)
To accurately paint a hummingbird, it's important to understand their distinct physical features, such as their long, slender bills and rapidly beating wings. (source: Audubon)
Many artists use watercolors or acrylic paints when painting hummingbirds, as these mediums allow for blending and layering colors to create a more realistic effect. (source: Artists Network)
When painting a hummingbird, it is helpful to observe live hummingbirds or use reference photos to accurately capture their unique movements and poses. (source: EmptyEasel)
Choosing The Right Materials For Painting A Hummingbird
Painting a hummingbird can be a fun and rewarding experience for artists of all levels. To achieve the best results, it's crucial to select the appropriate materials. Choosing the right paper, paintbrushes, and paints can make a significant difference in the quality of your hummingbird painting.
Here, we will discuss the key points to keep in mind when selecting your materials.
Selecting The Appropriate Type Of Paper
The type of paper you choose for your hummingbird painting can have a significant impact on the final result.
Here are some important points:
Use watercolor paper, as it is specifically designed for watercolor paints.
Choose a heavyweight paper that can handle the moisture of the watercolor paint.
Look for acid-free paper to ensure your painting will stand the test of time.
Picking The Right Paint Brushes
Selecting the right paintbrushes is essential for achieving the desired effect in your hummingbird painting.
Here are some tips:
Use watercolor brushes, which have softer bristles specifically designed for watercolor paints.
Choose brushes with a pointed tip to capture the detail of the hummingbird's feathers.
Use larger brushes for larger areas of the painting and smaller brushes for details.
Deciding On Paints For Hummingbird Painting
Choosing the right paints is crucial to achieving a vibrant and lifelike hummingbird painting.
Here are some things to keep in mind:
Use high-quality watercolor paints for the best results.
Consider investing in professional-grade paints for a wider range of colors and superior pigment quality.
Look for paints that are lightfast to ensure that your painting won't fade over time.
Selecting the appropriate materials is essential for creating a high-quality hummingbird painting. By using the right paper, paintbrushes, and paints, artists can achieve a vibrant and lifelike result.
With these key points in mind, you'll be well on your way to creating your own beautiful hummingbird painting.
Sketching And Outlining Your Hummingbird Painting
Choosing The Right Reference Image
Before you start sketching, choose the right reference image that will help you paint your hummingbird with accuracy and finesse.
Here are a few tips to help you select a suitable reference image:
Choose an image with a clear and definitive hummingbird pose that you want to paint.
Make sure the image is in focus, not blurry or pixelated.
Pick a high-resolution image that can be easily zoomed in and out.
Find an image with a hummingbird in flight or perched on a branch with an interesting background.
Look for an image with good lighting and contrast.
Sketching The Basic Lines Of The Hummingbird
Now, that you have your reference image ready, start by sketching the basic shape of your hummingbird.
Here's how you can do it:
Begin with the head of the bird, sketching a circle or an oval shape for the head and body.
Add the wings and tail, using long and curved lines for the wings and v-shaped lines for the tail.
Draw in the legs and feet, keeping the proportion correct and to scale with the rest of the bird's body.
Remember, you are sketching the basic lines and shapes, so don't worry if it doesn't look perfect at this stage.
Outlining The Painting With Pencil
Once you have sketched the basic lines of your hummingbird, it's time to outline the painting with a pencil.
Here are the steps to follow:
Start by outlining the bird's eyes, beak, and head with a sharp pencil.
Sketch in the details of the bird's feathers, creating texture and depth to your drawing.
Add shading to the wings, tail, and body to create dimension and depth in your painting.
Be sure to erase any incorrect or overlapping lines before you begin to paint.
Congratulations! You are now ready to begin painting your hummingbird. By choosing the right reference image, sketching the basic lines, and outlining the painting, you have laid a strong foundation for a beautiful piece of artwork.
Coloring Your Hummingbird
How To Paint A Hummingbird: Coloring Your Hummingbird
Hummingbirds are one of the most beautiful and graceful creatures in the world, and what better way to bring their beauty to life than by painting them? In this section, we'll discuss the most important aspect of painting a hummingbird – coloring!
Understanding The Basics Of Color Theory
Before we dive into coloring your hummingbird, let's take a moment to understand some basic color theory.
Here are a few key points to keep in mind:
Primary colors: The three primary colors are red, blue, and yellow. They cannot be created by mixing other colors.
Secondary colors: By mixing two primary colors, we can create secondary colors. For example, mixing red and blue creates purple.
Complementary colors: Complementary colors are opposite each other on the color wheel. For instance, red and green are complementary colors.
Hue, saturation, and brightness: These are the three main components of color. Hue is the actual color, while saturation refers to the intensity of the color. Brightness relates to the lightness or darkness of the color.
Creating The Hummingbird'S Body And Feathers
When it comes to painting a hummingbird, it's vital to get their body shape right.
Here are some tips:
Use a reference image: Find a high-quality reference image, either online or from a book, to help guide your painting.
Sketching the body: Using a light pencil, sketch the basic outline of your bird on your canvas.
Painting the body: Now it's time to paint the hummingbird's body. Start with the base color and slowly build up layers of brighter colors. Use the tips of your brush to add smaller details to the hummer's face and neck area. Remember to step back and check your work frequently.
Adding Detailed Textures To The Hummingbird
To add realistic texture to your hummingbird painting, follow these steps:
Observe the reference image: Zoom in on the reference image and notice the different textures on the hummingbird's body and feathers.
Use different brushes: Use small, thin brushes to create feather textures. Experiment with different brush strokes, such as cross-hatching and stippling, to create depth and texture.
Layering colors: Layering different shades of the same color can add texture. For instance, adding a darker shade on top of a lighter shade can create a feather-like texture.
In Conclusion
Coloring is an essential aspect of painting a hummingbird accurately. By following these tips, you'll be able to bring your hummingbird painting to life with beautiful hues of color.
Remember to start with the basics of color theory, create the hummingbird's body and feather textures, and use different brushes and colors to make your painting more realistic.
Bringing Your Hummingbird To Life
Painting a hummingbird is a joyful experience that requires techniques and intense concentration. The painting process leads to the creation of a sensational masterpiece that captures the essence of this beautiful bird.
Below, we discuss some of the essential steps that will help you bring your hummingbird to life.
Adding A Background
Adding a background to your painting can create a sense of depth and give context to your artwork.
Here's how to add a background:
Choose a complementary color: Choose a color that enhances your hummingbird's color for a beautiful contrast.
Sketch the background: Sketch your background, considering the position of your hummingbird. Using light strokes, add the necessary shape, giving it a sense of depth.
Paint the background: Once your sketch is complete, start painting the background. Be sure to use thin layers of paint, giving it time to dry between applications.
Enhancing Depth With Shadows And Highlights
The use of shadows and highlights can give your painting a sense of depth, making it more visually appealing.
Follow these steps to enhance depth with shadows and highlights:
Identify the direction of light: Determine where the light source is coming from. The light source will determine where the shadows and highlights will be placed.
Add shadows: Using a darker shade of paint, add shadows to areas where the light does not touch. Use light brush strokes, gradually building up the shadow's depth.
Add highlights: Using a lighter shade of paint, add highlights to areas of the painting where the light directly hits. Use small brush strokes to blend the highlights in the painting.
Adding Fine Details To The Hummingbird
Adding fine details to your hummingbird painting can make all the difference in the final outcome of your work.
Here's how to add fine details:
Fine-tune your lines: Using a fine brush, fine-tune your drawing lines by outlining sections of the hummingbird.
Layering feathers: Layering feathers will give your hummingbird a sense of texture. Use a fine brush to paint the first layer and add darker shades of paint for subsequent layers.
Final touch-ups: Finally, take time to add finishing touches to your hummingbird painting, ensuring it looks authentic and natural. Add any final details that you may have missed to bring your painting to life.
Painting a hummingbird requires patience and practice, but with the above tips, you can produce a stunning piece of artwork that captures the beauty of this tiny bird. Always remember to have fun and let your creativity flow. Happy painting!
FAQ On How To Paint A Hummingbird
How Difficult Is It To Paint A Hummingbird?
Painting a hummingbird can be challenging but with practice and patience, it's definitely achievable.
What Is The Best Type Of Paint To Use?
Acrylic paint is the best choice for painting a hummingbird as it dries quickly and is easy to work with.
What Colors Do I Need To Paint A Hummingbird?
Typically, you'll need green, metallic blue, red, and white for the body and various shades of brown and gray for the feathers.
What Materials Do I Need To Paint A Hummingbird?
You'll need acrylic paint, paintbrushes, canvas or paper, water, a palette, and a pencil for sketching the outline.
How Do I Add Details To The Hummingbird?
Start by painting the body of the bird and then add details like feathers, eye, and beak. Use small brushes and take your time.
Conclusion
After reading this guide, painting a hummingbird should no longer seem daunting. By following these steps, anyone can create a beautiful rendition of this fascinating bird, whether they have previous painting experience or not.
Remember to take your time, be patient, and practice until you are happy with the end result.
Don't be afraid to experiment with different colors, techniques, and styles to give your painting a unique flair. And most importantly, have fun! There's no right or wrong way to paint a hummingbird.
As long as you enjoy the process and put your heart into it, your painting is sure to be a success.
So grab your paints, pick up your brushes, and let's get started. Happy painting!