How to Make a Gallon of Hummingbird Food? 6 Steps!
To make a gallon of hummingbird food, combine 4 cups of granulated white sugar with 16 cups of water, boil the mixture for 2 minutes, allow it to cool down, and then fill your hummingbird feeders.
Hummingbird food, also known as nectar, is a simple solution of sugar and water that provides essential energy for these tiny birds.
The ideal ratio for hummingbird food is 1 part sugar to 4 parts water. By boiling the mixture, you help dissolve the sugar and eliminate any potential contaminants or impurities.
Use granulated white sugar for the best results
Avoid using honey, brown sugar, or artificial sweeteners
Boil the mixture to dissolve sugar and remove impurities
Allow the solution to cool before filling feeders
It's important to clean and refill your hummingbird feeders regularly to prevent the growth of harmful bacteria and mold.
During hot weather, clean and refill the feeders every 2-3 days. In cooler weather, you can extend this to every 5-7 days. Keep an eye on the nectar level and freshness, and always replace it if it appears cloudy or discolored.
Providing fresh, homemade hummingbird food ensures these beautiful birds stay healthy and continue to visit your garden.
6 Easy Steps to Making a Gallon of Hummingbird Food
| Step | Ingredients | Instructions |
| --- | --- | --- |
| 1 | 4 cups of water | Boil the water to help dissolve the sugar and slow down fermentation. |
| 2 | 1 cup of sugar | Add the sugar to the boiling water, stirring constantly until it is completely dissolved. |
| 3 | – | Remove the mixture from heat and allow it to cool to room temperature. |
| 4 | – | If you have any leftover sugar water, store it in the refrigerator to use later. |
| 5 | – | Fill your hummingbird feeder with the cooled sugar water mixture. Make sure to clean the feeder before refilling it. |
| 6 | – | Hang the feeder in a shaded area near flowers or shrubs. This will help to attract hummingbirds to your feeder. |
6 Easy Steps to Making a Gallon of Hummingbird Food
Key Takeaway
Making hummingbird food at home is simple and economical
The ideal sugar to water ratio for hummingbird food is 1:4
Hummingbird food should not contain any added coloring or additives
Proper cleaning and maintenance of feeders helps keep hummingbirds healthy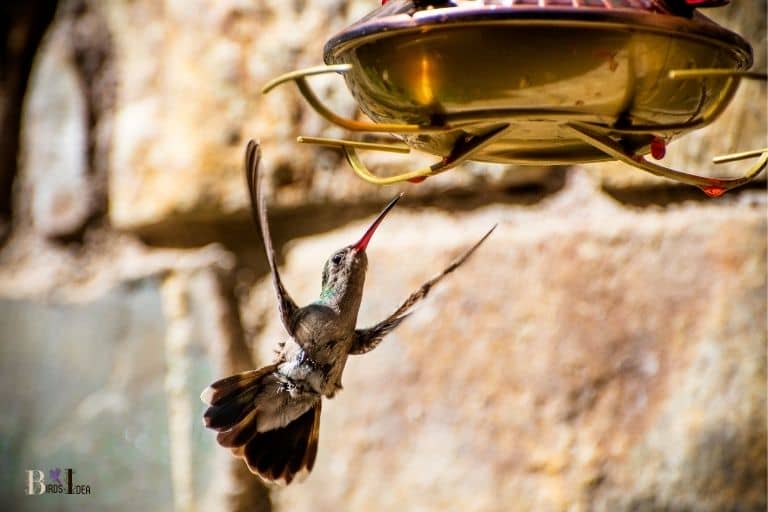 Five Facts About Making a Gallon of Hummingbird Food
Homemade hummingbird food typically consists of a mixture of sugar and water, mimicking the nectar that these birds naturally consume from flowers (source: The Spruce).
The recommended ratio for hummingbird food is one part granulated white sugar to four parts boiling water (source: Audubon Society).
It's important to avoid using honey, brown sugar, agave syrup, or artificial sweeteners as these can be harmful to hummingbirds (source: Audubon Society).
Red food coloring should not be added to hummingbird food, as it may be harmful to the birds and is unnecessary to attract them (source: Hummingbird Central).
Cleaning and maintaining hummingbird feeders every few days is crucial to prevent the growth of mold and bacteria, which can be harmful to hummingbirds (source: The Spruce).
What You Will Need
Hummingbirds are perhaps the most fascinating birds to watch. They are small, fast, and incredibly beautiful. Feeding these little creatures can be fun and rewarding.
However, knowing what to feed them and how much can be tricky. In this post, we will talk about how to make a gallon of hummingbird food.
Here's what you need to know.
List Of Required Equipment And Ingredients
Before you begin, make sure that you have all the necessary equipment and ingredients.
Here is what you will need:
A gallon-sized container to store the hummingbird food
Sugar
Tap water
A measuring cup
A pot
A spoon for stirring
Sugar And Water Ratios
The next step is to determine the sugar to water ratio. The ideal ratio is 1:4, which means one part sugar to four parts water. This ratio closely mimics the nectar found in flowers, which hummingbirds love.
Tips For Selecting The Right Type Of Sugar And Water
The quality of sugar and water used in making hummingbird food is vital.
Here are some tips to select the right type of sugar and water safely:
Use plain, white, granulated sugar only. Hummingbirds require pure sucrose and can't digest any other sugar types.
Avoid using organic, raw, or brown sugar when making hummingbird food. These sugars can contain iron, which is harmful to hummingbirds.
Use only clean and fresh tap water for the recipe. Avoid using distilled or softened water that may have chemicals present in it.
Final Words
Making hummingbird food is an exciting activity for bird enthusiasts. But, one has to be careful and mindful of the ingredients used in the recipe to ensure that the food is healthy and safe for these lovely birds.
Use the tips above, and you'll be sure to attract hummingbirds to your yard in no time!
Steps To Make A Gallon Of Hummingbird Food
Hummingbirds are tiny birds known for their unique ability to move their wings in a figure-eight pattern at an incredible speed of up to 50 beats per second.
These fascinating birds consume half their weight in nectar every day, which is equivalent to more than a dozen times their body weight.
To maintain proper nutrition and energy levels, hummingbirds require nutrient-rich and sweet nectar. Making a gallon of hummingbird food at home is cost-effective and easy.
In this blog post, we'll provide step-by-step instructions to make a gallon of hummingbird food that will keep your tiny feathered friends happy and healthy.
Provide Step-By-Step Instructions On How To Make A Gallon Of Hummingbird Food.
Making a gallon of hummingbird food requires minimal ingredients and preparation time.
Follow these simple steps to make a gallon of hummingbird food:
Boil four cups of water in a pot.
Add one cup of regular white granulated sugar to the boiled water.
Stir the mixture until the sugar dissolves completely.
Remove the pot from the heat.
Add three more cups of cold water to the mixture.
Transfer the mixture into a clean and sterile gallon-sized container.
Your gallon-sized hummingbird food is ready for use.
Safety Precautions And Common Mistakes To Avoid While Making The Food.
It is essential to take care of a few safety precautions while making hummingbird food. By keeping these precautions in mind, you can avoid common mistakes and make safe and nutritious food for the tiny birds.
Here are some safety precautions and common mistakes to avoid:
Always use granulated white sugar, as it is safe, healthy, and easily digestible for hummingbirds. Avoid using honey, brown sugar, or any artificial sweeteners or substitutes.
Avoid adding food coloring or dye to the mixture. It can be harmful to hummingbirds and can cause various health issues or even death.
Always use clean and sterile containers and utensils while making hummingbird food. Contamination may result in the growth of harmful bacteria and fungi.
Manage the ratio of sugar and water carefully. A higher concentration of sugar in the mixture can lead to various issues, such as diarrhea and dehydration.
Mention How Long The Food Will Remain Fresh And How To Properly Store It.
Hummingbird food can be stored for up to one week in the refrigerator. Make sure to store it in a clean and sterile container. Discard any unused or leftover food after a week, as it can cause rapid bacteria growth.
Before refilling the hummingbird feeder, thoroughly clean both the feeder and the feeding ports to prevent any contamination.
Making a gallon of hummingbird food is simple, cost-effective, and an enjoyable activity. By following these simple steps, safety precautions, and common mistakes to avoid, you can make hummingbird food that is nutritious, safe, and easy to store.
Furthermore, by keeping in mind how to properly store the food and how long it will remain fresh, you can ensure the hummingbirds keep coming back to your feeder again and again.
Importance Of Cleanliness
Keeping your hummingbird feeder and food clean is crucial for the health and well-being of the birds. Failure to do so can lead to contamination and mold growth, which can cause harm to these delicate creatures.
The following are some key points to help you understand why cleanliness is important:
Dirty feeders attract ants and bees that can be a hindrance to your hummingbird's feeding.
Mold growing in the feeder can infect the bird's beak leading to respiratory distress.
The build-up of bacteria in the sugar solution can cause fermentation and spoilage that ultimately can harm the birds.
Now, let's dive into the steps one must take to maintain a clean hummingbird feeder.
List Of Steps For Cleaning The Feeder And Replacing The Food
Start by turning off the feeding station before taking it down for cleaning.
Disassemble all its parts and rinse each part with hot water.
Mix a solution of 1-part white vinegar and 4 parts water.
Scrub each part carefully with a bottlebrush or dish brush.
Rinse all the components properly with hot water.
After rinsing, fill the feeder with fresh nectar and reassemble it.
Hang the feeder in the shade and monitor it for a day or two to ensure there is no mold growth or fermentation.
If mold or fermentation appears, discard the solution and start the cleaning process again.
Tips For Preventing Contamination And Mold Growth
Aside from the cleaning steps mentioned above, here are other tips for preventing contamination and mold growth around your feeder:
Clean your feeder every few days using hot soapy water and white vinegar solution.
Sunny, hot locations promote rapid fermentation. So, hang your feeder in a shady area.
Make small quantities of nectar, enough that a full feeder would last for about 2–3 days.
Store the nectar in a clean container in the fridge for no more than a week.
Avoid using honey, red dye, or natural sweeteners when making nectar for the hummingbirds.
When preparing and handling the food, always make sure to use clean utensils and your hands.
By following these tips and the cleaning steps mentioned above, you can keep your hummingbird feeder and food clean, healthy, and fresh for your little feathered friends.
Attracting Hummingbirds With Your Feeder
Hummingbirds are mesmerizing to watch, and there's no better way to attract them to your backyard than with a feeder full of sweet nectar.
However, in order to attract these beautiful birds, you need to make sure your feeder is set up in the right location and has the right features to draw their attention.
Below we've provided some tips to ensure your hummingbird feeder is attractive to the birds.
Positioning Your Feeder
Place your feader near flowers: Hummingbirds love flowers, so try to place your feeder near flowering plants.
Keep it out of direct sunlight: Placing your feeder in direct sunlight can cause the nectar to spoil more quickly and can also make the feeder too hot for the birds.
Avoid windy areas: If your feeder swings too much in the wind, it can be difficult for the hummingbirds to feed.
High up: Hang your feeder at least five feet high to keep ants and other pests from reaching it.
Adding Bright Colors And Other Attractive Elements
Choose a colorful feeder: Hummingbirds are attracted to bright colors, so consider purchasing a red feeder if you don't already have one.
Add fake flowers: To make your feeder even more attractive, add some fake flowers in red, pink, and orange around it.
Dealing With Pests And Predators
Place ant moats: Ant moats are devices that trap ants before they can reach the feeder. You can purchase them at most stores that sell bird supplies.
Keep the feeder clean: A dirty feeder can attract bees and wasps. Make sure to clean your feeder once every few days.
Invest in a hummingbird feeder with bee guards: Bee guards are tiny screens that cover the feeder's holes and prevent bees from getting inside.
By following these tips, you'll have a hummingbird feeder that is sure to attract a lot of attention from these beautiful and fascinating birds.
FAQ On Making Gallon of Hummingbird Food
What Is Hummingbird Food?
Hummingbird food is typically a mixture of sugar and water that simulates the nectar that hummingbirds feed on.
How Do I Make Hummingbird Food?
Mix 1 part white granulated sugar with 4 parts water, boil for 1-2 minutes, let cool, and then fill your feeder.
What Is The Best Time Of Year To Feed Hummingbirds?
Hummingbirds feed year-round in some areas, but it is most important to feed them during their migration periods, which vary by species and region.
How Often Do I Need To Change The Hummingbird Food?
Hummingbird food should be changed every 2-3 days, or more frequently in hot weather, to prevent fermentation or mold growth.
How Do I Clean My Feeder?
Clean your feeder with hot soapy water and a bottle brush every time you refill it, making sure to rinse thoroughly before refilling.
Conclusion
As you can see, making a gallon of hummingbird food is an easy and rewarding activity. You do not need to purchase any special mixtures from the store as you can make the nectar right in your kitchen with just sugar and water.
Always remember to make the right mixture, clean the feeder regularly, and place it in an appropriate spot that is safe and visible to hummingbirds. Making hummingbird food is a great way to turn your backyard into a haven for these lovely little creatures.
With this newfound knowledge, you can enjoy watching the hummingbirds' aerial displays and marvel at their beauty. Start making hummingbird food today and experience firsthand the joy they bring!