How to Preserve a Dead Hummingbird? 7 Steps!
To preserve a dead hummingbird, follow proper taxidermy procedures, which include skinning, cleaning, preserving, and mounting the bird.
Taxidermy is a technique used to preserve and display dead animals, such as hummingbirds, for educational or decorative purposes.
This process involves several steps, including removing the bird's skin, cleaning and preserving the skin, and mounting it onto a supportive structure.
Skinning: Carefully remove the dead hummingbird's skin using a sharp scalpel, avoiding damage to the feathers.
Cleaning: Remove any remaining fat, muscle, and tissue from the skin before washing it with a gentle soap to eliminate dirt and oil.
Preserving: Use a taxidermy preservative like borax or a chemical solution to treat the cleaned skin, ensuring long-lasting preservation.
Mounting: Create a supportive structure or form using wire and foam, then attach the preserved skin to this structure, shaping and positioning the hummingbird as desired.
When preserving a dead hummingbird, it's essential to handle the delicate creature with care and follow proper taxidermy procedures.
By doing so, you can create a beautiful and lasting display that honors the bird's natural beauty and grace, while also providing a unique piece of art or educational material.
Step-by-Step Guide to Preserve a Dead Hummingbird
| Step | Procedure | Materials Needed | Time Required |
| --- | --- | --- | --- |
| 1 | Freezing | Plastic bag | 1 hour |
| 2 | Defrosting | Container | 1-3 hours |
| 3 | Fixation | Formaldehyde, syringe, gloves | 30 minutes |
| 4 | Dehydration | Acetone, container, gloves | 72 hours |
| 5 | Drying | Air-dry or silica gel, container | 24-48 hours |
| 6 | Mounting | Pins, foam, glass case | 1 hour |
| 7 | Storage | Cool, dry, and dark place | Indefinitely |
Key Takeaway
Understanding the importance of preserving hummingbirds as natural specimens
Familiarizing oneself with the proper taxidermy techniques involved
Ensuring proper sanitation and precautions during the process
Recognizing the ethical implications and legal restrictions on collecting hummingbirds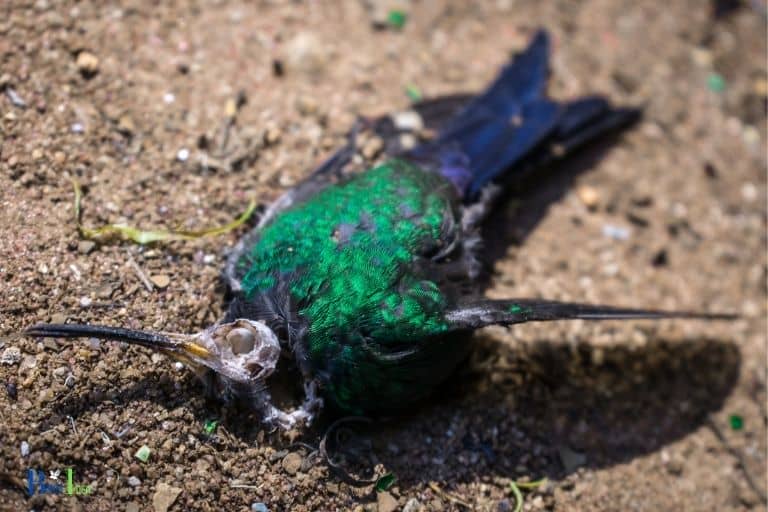 Five Facts About Preserving a Dead Hummingbird
Hummingbirds are small, specialized birds with captivating features, making them sought-after specimens for preservation. (Source: Encyclopedia Britannica)
Preserving a dead hummingbird requires knowledge of taxidermy, a method of preparing, preserving, and mounting animals or birds for display or study. (Source: Merriam-Webster)
Key aspects of hummingbird taxidermy include skin preparation (removing and cleaning the skin), re-constructing the internal structure (using wire armatures or similar substitutes), and posing the bird to mimic a natural, lifelike stance. (Source: The Ultimate Guide to Hummingbird Taxidermy)
Proper sanitation and the use of protective gear (e.g., gloves, masks) are crucial when handling dead animals to prevent the spread of diseases, both to humans and other animals. (Source: Centers for Disease Control and Prevention)
It is essential to remember that collecting hummingbirds or any other bird species without proper permits may violate wildlife protection laws (such as the Migratory Bird Treaty Act in the United States), leading to severe legal consequences. (Source: U.S. Fish & Wildlife Service)
Understanding The Importance Of Hummingbird Preservation
Hummingbirds are one of the world's smallest creatures yet play a significant role in maintaining our ecosystem. They are not only fascinating birds that charm us with their vibrant colors and speedy wings, but they also have an essential ecological role.
Knowing how to preserve them is crucial, and here's why:
Why It's Important To Preserve Hummingbirds
Hummingbirds are not only beneficial to our environment, but they also play a vital role in our ecosystems.
Here are the reasons why preserving them is critical:
Pollination: One of the crucial roles of hummingbirds is pollination. These birds have a unique taste preference for nectar, and while hovering near flowers, they transfer pollen, which leads to fertilization. This process helps in maintaining the life cycle of plants in the ecosystem.
Insect control: Hummingbirds feed on insects, including small ones, such as mosquitoes, fruit flies, gnats, and aphids. This feeding habit helps maintain a balance in the ecosystem by reducing the number of insects that could potentially destroy crops and other plant species.
Biodiversity: Hummingbirds are a unique species with over 300 different species worldwide. Each species plays an essential role in the ecosystem, and their loss would have a direct impact on biodiversity.
The Benefits Of Preserving Hummingbirds
Preserving hummingbirds is beneficial in many ways and has a ripple effect on the ecosystem.
Here are some of the benefits of preserving hummingbirds:
Conserving biodiversity: By preserving hummingbirds, we conserve the habitat in which they thrive, which in turn conserves other species in the same environment.
Boosting the economy: Many countries rely on ecotourism as a significant source of economic activity, and hummingbirds are a significant attraction. By preserving the birds, we can improve the economy and create employment opportunities.
Control of diseases: Hummingbirds have a significant effect on controlling the spread of mosquito-borne illnesses such as the west nile virus and dengue fever. Preserving them means that they continue to provide this essential service to the community.
The Challenges Of Preserving Hummingbirds
While preserving hummingbirds is necessary, many challenges come with it.
Here are some of the challenges faced in preserving these delicate creatures:
Habitat loss: Deforestation and urbanization have led to the loss of hummingbird habitats, making them endangered creatures.
Climate change: Global warming has a devastating effect on the environment, and the effects trickle down to hummingbirds' habitats, affecting their breeding and migratory patterns.
Illegal trade: The illegal trade of hummingbirds, particularly for their feathers, poses a significant threat to the bird's survival and preservation.
Preserving hummingbirds is a beneficial effort that we should all strive to achieve. By understanding the importance of these delicate creatures, we can take action to ensure their survival and safeguard the biodiversity of our ecosystem.
Gathering The Necessary Tools And Supplies
Preserving a dead hummingbird may sound like a challenging task, but with the right tools and materials, anyone can do it. Here are the necessary tools and supplies you need to gather before beginning the process.
Necessary Tools For Preserving A Dead Hummingbird
To preserve a dead hummingbird, you will need the following tools:
Rubber gloves: Wearing rubber gloves not only protects you from harmful chemicals but also prevents oils from your skin from damaging the feathers of the bird.
Forceps or tweezers: These tools will help you remove any debris or insects from the bird's body before preserving it.
Sharp scissors: You will need these to remove the bird's head and feet.
Pins or needles: These tools will help you shape and position the bird's body while drying.
Plywood or cardboard: You will need these to make a drying board and pin the bird to it.
Materials Required For Preserving A Dead Hummingbird
Apart from the necessary tools, you will also need the following materials to preserve a dead hummingbird:
Borax or baking soda: These items are used to dry the bird's body before preserving it.
Salt: You will need salt to preserve the bird's skin and feathers.
Ethanol or rubbing alcohol: This liquid will prevent the growth of bacteria on the bird's body.
Hydrogen peroxide: You will use hydrogen peroxide to whiten the bird's feathers.
Airtight container: You will need this to store the preserved bird.
Where To Buy Necessary Tools And Supplies
Most of the tools and materials needed to preserve a dead hummingbird can be found at your local hardware or craft store. You can also find them online.
Here are a few online stores to check out:
Amazon: You can find all the necessary materials and tools on amazon, and they can be delivered straight to your doorstep.
Ebay: Ebay has a wide range of taxidermy tools and materials available at competitive prices.
Van dyke's taxidermy: This online store specializes in taxidermy supplies and has everything you need to preserve a hummingbird or other small bird.
Preserving a dead hummingbird is not an easy task, but with the right tools and materials, you can do it.
Make sure to gather all the necessary tools and supplies and follow the instructions carefully to preserve your hummingbird effectively.
Preparing The Dead Hummingbird For Preservation
How To Safely Handle A Dead Hummingbird
Handling a delicate and tiny hummingbird requires utmost care to ensure that you do not cause any additional damage to the bird. Dead birds may harbor diseases and parasites that can be dangerous if not handled correctly.
Here are some safety tips to follow when handling a dead hummingbird:
Wear disposable gloves to protect yourself from diseases and bacteria that the bird may be carrying.
Hold the bird gently by its legs or wings to avoid squeezing the body.
To prevent the feathers from falling out, do not touch or rub the bird's belly.
Avoid shaking or moving the bird too quickly to prevent any broken bones or dislodging of feathers.
Cleaning The Hummingbird Thoroughly
Before preserving the hummingbird, it is vital to clean it thoroughly to maintain its natural beauty and prevent degradation over time.
Follow these steps to safely clean a dead hummingbird:
Use a soft brush to remove any dirt, debris, or insects from the bird.
Remove any visible blood or stains from the feathers using a damp cloth or cotton swab.
Dip a soft-bristled brush in warm water and gently scrub the feathers to remove any dirt that's harder to see.
Avoid using soap, detergent, or any chemicals to clean the feathers.
Careful Removal Of All Remnants Of Feathers
Proper removal of all remnants of feathers is crucial for the preservation of a dead hummingbird.
Follow these steps to remove the feathers without damaging the bird:
Use a pair of sharp and pointy tweezers to remove the tiny feathers.
With the tweezers, carefully pluck the feathers one at a time, starting from the head.
Be gentle to avoid damaging the feathers or the skin of the bird.
Pluck the feathers systematically to make sure you have removed all the feathers.
Preserving a dead hummingbird requires attention to detail, patience, and the right tools.
With these tips, you can handle the bird safely, clean it thoroughly, and carefully remove all remnants of feathers to preserve the bird's natural beauty for years to come.
Methods Of Preservation
Preserving a dead hummingbird can be a great way to appreciate these beautiful creatures even after they have passed on. However, deciding on the best method to preserve a hummingbird can be challenging.
We will discuss different methods of hummingbird preservation, how to choose the best method, and provide step-by-step instructions for each method of preservation.
Different Methods Of Hummingbird Preservation
There are several methods you can use to preserve a dead hummingbird. Each of these methods has its advantages and disadvantages.
Here are some of the most popular methods:
Stuffing: This is a traditional method of preserving hummingbirds. The process involves removing the bird's internal organs and replacing them with stuffing material before mounting the bird. This process can preserve the bird's physical features, making it look as if it is still alive.
Freezing: Freezing is the most common method of preserving a hummingbird for later use. This method involves placing the dead bird into a ziplock bag and keeping it in a freezer until needed. This method is easy and helps to preserve the bird's natural colours.
Taxidermy: This method involves the use of chemicals or pressure to preserve the bird's skin and feathers. Taxidermy can ensure that the bird looks as if it is still alive and can be mounted on a display.
Choosing The Best Method For Your Needs
To choose the best method for hummingbird preservation, you need to consider several factors, including skill level, time, and available resources.
Taxidermy requires more skill and time compared to other methods, while stuffing may not be suitable for long-term preservation.
Freezing is a simple method that can work effectively if you do not have a lot of skills or resources.
Step-By-Step Instructions For Each Method Of Preservation
Stuffing
Remove the hummingbird's internal organs and air-dry the bird for at least 24 hours.
Fill the bird's cavity with stuffing material.
Use small pins to position the wings and feathers in the desired position.
Mount the bird on a display.
Freezing
Place the dead hummingbird into a ziplock bag.
Label the bag with the date and location where you found the bird.
Place the bag in a freezer until needed.
Taxidermy
Skin the hummingbird and remove all flesh from the bones.
Soak the bird skin in a solution to preserve it.
Reattach the bird's feathers onto the skin in the desired position.
Mount the bird on a display.
Preserving a dead hummingbird is a great way to appreciate these fascinating creatures. Choosing the best method requires careful consideration of your skills, time, and resources.
By following these step-by-step instructions, you can successfully preserve a dead hummingbird using some of the most popular methods available.
FAQ On Preserving a Dead Hummingbird
How Do You Preserve A Dead Hummingbird?
To preserve a dead hummingbird, first, place it in a sealed container with a desiccant, such as silica gel. Then store it in a cool, dry place.
What Are The Materials Required For Preserving A Dead Hummingbird?
You will need a sealed container, desiccant (silica gel), preserving fluid, paints, brushes, and pins.
How To Prepare A Preserving Fluid For A Dead Hummingbird?
Mix one part glycerin and two parts distilled water, then add borax until the solution is saturated. The preserving fluid is ready.
How To Make A Dead Hummingbird Look Lifelike?
Use paint to give your hummingbird a lifelike appearance. Start with a base color, then add details like feather patterns and any distinguishing marks.
How Long Will A Preserved Dead Hummingbird Last?
If correctly preserved and stored, a dead hummingbird can last for decades. Keep it out of direct sunlight and moisture to ensure its longevity.
Conclusion
As difficult as it may seem, preserving a dead hummingbird is not impossible. There are many methods to choose from, and each has its own advantages and disadvantages. Whether you decide to mount the bird, place it in a jar, or create a shadow box, the most important thing is to handle the bird with care and respect.
Before beginning the preserving process, research thoroughly and prepare all materials and tools needed to ensure the best results. Remember to always prioritize safety and sanitation, as well as following any regulations in your area regarding the handling and preserving of dead animals.
Preserving a hummingbird can be a meaningful and fascinating project, allowing you to admire the beauty of these tiny birds long after their passing.