How to Tell If a Hummingbird is Dead? 7 Signs!
To tell if a hummingbird is dead, observe its physical appearance, lack of movement, absence of vital signs, and presence of injuries or visible damage.
Hummingbirds are small, delicate, and often brightly colored birds known for their rapid wing flapping and ability to hover in mid-air while feeding on nectar from flowers.
Unfortunately, these tiny creatures can be vulnerable to various dangers, such as predators, accidents, or illness, which may result in death.
To determine if a hummingbird is dead, it is essential to carefully observe various aspects of the bird's appearance, behavior, and physical condition.
Physical appearance: A dead hummingbird will have a limp body and may show signs of discoloration or visible damage.
Lack of movement: Unlike their usual active behavior, a dead hummingbird will be completely still and not exhibit any signs of life, such as breathing or twitching.
Absence of vital signs: By gently holding the bird, if you cannot feel its heartbeat or notice any signs of breathing, it is likely deceased.
Presence of injuries or visible damage: Observe the hummingbird for any signs of injuries, blood, or broken feathers, which could indicate a fatal accident or attack from a predator.
In conclusion, determining if a hummingbird is dead requires careful observation of its physical condition, behavior, and appearance.
However, it is essential to approach and handle these delicate creatures with extreme caution and respect, whether they are alive or deceased.
If you find a deceased hummingbird, consider contacting a local wildlife rescue organization for guidance on proper disposal or burial.
7 Common Indicator that a Hummingbird Is Dead
| Indicator | Description |
| --- | --- |
| No movement | The hummingbird is not showing any signs of movement or is not responding to external stimuli. |
| No breathing | The hummingbird doesn't show any signs of breathing or respiratory movements. |
| Cold body temperature | The body temperature of the hummingbird is significantly lower than a living bird, indicating that the metabolic processes have stopped. |
| Rigor mortis | Stiffening of the body due to the lack of blood circulation and buildup of waste products in the muscles, usually occurs within hours after death. |
| No heartbeat | The absence of a heartbeat when carefully listening to the bird's chest area. |
| No eye response | The bird's eyes are unresponsive to light or movement and may appear glazed over or clouded. |
| Decomposition | Visible signs of decomposition, such as discoloration, odor, or presence of insects around the body. |
7 Common Indicator that a Hummingbird Is Dead
Key Takeaway
Signs of a dead hummingbird are useful in identifying and potentially preventing similar issues in the future.
Behavioral changes may indicate that a hummingbird is in danger or near death.
Environmental factors, such as extreme weather, can affect hummingbirds' survival.
Human activity, including the use of pesticides and window collisions, can contribute to hummingbird deaths.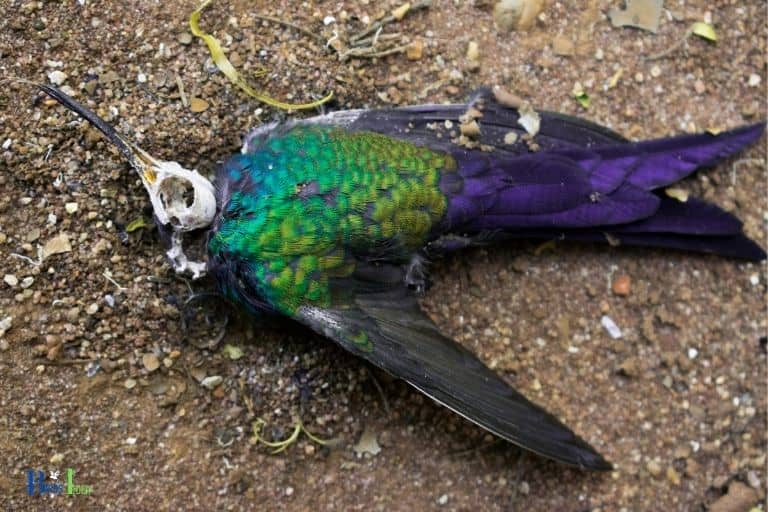 Five Facts About Dead Hummingbird
A dead hummingbird will lose its ability to hover and may appear disoriented or have difficulty flying. (Source: Hummingbird Guide)
If a hummingbird is found on the ground or in an unusual place, showing signs of lethargy and weakness, it may be injured or dying. (Source: World of Hummingbirds)
Hummingbirds are highly susceptible to cold temperatures, and they can die from prolonged exposure to freezing conditions (Source: Hummingbird Central)
The use of pesticides in gardens and agricultural fields can lead to the death of hummingbirds, either by direct ingestion or by killing off their primary food source, insects. (Source: American Bird Conservancy)
Window collisions are a common cause of hummingbird deaths, as the birds do not recognize glass as a barrier and may fly full-speed into windows. (Source: Birdwatching Daily)
Recognizing Signs Of A Dead Hummingbird
Hummingbirds are fascinating creatures. They are known for their quick movements and distinctive hum. However, sometimes you may come across a hummingbird that appears to be lifeless.
Here are some physical observations to help you recognize signs of a dead hummingbird.
Physical Observations
Observing a hummingbird in the wild is a wonderful experience, but it can be concerning when it appears that the bird is dead.
Here are some physical observations you can make to determine whether or not a hummingbird is actually deceased:
Check for movement: Approach the bird slowly and observe it from a safe distance. Look for any signs of movement, such as chest rise and fall or slight movements in the wings or feet.
Check for injuries: Look for any noticeable injuries such as cuts or bruises on the body or beak. These may be signs of trauma and could contribute to the bird's death.
Check for signs of breathing: Place your ear close to the bird's beak and listen for any signs of breathing. You can also place a hand under the bird's chest to feel for any movement.
Check for eye response: Shine a light in the bird's eye to see if its pupil responds to the light. If there is no response, the bird may have passed away.
If you have determined that the hummingbird is dead, it is important to take proper care of the bird and dispose of it in an appropriate manner.
Do not attempt to remove any bands or tags from a dead bird, as these may be important for scientific research purposes.
Taking care of and observing wildlife is an important part of appreciating the natural world, but it is also crucial to know when to let go and allow these creatures to continue on their journey.
Knowing how to recognize signs of a dead hummingbird is an important step in showing respect for these incredible animals.
Steps To Take Upon Discovering A Dead Hummingbird
Determining Whether The Bird Is Actually Dead
Upon discovering a hummingbird lying on the ground, it is essential to determine whether it is deceased or in a state of shock.
Here are some signs to determine if the bird is really dead:
–Check for breathing – if you see no movement in the chest area, the hummingbird might be dead.
–Look for signs of an injury – if the bird has any visible injuries, it has likely died.
–Check the eyes – if the bird has open eyes and seems frozen, it is probably dead.
Removing The Dead Hummingbird
After confirming the hummingbird is dead, it is time to remove it from the area using the following steps:
-Wear protective gloves as you handle the bird's body
-Use a small shovel or a pair of tongs to lift it carefully
-Place the bird in a plastic bag or a proper container
Proper Disposal Of The Dead Bird
It is necessary to dispose of the hummingbird's body properly to prevent the spread of disease to other birds.
Here are some guidelines to follow:
-Dispose of the body immediately and do not keep it in the freezer or refrigerator
-Bury the bird at least three feet deep in an area where other birds cannot access it
-If burying is not possible, place the bird in a sealed plastic bag and throw it out in the garbage.
By following these steps, we can ensure that the dead hummingbird is handled and disposed of properly and respectfully.
Preventative Measures For Hummingbird Safety
Hummingbirds are not just beautiful creatures, they are also important pollinators.
Unfortunately, they are at risk of injury and death due to their size and speed. It is essential to take preventative measures to ensure their safety in and around your home.
Here are some ways to safeguard hummingbirds:
Installing Window Decals
One of the leading causes of hummingbird injury is window collisions.
Hummingbirds often mistake the reflection in the windows as part of their environment, leading to them fatally colliding with the glass. Installing window decals is an easy way to prevent these accidents.
Decals break up the reflection on the window and alert hummingbirds to the presence of a barrier.
Install window decals at eye-level to be most effective.
Use a variety of patterns and sizes as hummingbirds are intelligent and can recognize familiar patterns.
Replace or move decals every few years to avoid familiarity.
Closing Blinds And Curtains
Closing window treatments is another way to prevent window collisions. If hummingbirds cannot see through a window, they are less likely to approach it.
This approach also prevents birds from accidentally flying into your home when a window is left open.
Use thicker treatments like curtains instead of sheer fabrics.
Close blinds or curtains during daylight hours, especially in areas with high hummingbird traffic.
Remember to occasionally wipe down the window to remove any reflection the birds may see.
Avoiding Highly-Reflective Surfaces
Hummingbirds may also mistake reflective surfaces for a clear flight path. Shiny surfaces like mirrors, car windows, or even stainless steel grills can be dangerous hazards for the bird.
Choose matte finishes instead of glossy surfaces when possible.
Cover shiny surfaces or hang curtains to block reflections that can be hazardous for hummingbirds.
Position bird feeders and flower pots away from reflective surfaces.
Planting Non-Toxic Flowers
Hummingbirds require sugar-rich nectar to fuel their high metabolism, and flowers are their primary source for this.
However, some popular garden plants can be toxic to hummingbirds. When selecting plants for your yard and garden, choose non-toxic varieties.
Pick native flowers that are a good source of nectar.
Plant tall bushy shrubs near windows as an additional barrier.
Avoid using pesticides that are harmful to hummingbirds.
Purchasing Hummingbird Feeders With Bee Guards
Hummingbird feeders lure birds to your yard for a quick meal, but they can also attract bees and wasps. Look for feeders that have bee guards to keep these insects away from the nectar.
Bee guards are usually small perforated cups that surround the feeding ports, often colored yellow to attract hummingbirds but not bees.
Clean feeders regularly to avoid bacteria buildup.
Use a solution made with 1 part sugar and 4 parts water to fill the feeder.
Don't use any food coloring or honey as they can be harmful to hummingbirds.
Taking measures to protect hummingbirds is crucial as they are beneficial to the environment and deserve to be protected.
Use these simple and effective strategies to provide a safe environment for the hummingbirds in your area.
FAQ On Dead Hummingbird
How Can I Tell If A Hummingbird Is Dead?
If a hummingbird is motionless, lying on its side or back, and not breathing, it is likely dead.
What Do I Do If I Find A Dead Hummingbird?
You can report it on citizen science websites, like ebird, or dispose of it properly.
How Long Can A Hummingbird Stay Still?
Hummingbirds can go into a state of torpor, where they appear to be dead but may actually be alive, for several hours.
How Do I Dispose Of A Dead Hummingbird?
It is best to dispose of dead hummingbirds by burying them at least two feet deep or placing them in a sealed plastic bag in the trash.
Can Hummingbirds Die From Hitting Windows?
Yes, window collisions are a common cause of hummingbird deaths. To prevent this, place decals on your windows or move feeders away from windows.
Conclusion
Hummingbirds are some of the most fascinating and enchanting creatures in the world. They are delicate and swift, and their existence is vital for the maintenance of the ecological balance. If you find a hummingbird that appears to be dead, the first step is to ensure that it is, in fact, deceased.
Never assume that a hummingbird is dead without verifying it first. Please be aware that you should always handle them with care and respect, even in death. If you do find that the hummingbird is dead, there are various ways to honor its life and contribute to its conservation.
For instance, you can learn more about hummingbirds' behavior, habitat, and migration, or contribute to organizations that work on the conservation of these little birds. Remember, it is our responsibility as humans to protect all the creatures that share this planet with us, including the beautiful and tiny hummingbirds.