How to Make a Hummingbird Spa: Simple Steps!
To make a hummingbird spa, you need to create a shallow water source with moving water that attracts hummingbirds and encourages them to bathe and drink.
Hummingbirds are small, fast-flying creatures that require frequent stops to refuel with nectar and water.
Providing a hummingbird spa in your garden not only helps these beautiful birds stay clean and hydrated but also offers you a unique opportunity to observe them up close.
Select an appropriate location for the spa
Choose a shallow, gently-sloped dish or container
Add a water agitator or mister to create moving water
Maintain cleanliness and fresh water supply
When creating a hummingbird spa, it is essential to choose the right location. The spa should be placed in a quiet, sheltered area, preferably near flowering plants that attract hummingbirds.
Opt for a shallow dish with a gentle slope, as hummingbirds prefer to bathe and drink in shallow water. Incorporate a water agitator or mister to create movement, which attracts hummingbirds and discourages mosquitoes from breeding.
Finally, ensure that the spa is kept clean and filled with fresh water regularly to maintain a healthy and inviting environment for the birds.
7 Step-by-Step Guide to Making a Hummingbird Spa
| | | |
| --- | --- | --- |
| Step | Materials Needed | Instructions |
| 1 | Container or shallow dish | Choose a suitable container or shallow dish for the spa. |
| 2 | Rocks, pebbles, or marbles | Add rocks, pebbles, or marbles to the bottom of the dish. |
| 3 | Water | Fill the dish with fresh, clean water until it covers the rocks, pebbles, or marbles. |
| 4 | Nectar-producing plants or hummingbird feeders | Surround the area with nectar-producing plants or place hummingbird feeders nearby to attract hummingbirds. |
| 5 | Perches or twigs | Place a few perches or twigs around the spa for the hummingbirds to rest. |
| 6 | Location | Select a location that is away from potential predators and easily visible for the hummingbirds. |
| 7 | Maintain the spa | Regularly clean and refill the water to keep the spa fresh and safe for the hummingbirds. |
7 Step-by-Step Guide to Making a Hummingbird Spa
Key Takeaway
Creating a welcoming environment for hummingbirds is essential for a successful spa.
Providing a variety of nectar-rich flowers is crucial for attracting hummingbirds.
Providing clean water sources like shallow birdbaths with gently dripping water is essential for attracting them.
Regular maintenance and cleanup to ensure the spa is safe and hygienic for its visitors.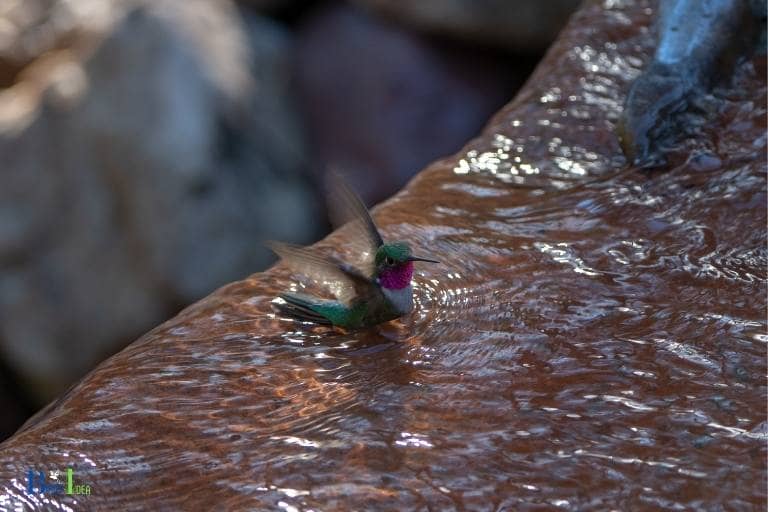 Five Facts About: Creating a Hummingbird Spa
Hummingbirds are attracted to brightly colored flowers, especially red, which can be incorporated into a spa design. (Source: National Wildlife Federation)
These tiny birds require an average of 7 calories per day and can consume up to twice their body weight in nectar daily. (Source: Bird Watcher's Digest)
Including native plants in a hummingbird spa is beneficial, as they have co-evolved with local hummingbird species and best meet their needs. (Source: Audubon Society)
Along with nectar, hummingbirds also require insects and spiders for protein, making it essential to avoid using toxic insecticides or pesticides in the area surrounding the spa. (Source: Hummingbird Society)
Putting up hummingbird feeders with a homemade or store-bought sugar water solution can also help attract these birds to your spa. Ensure the solution is changed regularly to prevent fermentation or mold growth. (Source: [National Wildlife Federation
Hummingbird Spa Diy
Hummingbirds are fascinating little creatures to watch! And providing them with a spa-like area in your yard is a great way to attract them. In this section, let's learn how to build a hummingbird spa with easy and affordable diy instructions.
Materials Needed
Before we begin, we need to gather a few materials:
A shallow dish or bowl made of plastic or ceramic
Decorative stones or pebbles
Water
Sugar
A wooden dowel or a stick
Hummingbird nectar recipe
A shade providing plant or artificial flowers
Step By Step Instructions For Building A Hummingbird Spa
Let's dive into the diy process step by step:
Select an area in your yard that receives some shade and is away from noise and traffic.
Place the shallow dish or bowl on the ground in a stable position. Be sure to level it if it is uneven.
Fill the dish with fresh water and add decorative stones or pebbles around it. This helps hummingbirds to have a firm footing while in the water.
Move your wooden dowel or stick to the center of the dish. Hummingbirds use it to perch and splash around the water.
Add a shade providing plant or artificial flowers close to the spa. It provides natural shelter and seems to lure hummingbirds in.
Mix the nectar according to the hummingbird nectar recipe and add it in a feeder close to the spa area. If you do not want to use a feeder, you can add some of the nectar in the shallow dish.
Lastly, wait for your hummingbirds to come and enjoy their new spa. Keep the spa clean, and change the water regularly, especially during hot summer days.
The hummingbird spa diy is simple and easy to make. Watching hummingbirds interact with their new spa is a relaxing experience.
With this simple diy project, you can create a garden oasis that will attract not only hummingbirds but also other birds.
Location And Placement
Finding The Right Location
Choosing the correct location for a hummingbird spa is crucial.
Consider the following factors when selecting a spot:
Placement near plants: Hummingbirds are attracted to flowering plants and prefer locations where nectar is abundant. Choose a location that is close to a variety of blooming flowers that hummingbirds love such as salvia, fuchsia, and bee balm.
Easy to see: Place the hummingbird spa in a location that is easily visible from inside your home- this will allow you to see the birds visiting and enjoying the spa.
Not near predators: Hummingbirds are vulnerable to attacks from predators like cats and hawks. Make sure the spa is away from areas where these animals tend to roam.
Safe space: Select a location that is secure and away from the path of children, bikes, and other outdoor activities.
Placement Of Hummingbird Spa
Once you have identified your perfect location, it's time to install the hummingbird spa.
Follow these steps to ensure a successful placement:
Secure the spa: Be sure to secure the hummingbird spa so that it doesn't move or tip over in windy weather. This will also prevent spills.
Shady spot: Place the hummingbird spa in an area that is partly shaded or shadowed for some part of the day. This will avoid the water getting warm and will keep it fresh.
Distance of the spa: Hang the spa at a distance from the feeder. This will prevent the nectar from spilling into the spa and will avoid the hummingbirds accessing it easily.
Add a perch: Hummingbirds are territorial. Consider adding a perch near the spa where they can perch and observe the area. This way, they'll be more inclined to visit the spa again.
Remember, hummingbirds are delightful creatures, but they also have a short attention span. So, be patient and experiment with the location and position of the spa until you find the perfect spot to attract these feathered beauties.
Hummingbird Spa Maintenance
Hummingbirds are among the most colorful and fascinating birds in the world. They're known for their energetic and fast-paced nature, making them an exciting sight to behold.
One way to attract these lovely creatures to your garden is by providing them with a hummingbird spa.
A hummingbird spa is a simple yet effective solution for providing hummingbirds with a comfortable spot to bathe. Although making a hummingbird spa is easy, maintaining it can be quite challenging.
The following section will provide you with some helpful tips on how to keep your hummingbird spa in top condition.
Cleaning And Maintenance Tips
Cleaning and maintaining your hummingbird spa regularly is crucial to ensure hummingbirds have access to clean water while taking a bath.
Here are some ways to keep your hummingbird spa clean and well-maintained:
Clean the hummingbird spa frequently: Change the water in it daily and clean it thoroughly at least once a week. Scrub the hummingbird spa with mild soap and a brush to remove any debris and rinse it with clean water.
Use a brush to clean: Clean the hummingbird spa using a bottle brush and a toothbrush to clean the challenging parts. This will ensure that you remove all stuck-on dirt and bird droppings.
Regularly check for leaks: Ensure that the water in the hummingbird spa does not leak by checking the connections often. If the hummingbird spa leaks, repair it instantly to prevent water from running out and refilling it frequently.
Replace water regularly: Change the water in the hummingbird spa every day, and this will prevent the buildup of algae and bacteria in the water. Additionally, bacteria and mold tend to grow more when the water is stagnant.
Avoid using harsh detergents: Use mild soap when cleaning the hummingbird spa and avoid using disinfectants. Ensure each part of the appliance is clean to ensure a prolonged use.
Common Problems And Solutions
Even with proper maintenance, hummingbird spas may experience some problems that require attention.
Here are some common issues that you may encounter while using a hummingbird spa, and tips on how to solve them:
Dirty water: If you notice discolored or dirty water, change it immediately. Dirty water can attract insects, and hummingbirds may avoid using the spa.
Cloudy water: If the water in the hummingbird spa appears cloudy or has foam, it may be due to high mineral content, bacteria growth, or algae. Clean the hummingbird spa thoroughly and replace the water to prevent bacterial growth.
Proper maintenance is essential to ensure hummingbirds have a comfortable place to bathe. Cleaning your hummingbird spa, regularly replacing the water, and checking for leaks will maintain a comfortable experience for hummingbirds.
If you experience any issues with your hummingbird spa, resolve them immediately to ensure hummingbirds' well-being.
With these tips, maintaining a hummingbird spa has never been easier.
FAQ On How To Make A Hummingbird Spa
How To Create A Hummingbird Spa?
Hummingbird spass are easy to make. All you need are a saucer, rocks, and water to get started. Put the rocks in the saucer and add water. Place the saucer in a safe location. Watch as the hummingbirds come for their spa.
What Materials Do I Need?
To make a hummingbird spa, you need a saucer, rocks, and water. You can use any shallow dish that has a flat bottom and wide enough to accommodate several hummingbirds at once.
Where Should I Place The Spa?
Hummingbirds love to have their spa in a location that is safe and secure. Place the spa in an area that is protected from wind and predators, such as cats. You can hang it from a tree or place it on a pedestal.
How Often Should I Clean The Spa?
Since hummingbirds love clean water, it is important to change the water every 2-3 days. Algae and bacteria can build up on the rocks and need to be cleaned regularly. The spa can be cleaned with vinegar and a small brush.
What Benefits Are There To Having A Hummingbird Spa?
Hummingbirds add beauty and entertainment to any outdoor space. The spa not only attracts hummingbirds but also provides them with a safe and clean space to bathe and drink. Having a hummingbird spa in your backyard can also be a great way to bring nature closer to your home.
Conclusion
To conclude, building a hummingbird spa is a great way to invite these lovely birds into your yard and enjoy their beauty and antics. The hummingbird spa is an easy diy project that can be done using simple materials and tools.
You can customize the design and decoration of your spa to complement your garden or personal style. Remember to maintain the cleanliness and freshness of the water to keep the hummingbirds healthy and happy.
Set up the hummingbird spa in a strategic spot, preferably near flowers or feeders, and watch these tiny birds splash and play while you relax and unwind.
With a little patience and creativity, you can make a hummingbird spa that attracts these winged gems and provides a fun and fulfilling sight for yourself and others. Start your hummingbird spa today and let nature's charm delight you!