How to Raise a Hummingbird? Suitable habitat, Proper diet !
To raise a hummingbird, one needs to provide a suitable habitat, proper nutrition, and ensure its safety and overall well-being.
Raising a hummingbird can be a fascinating and rewarding experience, but it requires dedication and knowledge of their specific needs.
These birds have specialized diets and environments in which they thrive, so understanding their requirements is essential for their successful upbringing and survival.
Provide a suitable habitat with plants and feeders
Ensure a high-quality nectar diet
Monitor for any health issues or injuries
Maintain a consistent temperature and humidity in their environment
Creating a suitable habitat is crucial for raising a hummingbird. This includes planting nectar-rich flowers, such as trumpet vine, fuchsia, and bee balm, as well as providing bird feeders with a nectar mixture of 4 parts water to 1 part sugar.
Maintaining a consistent temperature and humidity is essential to mimic their natural environment. Additionally, keeping the environment clean and safe from predators will ensure the hummingbird's safety and overall well-being.
Regularly monitoring the bird's health is essential, as hummingbirds can be susceptible to various diseases and injuries. If you notice any signs of illness or injury, consult a wildlife rehabilitator or veterinarian for professional care and advice.
Raising a Hummingbird: Tips and Information
| Task | Description | Resources |
| --- | --- | --- |
| 1. Research | Learn about hummingbird species, their habitat, and their diet. | Books, websites, or experts on hummingbirds. |
| 2. Obtain Necessary Supplies | Purchase or gather a hummingbird feeder, nectar solution, nesting materials, and a comfortable housing environment for the hummingbird. | Pet stores, online retailers, or specialty bird stores. |
| 3. Set Up the Environment | Create a safe and comfortable space for the hummingbird to thrive, including a place to perch, a sheltered area, and food resources. | Hummingbird-friendly plants, feeder, and appropriate nesting materials. |
| 4. Prepare Nectar Solution | Mix the appropriate ratio of sugar to water to create a nectar solution for the hummingbird. | White granulated sugar and clean water. |
| 5. Maintain Feeder | Regularly clean and refill the hummingbird feeder. Replace nectar every few days to prevent spoiling. | Cleaning supplies, fresh nectar solution. |
| 6. Observe and Monitor | Keep an eye on the hummingbird's health, behavior, and interaction with its environment. | Binoculars, observation log, and patience. |
| 7. Provide Additional Nutrition | Supplement the hummingbird's diet with insects and fruit flies for protein. | Insects or fruit fly culture, feeder for insects. |
| 8. Maintain Housing Environment | Ensure that the hummingbird's housing environment remains clean and comfortable. | Cleaning supplies, pruning tools for plants. |
| 9. Support Breeding | If desired, create a suitable environment for hummingbird breeding, including providing appropriate nesting materials. | Nesting materials, appropriate housing conditions. |
| 10. Consult with Experts | If issues arise or you seek advice on hummingbird care, consult with experts or experienced hummingbird caretakers. | Local birdwatching groups, online forums, or veterinary specialists. |
 Raising a Hummingbird: Tips and Information
Key Takeaway
Raising hummingbirds requires a thorough understanding of their specific needs and behavior
Providing a safe and clean environment is essential for their health and well-being
Hummingbirds need a specialized diet to meet their high energy requirements
Monitoring and care are vital to ensure the hummingbirds' healthy development and eventual release back into the wild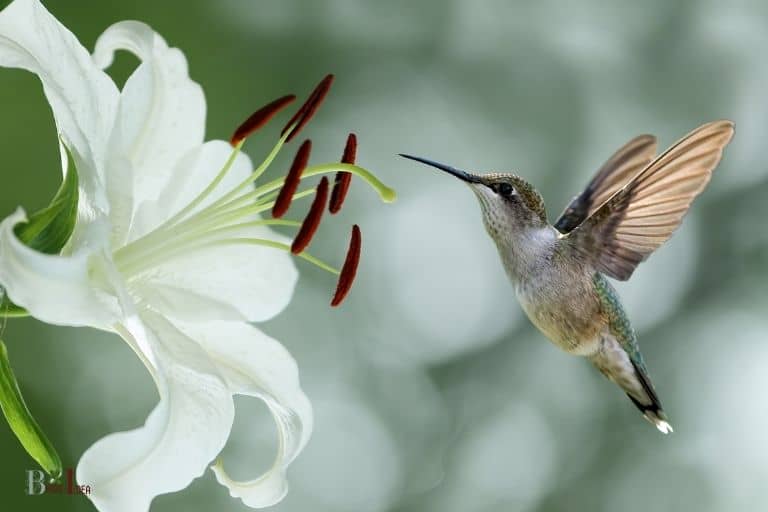 Five Facts About Raising a Hummingbird
Hummingbirds are nectar eaters, but they also need insects and spiders in their diet to provide essential proteins, fats, and minerals (source: National Wildlife Federation)
These small birds have high energy demands, beating their wings about 50-80 times per second, requiring them to consume a large amount of food relative to their body size (source: Smithsonian's National Zoo & Conservation Biology Institute)
A nectar solution for hummingbirds can be made by mixing four parts water to one part granulated sugar, avoiding honey, brown sugar, or artificial sweeteners, which can be harmful to the birds (source: Hummingbird Society)
Bright colors, particularly red, can attract hummingbirds, so placing feeders close to bright flowers or adding red elements to the feeder can make it more enticing (source: Birds & Blooms)
Regular cleaning
of hummingbird feeders, at least once every three days, is crucial to prevent the growth of harmful mold or bacteria that can harm or even kill the birds (source: World Bird Sanctuary
)
Best Practices For Raising Hummingbirds
Hummingbirds are fascinating creatures that make excellent pets if raised correctly.
Here are some best practices for raising hummingbirds:
Knowledge Of Natural Habitat
Hummingbirds thrive in natural habitats that offer plenty of shade, vegetation, and water. When planning to raise a hummingbird, make sure you have a good understanding of their natural habitats.
Some key factors to keep in mind include:
Shady areas with plenty of trees and vegetation
Access to water sources such as streams, rivers, and ponds
A diet rich in nectar and insects
Feeding And Watering Hummingbirds Appropriately
A crucial pillar of raising a healthy hummingbird involves providing proper feeding and watering.
Some key factors to keep in mind include:
Providing hummingbirds with a diet of fresh nectar
Offering fresh fruits and insects as supplements
Refilling the nectar tray several times throughout the day
Providing water in a shallow dish
Nest Placement And Protection
Hummingbirds nests should be placed in a safe location that provides protection from predators and other risks.
Some key factors to keep in mind include:
Hanging hummingbird nests on sturdy branches
Placing the nests in an area with plenty of foliage
Using predator-proofing measures to prevent attacks by cats and other natural predators
Sterilizing nesting trays before use to prevent disease and infection
Providing a suitable environment for raising a hummingbird is essential to their health and wellbeing.
With these best practices, you can establish a safe and cozy environment for your pet hummingbird and watch them thrive in their new home.
Planning For A Hummingbird Garden
Hummingbirds are fascinating creatures that require specific habitats to thrive. Creating a hummingbird-friendly garden is an excellent way to admire their beauty while supporting their natural eco-system.
Here are some key points to consider when planning a hummingbird garden:
Choosing The Right Location
The location of your hummingbird garden is critical. You must select an area that receives enough sunlight, is free from predators such as cats and dogs, and is protected from strong winds.
Choose an open area that receives at least six hours of direct sunlight each day.
Ensure that the location is away from any potential predators such as cats and dogs.
Consider planting bushes or trees around the garden's perimeter to provide shelter from strong winds.
Selecting Native Plants For Hummingbirds
Hummingbirds require specific plants to provide nectar for their diet, so selecting the right native plants is essential.
Here are some tips to choose the best plants for hummingbirds:
Research the plants that hummingbirds love and are native to your area.
Choose plants that flower at different times throughout the season to provide a continuous source of nectar.
Plant flowers of different colors to attract a variety of hummingbird species.
Consider adding hummingbird feeders as an additional food source.
Tips For Maintaining A Hummingbird Garden
Maintaining a hummingbird garden requires some effort, but it is rewarding to watch these amazing creatures thrive.
Here are some tips to help you maintain your garden:
Keep your garden clean and free from debris.
Provide fresh water sources for hummingbirds to bathe and drink.
Prune and deadhead flowers as needed to promote new growth.
Control pests and diseases using organic methods as hummingbirds are sensitive to chemicals.
By following these guidelines, you can create a beautiful and thriving hummingbird garden that will provide endless entertainment.
Happy gardening!
How To Observe And Control Hummingbird Behavior
Raising a hummingbird can be an incredibly fulfilling and educational experience. These tiny birds are full of energy and personality, and observing their behavior can be both entertaining and enlightening.
However, it's important to understand that hummingbirds are wild animals, and their behavior can often be unpredictable.
Here are some tips on how to observe and control hummingbird behavior.
Recognizing Natural Hummingbird Behavior
Hummingbirds have a range of natural behaviors that are fascinating to observe.
Here are some of the most common hummingbird behaviors:
Feeding: Hummingbirds require a lot of energy to sustain their high metabolism, so they need to feed frequently. They are particularly fond of nectar from flowers, as well as sugar water from feeders. Pay attention to when and where your hummingbirds feed so you can ensure they have a steady supply of food.
Nesting: Female hummingbirds build small nests in trees or bushes. These nests are often hard to spot because they are so small, but keep an eye out for any potential nesting sites in your garden.
Mating: During mating season, male hummingbirds will put on elaborate displays to attract females. This can involve impressive aerial maneuvers and displays of brightly colored feathers.
Flying: Hummingbirds are incredibly agile fliers and can hover in mid-air, fly backwards, and make sudden turns and stops. They are also very territorial, and will often chase away other hummingbirds that come too close.
Understanding Abnormal Behavior
While most hummingbird behavior is perfectly normal, there are some behaviors that can indicate that a bird is unwell or stressed.
Some signs of abnormal behavior include:
Lethargy or inactivity: If a hummingbird seems less active than usual or spends a lot of time perched in one spot, this could indicate that it is unwell.
Disheveled feathers: Healthy hummingbirds have well-groomed feathers, so if a bird's feathers look unkempt or dirty it could indicate that it is unhealthy or stressed.
Aggression: While some territorial behavior is normal, excessive aggression can be a sign that a hummingbird is stressed or unwell.
Steps To Control Aggressive Behavior
If you notice that one of your hummingbirds is exhibiting aggressive behavior towards other birds or humans, there are some steps you can take to address the issue:
Provide plenty of food and water: Aggression can be a sign that a bird is stressed or hungry, so make sure your hummingbirds have access to plenty of food and water.
Increase the number of feeders: Adding extra feeders can help to reduce competition for food and minimize aggressive behavior.
Create hiding spots: Providing places for birds to hide in your garden can help to reduce territorial behavior.
Remove problem birds: If one particular bird is causing problems, you may need to remove it from your garden temporarily to allow the other birds to feed in peace.
Observing and controlling hummingbird behavior can be an enjoyable and educational experience for all involved.
By paying attention to your birds and providing them with the right conditions, you can help them to thrive in your garden.
Health And Safety Measures For Hummingbirds
Hummingbirds are beautiful and fascinating creatures that require special care when being raised. To ensure that these tiny creatures thrive, it is essential to take specific health and safety measures.
In this section, we will discuss common health issues for hummingbirds, actions to take when injured hummingbirds are found, and tips for keeping hummingbirds safe from predators.
Common Health Issues For Hummingbirds
Dehydration: Hummingbirds require regular fluid intake to maintain their energy levels. Dehydration is common, especially during hot weather.
Malnutrition: Feeding hummingbirds a diet of sugar water alone can lead to malnutrition. They also need enough protein and vitamins in their diet to sustain their bodies.
Parasites: Mites are a common issue that hummingbirds face.
Injuries: Hummingbirds are vulnerable to injuries, including broken wings, leg injuries, and eye injuries.
Actions To Take When Injured Hummingbirds Are Found
Approach with caution: If you find an injured hummingbird, approach it slowly and calmly to avoid causing any further injury.
Inspect injury: Assess the hummingbird's injury before picking it up.
Place in a dark box: Place the hummingbird in a dark box to help calm it down.
Keep warm: Keep the box in a warm and quiet room to reduce stress and shock.
Find a local rehab facility: It is important to immediately contact a local wildlife rehabilitation facility to obtain medical help for the bird.
Tips For Keeping Hummingbirds Safe From Predators
Location: Keep hummingbird feeders and nesting areas away from areas where predators may lurk, such as bushes, shrubs, and low hanging tree branches.
Hummingbird feeders: Hang hummingbird feeders high to make it difficult for predators such as cats and raccoons to reach them.
Shelter: Provide shelter such as trees and shrubs nearby for the hummingbirds to find refuge.
Monitoring: Keep an eye on the hummingbirds and their surroundings to prevent access to predators.
By following these health and safety measures, you can raise healthy hummingbirds and keep them safe from harm.
Remember to contact a local wildlife rehabilitation facility if you find an injured hummingbird, and take preventative measures to protect them from predators.
FAQ About Raising a Hummingbird
How Long Do Hummingbirds Live In Captivity?
Hummingbirds can live up to 5 years in captivity with proper care.
What Do Baby Hummingbirds Eat?
Baby hummingbirds, also known as chicks, are fed a diet of nectar and insects by their mother.
How Do You Train A Hummingbird To Eat From Your Hand?
Hold a feeder filled with nectar in your hand, and stay as still as possible until the hummingbird comes to feed.
Do Hummingbirds Need A Special Kind Of Water To Drink?
Hummingbirds prefer clean, fresh water and will drink from bird baths or clean puddles.
How Can I Help Preserve Hummingbird Populations?
Plant nectar-rich flowers, avoid pesticides, and provide a water source to help maintain healthy hummingbird populations.
Conclusion
Successfully raising a hummingbird requires a lot of patience, attention, and care. Even though they are tiny and delicate creatures, hummingbirds are strong and resilient. By providing them a healthy environment with plenty of nectar, insects, and fresh water, you can contribute to preserving their precious existence.
Hummingbirds are fascinating birds that can bring joy and happiness to our lives. Observing them can help us appreciate the wonders of nature and the beauty of small things. Being a responsible caregiver to a hummingbird is not only a rewarding experience but also a way to contribute to our planet's biodiversity.
Whether you are a nature lover or an animal enthusiast, raising a hummingbird can be a fulfilling and unforgettable experience. Let's cherish and protect these amazing creatures, and let them continue to brighten up our world with their unique beauty and charm.