Why Do I Keep Finding Dead Hummingbirds? 8 Reasons!
Hummingbirds may die due to various reasons, including exhaustion, malnutrition, disease, or predator attacks.
Hummingbirds are small, delicate creatures with high-energy requirements. They have a rapid metabolism, requiring them to consume large quantities of nectar and insects to sustain their energy levels.
Their tiny size, coupled with their vibrant colors, also makes them highly susceptible to predation.
As a result, numerous factors can cause these birds to die, such as exhaustion, food scarcity, illness, or being targeted by predators.
Exhaustion: Hummingbirds need to rest frequently, and long migrations or extended periods of activity can lead to exhaustion and death.
Malnutrition: Inadequate food sources, particularly during migration or extreme weather, can cause hummingbirds to die from starvation.
Disease: Hummingbirds are susceptible to various diseases and parasites that can weaken their immune system or cause fatal infections.
Predation: Birds of prey, cats, and even large insects can target hummingbirds, often resulting in their death.
Exhaustion is a significant factor in hummingbird mortality due to their high-energy requirements.
These birds must consume a large amount of food daily to maintain their energy levels, and this leads to a constant search for food sources.
During long migrations or extended periods without rest, hummingbirds can easily become exhausted and succumb to death.
Ensuring adequate food and resting opportunities in your garden can help support the survival of these beautiful creatures.
8 Common Reasons of Death in Hummingbirds
| Reasons | Explanations |
| --- | --- |
| Window collisions | Hummingbirds may fly into windows and die from the impact. Reflective windows can be confusing for birds as they see the reflection as an extension of the landscape. |
| Pesticides | Exposure to pesticides can result in weakened hummingbirds, which may die as a consequence. Pesticides can also poison hummingbirds directly if consumed through contaminated nectar. |
| Lack of food | Hummingbirds have high metabolic rates and need continuous access to food sources. If they cannot find enough food, they may not have the energy to maintain body functions and could die. |
| Predators | Hummingbirds may fall victim to predators like larger birds, reptiles, or mammals, which could leave their carcasses around your property. |
| Disease | Hummingbirds can fall ill from diseases, which could lead to their death. Infectious diseases can spread rapidly among bird populations. |
| Harsh weather conditions | Hummingbirds are vulnerable to harsh weather conditions like extreme heat or cold. These conditions can be difficult for them to survive and may lead to death. |
| Exhaustion during migration | Hummingbirds migrate long distances, and some may not have enough energy reserves to complete their journey, leading to exhaustion and death. |
| Inappropriate nesting sites | If hummingbirds choose nesting sites that are exposed to harsh weather or predators, their chances of survival decrease significantly. |
8 Common Reasons of Death in Hummingbirds
Key Takeaway
Dead hummingbirds can be found due to various reasons including natural causes, window collisions, and human-related factors.
Climate change and habitat loss have significant impacts on hummingbird populations.
Providing a safe and sustainable environment for hummingbirds can help reduce their mortality rate.
Educating yourself and others about hummingbird behavior and conservation can help protect these delicate creatures.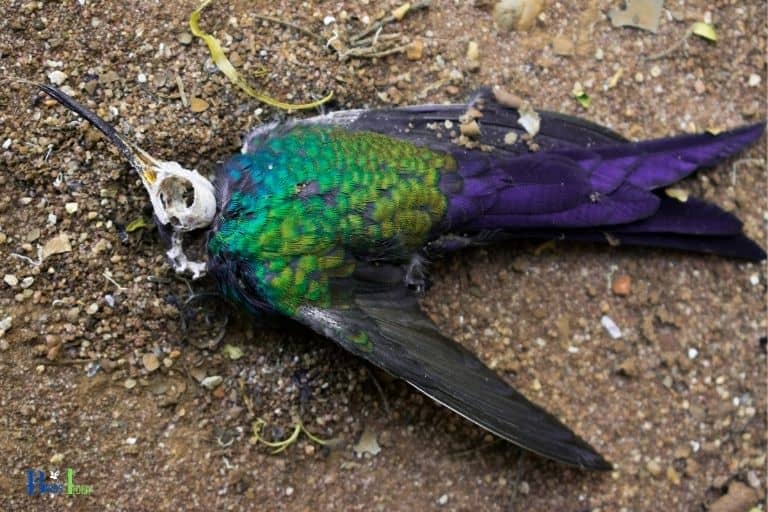 Five Facts About Hummingbird Death
Hummingbirds usually have an average lifespan of 3-5 years, but many die within their first year due to predation, disease, and harsh weather conditions (source: National Wildlife Federation).
A common reason behind finding dead hummingbirds is window collisions. They often mistake the reflection of landscapes in glass for actual trees and vegetation, causing fatal crashes (source: American Bird Conservancy).
Pesticides and other chemical pollutants in the environment can also be fatal for hummingbirds, as they affect their food sources and cause poisoning (source: National Wildlife Federation).
Some birds, including hummingbirds, are sensitive to climate change as it disrupts their feeding, breeding, and migration patterns, resulting in population decline and increased mortality rates (source: National Audubon Society).
Providing a safe environment for hummingbirds in your yard, such as using native plants, providing fresh nectar and water, and avoiding pesticide use, can help reduce the number of dead hummingbirds you may encounter (source: Hummingbird Society).
The Beauty And Fragility Of Hummingbirds
The sight of a tiny, iridescent hummingbird hovering over a flower is awe-inspiring. These feathered jewels, with their rapid wing beats that allow them to move forwards and backward, are truly remarkable.
But their ethereal beauty belies their fragility, and these delicate creatures face numerous challenges in their environment.
Here's a closer look at the unique characteristics of hummingbirds, their importance in the ecosystem, and their fragile and vulnerable nature.
The Unique Characteristics Of Hummingbirds
Hummingbirds are the smallest birds in the world, but they have enormous wings for their size, enabling them to hover and fly in any direction.
Their wings can beat anywhere between 50 to 200 times per second, depending on the species, allowing them to hover in mid-air and feed from flowers and feeders.
Their long slender beaks help them to feed from flowers with long tubular shapes, such as the fuchsia, allowing them to reach the nectar inside.
They are brightly coloured and often iridescent, with a unique metallic sheen. This iridescence is due to the structural colouration of their feathers, which creates a dazzling array of colours depending on the angle of light.
Their Importance In The Ecosystem
Hummingbirds play a vital role in pollinating flowers, plants, and trees, helping to ensure that these flora can reproduce.
They are attracted to red, orange, and pink flowers, which often contain the most nectar, and therefore are critical pollinators for these species.
Hummingbirds are also a source of food for predators, including hawks, falcons, and cats.
Hummingbirds are particularly important pollinators in areas where bees are scarce, including high elevation habitats such as the andes mountains, where they help to pollinate crops and flowering plants.
Their Fragility And Vulnerability
Hummingbirds face numerous threats in their environment, including habitat destruction, climate change, and pesticides, which can reduce the availability of nectar and decimate their populations.
Some species of hummingbirds have declined dramatically in recent years, with several species now listed as endangered.
Their high metabolism requires them to eat almost constantly, and if they cannot find enough food, they may starve.
Hummingbirds are also vulnerable to window collisions, which can cause serious injuries, including death.
The beauty and fragility of hummingbirds are closely intertwined. These unique birds play a vital role in the ecosystem by pollinating plants and flowers, but they also face numerous challenges.
Their delicate nature requires us to take steps to protect them, including preserving their habitat, reducing pesticide use, and preventing window collisions.
By doing so, we can help to ensure that these stunning creatures continue to grace our gardens and open spaces for generations to come.
Common Causes Of Hummingbird Deaths
Hummingbirds are tiny and delicate creatures that can bring joy to our lives. Sadly, they often face different threats that can result in their untimely death.
Below are the most common causes of hummingbird deaths:
Window Collisions
Window collisions are one of the top causes of hummingbird deaths. Due to their small size and high speed, hummingbirds find it challenging to detect glass surfaces in their path. As a result, they can collide with windows and suffer severe injuries or die.
Here are some reasons why window collisions happen:
Reflections: Hummingbirds can mistake their reflections in the window for another bird, leading to aggressive behavior that can result in collisions.
Transparency: Glass is transparent, and this can make it difficult for hummingbirds to detect a barrier, especially when it reflects the surrounding environment.
Confusing environment: When hummingbirds fly in unfamiliar environments, they are more prone to collide with windows.
Predation By Pets And Wildlife
Predation by other animals such as cats and hawks is another significant threat to hummingbirds.
While cats see hummingbirds as prey, they are often attracted to their fast and flashy movements. Hawks, on the other hand, hunt hummingbirds as part of their natural food chain.
To reduce predation by pets and wildlife, you can try these measures:
Predation by pets: Keeping your pets indoor can help prevent predation on hummingbirds as well as other wildlife.
Predation by wildlife: One way to prevent predation by wildlife is to place your hummingbird feeders in areas that make it difficult for predators to access them.
Lack Of Food And Water Sources
Hummingbirds need a constant supply of nectar to fuel their energy needs, especially during migration. Lack of adequate food and water sources can result in severe health problems and even death.
Here are some reasons why hummingbirds may lack food and water sources:
Habitat destruction: Habitat loss is one of the leading causes of hummingbird deaths. Destruction of their natural habitat such as deforestation can result in the loss of food and water sources for hummingbirds.
Climate change: Changes in climate patterns such as droughts can result in the loss of nectar-producing flowers that hummingbirds feed on.
Climate Change
Climate change is a global issue that affects all living creatures, including hummingbirds. Changes in climate patterns can result in the loss of habitat, which can lead to declining populations of hummingbirds.
Some effects of climate change on hummingbirds are:
Altered migration patterns: Changes in temperature and rainfall patterns can alter the timing of migration for hummingbirds, which can disrupt their breeding and feeding habits.
Loss of food sources: With changes in temperature and rainfall patterns, some nectar-producing flowers may not bloom at the right time, reducing the availability of food for hummingbirds.
Pesticide And Insecticide Poisoning
Pesticides and insecticides are commonly used in gardens and agricultural fields to control pests. However, their use can have detrimental effects on hummingbirds, including death.
Here are some reasons why pesticide and insecticide poisoning can occur:
Direct ingestion: Hummingbirds can directly ingest pesticides and insecticides by consuming contaminated nectar and prey.
Indirect ingestion: Hummingbirds can indirectly ingest pesticides and insecticides by consuming contaminated insects, which subsequently affect their health.
To prevent pesticide and insecticide poisoning:
Use natural pest control methods instead of chemicals.
Avoid spraying pesticides or insecticides near hummingbird feeders.
Hummingbirds are precious creatures that deserve our protection and care. By implementing different measures such as preventing window collisions, reducing predation by pets and wildlife, and providing adequate food and water sources, we can ensure their survival for generations to come.
Preventing Hummingbird Deaths
Hummingbirds are one of the tiniest and most beautiful creatures that bring joy to our backyard and gardens. Unfortunately, these little birds are susceptible to getting injured, or worse, dying due to human-made factors.
Here are a few simple steps to prevent hummingbird deaths:
Placing feeders and flowers away from windows and obstacles: Since hummingbirds fly at high speeds, they can't avoid the obstacles in their path. You can help prevent accidents by placing feeders and flowers away from windows, doors, and other objects that can cause collision.
Creating a safe and friendly backyard for hummingbirds: Adding plants that produce food, such as nectar and seeds, in your backyard will help attract hummingbirds. Ensure there are no dangerous structures, like barbed wires, inside your backyard that can harm the birds.
Reducing the use of pesticides and insecticides: These chemicals are toxic to hummingbirds, and exposure to them can be fatal. To prevent hummingbird deaths, reducing the use of pesticides and insecticides can be a significant help.
Participating in conservation efforts: Hummingbirds face significant habitat loss and climate change challenges. To ensure hummingbirds' survival, participate in conservation efforts like supporting the creation of habitat corridors, stopping the proliferation of cell towers, and creating public hummingbird-friendly spaces.
By taking simple steps and keeping the above points in mind, we can create a hummingbird-friendly environment that ensures their well-being and prevents their deaths.
The Role Of Individuals In Hummingbird Conservation
Hummingbirds are important pollinators, and their disappearance can severely affect the balance of the ecosystem. Every individual can make a difference in protecting them from extinction.
Here are some ways people can help:
Raising Awareness About The Importance Of Hummingbirds In The Ecosystem
Educate people about the vital role of hummingbirds in pollinating flowers and trees.
Share information about the impact of habitat loss, climate change and pesticides on hummingbirds.
Encourage people to plant nectar-rich flowers, trees, and bushes that hummingbirds love.
Encouraging Participation In Conservation Efforts
Participate in citizen science projects to collect data and monitor the hummingbird population in the area.
Support conservation organizations that work to protect hummingbirds through donations or volunteering.
Install hummingbird feeders and maintain a clean supply of nectar to attract them to the area.
Advocating For Policies And Regulations To Protect Hummingbirds
Lobby for policies that reduce or eliminate pesticide use and protect habitats for hummingbirds.
Advocate for the regulation of the pet trade to ensure that it doesn't impact the wild hummingbird population.
Support the creation of protected areas specifically designed to preserve the habitat of hummingbirds.
Every individual can play a crucial role in protecting hummingbirds and ensuring their survival.
By advocating for their conservation, raising awareness about their importance and taking direct action, we can protect these tiny yet essential creatures of the ecosystem.
FAQ On Dead Hummingbirds
Why Are Hummingbirds Dying?
Hummingbirds might die due to disease, window collisions, pesticide exposure, and starvation.
What Should I Do If I Find Dead Hummingbirds?
Report the finding to your local wildlife agency or rehabilitation center, or bury the bird.
Do Hummingbirds Die After Laying Eggs?
It is possible for female hummingbirds to die after laying eggs due to exhaustion or stress.
How Can I Prevent Hummingbird Deaths In My Yard?
Place collision-avoidance stickers on your windows, avoid using pesticides, and provide food and water.
Can Climate Change Affect Hummingbird Populations?
Yes, climate change affects the blooming of flowers hummingbirds feed from and their migratory patterns.
Conclusion
After all the discussion, it is evident that hummingbirds are delicate creatures, and even small disturbances in their environment can take a toll on their lives. Pesticides, predators, glass windows, and dehydration are the most common reasons for finding dead hummingbirds.
By doing little things like placing feeders in a safe place, turning off outdoor lights at night, and planting native plants, we can create a safer habitat for these beautiful creatures.
Even the smallest actions can make a significant difference in the hummingbirds' survival rate. It is also vital to report dead hummingbirds to local wildlife organizations to help build a better understanding of the overall decline in their population.
By learning how to care for hummingbirds, we can all make a difference in their future, ensuring they continue to bring joy to our backyards. Let us take care of these tiny wonders and enjoy their presence for many years to come.