Hummingbird Feeder Smells Like Vinegar: Fermentation!
Hummingbird feeder smells like vinegar because it is a sign of fermentation or bacterial growth in the nectar, which makes the solution unsuitable and potentially harmful for hummingbirds.
When a hummingbird feeder is not cleaned regularly or the nectar solution is left out too long, it can develop a vinegar-like smell. This is because bacteria and molds begin to grow in the sugary solution, causing it to ferment.
The fermentation process produces acetic acid, which is the primary component of vinegar and is responsible for its characteristic smell. This makes the nectar unattractive and potentially harmful to hummingbirds.
Fermentation or bacterial growth in the nectar causes the vinegar smell
Acetic acid production during fermentation is responsible for the smell
Unclean feeders or old nectar can lead to bacterial growth
Fermented nectar can be harmful to hummingbirds
To prevent your hummingbird feeder from smelling like vinegar, it is essential to clean the feeder regularly and replace the nectar every few days, especially in hot weather.
Use a mild soap solution and a brush designed for cleaning bird feeders to ensure all bacteria and molds are removed. Rinse the feeder thoroughly and allow it to dry before refilling with fresh nectar.
This will help maintain a healthy and attractive environment for your hummingbird visitors.
5 Causes About Hummingbird Feeder Smells Like Vinegar:
| | | |
| --- | --- | --- |
| Cause of Vinegar Smell | Potential Problems | Solutions |
| Fermentation of Nectar | Attracts unwanted insects, can be harmful to hummingbirds | Empty the feeder, clean it thoroughly, and refill with fresh nectar |
| Old Nectar | Can harbor mold and bacteria, unhealthy for hummingbirds | Regularly change the nectar, ideally every 3-5 days, or more frequently in hot weather |
| Contamination from nearby objects | Can affect the nectar's freshness, potentially harmful to birds | Position the feeder away from potential contaminants, like plants and trees that may drop residue into the feeder |
| Poor-quality premade nectar | May contain additives or preservatives that create odors | Switch to a higher-quality nectar, or make your own using 1 part sugar to 4 parts water |
| Inadequate cleaning | Bacteria and mold can cause a vinegar smell | Clean the feeder with a mild detergent, using a brush to reach all nooks and crannies, and rinse thoroughly before refilling |
5 Causes About Hummingbird Feeder Smells Like Vinegar:
Key Takeaway
Vinegar smell in a hummingbird feeder is a sign of fermented nectar.
Fermented nectar can be harmful to hummingbirds, affecting their health and ability to fly.
Regularly cleaning and maintaining the feeder prevents the formation of vinegar smell.
Using a mild bleach solution can help remove any lingering smell and sanitize the feeder.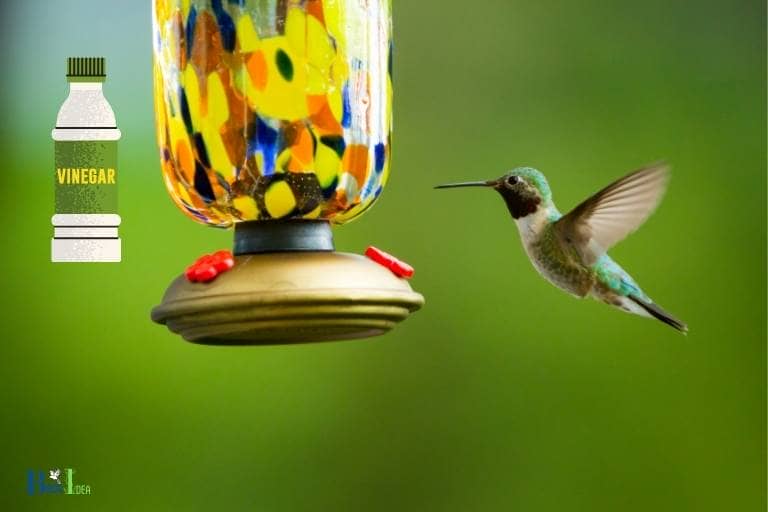 Five Facts About: Hummingbird Feeder Smells Like Vinegar
The vinegar smell is caused by the natural fermentation process that occurs when sugar mixes with water, producing ethanol and acetic acid (Source: Journey North).
Fermented nectar is not suitable for hummingbirds as it can cause disorientation, difficulty in flying, and may lead to other health issues (Source: Birds and Blooms).
To prevent fermentation, it is essential to change the nectar in the feeder every 2-3 days or more frequently in warmer weather (Source: Wild Birds Unlimited).
Cleaning the feeder with hot water and a mild solution of dish soap helps maintain a healthy environment for the hummingbirds (Source: The Hummingbird Guide).
A bleach solution of one part bleach to nine parts water can be used to clean and sanitize the feeder, removing any lingering vinegar smell. Make sure to rinse it thoroughly before refilling with fresh nectar (Source: Wild Birds Unlimited).
Wild Yeast Overgrowth
Hummingbird feeders are a popular way to attract these tiny and delightful birds to your garden, providing an up-close and personal interaction with nature. However, what happens when your hummingbird feeder smells like vinegar?
The answer may lie in wild yeast overgrowth.
In this section, we will delve into the explanation of wild yeast overgrowth, factors contributing to yeast overgrowth, and prevention of such overgrowth.
Explanation Of Wild Yeast Overgrowth
Wild yeast is a strain of yeast that occurs naturally in the environment and can be found on almost anything, including fruits, flowers, and insects.
When the temperature is right, yeast can grow and flourish, causing overgrowth in your hummingbird feeder.
When this happens, it produces a vinegary odor, which might cause the hummingbirds to avoid drinking from the feeder and hinder your visits from these feathered friends.
Factors Contributing To Yeast Overgrowth
Several factors can contribute to wild yeast overgrowth in your hummingbird feeder, including:
Temperature: Yeast thrives in warm climates, so if your feeder is in direct sunlight, it can cause the sugar-water mix to heat up, promoting yeast growth.
Fermentation process: The fermentation process occurs when the sugar solution is left undrained for too long, leading to the formation of alcohol, which eventually becomes vinegar with the help of wild yeast.
Sugar solution's concentration: Yeast tends to grow in higher-sugar solutions, so make sure to change the hummingbird feeder's sugar solution regularly and maintain the recommended concentration level.
Prevention Of Yeast Overgrowth
Preventing wild yeast overgrowth in your hummingbird feeder is simple.
Here are some tips to keep the yeast at bay:
Clean your feeder regularly: Unwashed hummingbird feeders promote bacterial and yeast growth, and cause the sugar solution to spoil quickly, leading to a strong vinegar odor. Clean your feeder thoroughly every week using warm, soapy water and a bottle brush to remove any sugar residue and rinse well.
Place your feeder in a shady area to keep it cool and discourage yeast growth.
Refill the feeder with fresh nectar every few days, making sure to discard any remaining solution before refilling to avoid fermentation.
Add a little white vinegar to your final rinse when washing your feeder, eliminating any remaining vinegary smell that might deter hummingbirds.
By following these simple steps, you can prevent wild yeast overgrowth in your hummingbird feeder, keeping it fresh and clean for the hummingbirds and enhancing your experience with these gorgeous birds.
Bacterial Contamination
Hummingbirds are fascinating creatures, and many people enjoy watching them as they feed from their nectar-filled feeders. However, finding out that your hummingbird feeder smells like vinegar can be a disconcerting experience.
Bacterial contamination could be the reason for this smell, and it's essential to understand what this means.
Explanation Of Bacterial Contamination
Bacterial contamination is a process that occurs when microorganisms, such as bacteria, grow on a surface and then spread to other areas.
In the case of hummingbird feeders, bacterial contamination can occur when bacteria grow in the nectar solution, causing it to spoil and emit a foul odor similar to that of vinegar.
Factors Contributing To Bacterial Contamination
Several factors could contribute to bacterial contamination in hummingbird feeders, including:
High temperatures: Warm weather can accelerate bacterial growth in nectar solutions and cause them to spoil more quickly.
Exposure to sunlight: If hummingbird feeders are exposed to direct sunlight, the heat generated can increase the temperature of the nectar solution and make it a breeding ground for bacteria.
Dirt and debris: Feeders that are not cleaned regularly can accumulate dirt and debris that could harbor bacteria.
Sugary substances: Nectar solutions with high sugar content are more prone to bacterial growth than those with lower sugar content.
Prevention Of Bacterial Contamination
Preventing bacterial contamination is critical to ensuring that hummingbirds remain healthy and safe while feeding.
Some steps that can be taken include:
Regular cleaning: Hummingbird feeders should be cleaned at least once a week to remove any dirt, debris, or mold that could be present.
Use of hot water: Clean feeders with hot, soapy water. Rinse them thoroughly with hot water, and allow them to dry completely.
Refilling with fresh solution: Old nectar should be discarded before being replaced with fresh nectar to prevent spoilage.
Avoidance of red dye: While some people might prefer to add red dye to nectar solutions to attract hummingbirds; this dye has no nutritional value, and it can be harmful to the birds. Therefore, it's essential to avoid using red dye in nectar solutions.
Bacterial contamination in hummingbird feeders can occur due to various factors, including high temperatures, exposure to sunlight, and lack of cleaning.
To prevent bacterial contamination, regular cleaning, the use of hot water during cleaning, and avoiding red dye in nectar solutions are essential steps that hummingbird enthusiasts should take to ensure their feeders remain safe and healthy for these delightful birds.
Disruption Of Feeding Habits
Explanation Of How Vinegar Smell Affects Feeding Habits Of Hummingbirds
Hummingbirds are attracted to the sweet nectar inside hummingbird feeders. However, the smell of vinegar can disrupt their feeding habits and deter them from visiting the feeder altogether.
This is because vinegar is acidic and has a strong, pungent smell that can overpower the scent of nectar and confuse the hummingbirds.
As a result, they may steer clear of the feeder, preventing them from getting the necessary nutrients they need to survive.
To prevent this from happening, it's important to keep your hummingbird feeder clean and free of any vinegar residue. Rinse it thoroughly with hot water and avoid using any harsh chemicals that may affect the nectar's taste or smell.
Additionally, you can try using a different type of hummingbird feeder or nectar recipe that doesn't contain vinegar.
Impact On Nutrition And Health
When hummingbirds are discouraged from feeding on a regular basis, it can have a significant impact on their nutrition and health.
Hummingbirds require a constant supply of nectar, which provides them with the necessary carbohydrates and energy they need to fly, forage, and hunt.
Without this vital food source, hummingbirds may become weak and susceptible to various diseases and infections.
Furthermore, vinegar can disrupt the ph balance of the nectar, making it less nutritious and harmful to the hummingbirds' health.
As a result, it's crucial to maintain a clean and healthy feeding environment to ensure the long-term well-being of these beautiful birds.
By following these simple guidelines, you can help to foster a safe and inviting environment for hummingbirds to feed in your backyard or garden.
With a clean and fresh supply of nectar, free from any unpleasant smells or contaminants, these vibrant and energetic birds will thrive and bring joy to your daily life.
Negative Impact On Population
Hummingbird feeders with a vinegar smell can negatively impact the population of hummingbirds. Not only is the odor unpleasant for humans, but it can also have detrimental effects on the birds themselves.
Read on to find out how the vinegar smell can impact these beautiful creatures.
Explanation Of How Vinegar Smell Negatively Impact Population Of Hummingbirds
The strong smell of vinegar can be overwhelming for hummingbirds
The smell can deter the birds from feeding from the feeder
The vinegar scent can mask the natural aroma of nectar, which can make the hummingbirds confused
Reasons Why Hummingbirds Might Avoid Vinegar-Smelling Feeders
Hummingbirds have a strong sense of smell which is used to locate feeders with nectar
Vinegar-scented feeders may appear to the birds as spoiled or contaminated nectar. Therefore, they may avoid feeding from such feeders.
The birds rely on their sense of smell to detect any potential predators, and a strong vinegar odor can mask these natural scents.
Long-Term Effects On Hummingbird Population
Without a steady source of nectar, hummingbirds may have to migrate or go hunting for other food sources
These changes can result in higher stress levels and a decline in hummingbird populations over time.
It's essential to keep the feeders clean and odor-free to attract as many hummingbirds as possible. Avoid using vinegar or any other strong-smelling cleaning substances, and opt for unscented soap instead.
This way, your hummingbirds can feed in peace, and your feeder frenzy can continue for years to come.
Cleaning And Sanitization
Hummingbird feeders are a great way to attract these fascinating creatures to your backyard. However, the sweet nectar can spoil and cause the feeder to smell like vinegar, which is not only unpleasant for the birds but also potentially harmful.
Proper cleaning and sanitization are essential to maintain the hummingbird feeder's hygiene and keep it free of mold and bacteria. In this blog post, we'll discuss in detail the steps for cleaning and sanitizing hummingbird feeders and the materials needed.
Detailed Steps For Cleaning And Sanitizing The Hummingbird Feeder
To keep your hummingbird feeder clean and free of harmful bacteria, follow these simple steps:
Start by taking the feeder apart and emptying any remaining nectar.
Rinse each part with warm water and use a soft-bristled brush to remove any dirt or debris.
Materials Needed For Cleaning And Sanitizing
Here are the materials needed to properly clean and sanitize a hummingbird feeder:
White vinegar
Water
Soft-bristled brush
Bottle brush
Make sure to have these materials on hand to ensure you can adequately clean and sanitize your hummingbird feeder regularly.
Regularly cleaning and sanitizing your hummingbird feeder is critical to the well-being of these social birds. Adhering to the steps outlined above and using the necessary materials will help you keep your feeder clean, free from harmful bacteria, and operating appropriately.
FAQ For Hummingbird Feeder Smells Like Vinegar
Why Does My Hummingbird Feeder Smell Like Vinegar?
Your feeder may smell like vinegar if it wasn't properly cleaned or if it's attracting bees.
Can Vinegar Harm Hummingbirds?
A small amount of vinegar won't harm hummingbirds, but it's best to use a mild dish soap to clean the feeder.
How Do I Clean My Hummingbird Feeder Without Vinegar?
Mix 1 part bleach to 9 parts water and clean the feeder with a bottle brush. Rinse thoroughly with water.
Why Are Bees Attracted To My Hummingbird Feeder?
Bees are attracted to sugar water, so make sure to hang your feeder in a shaded area and use an ant moat.
Conclusion
After trying out multiple ways to eliminate the vinegar-like scent from your hummingbird feeder, we conclude that prevention is the best solution.
Investing in a quality feeder with built-in protection against mold and bacteria growth, along with regular maintenance and cleaning, can help you avoid this problem altogether.
Additionally, you can try using a vinegar-based solution to clean your feeder thoroughly before refilling it with fresh nectar.
Remember, a happy and healthy hummingbird population in your backyard will enhance the beauty of your garden and bring a sense of joy to your daily routine.
We hope that the solutions presented in this article will help you continue to attract these tiny creatures and enjoy their presence without any unpleasant smell. Keep your feeders clean and your hummingbirds happy!