Make Snag Perches for Hummingbirds: Resting Spot!
To make snag perches for hummingbirds, you need to provide a comfortable and secure resting spot for these tiny creatures where they can observe their territory, preen, and take a break from feeding.
Snag perches are essential for hummingbirds as they spend 80% of their time perching. These perches can be natural like branches, or you can make them from readily available materials.
Providing snag perches in your garden will not only help these birds conserve energy but also give you a better opportunity to observe and enjoy their presence.
Choose an appropriate location: Install the snag perches near nectar-rich flowers to attract hummingbirds and give them a place to rest between feedings.
Use natural materials: Use small branches, twigs, or pieces of bamboo to create an authentic and comfortable perch for your hummingbirds.
Ensure proper height: The perches should be at least 4-6 feet above the ground, as hummingbirds prefer higher vantage points for safety.
Attach multiple perches: Provide more than one perch in your garden to accommodate multiple hummingbirds and reduce territorial disputes.
Creating snag perches for hummingbirds is a simple yet effective way to support these beautiful creatures and enhance your garden's appeal.
By providing a safe and comfortable resting spot, you can attract more hummingbirds to your garden, giving you a better opportunity to observe and appreciate their beauty. Additionally, snag perches can help conserve the bird's energy, which is crucial for their survival.
7 Step-by-Step Guide to Make Snag Perches for Hummingbirds
| | | | |
| --- | --- | --- | --- |
| Step Number | Description | Materials Needed | Duration |
| 1 | Choose a location | N/A | 5-10 min |
| 2 | Select a suitable branch or stick | Branch or stick | 10 min |
| 3 | Clean the branch or stick | Cloth and water/soap | 5 min |
| 4 | Secure the branch or stick | Twine or strong wire | 5-10 min |
| 5 | Attach the perch to a support structure | Support structure | 5-10 min |
| 6 | Adjust the height of the perch | N/A | 5 min |
| 7 | Monitor and maintain the perch | N/A | Ongoing |
7 Step-by-Step Guide to Make Snag Perches for Hummingbirds
Key Takeaway
Snag perches provide a comfortable resting spot for hummingbirds
Making your own snag perch can be an easy and cost-effective method
Attract more hummingbirds to your garden or backyard with these perches
A properly placed snag perch can help improve hummingbird observation opportunities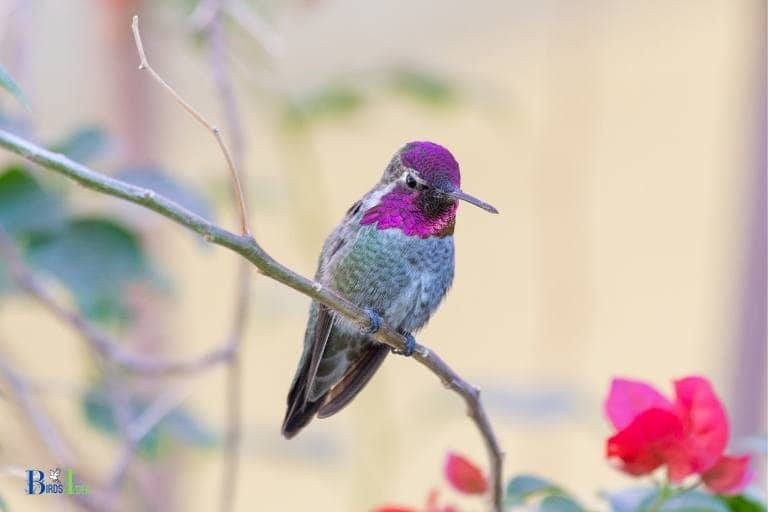 Five Facts About:  Hummingbirds and Their Snag Perches
Snag perches are dead branches or twigs on which hummingbirds can rest, preen, and keep watch over their territory. (Source: Bird Watcher's Digest)
To make a snag perch, you can use a dead branch or a wooden dowel rod, which is then attached to a tree, fence, or post, ensuring that it is secure and stable. (Source: Gardening Know How)
It is essential to place the snag perch in an open, visible location at least 6 feet off the ground and nearby nectar-producing flowers or a hummingbird feeder, making it easy for the birds to spot and access. (Source: Gardening Know How)
A well-placed snag perch can also help deter more aggressive species like sparrows and starlings from taking over hummingbird feeders, as these larger birds are less likely to perch on such an unstable and exposed branch.
Hummingbirds use the snag perch as an observation post for watching over their territory, making them more likely to return to your garden frequently if they feel secure in their
Attract More Hummingbirds With A Custom Perch
Hummingbirds are fascinating creatures to watch and attract. These tiny birds are super-fast and agile in maneuvering, making them a challenge to capture.
As an avid bird watcher or nature enthusiast, you can provide a haven for these birds by building a custom perch.
We'll discuss the reasons why you should consider building a snag perch, the benefits of having a perch, and the different types of snag perches you can create to attract more hummingbirds.
Understanding The Benefits Of Snag Perches For Hummingbirds
Snag perches are artificial or natural structures that provide hummingbirds with a resting place. Setting up a perch in your yard helps hummingbirds protect their territory, rest for a short period, and hunt their prey.
Additionally, they allow you to observe birds up close and maintain their chain of command, which is vital for attracting more hummingbirds.
Other advantages of a snag perch for hummingbirds include:
It facilitates courtship displays, which is important for mating. Males can display their vibrancy and strength by perching.
It reduces the frequency of fights among birds. During times when nectar and food are scarce, birds tend to fight over shared food and territory. Building a custom perch can give them an additional location to feed nearby and rest for a short period.
It attracts hummingbirds even if you don't have a bird feeder. If you're on a tight budget and can't afford a feeder, a custom perch can still make your yard interesting to hummingbirds.
Examining Different Types Of Snag Perches
When it comes to building snag perches, there are different types of materials you can use to create the perfect perching site.
Some popular options include:
Dead tree branches: These are popular choices as they mimic natural perches that hummingbirds usually use.
Natural items such as twigs, leaves, or flowers: This option is suitable for bird lovers that want to add a natural feel to their yard.
Pinecones: These are budget-friendly and mimic the structure and texture of natural perches.
Man-made perches: This option is ideal for someone who wants sole control over the height, location and type of perch they want.
No matter which type of snag perch you choose to build, be sure to install it at the right location in your yard. The perch should be placed away from hazards like predators and should not obstruct your view of the birds while observing them.
Now that you understand the importance of building a custom perch for hummingbirds and the various options available, you're better equipped to attract more birds with all the benefits that come with it.
Building a custom perch is a fun diy project that you can do with friends and family, and you'll proud knowing you've created a little sanctuary for beautiful hummingbirds to rest and feed.
Building Your Own Snag Perch: Step-By-Step Guide
Make Snag Perches For Hummingbirds
Hummingbirds are fascinating creatures to watch in your backyard. If you're looking to attract them, building a snag perch can be a fun and easy diy project.
This guide will teach you how to build a snag perch for hummingbirds step-by-step, along with some design considerations and materials needed for the project.
Materials Needed For Building A Snag Perch
Before starting, make sure you have the following materials:
Dead branches: Find sturdy branches of different diameters, lengths, and shapes. They should have a little flexibility but break easily when bent. Cedar, pine, and oak are excellent options.
Pruning saw or small hand saw: To cut branches down to size.
Drill or wood screw: To attach branches to each other.
Sandpaper: To sand down any rough edges or splinters.
Optional: A hanging hook or mounting bracket.
Design Considerations For Your Snag Perch
When selecting branches, consider the following design factors:
Height: The perch should be at least 4 feet off the ground to avoid predators and provide a clear view for hummingbirds.
Branch angles: Branches should be placed at different angles to offer hummingbirds a variety of perching positions. Varying the angle can also help prevent water from collecting on top of branches.
Perch size: Each perch should be large enough to accommodate a hummingbird. The diameter can vary from 1/4 inch to 1/2 inch.
Perch number: Plan to add 2-3 perches to your snag perch so multiple hummingbirds can rest at once.
Preparing And Building Your Snag Perch
Follow these steps to build your snag perch:
Cut dead branches into desired lengths, being careful not to damage any living branches.
Remove any twigs or leaves from the branches.
Sand down any sharp or rough edges.
Choose your branch placements. You want to set up the perch so hummingbirds can approach it from multiple angles.
Drill or screw the branches together, making sure they're sturdy.
Attach a hanging hook or mounting bracket to your snag perch.
Hang the snag perch in a visible area with easy access to your hummingbird feeder.
Building a snag perch for hummingbirds is a simple diy project that can bring these beautiful creatures to your backyard. By providing them with a secure and elevated place to rest, you'll attract more hummingbirds and create an exciting natural environment in your yard.
Adding A Hummingbird Feeder To Your Snag Perch
Make Snag Perches For Hummingbirds
Hummingbirds are beautiful and adorable creatures that are attracted to tasty nectar-rich flowers and hummingbird feeders.
A snag perch can be an excellent spot to watch hummingbirds. Adding a hummingbird feeder to your snag perch can be an ideal way to attract these tiny birds.
Here is how to do it.
Overview Of Hummingbird Feeders
Hummingbird feeders are specially designed to mimic the nectar found in flowers, and they are essential for attracting hummingbirds to your yard.
Here are some key features of hummingbird feeders to keep in mind:
Hummingbird feeders come in a variety of shapes, sizes, and materials but most often made of glass, plastic or ceramic.
They have ports for the birds to feed from, and it's best to choose a feeder with several ports so that multiple birds can feed at once.
Feeders are easy to clean and fill with nectar.
It's crucial to place your feeder in an area that hummingbirds can easily access, such as in your snag perch.
Choosing The Right Feeder
Selecting the right feeder can make a difference in attracting more hummingbirds to your yard.
Here are the key factors to keep in mind while choosing the right hummingbird feeder:
Pick a feeder with bright, bold colors that can attract hummingbirds from a distance.
Look for a feeder with perches or an extended base to provide the birds with a place to rest while drinking nectar.
Choose a feeder of the right size and capacity. If you have a lot of hummingbirds in your area, buy a larger feeder to accommodate more birds and if you're not seeing birds in your feeder, consider a smaller size feeder with few ports as birds may not feel secure with larger feeders.
Go for a feeder that is easy to clean and fill with nectar. The nectar in the feeder must not be left to get spoiled.
Installing The Feeder On Your Snag Perch
Once you have chosen the right hummingbird feeder, it's time to install it on your snag perch.
Here are some of the steps to follow:
Choose the right location for your feeder. It should be in a shaded area, protected from the wind and safe from predators like cats.
Hang the feeder at eye level so that you can easily observe the birds as they feed.
Keep the feeder away from any windows to prevent the birds from flying into them.
Regularly refill the feeder with nectar to keep the birds visiting your snag perch.
By following these simple steps, you can create an inviting and comfortable place for hummingbirds to feed and rest in your yard. Enjoy watching the beautiful, delicate hummingbirds dart around your snag perch as they sip on nectar from your feeder.
Maintaining Your Snag Perch And Hummingbird Feeder
Hummingbirds are such fascinating creatures to watch, and if you want to attract them to your garden, setting up a snag perch and hummingbird feeder is a great way to do it.
Now that you've managed to construct and place your snag perch and hummingbird feeder in a strategic location, it's essential to maintain them to ensure your winged visitors stay happy and healthy.
Here's what you need to do:
Cleaning And Refilling Your Feeder
One of the most critical aspects of maintaining your hummingbird feeder is to keep it clean. A dirty feeder can lead to serious health problems for the hummingbirds that feed from it.
Here's how you can keep your feeder clean and full:
Wash the feeder using a solution of one-part white vinegar to four-parts water. Scrub the feeder inside and out with a bottlebrush or other soft-bristled brush. Rinse thoroughly with clean water and dry it before refilling.
Refill the feeder with homemade nectar or store-bought hummingbird food. You can make your own sugar solution by mixing one-part white granulated sugar with four-parts water. Boil the water first to remove any impurities, and let it cool completely before adding sugar.
Hang the feeder in a spot where it's visible to the hummingbirds, but away from direct sunlight.
Regular Maintenance For Your Snag Perch
A snag perch, like any other outdoor element, needs regular maintenance.
The following are some tips to help you keep your snag perch in tip-top condition:
Inspect the snag perch regularly for any signs of damage and remove any loose or damaged branches.
Trim any branches that may obstruct the perch's view.
Remove any nests that may form on the perch to prevent contamination.
Clean the surface of the perch regularly with soap and water to remove any buildup of dirt or bird droppings.
Identifying And Addressing Common Issues
When it comes to maintaining a snag perch and hummingbird feeder, it's crucial to be able to identify and address common issues that may arise.
Some of these issues include:
Ants or other insects invading the feeder to prevent insects from invading your feeder, you can wrap a piece of twine or rope around the top of your feeder and coat it with vegetable oil or a slippery substance to prevent ants or insects from climbing up.
Leaking feeder if your feeder is leaking, this may be due to a defective part or incorrect assembly. Check all parts and seals for any damage and tighten any loose parts.
Mold growth in nectar mold growth can be harmful to hummingbirds. If you notice mold in your feeder, discard the nectar solution immediately, clean the feeder with soap and water, and fill it with fresh nectar.
A healthy and well-maintained snag perch and hummingbird feeder can help attract hummingbirds to your yard and provide you with the opportunity to observe these beautiful creatures up close.
By following these maintenance tips, you can keep your little friends happy and healthy all season long.
FAQ For Make Snag Perches For Hummingbirds
How Can I Attract Hummingbirds To My Yard?
Fill a feeder with nectar, plant native flowers & install snag perches at different heights.
What Are Snag Perches For Hummingbirds?
Snag perches are dead tree branches installed in your yard to help hummingbirds rest and watch over their feeding territory.
How Do I Make Snag Perches For Hummingbirds?
Select dead branches of various heights, clean them, drill holes, install shepherd hooks and place them at different heights.
How Far Apart Should Snag Perches Be Placed?
Place the snag perches about 15 feet apart from each other so hummingbirds can easily move between them.
Do I Need To Clean Snag Perches?
Yes, periodically examine snag perches for damage and decay, remove any spider webs, ants or debris and sanitize them with a bleach solution.
Conclusion
Creating snag perches for hummingbirds can be a fun and rewarding project. These perches provide a valuable resting spot for hummingbirds visiting your garden.
By using materials that are safe and easy to find, you can make a unique and attractive perch that will be appreciated by both the birds and your family and friends.
Remember to place your perch in a convenient location, near feeders or flowers, and within easy viewing distance.
As you watch the hummingbirds come and go, you'll know that you're providing a valuable resource for these tiny creatures as they continue their journey of migration.
So get creative and start making your own snag perches today!