What Are Black Crows Good For: Environment & Ecosystems!
Black crows are highly beneficial to the environment and ecosystems.
They help maintain ecological balance by consuming vast amounts of waste, serving as natural cleaners. These birds also aid in seed dispersal, which contributes to plant biodiversity.
Crows are known for their high intelligence and problem-solving abilities, which have been observed in various studies and experiments.
Black crows are essential to their habitats for several reasons:
Natural Waste Management: They eat carrion and waste, which helps to keep the environment clean.
Seed Dispersal: By consuming fruits and later excreting the seeds, they assist in spreading various plant species.
Ecosystem Balance: As both predators and prey, crows help to regulate populations of other species.
Intelligence: Their problem-solving skills have been showcased in numerous cognitive tests, indicating a level of intelligence that is rare among birds.
For example, crows have been known to use tools, such as twigs, to extract insects from tight spaces, showcasing their problem-solving capabilities.
Crows' adaptability and complex social structures not only intrigue scientists but also contribute significantly to the intricate web of life, ensuring the stability and continuity of their natural habitats.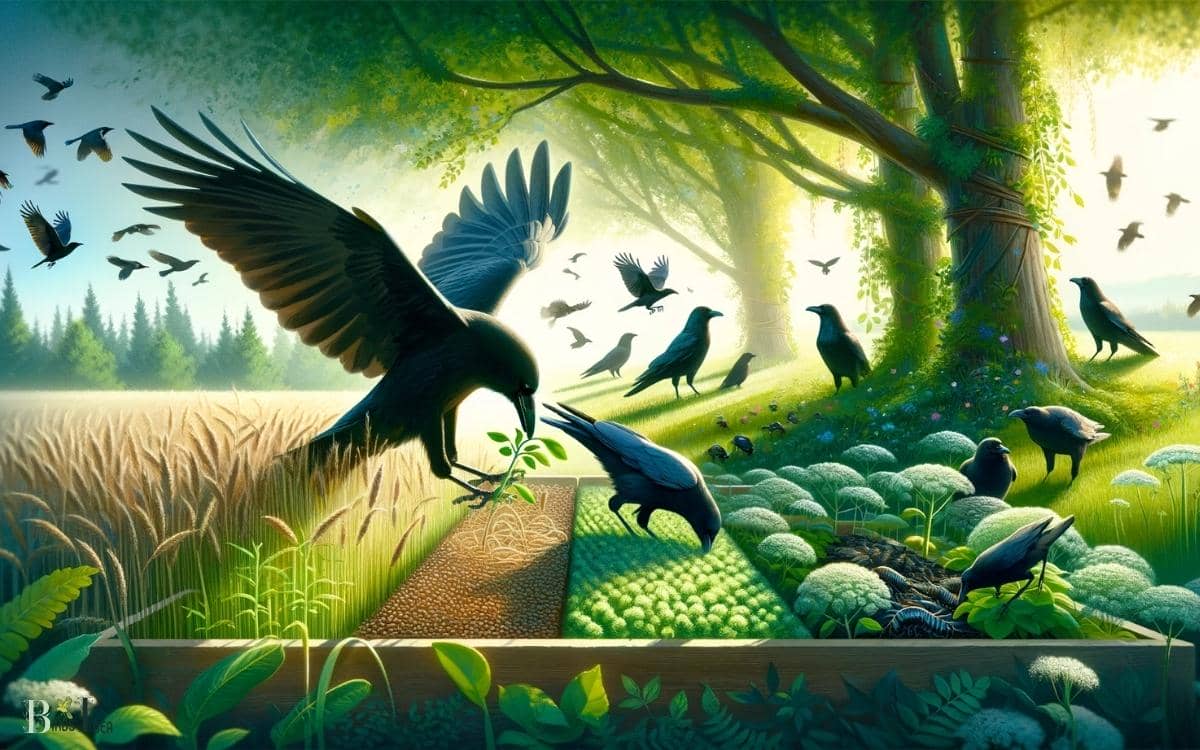 Key Takeaway
Black crows are intelligent problem solvers, capable of tool usage, recognizing human faces, and communicating with other crows.
They play a crucial role in ecosystem maintenance by scavenging carrion, controlling pest populations, and reducing the spread of diseases.
Crows contribute to seed dispersal by inadvertently spreading seeds through droppings and carrying seeds over long distances in their beaks, promoting the establishment of new vegetation and enhancing overall biodiversity.
As efficient scavengers of waste, crows consume a wide variety of food, including animal carcasses and decaying matter, thereby preventing the spread of diseases and contributing to the cleanliness and balance of habitats.
Intelligent Problem Solvers
Black crows are renowned for their exceptional problem-solving abilities, showcasing their intelligence through various behaviors.
They have been observed using tools to extract insects from tree bark and even modifying tools for more efficient use.
In urban environments, they have adapted to using cars to crack open nuts by placing them on roadways for the vehicles to run over.
Furthermore, studies have shown that they can remember human faces, differentiate between friendly and threatening individuals, and communicate these distinctions to other crows.
These remarkable problem-solving skills allow black crows to thrive in diverse environments, demonstrating their adaptability and resourcefulness.
Their intelligence and ability to solve complex problems make them a fascinating and valuable part of the natural world.
Ecosystem Maintenance
Black crows play a crucial role in ecosystem maintenance by contributing to seed dispersal, scavenging, and controlling pest populations.
As opportunistic feeders, black crows help disperse seeds of various plant species, aiding in the regeneration of forests and other vegetation.
Their scavenging behavior helps to clean up carrion, reducing the spread of diseases and maintaining overall hygiene in the environment.
Black crows are known to control pest populations by preying on insects, rodents, and other small animals, which can otherwise cause harm to crops and other wildlife.
Through these activities, black crows contribute significantly to the balance and health of their ecosystems, making them an essential part of the natural world.
Seed Dispersal
Continuing from their role in ecosystem maintenance, black crows significantly contribute to seed dispersal through their foraging and feeding behavior.
This process aids in the growth and diversity of plant populations, ultimately enhancing the overall health of the ecosystem.
Here's how they accomplish this:
Foraging Habits: Black crows are known for their scavenging behavior, which often involves the consumption of various seeds. As they move from place to place in search of food, they inadvertently disperse seeds through their droppings, effectively planting them in new locations.
Long-Distance Dispersal: Crows have the ability to carry seeds over long distances in their beaks, allowing for the redistribution of seeds to areas that may be out of reach for other seed dispersers.
Ecosystem Resilience: By dispersing seeds, black crows aid in the resilience of ecosystems, promoting the establishment of new vegetation and contributing to overall biodiversity.
Scavengers of Waste
One essential role that crows play in the ecosystem is serving as efficient scavengers of waste, contributing to the overall cleanliness and balance of their habitats.
Crows are opportunistic feeders, known for their ability to consume a wide variety of food, including carrion, garbage, and organic waste.
Their scavenging behavior helps to prevent the spread of diseases by removing animal carcasses and other decaying matter.
Cultural Significance
The scavenging behavior of crows, as an essential part of their role in the ecosystem, also holds cultural significance. Crows feature prominently in the folklore, mythology, and spiritual beliefs of many cultures around the world.
Their intelligence, adaptability, and complex social structures have led to various cultural interpretations.
Here are three examples of the cultural significance of crows:
Symbolism: In many cultures, crows are seen as symbols of mystery, intelligence, and transformation. They are often associated with magic, prophecy, and spiritual strength.
Literature and Art: Crows have been featured in countless literary works and artistic expressions, often representing themes of darkness, wisdom, and the unknown.
Spiritual Beliefs: Some cultures consider crows to be spiritual messengers or guardians, with the ability to bridge the gap between the physical and spiritual realms.
Conclusion
Back crows play a vital role in maintaining ecosystem balance through their intelligence, seed dispersal, waste scavenging, and cultural significance.
Their problem-solving skills and ability to thrive in various environments make them valuable contributors to their ecosystems.
Their presence in our world is essential for the health of our planet and the continuation of ecological processes.
Without them, the delicate balance of nature would be at risk.