What Are Crows Good For: Ecosystem!
Crows are highly beneficial to their ecosystems, offering services such as seed dispersal, pest control, and even cleaning up carrion.
Their intelligence facilitates complex problem-solving skills, which aids in their survival and interactions with other species.
Crows are more than just common black birds; they are integral to ecological health for several reasons:
Intelligence: Crows are among the smartest birds, capable of using tools and solving intricate problems.
Seed Dispersal: By eating fruits and dispersing seeds, crows help in the propagation of various plant species.
Pest Control: They consume harmful insects and rodents, naturally managing pest populations.
Scavenging: Acting as nature's clean-up crew, they eat carrion and reduce the spread of disease.
Crows play a vital role in ecosystem dynamics. Their presence not only symbolizes the complexity of nature but also ensures the stability of numerous environmental processes.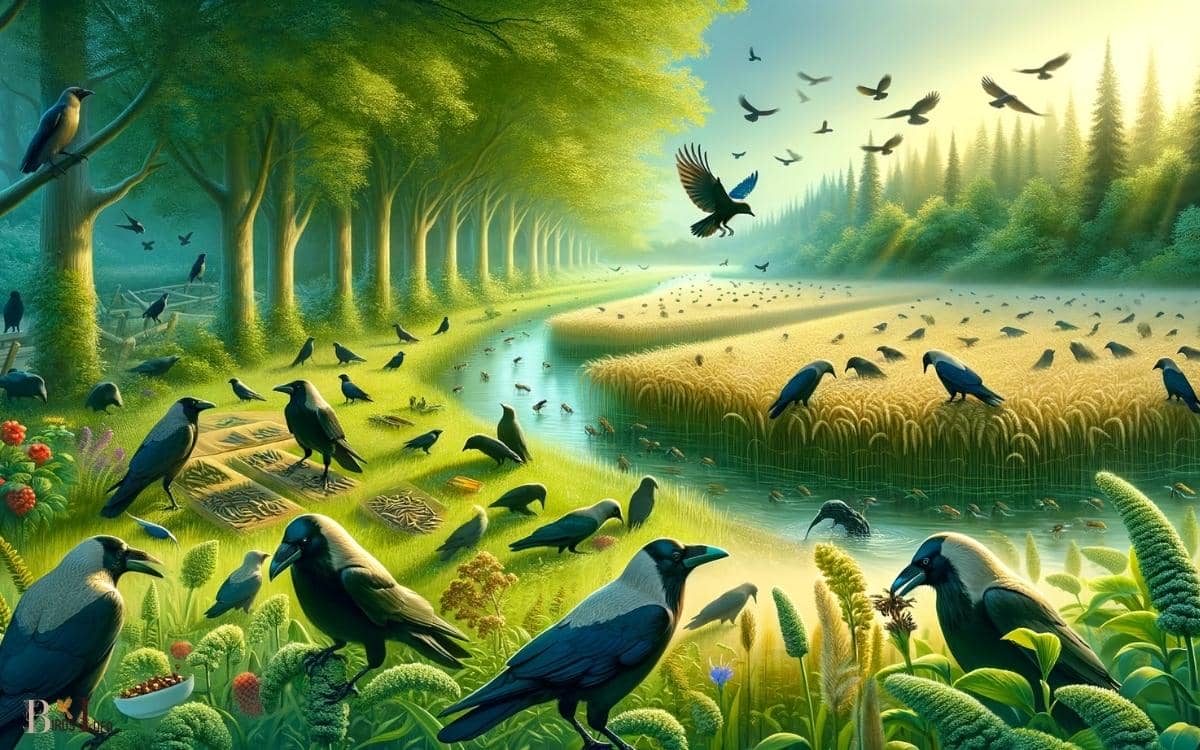 Key Takeaway
Crows possess advanced cognitive skills, including tool use and complex problem-solving abilities.
Crows contribute to seed dispersal and tree planting, aiding in the natural regeneration of vegetation and the diversity of ecosystems.
Crows provide natural pest control by preying on agricultural pests, reducing crop damage, and promoting sustainable farming practices.
Crows act as an ecological clean-up crew, assisting in the decomposition process, nutrient cycling, and keeping ecosystems clean and free from potential hazards.
Intelligence and Problem-Solving Abilities
Crows' intelligence and problem-solving abilities make them remarkable creatures in the animal kingdom.
These highly intelligent birds have demonstrated advanced cognitive skills, such as tool use, complex problem-solving, and even the ability to recognize human faces.
Their remarkable memory allows them to recall locations of food sources and remember human behaviors.
This intelligence has also been observed in their ability to adapt to new situations and learn from experience.
Crows' problem-solving abilities have been studied extensively, revealing their capacity to use tools creatively to obtain food and solve complex puzzles.
Their exceptional cognitive skills and adaptability set them apart as fascinating and valuable members of the animal kingdom.
This intelligence also plays a crucial role in their role in seed dispersal and tree planting.
Seed Dispersal and Tree Planting
Their role in seed dispersal and tree planting is significant, as crows contribute to the distribution and propagation of various plant species through their foraging and caching behaviors.
Crows are known to cache food items, including seeds, in various locations for later consumption. Inadvertently, they often fail to retrieve all the cached seeds, leading to the germination and growth of new plants.
This behavior aids in the dispersal and establishment of plant species, contributing to the diversity and regeneration of forests and ecosystems.
Furthermore, crows' foraging activities also play a role in seed dispersal, as they consume fruits and then disperse the seeds through their droppings in different locations.
This process helps in the natural regeneration of vegetation and the maintenance of healthy ecosystems.
The next section will delve into their contribution to pest control.
Contribution to Pest Control
Contribute to the control of pests, crows play a crucial role in regulating insect populations, particularly agricultural pests, by preying on them and reducing their numbers.
This natural pest control helps in minimizing crop damage and reducing the need for chemical pesticides, ultimately contributing to a healthier environment.
Crows are known to consume a variety of pests including grasshoppers, caterpillars, beetles, and other insects that can cause significant harm to crops.
By keeping these pest populations in check, crows contribute to the overall health and productivity of agricultural lands.
Their role in pest control not only benefits farmers but also promotes a more sustainable and eco-friendly approach to managing pest populations, aligning with the values of individuals who seek a balanced and harmonious coexistence with nature.
Ecological Clean-Up Crew
A key aspect of their ecological role, crows act as an efficient clean-up crew, scavenging and consuming organic waste in various ecosystems.
Their ability to consume a wide variety of organic matter, including carrion, insects, and plant material, helps to maintain ecological balance and reduce the spread of diseases.
By feeding on decaying organic matter, crows assist in the decomposition process, which contributes to nutrient cycling and soil health.
This behavior also helps to limit the presence of pests and potential disease vectors, benefiting both natural and human-made environments.
As scavengers, crows play a vital role in keeping ecosystems clean and free from potential hazards, highlighting their importance as ecological clean-up crew members.
Cultural Significance and Symbolism
Playing a significant role in various cultures and belief systems, crows are often regarded as symbols with deep cultural significance.
In many Native American cultures, crows are considered to be spiritual guides and messengers, symbolizing intelligence, adaptability, and the ability to navigate different realms.
In Japanese mythology, the Yatagarasu, a three-legged crow, is seen as a symbol of divine intervention and guidance.
Conversely, in some cultures, crows are associated with death and the afterlife, often depicted as omens of impending doom or carriers of souls to the other side.
Despite these varied interpretations, crows are consistently portrayed as powerful and enigmatic creatures, representing the duality of life and death, intelligence, and mystery.
Their cultural significance serves as a reminder of the complex and intertwined nature of the human experience.
Influence on Other Species
Crows play a crucial role in influencing other species within their ecosystems. Their impact on ecosystem balance, social learning behavior, and seed dispersal are significant aspects of their influence.
Understanding the ways in which crows affect other species sheds light on their importance and the intricate connections within the natural world.
Impact on Ecosystem Balance
Crows significantly influence the ecosystem balance by impacting the behavior and populations of other species through their foraging and scavenging activities.
They have a complex relationship with various species, often competing for resources and affecting the distribution of other animals.
Here is a table illustrating some of the ways crows can influence the ecosystem balance:
| Influence on Other Species | Description | Example |
| --- | --- | --- |
| Competition for Resources | Crows may compete with smaller birds for food and nesting sites | Chasing away smaller birds from feeding areas |
| Predator Influence | Crows may prey on smaller animals and birds | Hunting and consuming small mammals and nestlings |
| Scavenging Activities | Crows scavenge on carcasses, impacting the food availability for other scavengers | Displacing other scavengers from a food source |
Crows exert ecological influence through resource competition, predation on smaller species, and scavenging activities, shaping ecosystem dynamics by altering resource distribution and impacting the survival strategies of other organisms.
Crows' impact on the ecosystem balance is a complex and dynamic process that shapes the behavior and populations of various species.
Social Learning Behavior
Influencing other species, crows' social learning behavior plays a pivotal role in shaping the foraging and communication patterns of various animals within their ecosystem.
Crows are known for their intelligence and adaptability, and these traits enable them to influence the behavior of other species.
For example, studies have shown that when crows find food, they often vocalize their discovery.
Other species, such as smaller birds and mammals, have been observed to pay attention to these calls and learn to associate them with the presence of food.
This social learning behavior can have a significant impact on the foraging strategies of other species, allowing them to benefit from the crows' knowledge and observations.
Furthermore, crows' communication methods and problem-solving skills can also inspire and influence other species within their environment.
Seed Dispersal Role
Playing a significant role in the ecosystem, crows' seed dispersal activities contribute to the propagation of various plant species, influencing the distribution and growth patterns of vegetation within their habitat.
Crows aid in seed dispersal by consuming a variety of fruits and nuts, and then transporting the seeds to different locations through their droppings.
This process helps plants colonize new areas, thereby impacting the diversity and composition of plant communities.
Furthermore, the foraging behavior of crows can also influence the foraging behaviors of other species, such as insects and small mammals, leading to cascading effects on the ecosystem.
Understanding the intricate relationship between crows and plant species sheds light on the interconnectedness of ecosystems and the vital role that crows play in maintaining the balance of diverse habitats.
This insight has led to intriguing research and scientific discoveries regarding the ecological impact of crows' seed dispersal activities.
Research and Scientific Insights
How extensively have scientific studies probed into the cognitive abilities of crows?
Research on crows has revealed fascinating insights into their intelligence and problem-solving skills.
Scientists have conducted numerous experiments to understand the cognitive capabilities of these birds, leading to intriguing findings.
Some of the key discoveries include:
Tool Use: Crows have been observed using tools to extract food from hard-to-reach places.
Memory: Studies indicate that crows possess remarkable memory skills, enabling them to remember specific locations and recognize individual humans.
Social Learning: Research has demonstrated that crows are capable of learning from observing the behavior of other crows, showing a high level of social intelligence.
These findings highlight the importance of continued research into the cognitive abilities of crows and their potential implications for various scientific fields.
What Are Crows Known For?
Crows are known for several distinctive characteristics and behaviors:
Intelligence: Crows are highly intelligent birds and are considered among the most intelligent animals. They are known for problem-solving abilities, tool use, and complex communication.
Tool Use: Crows have been observed using tools in various ways, such as using sticks to extract insects from tree bark or using cars to crack nuts by dropping them on roads and waiting for vehicles to crush the shells.
Communication: Crows have a sophisticated communication system. They use a variety of vocalizations, body language, and gestures to convey information to other members of their group. They can also recognize individual humans and remember faces.
Memory: Crows have excellent memories and are capable of remembering locations of food sources, recognizing people who pose a threat, and recalling past events.
Adaptability: Crows are highly adaptable to different environments and can be found in urban, suburban, and rural areas. They are opportunistic feeders and can consume a wide range of food items.
Social Behavior: Crows are social birds and often form large groups, called murders. They work together to protect their territory, find food, and raise their young.
Problem Solving: Crows have demonstrated the ability to solve complex problems, both in the wild and in controlled experimental settings. This includes tasks that require them to use tools or understand cause-and-effect relationships.
Mimicry: Some species of crows, such as the common crow and the larger raven, are known for their ability to mimic sounds, including human speech. They can imitate a variety of sounds in their environment.
These traits make crows fascinating and have contributed to their success in diverse ecosystems around the world.
Conclusion
The multifaceted contributions of crows to the environment and society are undeniable. Their intelligence, ecological impact, and cultural significance make them a valuable and essential part of the natural world.
Like a guiding light in the darkness, crows illuminate the intricate web of connections within the ecosystem, showing us the importance of every creature, no matter how small.