What Are Two Crows Called: Attempted murder!
Two crows are commonly referred to as an 'attempted murder,' which is a playful take on the term 'murder of crows' used to describe a larger group of these birds.
The term 'murder of crows' stems from old folklore which associated these birds with ominous events, hence the collective noun 'murder.'
While 'attempted murder' is not a formal ornithological term, it has gained popularity in contemporary culture as a humorous reference to a pair of crows, since they are not numerous enough to constitute a 'murder.'
Playful terminology: 'Attempted murder' for two crows
Traditional term: 'Murder of crows' for a group
Origin: Old folklore linking crows with ominous events
While it's a witty twist of language, calling two crows an 'attempted murder' is more a nod to human creativity than avian reality.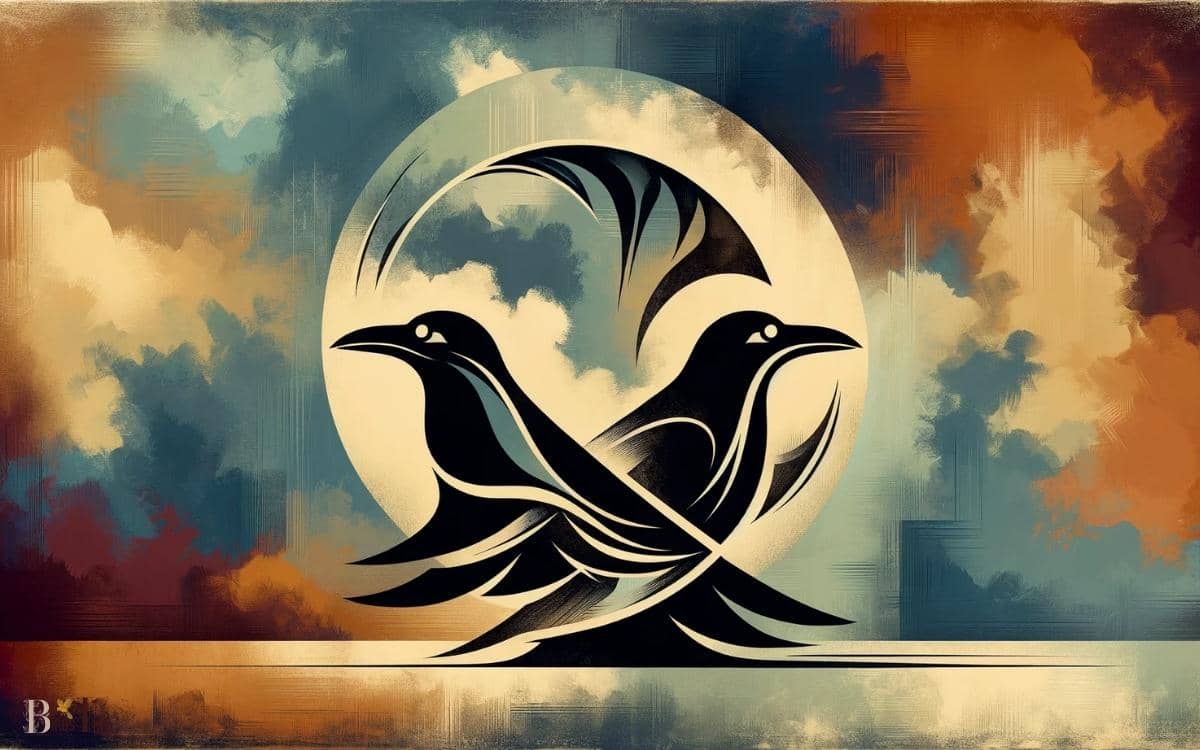 Key Takeaway
Crows are monogamous birds that form strong pair bonds and defend their nesting sites together.
Two crows have symbolic meanings in folklore, representing good luck, prosperity, and impending change.
Crows are remarkably intelligent birds, exhibiting problem-solving skills, tool usage, and advanced social behavior.
Crows play a significant ecological role in maintaining balance by controlling insect populations, aiding in decomposition and nutrient cycling, and contributing to seed dispersal and plant regeneration.
The Naming of Two Crows
The naming of two crows involves considering their distinctive characteristics and behavior.
Crows are highly intelligent birds known for their problem-solving skills, adaptability, and complex social structures.
When it comes to naming a pair of crows, it's essential to understand their unique traits and behaviors.
Crows are monogamous birds, and they form strong pair bonds that can last a lifetime. These birds are also highly territorial and often work together to defend their nesting sites.
Understanding these social dynamics and the strong bond between crow pairs is crucial when considering their naming. It reflects their nature and the significance of their partnership in the wild.
Now, let's delve into the intricate social dynamics of crows and how they communicate and interact within their communities.
Crows' Social Dynamics
Navigating the intricate social dynamics of crows entails understanding their complex communication and interaction within their communities, which plays a pivotal role in the naming and recognition of these intelligent birds.
Crows are highly social creatures, forming tight-knit family groups and larger communities that exhibit sophisticated behaviors.
They communicate through a variety of calls, body language, and even tools, displaying a level of social intelligence that rivals that of some primates.
Within their communities, crows establish hierarchies, cooperate in tasks such as hunting and predator defense, and even engage in play.
These social dynamics influence the way crows are perceived and named, as their interactions and relationships with one another shape their identities within the community.
Understanding these dynamics provides a deeper insight into the significance of crow behavior and relationships.
This understanding also sheds light on the significance of crows in folklore and their representation in pairs, such as the popular notion of 'two crows' being a sign of good luck or a harbinger of change.
Folklore and Two Crows
In the realm of folklore, the presence of two crows has long been associated with various symbolic meanings and interpretations, reflecting the deep-rooted cultural significance attributed to these intelligent birds.
In many cultures, crows are often depicted as mystical creatures, and when two of them are seen together, it is believed to carry significant symbolism.
One common interpretation is that two crows represent good luck and prosperity, while in some folklore, they are seen as a sign of impending change or transformation.
Two crows are sometimes considered as messengers, carrying messages between the earthly realm and the spirit world. The duality of their presence also evokes notions of balance and partnership.
This enduring association of two crows in folklore underscores the enduring fascination and reverence that these birds command across diverse cultures.
Scientific Insights on Crows
Crows have long fascinated scientists with their remarkable intelligence and complex social behaviors. This has prompted extensive research into their cognitive abilities and group dynamics.
Studies have shed light on their problem-solving skills, tool usage, and even their ability to recognize individual human faces.
Observations of crow communities have revealed intricate social structures and communication systems. These observations offer valuable insights into their highly organized societies.
Crow Intelligence and Behavior
With increasing frequency, scientific research has shed light on the intelligence and complex social behavior exhibited by crows.
Studies have shown that crows are remarkably intelligent birds, capable of using tools, solving complex problems, and even understanding analogies.
For example, experiments have demonstrated crows' ability to use sticks to extract insects from crevices, showcasing their tool-making skills.
Furthermore, crows have been observed displaying advanced social behavior, such as forming close-knit family groups and engaging in cooperative hunting.
Their communication abilities are also notable, as they can convey specific information about potential threats to other crows in their group.
These findings challenge traditional perceptions of avian intelligence and provide valuable insights into the cognitive and social capabilities of crows.
Social Structure of Crows
The social structure of crows reveals intricate patterns of family dynamics and cooperative behavior, shedding light on the complex relationships that govern their interactions and activities.
Familial Bonds: Crows form strong family bonds, with offspring often staying with their parents for several years to assist in raising new chicks.
Cooperative Nesting: Crows exhibit cooperative nesting behavior, where family members and sometimes unrelated crows work together to build and maintain nests.
Complex Communication: Crows communicate through a variety of calls and gestures, displaying a high level of social intelligence and understanding.
Understanding the social structure of crows provides insight into their capacity for cooperation and coordination, inspiring a sense of freedom in observing the intricate dynamics of these intelligent birds.
The Role of Crows in Ecology
A pair of crows play a significant role in maintaining ecological balance and biodiversity through their foraging habits and scavenging behavior.
Crows are opportunistic feeders, consuming a wide variety of food, including insects, small mammals, seeds, and carrion.
Their foraging behavior helps control insect populations, acting as a natural pest control mechanism.
Their scavenging habits aid in the decomposition of organic matter, contributing to nutrient cycling in ecosystems.
Crows also play a role in seed dispersal, helping to regenerate plant populations.
By fulfilling these ecological functions, crows contribute to the overall health and stability of their ecosystems.
Understanding the ecological importance of crows is crucial for conservation efforts and maintaining healthy ecosystems.
Moving on to the subsequent section, it's essential to explore the behavior of crows in urban environments.
Urban Crow Behavior
Urban areas offer a unique environment for crow behavior. These intelligent birds adapt to city life in various ways.
Crows have been observed using traffic to crack open nuts, scavenging for food in waste bins, and even nesting in urban structures.
Understanding how crows navigate and thrive in urban settings sheds light on their remarkable ability to adjust to human-dominated landscapes.
Crows in Urban Areas
In urban areas, crows exhibit distinct behavioral patterns influenced by their proximity to human settlements.
This proximity has led to some fascinating urban crow behaviors, such as:
Fearlessness in scavenging for food amidst bustling city life,
Agile problem-solving skills when navigating urban obstacles,
Vocal adaptability With calls that resonate through the cityscape, evoking a sense of freedom and resilience.
These behaviors not only showcase the crows' ability to thrive in urban environments but also evoke a sense of admiration for their tenacity in the face of urban challenges.
Crow behavior in urban areas provides a unique insight into their remarkable adaptability and intelligence in navigating the complexities of city life, which will be further explored in the subsequent section about 'adaptation to city life'.
Adaptation to City Life
Adaptation to the city environment has prompted remarkable behavioral evolution in crows, as evidenced by their fearless scavenging and agile problem-solving skills amidst urban complexities.
Urban crow behavior reflects their remarkable ability to thrive in the face of human development.
These intelligent birds have demonstrated an impressive capacity to adapt to the challenges posed by urbanization.
Their fearlessness in scavenging for food in bustling city streets and their adept problem-solving skills in navigating urban obstacles showcase their extraordinary resilience.
Crows' urban behavior showcases their freedom to find innovative solutions to survive and thrive in a rapidly changing environment.
Their ability to adapt and flourish in urban settings is a testament to their remarkable intelligence and resourcefulness, providing a fascinating insight into the adaptability of wildlife in response to human encroachment.
Understanding Crow Communication
Crow communication is a complex and sophisticated form of signaling within the avian species.
Crows use various vocalizations, body language, and even tools to convey messages and emotions to one another.
Understanding crow communication can provide a fascinating insight into the intelligence and social dynamics of these birds.
Intricate Vocalizations: Crows have a diverse range of calls and sounds, each carrying its own meaning and purpose, allowing them to convey complex information.
Body Language: Crows also communicate through a variety of body postures and movements, expressing emotions such as aggression, fear, or contentment.
Tool Usage: Studies have shown that crows can use tools to communicate, such as dropping nuts to crack them open, which may serve as a form of signaling to other crows.
Understanding crow communication unveils the depth of their social interactions and the freedom of expression within their communities.
Conclusion
The naming of two crows is often referred to as a 'murder' of crows in folklore and scientific literature.
Crows play a crucial role in ecology and exhibit complex social dynamics, particularly in urban environments.
Understanding their communication and behavior provides valuable insights into the natural world.
Like two silhouettes against the setting sun, the presence of crows adds depth and intrigue to the tapestry of the natural world.