What Attracts Crows to My Yard? Food, Water & Shelter!
Crows are attracted to yards that offer food, water, shelter, and safety. These highly intelligent birds seek out environments where resources are readily available.
Access to food scraps, bird feeders, or gardens can draw them in, as well as trees for nesting, birdbaths or ponds for water, and quiet spaces that provide a safe refuge from predators.
Crows are opportunistic feeders and are drawn to areas where they can easily find food.
Common attractants include:
Unsecured garbage bins
Compost piles
Pet food left outdoors
Fruit trees or vegetable gardens
Bird feeders with seeds or nuts
Moreover, crows look for suitable nesting sites and prefer tall trees that are away from frequent human activity. They also need a steady water source for drinking and bathing.
Factors such as these make yards an ideal habitat for crows:
Accessibility of water through birdbaths, ponds, or fountains
Presence of sheltering trees or shrubs
Absence of predators and minimal human disturbance
Creating a crow-friendly environment, intentionally or accidentally, means providing consistent access to food, water, and shelter—transforming your yard into a haven for these adaptable birds.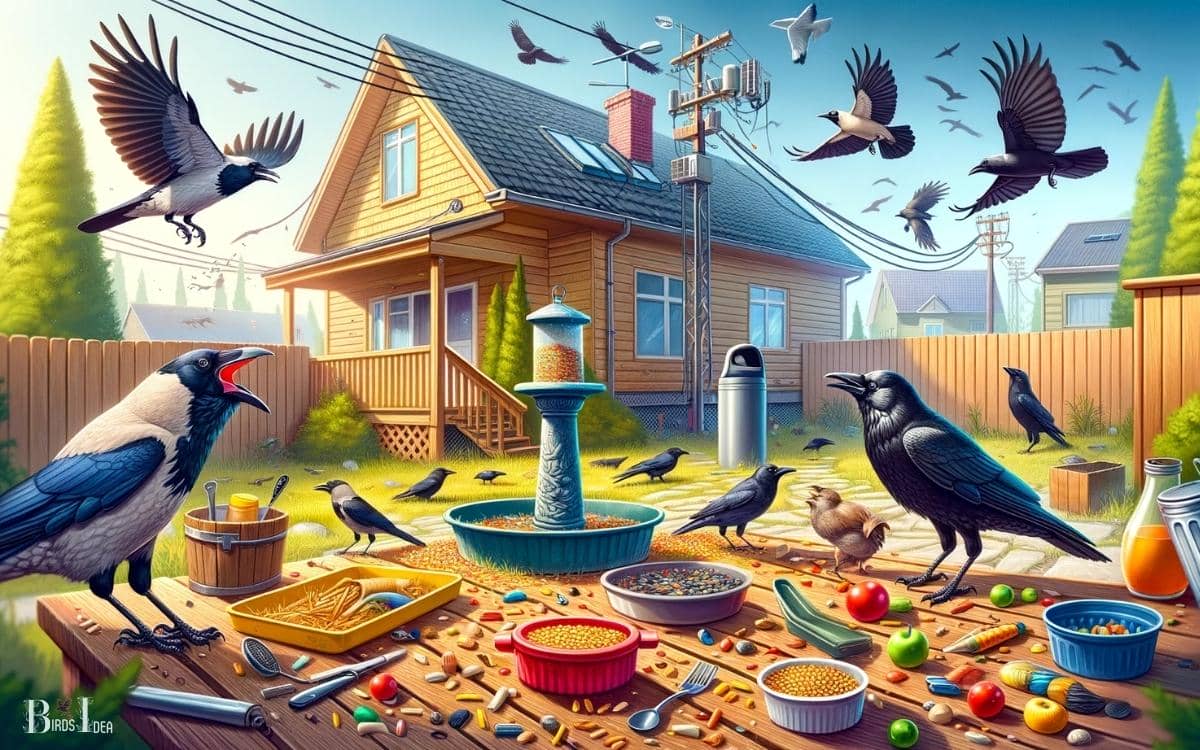 Key Takeaway
Availability of food sources such as food scraps, bird feeders with nuts or seeds, fruit trees, and vegetable gardens attract crows to yards.
Water sources like birdbaths or ponds serve as a significant draw for crows, providing clean water for drinking, bathing, socializing, and maintaining plumage.
Suitable shelter and nesting sites, such as tall trees or man-made structures with dense foliage and sturdy branches, attract crows to yards.
Creating open and foraging spaces, minimizing disturbances, and understanding the impact of predators can make yards more appealing to crows.
Crows' Food Preferences
Crows are attracted to a variety of foods, including nuts, seeds, grains, insects, and small animals.
Their omnivorous nature allows them to adapt to various environments, making them a common sight in both urban and rural settings.
Observationally, it is evident that crows exhibit a keen preference for foods rich in fat and protein, such as nuts and small animals.
Scientifically, this preference can be attributed to their high energy requirements, especially during nesting and rearing periods.
Analytically, understanding the dietary habits of crows can aid in attracting them to specific areas, as providing suitable food sources can encourage their frequent visitation.
Therefore, a combination of nuts, seeds, and protein-rich offerings can be strategically placed to attract crows to your yard while ensuring their freedom to forage and thrive.
Shelter and Nesting Sites
Where do crows seek shelter and nesting sites in urban and rural environments?
Urban Areas
Crows in urban environments often utilize tall buildings, bridges, and other structures as shelter and nesting sites.
They are attracted to the ledges and openings provided by these structures, which mimic the natural cliff ledges they would use in the wild.
Rural Areas
In rural settings, crows typically seek out tall trees for shelter and nesting. They prefer trees with dense foliage and sturdy branches, providing them with protection and a secure location for building their nests.
Hybrid Environments
In areas that combine urban and rural elements, such as suburban neighborhoods, crows may make use of both natural and man-made structures for shelter and nesting, displaying a remarkable adaptability to their surroundings.
Water Sources and Baths
Crows are attracted to yards with water sources. Providing a bird bath can be an effective way to draw them in. Water is essential for crows, both for drinking and for maintaining their plumage.
By offering a reliable and clean water source, homeowners can create an inviting environment for these intelligent and resourceful birds.
Bird Baths Attract Crows
When considering what attracts crows to a yard, it is important to recognize that bird baths serve as a significant draw for these intelligent birds.
Crows are highly attracted to water sources, and bird baths provide them with a vital element for their survival.
The presence of bird baths in a yard can significantly increase the likelihood of attracting crows due to the following reasons:
Availability of clean water for drinking and bathing.
Provides a convenient gathering place for crows to socialize and communicate.
Serves as a reliable resource for crows to maintain their plumage and overall hygiene.
The provision of a bird bath not only attracts crows but also contributes to the overall ecological balance in the yard, creating a harmonious environment for various bird species.
Water Sources Are Essential
Having a reliable source of water, such as bird baths, is essential for attracting crows to your yard. Crows, like all birds, require water for drinking and bathing.
Providing a clean and consistent water source can make your yard more attractive to crows, as they will seek out areas with readily available water.
Observationally, crows are known to be cautious creatures, and they prefer water sources that are not only clean but also safe from potential predators.
Positioning bird baths in open areas where crows can easily spot any approaching danger can further enhance their appeal.
Crows are intelligent and adaptable birds, and they may even use the water source for tool manipulation or food washing.
Ensuring a constant and clean water supply can greatly increase the likelihood of crows visiting and frequenting your yard.
Attraction to Gardens and Lawns
The presence of an abundance of food sources in gardens and lawns often attracts crows to a particular area.
Crows are particularly drawn to gardens and lawns due to the availability of various food sources and nesting materials.
The following factors contribute to the attraction of crows to gardens and lawns:
Food Variety: Gardens and lawns often offer a diverse range of food sources, including fruits, vegetables, insects, and small animals, which are attractive to crows.
Nesting Opportunities: The vegetation and structures in gardens and lawns provide suitable nesting sites for crows, making these areas appealing for breeding and raising their young.
Open Space: The open and expansive nature of gardens and lawns allows crows to forage freely and keep a lookout for potential predators.
These factors create an environment that is highly attractive to crows. However, the presence of crows in these areas also poses potential dangers and threats to consider.
Potential Dangers and Threats
Crows, like many other birds, face threats from predators and pets. Predatory animals such as hawks, owls, and even domestic cats and dogs can pose a danger to crows, especially when they are nesting or foraging.
Human disturbances, such as construction activities, loud noises, and direct confrontations, can also disrupt the natural behavior and safety of crows in a yard.
Predators and Pets
Crows are known to be wary of predators and pets in their vicinity, making it important for homeowners to be mindful of these potential dangers and threats in their efforts to attract crows to their yard.
Predatory Birds: Larger raptors such as hawks and owls pose a threat to crows and can deter them from frequenting an area.
Domestic Pets: Domestic cats and dogs can also be perceived as threats by crows, causing them to avoid areas where these pets roam freely.
Human Activity: Regular human presence or activities that mimic predatory behavior can also deter crows from visiting a yard, as they are sensitive to potential threats.
Understanding and mitigating these potential dangers can create a safer and more inviting environment for crows, increasing the likelihood of them frequenting a yard.
Human Disturbances
Wary of potential dangers and threats, crows are sensitive to human disturbances that mimic predatory behavior and can deter them from frequenting a yard.
Common human disturbances that may discourage crows include loud noises, sudden movements, or aggressive behaviors.
Crows are highly intelligent and can recognize patterns of behavior, associating certain activities with potential threats.
For example, the presence of objects that resemble firearms or other hunting equipment may cause crows to perceive the area as unsafe.
Crows may be deterred by the presence of unfamiliar or threatening individuals in the vicinity.
Understanding and minimizing these disturbances is crucial in creating a welcoming environment for crows.
By reducing disruptive activities and ensuring a calm, non-threatening atmosphere, individuals can encourage crows to visit and frequent their yards.
Human Behavior and Interactions
Many people inadvertently attract crows to their yards through their behaviors and interactions with the environment.
This can include:
Feeding: Leaving out food for other animals like squirrels or pets can inadvertently attract crows.
Waste Management: Improperly securing garbage cans or leaving out food waste can draw in crows.
Interactions: Regularly spending time in the yard, especially if accompanied by positive interactions, can make the area more attractive to crows.
Crows are highly intelligent and opportunistic birds, and they quickly learn to associate human behaviors with potential sources of food and safety.
Understanding these unintentional cues can help individuals modify their behaviors to discourage crow presence if desired.
Other Crow-Attracting Factors
Additional Environmental Factors Can Influence Crow Attraction to Yards.
Apart from human behavior, other environmental factors can significantly impact crow presence in yards.
Crows are attracted to areas with an abundance of food sources such as insects, small animals, fruits, and seeds.
Access to water, whether in the form of birdbaths, ponds, or streams, also plays a role in attracting crows.
Moreover, the presence of tall trees for nesting and roosting, as well as open spaces for foraging, can make an area more appealing to crows.
The absence of predators and a relatively quiet environment can encourage crows to frequent a yard.
Understanding these environmental factors can help individuals create crow-friendly spaces while also mitigating any potential negative impacts associated with crow presence.
What Can I Feed Crows in My Yard?
Crows are highly intelligent and adaptable birds, and feeding them can be an enjoyable and rewarding experience.
Here are some suitable foods you can offer to crows in your yard:
Unsalted Peanuts (in the shell or out): Crows love peanuts, and they provide a good source of protein and healthy fats.
Sunflower Seeds: Crows enjoy sunflower seeds, either in or out of the shell. They are a good source of nutrition.
Cheese: Crows are known to like cheese, especially mild varieties. You can cut it into small pieces for them.
Cooked Meat: Leftover lean meat, such as chicken or turkey, can be a tasty treat for crows. Make sure it's unseasoned and cooked thoroughly.
Boiled Eggs: Crows can benefit from the protein in boiled eggs. You can chop them into small pieces or leave them whole.
Mealworms: These are high in protein and can be a favorite of crows. You can find them at pet supply stores.
Fruits: Crows may enjoy fruits like apples, berries, or grapes. Be sure to cut them into small, manageable pieces.
Unsweetened Cereal: You can try offering plain, unsweetened cereal. Crows may enjoy picking at it.
Unsalted Popcorn: Popcorn is a fun and light snack that crows might like. Make sure it's unsalted and unbuttered.
Cat or Dog Food: Dry cat or dog food can be an option, but it's best to choose a high-quality brand without additives.
Remember to provide fresh water along with the food. It's important not to offer them anything toxic or harmful, such as chocolate, salty foods, or foods with additives.
While feeding crows can be a delightful experience, it's essential not to overfeed them, as they still need to forage for a balanced diet in the wild.
Conclusion
The presence of crows in a yard can be attributed to various factors. These factors include food availability, suitable nesting and shelter sites, water sources, and attractive landscapes.
However, the potential dangers and threats posed by human behavior and interactions also play a role in attracting crows.
Human activities such as leaving out food or garbage can attract crows to a yard. Disturbances or interactions with humans can also impact crow behavior.
Further research and observation are necessary to fully understand the complex dynamics of crow behavior and their attraction to specific environments.
Researchers can study the specific preferences and behaviors of crows in different habitats to gain a deeper understanding of their attraction to certain areas.
By understanding the factors that attract crows, it may be possible to develop strategies for managing their presence in yards and other environments.