What Bird Looks Like a Crow? Raven!
The bird that most closely resembles a crow is the raven, particularly the common raven (Corvus corax).
Birds such as the grackle, jackdaw, and rook share similarities with crows and can be mistaken for them at a distance or upon a cursory glance.
Birds that look like crows are often confused due to their similar size, color, and body shape.
Here are some key distinguishing features:
Ravens: Larger than crows, with thicker beaks and longer, wedge-shaped tails.
Grackles: Slightly smaller, with iridescent feathers and a longer, keel-shaped tail.
Jackdaws: Smaller than crows, with a silver sheen to the back of their head and lighter eyes.
Rooks: Very similar to crows, but with a bare patch of skin around the base of the beak.
Identifying birds that resemble crows can be an engaging challenge for birdwatchers, fostering a deeper appreciation for avian diversity and the subtle nuances that differentiate each species.
Understanding these distinctive features will help you tell the difference between a crow and a raven.
So, next time you spot a bird that looks like a crow, simply look out for these attributes to identify whether it's a crow or its larger cousin, the raven.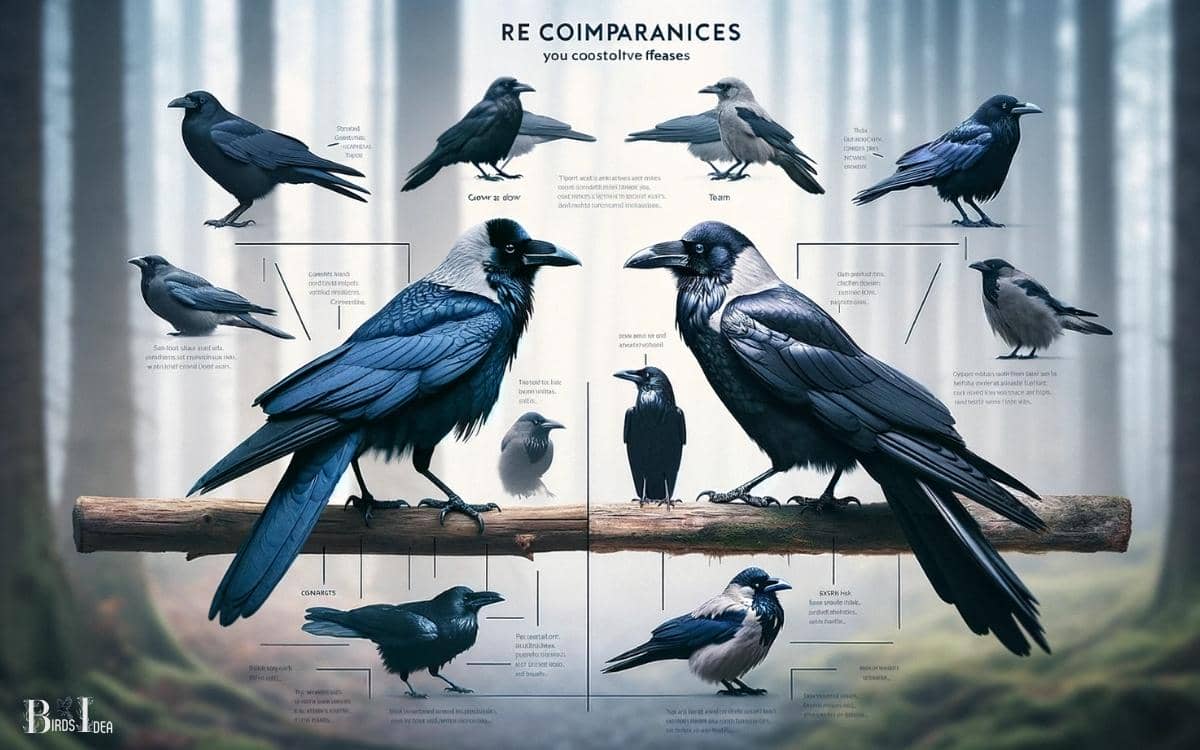 Key Takeaway
Ravens, grackles, jackdaws, and rooks are birds that resemble crows, but they have distinguishing physical characteristics such as size, beak shape, tail shape, and plumage coloration.
Birds that resemble crows, like the common raven and black vulture, have similar size, glossy black plumage with an iridescent sheen, stout and slightly curved bills, and broad and rounded wing shapes.
Behavioral traits and vocalizations, including mimicry, communication patterns, and adaptations to different ecological niches, can help distinguish birds that resemble crows from actual crows.
Common grackles, a bird that resembles crows, exhibit complex vocalizations, including mimicry of other bird species, and display similar foraging behavior, social interactions, and nesting habits as crows.
Common Birds That Resemble Crows
Some common birds that resemble crows include the common raven and the black vulture. Both the common raven (Corvus corax) and the black vulture (Coragyps atratus) share similar physical features with crows, such as black plumage and a robust build.
The common raven, however, is larger than the American crow and has a heavier bill. It also has a wedge-shaped tail in flight, unlike the crow's fan-shaped tail.
The black vulture has a shorter tail and a distinctive silver-gray coloration on the underside of its wings.
Despite these similarities, each of these birds has its own unique behaviors and ecological roles, making them fascinating subjects for bird enthusiasts and researchers alike.
Size and Physical Characteristics
The size and physical characteristics of birds resembling crows offer distinct features that differentiate them from the common crow.
These features include:
Plumage coloration: glossy black, iridescent sheen
Size: similar to a crow, ranging from 16-21 inches
Bill shape: stout and slightly curved
Wing shape: broad and rounded
These detailed characteristics are crucial in distinguishing birds that resemble crows from actual crows.
By paying attention to plumage coloration, size, bill shape, and wing shape, birdwatchers can accurately identify these birds in their natural habitat.
Understanding these physical attributes allows for precise recognition of crow-like birds, providing freedom and enjoyment in birdwatching activities.
Behavioral Traits and Vocalizations
Mimicry
This refers to the phenomenon in which one species imitates the appearance or behavior of another species.
Mimicry can be advantageous for the mimicking species, as it can help them avoid predators or gain access to resources.
Communication patterns
Different species have unique ways of communicating with each other. This can include vocalizations, body movements, or chemical signals.
Communication is crucial for various purposes, such as attracting mates, warning of danger, or establishing dominance within a group.
Similarities
Despite the vast diversity of species, there are often similarities in their biological structures and functions.
This can be attributed to shared ancestry or the process of convergent evolution, in which unrelated species independently evolve similar traits in response to similar environmental pressures.
Differences:
At the same time, there are also numerous differences among species, reflecting their adaptations to different ecological niches.
These differences can be observed in terms of physical characteristics, behavior, reproductive strategies, and many other aspects of their biology.
Crow Mimicry in Birds
One bird species that exhibits notable crow mimicry in both behavioral traits and vocalizations is the common grackle.
These birds display remarkable abilities to mimic the behavioral traits and vocalizations of crows.
This mimicry includes:
Vocalizations: Varied vocal imitations, including crow calls
Foraging Behavior: Adopting similar foraging patterns and techniques
Social Interactions: Mimicking crow social behaviors within their own flocks
Flight Patterns: Displaying flight patterns reminiscent of crows
The common grackle's mimicry of crows is a fascinating example of the complexity of avian behavior and communication. This behavior offers valuable insights into the adaptability and intelligence of bird species.
Vocal Communication Patterns
Exhibiting remarkable abilities in vocal communication patterns and behavioral traits, the common grackle continues to demonstrate its capacity for mimicking the vocalizations and behaviors of crows.
Grackles employ complex vocalizations, including harsh, guttural calls, and distinct chattering sounds.
They exhibit communal roosting behavior, engage in aggressive interactions, and display coordinated foraging strategies.
Grackles also possess a keen ability to imitate the calls and behaviors of other bird species, including crows, and integrate these into their own communication patterns.
Their vocal repertoire includes a diverse range of sounds, from melodious whistles to raucous squawks, enabling them to convey information and establish social hierarchies within their groups.
This mimicry behavior serves as a means of communication and contributes to their adaptive success in diverse environments.
Transitioning to the subsequent section, further exploration of behavioral similarities and differences between grackles and crows provides insight into their fascinating interactions.
Behavioral Similarities and Differences
The common grackle's behavioral traits and vocalizations demonstrate intriguing similarities and differences with those of crows, particularly in their vocal communication patterns and social interactions.
Vocalizations: Grackles produce a range of calls, including high-pitched squeaks and harsh, guttural sounds.
Foraging Behavior: Both grackles and crows are omnivorous and are known for their opportunistic feeding behavior.
Social Interactions: Grackles often form large, noisy flocks, displaying communal roosting behavior similar to crows.
Nesting Habits: While both species build cup-shaped nests, grackles tend to nest in colonies, whereas crows are more solitary nesters.
These behavioral similarities and differences shed light on the complex social dynamics and adaptive strategies of these intelligent avian species.
Habitat and Distribution
Crow-like birds are commonly found across a wide range of habitats, including urban areas, forests, grasslands, and coastlines.
They thrive in diverse environments such as woodlands, farmlands, and wetlands.
These birds are known to inhabit both temperate and tropical regions, with some species also frequenting mountainous terrain.
Their distribution spans across various continents, including North America, Europe, Asia, and Australia.
Within these regions, they exhibit adaptability to different ecosystems, from open fields to densely populated cities.
Some species have adapted to human-modified landscapes, making use of urban areas as their habitat.
This wide distribution and ability to inhabit various environments make crow-like birds a familiar sight for many individuals, showcasing their remarkable adaptability and resilience.
Notable Features and Markings
Shiny Black Plumage
With its glossy and lustrous black plumage, the crow's distinctive appearance sets it apart from other birds.
The shiny black plumage of crows is a notable feature that distinguishes them in the avian world. This unique characteristic contributes to their mysterious and elegant aura.
The shiny black feathers of crows play a significant role in their communication and social interactions, making them easily recognizable in various environments.
The iridescent quality of their plumage reflects light in a captivating manner, adding to their allure and enigmatic presence.
Iridescent black feathers
Reflects light beautifully
Contributes to social interactions
Easily recognizable in different environments
This striking plumage is not only visually appealing but also serves practical purposes in the crow's daily life. It's a key element in their communication and survival strategies.
Moving on to the distinctive cawing sound.
Distinctive Cawing Sound
The distinctive cawing sound of this avian species serves as a prominent feature, contributing to their unique and recognizable presence in various environments.
The cawing is deep, guttural, and resonant, often described as a series of sharp, harsh caws.
This species' cawing is characterized by its distinct rhythm and cadence, with a notable pattern of short, consecutive caws.
Their cawing is often accompanied by a range of vocalizations, including clicks, coos, and rattles, further adding to their identifiable acoustic signature.
The cawing is produced with precision and clarity, carrying over long distances and effectively establishing territory or communicating within social groups.
This species' cawing serves as a symbol of freedom, echoing through diverse landscapes and embodying the untamed spirit of the natural world.
Tips for Distinguishing Similar Birds
While many birds may resemble crows at first glance, it is important to be able to distinguish between them based on specific features and behaviors.
Size, color, and shape of the beak
Wing shape and length
Tail shape and length
Behavior and vocalizations
By closely observing these detailed characteristics and behaviors, bird enthusiasts can make precise identifications, ensuring that they correctly differentiate between crows and similar-looking birds.
Understanding the subtle differences in these scientific features can lead to more accurate bird identification and appreciation of their diversity.
This knowledge empowers bird watchers to confidently identify various species, allowing them the freedom to fully enjoy and engage with the natural world around them.
Conclusion
Detailed, scientific, precise examination of birds resembling crows reveals the subtle nuances in their size, physical characteristics, behavioral traits, vocalizations, habitat, and distribution.
Notable features and markings provide valuable insights into distinguishing these similar birds.
By carefully observing these key factors, one can gain a deeper understanding of the complexities and intricacies of avian species that bear resemblance to crows.