What Do Crows Eat in the Grass? Grasshoppers & Beetles!
Crows are omnivorous birds that feed on a variety of food sources found in grassy areas, including insects like grasshoppers and beetles, earthworms, small mammals such as voles and mice, seeds, grains, nuts, fruits, and occasionally leftovers from human activity.
Crows have adapted to thrive in diverse environments, and their diet reflects this adaptability.
When foraging in grasslands or lawns, they consume:
Insects: Searching for bugs is a common activity for crows in the grass.
Earthworms: After rain, crows can be seen pulling worms from the soil.
Small Rodents: They sometimes catch voles or mice hiding in the grass.
Seeds and Grains: These are eaten especially during the autumn months.
Fruits and Berries: Seasonal fruits provide a natural sweet treat for crows.
Human Food Scraps: Crows won't shy away from eating leftovers they find.
For example, a crow may be observed hopping across a lawn, pausing to tilt its head, listening for the movement of a worm before swiftly plucking it from the ground.
Adaptable and intelligent, crows in grassy areas demonstrate a remarkable ability to forage a diverse diet, ensuring their survival across various landscapes.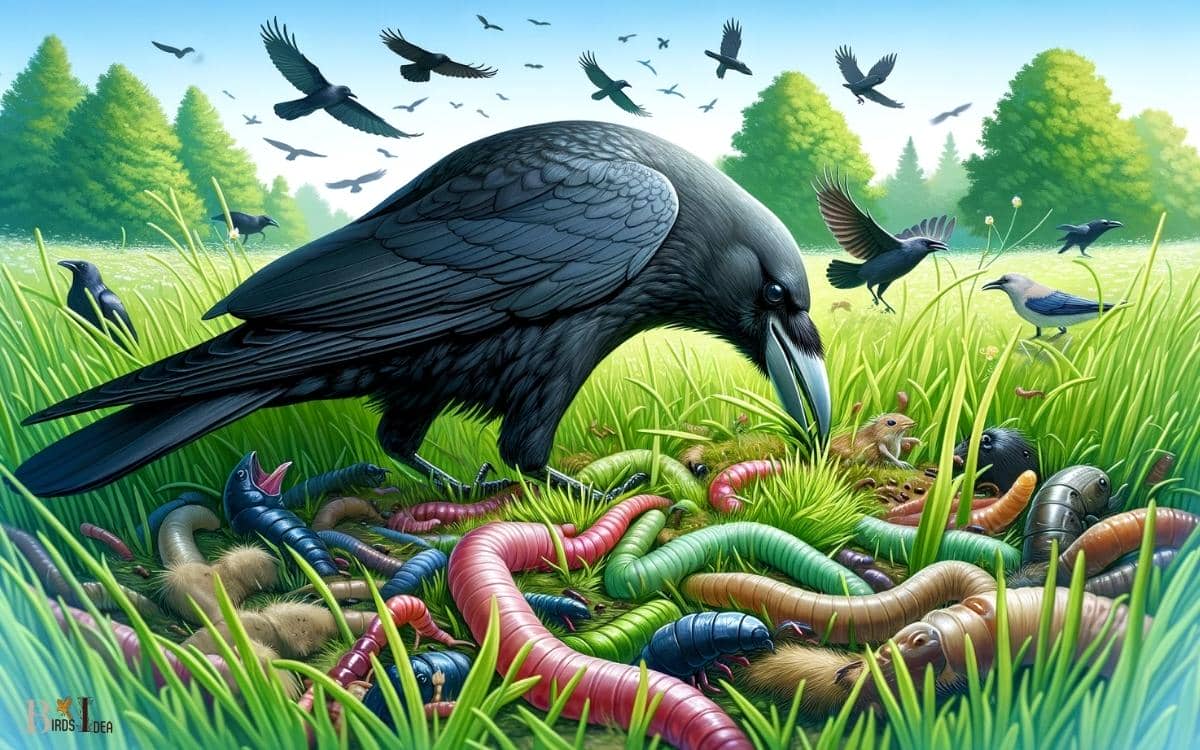 Key Takeaway
Crows' diet in grasslands includes insects (grasshoppers and beetles), earthworms, small mammals (voles and mice), seeds and grains, and fruits and berries.
Crows use various hunting techniques for small rodents and amphibians, such as stalking and pouncing, probing with their beaks, and ambushing from elevated perches.
Seeds and grains, particularly corn, wheat, and barley, are important in crows' diet due to their accessibility in agricultural fields and grassy areas, dietary flexibility, and nutritional value.
Crows' diet has a significant impact on the ecosystem through seed dispersal, population control, and maintaining ecosystem diversity. Fruits and berries also play a significant role in their diet, providing diet diversity, adaptability, nutritional benefits, energy, digestion, and immune system support.
Insects and Worms
In the grass, crows primarily feed on insects and worms as part of their diet. Crows are known for their omnivorous nature, and their diet varies based on the season and availability of food.
Insects and worms are an essential part of their diet, providing them with essential nutrients and proteins.
Crows are highly adaptable and can forage for insects and worms in various habitats, from grassy fields to urban environments.
They use their intelligence and resourcefulness to locate and capture their prey, showcasing their ability to thrive in diverse landscapes.
This freedom to seek out food sources in different environments allows crows to maintain a balanced diet and survive in a range of ecosystems.
Small Rodents and Amphibians
Crows are highly intelligent and resourceful birds, and they have developed various hunting strategies to capture small rodents and amphibians in the grass.
Some of these strategies include:
Stalking and pouncing: Crows use their keen eyesight to spot small rodents or amphibians in the grass and then stealthily approach their prey before swiftly pouncing on them.
Probing with their beaks: Crows use their long, slender beaks to probe and dig into the grass, searching for small rodents and amphibians hidden beneath the vegetation.
Ambushing from elevated perches: Crows often perch on elevated positions such as tree branches or fences, from where they can spot potential prey in the grass and swoop down to catch them by surprise.
These hunting techniques allow crows to effectively capture small rodents and amphibians as part of their diverse diet.
Seeds and Grains
Seeds and grains play a significant role in the diet of crows, providing essential nutrients and energy.
Understanding crow diet preferences and the nutritional value of seeds and grains is crucial in comprehending their impact on the ecosystem.
Exploring the interplay between crows, seeds, and grains can shed light on the intricate dynamics of avian foraging behavior and its ecological repercussions.
Crow Diet Preferences
Crows prefer to include a variety of seeds and grains in their diet, which contributes to their diverse and adaptable feeding habits.
Their diet preferences for seeds and grains include:
These items are commonly found in agricultural fields and open grassy areas, making them easily accessible to crows.
The ability of crows to consume a wide range of seeds and grains allows them to thrive in various environments and take advantage of different food sources.
Their dietary flexibility is a key factor in their success as opportunistic feeders. Transitioning to the subsequent section about the 'nutritional value of seeds', it is important to explore how these dietary choices impact the health and behavior of crows.
Nutritional Value of Seeds
In the context of crows' dietary habits, an analysis of the nutritional value of seeds and grains reveals their significance in sustaining the avian species' health and adaptability.
Seeds and grains form a crucial part of crows' diet, providing essential nutrients such as carbohydrates, proteins, fats, vitamins, and minerals.
These nutrient-rich seeds and grains contribute to the overall health and energy levels of crows, supporting their daily activities and long-term survival.
The consumption of seeds and grains enhances crows' adaptability to diverse environmental conditions, enabling them to thrive in various habitats.
The nutritional value of seeds and grains underscores their importance in the diet of crows, highlighting their role in supporting the freedom of these intelligent and resourceful birds to forage and flourish in their natural surroundings.
Impact on Ecosystem
Discussing the nutritional value of seeds and grains, their consumption plays a significant role in shaping the ecosystem, impacting various aspects of flora and fauna.
The impact on the ecosystem includes:
Seed Dispersal: Crows aid in the dispersal of seeds by consuming them and then depositing them in different locations through their droppings, contributing to the regeneration of plant species in various areas.
Population Control: The consumption of seeds and grains by crows can impact the population of certain plant species, which, in turn, affects the availability of food and habitat for other wildlife.
Ecosystem Diversity: The foraging behavior of crows on seeds and grains can influence the diversity of plant species in an ecosystem, potentially altering the abundance and distribution of vegetation.
Fruits and Berries
Fruits and berries are an essential part of a crow's diet, providing important nutrients and vitamins that contribute to their overall health.
The diversity of fruits and berries available in different habitats allows crows to maintain a balanced diet, ensuring they receive the necessary nutritional benefits.
Understanding the significance of these food sources can shed light on the adaptability and resilience of crows in various environments.
Crow Diet Diversity
Crows' diet diversity includes a wide variety of fruits and berries, contributing to their adaptability and survival in diverse environments.
These intelligent birds are known to consume a range of fruits and berries, including:
Apples
Cherries
Blueberries
Their ability to consume such a diverse range of fruits and berries allows crows to thrive in various habitats, from urban areas to rural landscapes.
This adaptability in their diet is a key factor in the success of crows as a species, enabling them to find sustenance in different environments throughout the year.
The consumption of fruits and berries provides essential nutrients and energy for crows, supporting their overall health and wellbeing.
This diet diversity plays a crucial role in the nutritional benefits for crows, ensuring their continued survival in a changing world.
Nutritional Benefits for Crows
Nutritionally, crows frequently rely on a diverse range of fruits and berries to support their overall health and wellbeing.
Fruits such as apples, pears, and berries like blueberries and blackberries are rich in vitamins, antioxidants, and essential nutrients, offering crows a well-rounded diet.
These fruits provide crows with vital carbohydrates for energy, as well as fiber for digestion and gut health.
The various vitamins and minerals found in fruits and berries contribute to the crows' immune system, helping them to combat diseases and infections.
The natural sugars in fruits also serve as a quick source of energy, supporting the birds' active lifestyle.
Overall, the consumption of fruits and berries plays a crucial role in maintaining the nutritional balance essential for the freedom and vitality of crows.
Human Influence on Crows' Grassland Diet
Impact of Urbanization on Available Food Sources for Crows
Urbanization can have a profound impact on the diet of crows due to significant alterations in the landscape and availability of food sources.
As urban areas expand, natural habitats are often replaced by buildings, roads, and other infrastructure, leading to changes in the types of food that crows can access.
Loss of Natural Foraging Areas:
Urbanization results in the destruction of natural habitats, limiting the availability of traditional foraging areas for crows.
Forests, meadows, and other open spaces are often transformed into developed areas, reducing the diversity of natural food sources.
Increased Human Activity:
Urban environments are characterized by increased human activity. This can lead to changes in the behavior of crows as they adapt to human presence.
Some crows may become more scavenging-oriented, relying on human activities for sources of food.
Altered Food Chain Dynamics:
Urbanization can disrupt the natural food chain dynamics. The disappearance of certain species or the introduction of new ones can influence the availability of prey for crows.
Changes in the abundance of insects, small mammals, and other organisms can affect the dietary choices of crows.
Food Waste and Anthropogenic Resources:
Urban areas generate significant amounts of food waste, providing an abundant and easily accessible food source for crows.
Trash bins, landfills, and discarded food in urban areas become potential feeding grounds for crows, influencing their dietary preferences.
Human Food Scraps
Among the grass, crows frequently forage for and consume human food scraps. These intelligent birds are known to scavenge for various types of human food leftovers, taking advantage of the easy access to discarded items.
Some common human food scraps that crows consume in the grass include:
Bread: Crows are often seen picking up small pieces of bread left behind by picnickers or scattered near outdoor dining areas.
Fruits and Vegetables: Crows are attracted to leftover fruits and vegetables, such as apple cores, banana peels, and discarded lettuce.
Fast Food Waste: Crows have been observed scavenging for discarded fast food items like french fries, burger buns, and fried chicken scraps.
These opportunistic feeders adapt to urban environments, capitalizing on the abundance of human food scraps.
Human-Provided Food and Its Role in Crows' Diet:
Scavenging on Human Food Waste:
Crows are highly adaptable and opportunistic feeders. Human-provided food waste, including discarded fast food, leftovers, and other edible items, becomes a readily available and easily accessible food source for crows in urban environments.
Cultural Learning and Innovation:
Crows are known for their intelligence and ability to learn from their environment. In urban settings, they may observe humans and learn to associate certain locations or activities with food.
This cultural transmission of knowledge can lead to the formation of feeding traditions among crow populations.
Supplemental Feeding by Humans:
Some people intentionally or unintentionally provide food to crows, either through deliberate feeding or by leaving food scraps in outdoor spaces.
This supplemental feeding can influence the nutritional composition of crows' diets and may contribute to changes in their overall health and behavior.
Impact on Reproductive Success:
Human-provided food sources can influence the reproductive success of crows. Access to a reliable and diverse food supply may enhance the breeding success of crow populations in urban areas, potentially affecting their population dynamics.
Human influence, particularly through urbanization and the provision of food, plays a crucial role in shaping the diet and behavior of crows in grassland ecosystems.
These influences can have both positive and negative effects on crow populations, impacting their adaptability, foraging strategies, and overall ecological interactions.
Conclusion
Crows have a diverse diet that includes insects, small rodents, seeds, fruits, and human food scraps.
This supports the theory that crows are opportunistic feeders with the ability to adapt to various food sources in their environment.
Further research into the foraging behavior of crows can provide valuable insights into their ecological role and impact on local ecosystems.