What Does Counting Crows Mean? Discover!
Counting crows refers to an old superstition or a nursery rhyme that predicts future events based on the number of crows or magpies one sees.
It has also become synonymous with the American rock band named Counting Crows, known for their hit songs and emotional lyrics.
The term 'counting crows' has roots in folklore and superstition, particularly in the United Kingdom, where observing crows or magpies can be considered a form of divination.
This practice is encapsulated in the traditional nursery rhyme, 'One for Sorrow,' which associates the number of birds seen with various outcomes:
One for sorrow
Two for mirth
Three for a funeral
Four for birth
Five for heaven
Six for hell
Seven for the devil, his own self
The rhyme has many variations and can continue with higher numbers of birds. The phrase has modern relevance due to the band Counting Crows.
Which took inspiration from the rhyme for their name and often explores themes of fate and consequence in their music.
Embarking on a quest through the annals of tradition and contemporary culture, 'counting crows' emerges as a multifaceted phrase bridging the past and present.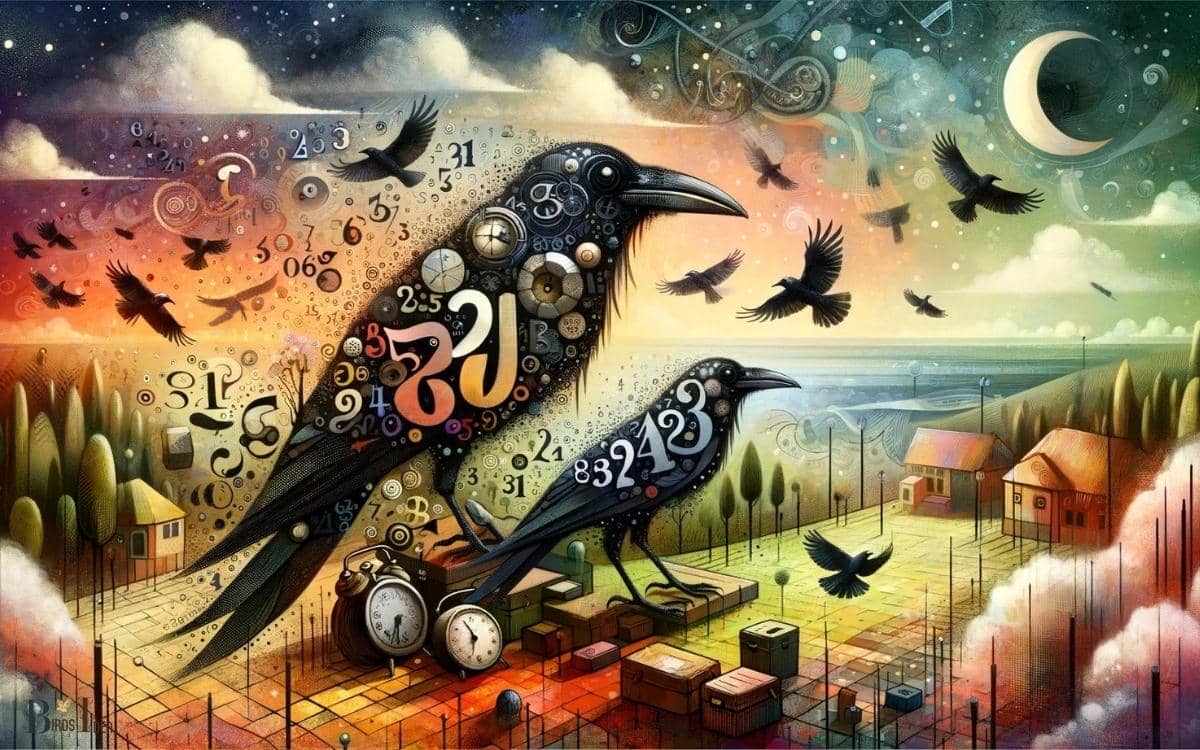 Key Takeaway
Counting crows is an old superstition or nursery rhyme that predicts future events based on the number of crows or magpies seen.
The nursery rhyme 'One for Sorrow' associates different outcomes with the number of birds seen.
Crows have been regarded as symbols of mystery, intelligence, and wisdom in folklore.
Counting crows has long been believed to predict the future or signify impending events in various superstitions.
The Band's Inspiration
The band Counting Crows found inspiration for their music from a variety of personal experiences and literary influences.
Lead singer Adam Duritz often drew from his own emotional struggles and relationships, infusing their songs with raw, authentic storytelling.
The band's name itself was derived from an English nursery rhyme, reflecting their literary inclinations.
Counting Crows' music embodies a sense of freedom, capturing the complexities of life and human emotions. Their lyrics resonate with listeners who seek honesty and connection in their music.
By combining personal experiences with literary influences, Counting Crows created a musical landscape that speaks to the human experience, offering a sense of liberation and understanding to their audience.
Through their inspiration, the band has fostered a community of individuals who value introspection and emotional expression.
Folklore and Superstitions
Crow symbolism in folklore and superstitions about counting crows have been prevalent in various cultures for centuries.
Understanding the cultural significance of crows can shed light on the band's choice of name and its potential meanings.
Exploring these aspects can provide valuable insights into the deeper layers of the band's identity and their artistic expression.
Crow Symbolism in Folklore
In folklore and superstitions, crows have frequently been regarded as symbols of mystery and intelligence.
Across various cultures, crows are often associated with magic, the supernatural, and wisdom.
In many Native American traditions, crows are seen as shape-shifters and are often depicted as clever tricksters.
In Celtic folklore, the crow is linked to the battlefield and is considered a protector and a symbol of warfare.
In Hinduism, crows are believed to be the messengers of the god of death, Yama.
The presence of crows is also often linked to impending change or transformation in various superstitions.
Their dark plumage and haunting caws have perpetuated their association with the unknown and the mystical, making them enduring symbols in folklore and superstitions.
Superstitions About Counting Crows
Associated with various superstitions, counting crows has long been believed to predict the future or signify impending events in folklore and superstitions.
In many cultures, seeing a single crow is considered unlucky, as it is believed to represent impending danger or bad luck.
Conversely, some superstitions view a group of crows, or a murder of crows, as a sign of good fortune, prosperity, or protection.
The direction from which the crows approach or the number of crows seen is often interpreted to have specific meanings.
For example, in some traditions, counting six crows is said to signify a journey, while counting twelve crows may represent wealth or the fulfillment of a wish.
These superstitions surrounding counting crows have persisted over time and continue to intrigue those who are fascinated by folklore and superstitions.
Cultural Significance of Crows
The significance of crows in various cultures and superstitions has intrigued people for generations, with their presence often believed to hold predictive or symbolic meaning.
In folklore and superstitions, crows have been associated with both positive and negative connotations.
Here is a brief overview of the cultural significance of crows in different societies:
| Culture/Region | Belief about Crows |
| --- | --- |
| Native American | Crows are seen as symbols of transformation and change. |
| Celtic | Crows are associated with warfare and life transitions. |
| Japanese | Crows are believed to be messengers of the gods. |
| Hindu | Crows are considered to be ancestors or ancestral spirits. |
Exploring 'as the crow flies' across media: Literature's forest journeys, Art's direct flight, Music's Tony Joe White, Film's rugged shortcuts, Poetry's verses on freedom.
The diverse cultural beliefs about crows demonstrate the enduring fascination and reverence for these intelligent birds.
It is evident that crows hold a special place in the collective consciousness of humanity, serving as symbols of wisdom, mystery, and spirituality.
This cultural significance of crows is also reflected in numerous literary and cultural references, which will be explored in the subsequent section.
Literary and Cultural References
Counting Crows often references literary and cultural symbols to convey deeper meanings in their music.
This rich tapestry of references adds layers of complexity and depth to their songs, inviting listeners to explore beyond the surface.
Here are three examples of literary and cultural references commonly found in Counting Crows' music:
Shakespearean Imagery: Counting Crows frequently alludes to the works of William Shakespeare, drawing on his rich imagery and timeless themes to enrich their lyrics.
American Folklore: The band often incorporates elements of American folklore, such as references to historical figures or iconic locations, to evoke a sense of nostalgia and heritage.
Literary Allusions: Counting Crows' lyrics are known for their nods to classic literature, infusing their music with the depth and universality of timeless literary works.
Personal Interpretations
As Counting Crows' music resonates with a wide audience, fans often find diverse meanings and personal connections within their songs.
Exploring the emotional impact and unique perspectives that individuals bring to the band's lyrics and music sheds light on the depth of their impact.
Understanding the various ways in which fans interpret Counting Crows' music provides insight into the band's enduring appeal and the profound impact of their work.
Fans' Diverse Perspectives
Fans of Counting Crows bring diverse perspectives and personal interpretations to the band's music and lyrics, contributing to a rich tapestry of meaning and connection.
This diversity of viewpoints adds depth and richness to the overall Counting Crows experience.
Here are three ways in which fans' diverse perspectives enhance the appreciation of Counting Crows:
Emotional resonance: Counting Crows' music resonates with fans on a deeply personal level, evoking a range of emotions and memories unique to each individual.
Interpretive freedom: The band's poetic and introspective lyrics allow fans the freedom to interpret and relate to the songs in their own way, fostering a sense of personal connection.
Community and camaraderie: Different interpretations of Counting Crows' music create a sense of community among fans, fostering discussions and shared experiences that strengthen the fan base.
Emotional Connections Explored
The diverse perspectives and personal interpretations of Counting Crows' music by their fan base contribute to a rich tapestry of emotional connections and individualized meanings.
Each song becomes a vessel for listeners to pour their own experiences, struggles, and triumphs, creating a profound emotional resonance.
For some, the melancholic melodies may evoke feelings of nostalgia and longing, while for others, the introspective lyrics may serve as a source of solace during times of hardship.
Counting Crows' music has a remarkable ability to elicit a wide range of emotions, forging deep connections with fans on a personal level.
This emotional depth allows for a sense of freedom in interpretation, as listeners find their own stories within the music, making it a deeply personal and meaningful experience for each individual.
Spiritual and Symbolic Meanings
Exploring the spiritual and symbolic meanings of counting crows reveals a rich tapestry of folklore, superstitions, and cultural significance.
Crows have captivated human imagination for centuries, and their presence is often associated with deeper meanings beyond the physical realm.
Messenger of the Divine: In many cultures, crows are seen as messengers of the spiritual world, conveying important messages from the divine or guiding lost souls.
Harbingers of Change: Counting crows can also symbolize impending change or transformation, serving as a reminder to pay attention to the signs and omens in one's life.
Guardians of Sacred Knowledge: Some traditions view crows as protectors of ancient wisdom and guardians of sacred knowledge, emphasizing the spiritual connection between humans and the natural world.
These symbolic interpretations highlight the profound and mystical significance of counting crows, offering a sense of freedom in discovering deeper spiritual truths.
Popular Misconceptions
Counting crows is often misconstrued by popular culture as a superstition linked solely to ominous events, yet these misconceptions fail to acknowledge the nuanced spiritual and symbolic meanings attributed to these intelligent birds across various cultures.
The popular misconception of associating counting crows with bad omens overlooks the rich symbolism and significance attributed to crows in different societies.
In many cultures, crows are revered for their intelligence, adaptability, and even as messengers from the spirit world. They are often seen as symbols of transformation, change, and spiritual guidance.
Furthermore, the act of counting crows has been linked to divination and receiving messages from the universe rather than being solely associated with negative events.
It is important to recognize and appreciate the diverse interpretations and cultural significance of counting crows beyond the narrow superstitions often perpetuated in mainstream media.
Conclusion
The meaning of counting crows encompasses a wide range of inspirations, from folklore and literature to personal interpretations and spiritual symbolism.
Despite popular misconceptions, the band's name holds a depth of meaning that extends beyond a simple counting of birds.
What deeper significance might be found in the act of counting crows?