What Do Crows Eat: Insects, Small Animals, Seeds, Grains!
Crows are omnivorous birds with a diet that includes insects, small animals, seeds, grains, nuts, fruits, and carrion. They are also known to eat eggs and nestlings of other birds, as well as human food waste.
Crows have a highly varied diet that enables them to adapt to different environments and food sources:
Invertebrates: Such as beetles, worms, and other insects.
Vertebrates: Small mammals like mice, as well as amphibians and reptiles.
Plant material: Seeds, grains, and nuts are common in their diet.
Fruits and Vegetables: They consume a variety of fruits and sometimes raid agricultural crops.
Carrion: Crows will feed on the carcasses of dead animals.
Bird Eggs and Nestlings: They occasionally prey on the offspring of other birds.
Human-provided sources: Garbage, food scraps, and leftovers from human habitation.
Crows are also known for their problem-solving skills to access food, such as using traffic to crack nuts or tools to extract insects.
Crows' dietary flexibility is a testament to their survival skills, allowing them to thrive in urban and rural landscapes alike. Their opportunistic feeding habits underscore their reputation as clever and adaptable birds.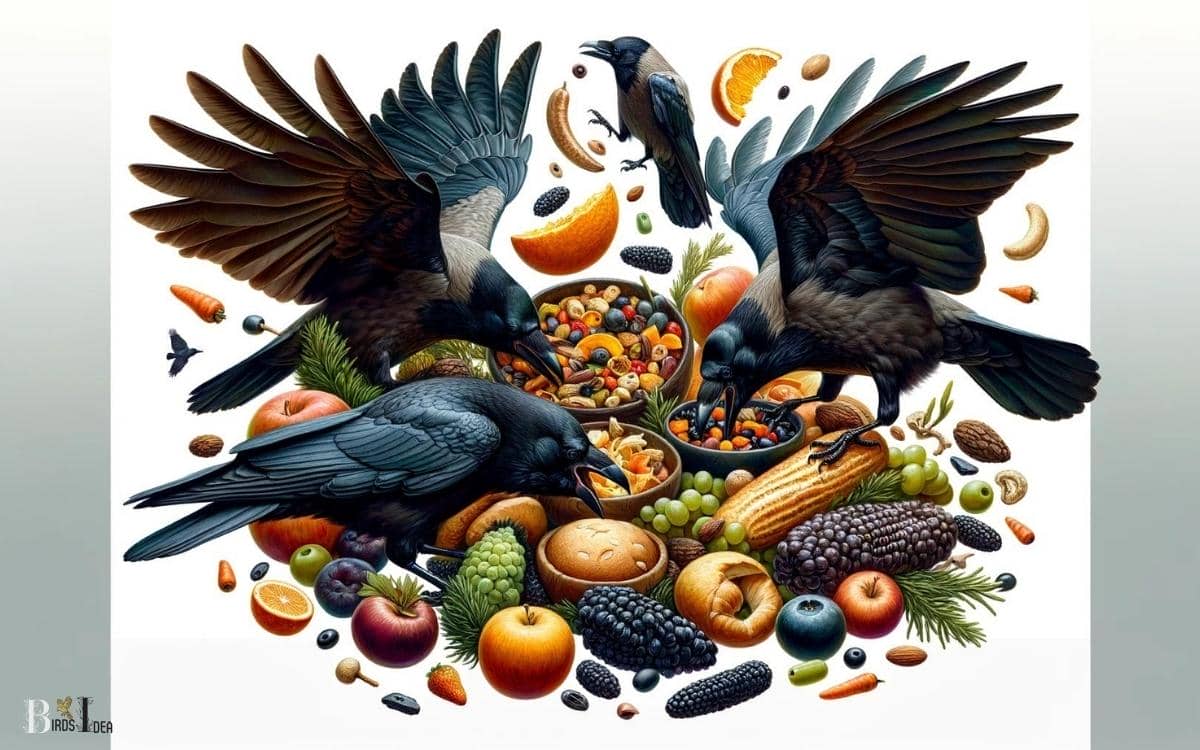 Key Takeaway
Crows have a diverse diet, including invertebrates, small animals, fruits, berries, seeds, grains, carrion, roadkill, eggs, and nestlings.
Foraging behavior is a key characteristic of crows, as they adapt and target various types of food sources.
Their diet provides them with protein, nutrients, vitamins, minerals, antioxidants, and energy.
Crows' scavenging behavior and opportunistic feeding contribute to their survival and population growth, but it can also have an impact on local bird populations and plant diversity.
Insects and Small Animals
Crows primarily consume a wide variety of insects and small animals as part of their diet. Their freedom in choosing prey allows them to adapt to different environments, making them highly versatile hunters.
Insects like beetles, caterpillars, and grasshoppers are among their preferred meals. Small animals such as mice, voles, and young rabbits also fall prey to these intelligent birds.
Their keen eyesight and impressive problem-solving abilities aid in locating and capturing these creatures.
This predatory behavior not only ensures their survival but also helps control pest populations, making crows beneficial to their ecosystems.
Transitioning to the subsequent section about 'fruits and berries', it's important to note that while crows are skilled hunters, they also have a diverse diet that includes plant-based food sources.
Fruits and Berries
Among their varied diet, crows also consume a variety of fruits and berries. These intelligent birds are opportunistic feeders and readily take advantage of seasonal fruits such as apples, cherries, and berries like blackberries and elderberries.
Crows are known to raid fruit trees and berry bushes, especially during the late summer and fall when these food sources are abundant. Their keen eyesight and agile nature allow them to quickly spot and harvest ripe fruits.
Crows' diverse diet of fruits and berries contributes to their overall nutritional intake, providing essential vitamins, minerals, and antioxidants.
Furthermore, the consumption of fruits and berries by crows also plays a crucial role in seed dispersal, as undigested seeds are often excreted in different locations, promoting plant diversity.
This dietary behavior seamlessly transitions into their consumption of seeds and grains, which we will explore next.
Seeds and Grains
Seeds and grains are an important part of the crow's diet, providing essential nutrients and energy.
Crows have been observed to consume a wide variety of seeds, including corn, sunflower seeds, and grains such as wheat and rice.
Understanding the nutritional benefits of these food sources can shed light on the dietary preferences and foraging behaviors of these intelligent birds.
Crow Dietary Preferences
Crows primarily feed on a diverse array of seeds and grains, reflecting their omnivorous diet.
Their dietary preferences for seeds and grains are evident in their foraging behavior, as they are often observed scavenging for various types of seeds, including corn, wheat, and sunflower seeds.
Crows are known to consume grains such as rice, barley, and oats. This dietary choice allows them to obtain essential nutrients and energy from plant sources, complementing their diet of insects, fruits, and small animals.
The inclusion of seeds and grains in their diet showcases their adaptability and opportunistic feeding behavior, enabling them to thrive in a variety of environments.
Understanding the significance of seeds and grains in a crow's diet provides insight into their nutritional requirements and foraging strategies, which will be further explored in the subsequent section about the nutritional benefits of seeds.
Nutritional Benefits of Seeds
In their diet, crows derive nutritional benefits from consuming a diverse array of seeds and grains. This diverse diet provides crows with essential nutrients and energy to support their active lifestyle.
The nutritional benefits of seeds and grains for crows include:
High Protein Content:
Seeds and grains are rich in protein, which is essential for muscle development and overall health.
With a diet rich in protein, crows have the strength and energy to soar through the skies and cover extensive distances.
Healthy Fats:
Seeds and grains contain healthy fats that provide crows with a source of long-lasting energy.
The energy from healthy fats allows crows the freedom to explore new territories and forage for food efficiently.
Vitamins and Minerals:
Seeds and grains offer essential vitamins and minerals that contribute to crows' overall well-being.
By consuming seeds and grains, crows have the freedom to thrive and maintain optimal health in their natural habitat.
Carrion and Roadkill
Crows are known to scavenge carrion and roadkill as a significant portion of their diet, especially in urban and suburban areas.
Their adaptable nature allows them to thrive in various environments, where they capitalize on the abundance of roadkill from car accidents and other sources of carrion.
This scavenging behavior serves as a crucial survival strategy for crows, providing them with a readily available food source.
| Emotional Response | Examples |
| --- | --- |
| Curiosity | Crows' intelligence and resourcefulness in finding food can inspire curiosity about their behavior. |
| Compassion | Understanding that carrion and roadkill are essential food sources for crows may evoke compassion towards these intelligent birds. |
| Reverence | Recognizing crows' ability to adapt and thrive in diverse environments may evoke a sense of reverence for their resilience. |
| Reflection | Observing crows' ability to find sustenance in unexpected places may encourage reflection on the freedom to overcome challenges. |
"Discover the emotional impact of crows' scavenging behavior—igniting curiosity, evoking compassion, inspiring reverence, and prompting reflection on resilience and adaptability."
Eggs and Nestlings
During the breeding season, crows opportunistically consume eggs and nestlings of other bird species.
This behavior is often seen as a survival strategy to provide additional food resources for the growing crow population.
When it comes to raiding nests, crows display remarkable intelligence and coordination, making them effective predators.
Habitat Adaptability: Crows are highly adaptable and can thrive in various habitats, allowing them to access a wide range of bird nests.
Feeding Behavior: They are known to target the nests of smaller bird species, taking advantage of their vulnerability during the nesting period.
Impact on Bird Populations: This behavior can have a significant impact on local bird populations, especially for species that are already facing challenges due to habitat loss and other factors.
Human Food and Garbage
Crows are known for scavenging human food and garbage, which has become a significant part of their diet in urban areas.
The increasing urbanization has led to a rise in the availability of human leftovers, causing a shift in the dietary habits of crows.
Understanding the impact of this shift on the behavior and population dynamics of crows is crucial in assessing their adaptation to changing environments.
Crows and Human Leftovers
When scavenging for food, crows are known to seek out human leftovers, including discarded food and garbage.
This behavior has led to some interesting observations about the dietary habits of crows in urban environments.
Here are a few key points to consider:
Adaptability
Crows have adapted to human presence and have learned to capitalize on the abundance of food waste in urban areas.
Crows are often seen foraging in parks, streets, and landfills, scavenging for discarded human food.
Their ability to exploit these resources demonstrates their remarkable adaptability to diverse environments.
Impact
The consumption of human leftovers can have both positive and negative impacts on crow populations.
While it provides a readily available food source, it also exposes them to potential hazards such as consuming harmful substances or being involved in conflicts with humans over food sources.
Behavioral Studies
Observing crows' interactions with human leftovers can provide valuable insights into their intelligence, problem-solving skills, and social dynamics.
Impact of Urbanization
In the context of urbanization, the consumption of human food and garbage significantly influences the dietary patterns and behavioral dynamics of crows.
Crows are highly adaptable birds and have readily adjusted to urban environments, where they have easy access to human food and waste.
This has led to a shift in their natural diet, causing them to rely more on human-provided food sources.
The table below illustrates some common human food and garbage items that crows consume in urban areas.
| Food Items | Description |
| --- | --- |
| French Fries | Commonly consumed by crows in urban areas, offering carbohydrates and fats. |
| Pizza Crust | Crows may scavenge pizza crusts, providing a mix of carbohydrates from the dough and potential protein from toppings. |
| Bread | A staple in crow diets, bread offers quick energy but lacks essential nutrients, posing a potential health concern. |
| Meat Scraps | Crows opportunistically feed on meat scraps, contributing to their protein intake and fulfilling dietary needs. |
| Fruit Scraps | Consumption of fruit scraps provides crows with vitamins, minerals, and natural sugars, enhancing their diet. |
| Vegetable Scraps | Crows benefit from vegetable scraps, gaining fiber and additional nutrients, showcasing their adaptable feeding habits. |
"Explore the diverse urban diet of crows, from crispy French fries to nutritious vegetable scraps—revealing their adaptive and opportunistic feeding habits."
This dietary shift has not only impacted the nutritional intake of crows but has also affected their foraging behavior and social interactions.
Impact on Ecosystem
Ecological Role of Crows
Scavengers and Clean-up Crews
Explanation of how crows play a crucial role as scavengers in ecosystems.
Their contribution to cleaning up carrion and reducing the spread of diseases.
Seed Dispersal
Insight into how crows aid in seed dispersal by consuming fruits and then excreting seeds in different locations.
Discussion on the positive impact on plant diversity and regeneration.
Predator Regulation
Examination of the role of crows in regulating populations of smaller animals by preying on them.
The ecological balance maintained through natural predation.
Positive Impacts
Carrion Removal
The positive impact of crows on maintaining a clean environment by efficiently removing carrion.
Prevention of the spread of diseases among wildlife and potentially to humans.
Seed Germination
Explanation of how crow-mediated seed dispersal contributes to the growth of new vegetation.
Enhancement of plant diversity and ecosystem resilience.
Pest Control
Discussion on how crows help control insect and rodent populations, reducing the risk of agricultural pests.
Positive implications for farmers and biodiversity.
Negative Impacts
Nesting Site Competition
Overview of how crows may compete with other bird species for nesting sites.
Potential impact on the local bird population and biodiversity.
Crop Damage
Examination of instances where crows may damage crops in search of food.
Balancing the benefits of pest control with the drawbacks for agriculture.
Impact on Other Bird Species
Consideration of how crows, as predators, may affect the populations of smaller bird species.
Ecological implications for the balance of avian communities.
Conclusion
Crows consume a variety of items including insects, fruits, seeds, carrion, eggs, and human food. Their diverse diet demonstrates their adaptability and opportunistic nature.
From feasting on fruits and berries to scavenging for carrion and roadkill, crows are consummate consumers. Their culinary curiosity and capability to consume a wide array of items is truly tantalizing.