What Does a Crows Nest Look Like: Discover!
A crow's nest is typically a large, bulky structure built high up in the trees.
These nests are constructed using a variety of materials such as twigs, branches, plant material, and sometimes even wire or other man-made items found by the bird.
The nest's overall shape is usually round or oval and can be quite substantial in size, often measuring up to 2 feet in diameter and 1 foot in depth.
The construction of a crow's nest is a deliberate process:
Location: Crows prefer to build their nests in the forks of tall trees for safety and visibility.
Foundation: They start by creating a strong base with interwoven twigs and branches.
Structure: The nest is then lined with softer materials like grass, fur, or feathers for insulation and comfort.
Functionality: The nest serves as a shelter for eggs and young crows, playing a critical role in their survival and development.
Discover the artistry of crow nest building, where every twig is purposefully placed to create a sturdy haven amidst the treetops.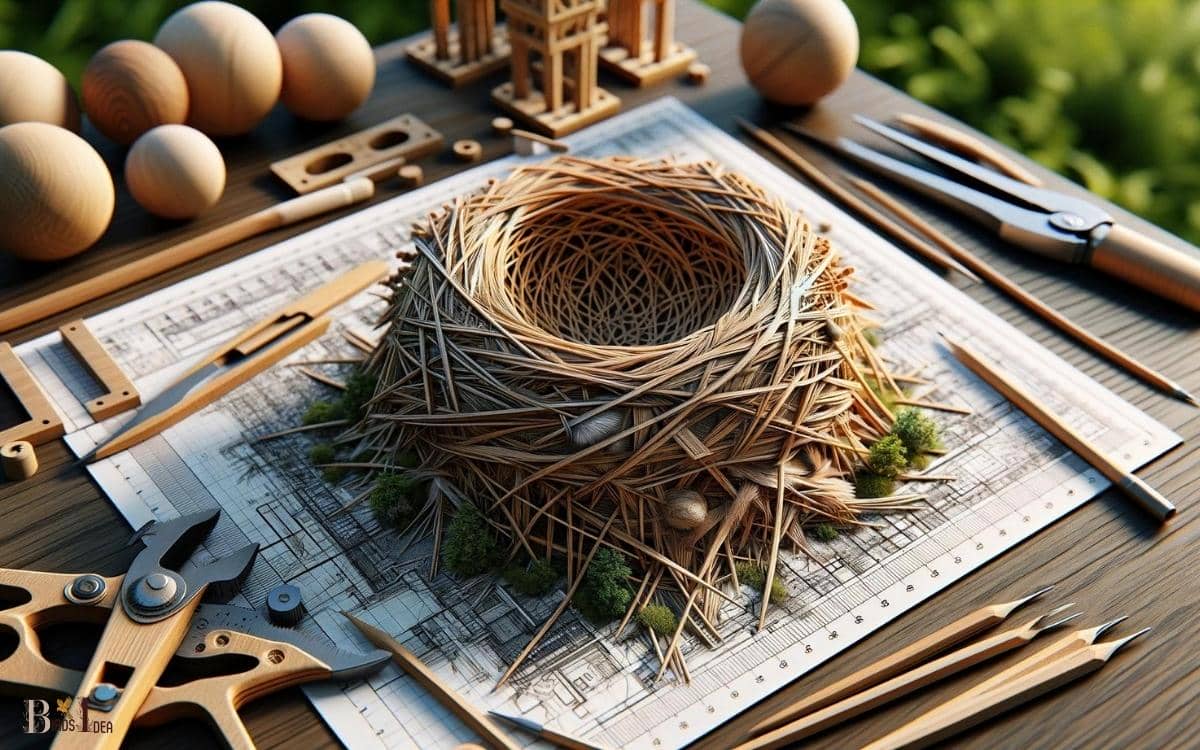 Key Takeaway
Crow nests are large, well-constructed platforms made of twigs, branches, and fibers.
Crows prefer tall trees, such as conifers, for nesting, but may also use man-made structures like buildings and utility poles.
Crows exhibit communal nesting and are highly protective of their nests and territory.
Crow nests serve important functions in providing safety from predators and harsh weather, facilitating reproduction, and signaling.
Physical Characteristics of Crow Nests
The crow's nest is a structure typically made from twigs, branches, and other natural materials, serving as the physical foundation for the nest.
It is often located high in trees, providing an elevated vantage point that allows crows to survey their surroundings.
The nests are built with great care and intricacy, often appearing as a tangled mass of twigs and foliage.
Despite their seemingly haphazard construction, crow nests are surprisingly robust and well-organized, designed to withstand various weather conditions and protect the eggs and fledglings within.
The size of the nest can vary depending on the specific species of crow and the availability of materials in the environment.
Overall, the crow's nest exemplifies the resourcefulness and adaptability of these intelligent and freedom-loving birds.
Materials Used in Nest Construction
Constructed primarily from twigs and branches, the crow's nest serves as a sturdy foundation for the nest, providing a secure environment for the eggs and fledglings.
In addition to these basic building materials, crows use a variety of other items to construct their nests, including:
Grasses and Weeds: These are used to line the interior of the nest, providing a soft and comfortable space for the eggs and young birds.
Mud and Clay: Crows use these materials to reinforce the structure and hold the nest together, ensuring its stability during inclement weather.
Feathers and Soft Materials: These are often added to the nest to provide extra insulation and warmth for the eggs and hatchlings.
Human-made Objects: Crows are known to incorporate man-made items such as string, cloth, and even trash into their nests, displaying their adaptability and resourcefulness.
Design Of Crows Nest
A crow's nest is typically a small platform located at the top of a ship's mast, providing an elevated vantage point for observation.
It is constructed with lightweight yet sturdy materials to minimize weight and ensure stability. The design incorporates safety features such as railings to prevent falls.
Access to the crow's nest is facilitated by a secure ladder or staircase. The platform is equipped with a binocular stand or holder for efficient use by lookout personnel.
Traditional vs. Modern Crow's Nest Designs
| Aspect | Traditional Crow's Nest | Modern Crow's Nest |
| --- | --- | --- |
| Material | Typically wood or metal | Lightweight and durable materials like aluminum or composite materials |
| Structure | Basic platform or basket | Aerodynamic design with enhanced stability and reduced wind resistance |
| Installation | Often attached to a mast or rigging | Can be integrated into the ship's structure or mounted on a mast |
| Visibility | Limited sightlines | 360-degree panoramic view with advanced optics |
| Technology | Relies on the lookout's eyesight | Equipped with radar, cameras, and other electronic navigation aids |
| Accessibility | May involve climbing rigging or ladders | Accessible via enclosed staircases or lifts for increased safety |
| Weather Protection | Limited protection from the elements | Weather-resistant materials, enclosed design for protection against rain and wind |
| Communication | Shouts or flags | Integrated communication systems, including radio and intercom |
| Purpose | Primary lookout point | Multi-functional, serving as a navigation hub with integrated technology |
"Compare the evolution of crow's nest design from traditional to modern, highlighting material, structure, technology, and safety advancements in a concise table format."
Location and Placement of Crow Nests
Location and placement of crow nests play a crucial role in the birds' nesting behavior and reproductive success.
Crows are adaptable and can be found in a wide variety of habitats, from urban areas to rural landscapes.
They often choose tall trees, such as conifers, for nesting, providing them with a vantage point to watch for predators and potential food sources.
Crows may also utilize man-made structures like buildings, bridges, and utility poles as nesting sites.
The placement of their nests is strategic, as they prefer locations that offer protection from predators and the elements.
Furthermore, the height of the nest is significant, as it provides safety for their young and allows for easier takeoff and landing.
Understanding the location and placement preferences of crow nests is essential for wildlife conservation efforts in both urban and natural environments.
Functions and Significance of Crow Nests
The nesting behavior of crows reflects the multifaceted functions and significance of their intricate nests.
Crows are highly intelligent birds, and their nests serve various important purposes beyond just providing a place for eggs and young chicks.
The following table outlines some of the key functions and significance of crow nests:
| Function | Significance |
| --- | --- |
| Protection | Provides safety from predators and harsh weather |
| Communication | Used for signaling and social interaction |
| Breeding | Essential for successful reproduction |
| Territory marking | Establishes and defends their nesting territory |
"Crow nests serve as multifunctional hubs, offering protection, enabling communication, facilitating breeding, and marking territories for these intelligent birds."
Crows invest considerable time and effort into building and maintaining their nests, highlighting the critical role that these structures play in their lives.
Understanding the functions and significance of crow nests provides insight into the complex and fascinating behavior of these remarkable birds.
Conclusion
The crows nest is a complex structure constructed from a variety of materials such as sticks, twigs, and grasses. It is typically located high in a tree and serves as a secure location for nesting and raising offspring.
Crows are known to be highly intelligent and resourceful, with nests being used for multiple breeding seasons. In fact, studies have shown that some crow nests can remain in use for up to five years.