What to Do With a Dead Crow? Report It to Local Authorities
If you find a dead crow, the proper course of action is to report it to local authorities, dispose of it safely, and take precautions to prevent the spread of potential diseases.
Dead crows can be carriers of various diseases, such as West Nile virus and avian influenza, which can pose risks to humans and other animals.
Therefore, it is important to handle and dispose of them properly and report any suspicious crow deaths to your local wildlife agency for further investigation.
Report the dead crow to local authorities or wildlife agencies
Use gloves or a plastic bag to handle the dead crow safely
Dispose of the dead crow in a sealed plastic bag, preferably in an outdoor trash can
Clean and disinfect the area surrounding the dead crow to prevent the spread of diseases
When dealing with a dead crow, safety should be your top priority. Always use gloves or a plastic bag as a barrier between your skin and the dead bird to prevent contact with potential pathogens.
Once the dead crow is sealed in a plastic bag, dispose of it in an outdoor trash can to minimize the risk of spreading diseases.
Additionally, it's essential to clean and disinfect the area where the dead crow was found, using a solution of bleach and water, to further reduce potential risks.
4 Actions: About Dead Crows
| | | | |
| --- | --- | --- | --- |
| Action | Description | Necessary Tools | Safety Precautions |
| Bury | Dig a hole deep enough to bury the crow, preventing the spread of disease. | Shovel, gloves | Wear gloves and a face mask, avoid direct contact with the dead crow |
| Dispose in trash | Place the crow in a sealed plastic bag and dispose of it in the trash. | Plastic bag, gloves | Wear gloves and a face mask, avoid direct contact with the dead crow |
| Contact local authorities | Some regions have specific protocols for handling dead birds. Contact your local animal control or health department for guidance. | Phone | Do not touch the crow without proper guidance from authorities |
| Incinerate | Burn the dead crow to ensure complete destruction of any potential pathogens. | Incinerator or controlled fire-pit, gloves | Wear gloves and a face mask, avoid direct contact with the dead crow, only perform this action in a controlled environment with proper permissions |
4 Actions: About Dead Crows
Key Takeaway
Proper handling of a dead crow is essential to prevent the spread of diseases.
Reporting dead crows to local authorities or wildlife organizations can provide valuable information about bird populations and potential health threats.
Disposing of the dead crow safely and properly is important to protect the environment and other animals.
In some cultures, dead crows have symbolism or superstitions associated with them, which may influence how they are dealt with.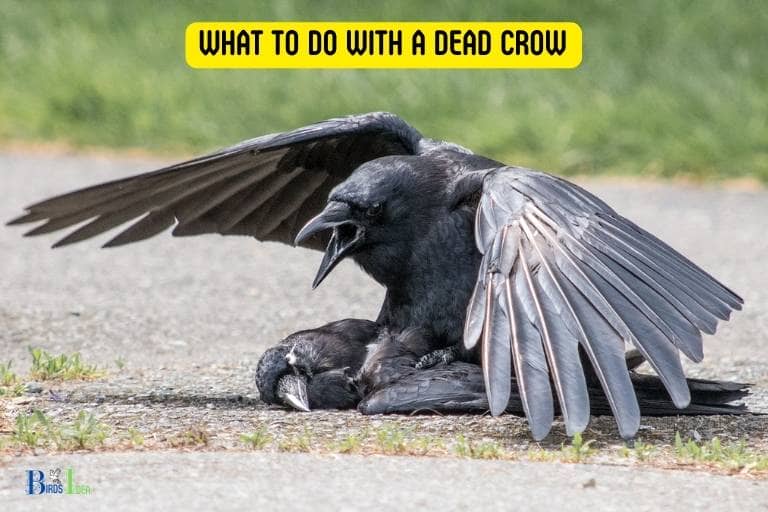 Five Facts About: Dead Crows
Crows, like other birds, can carry diseases such as West Nile virus and avian influenza, making proper handling and disposal important for public health. (Source: Centers for Disease Control and Prevention)
Dead crows should be picked up using gloves or an inverted plastic bag, and placed in a sealed container before disposing of them in the trash or according to local ordinances. (Source: USGS National Wildlife Health Center)
Many communities and wildlife organizations encourage citizens to report dead crows as part of ongoing monitoring efforts for diseases such as West Nile virus. (Source: U.S. Geological Survey)
Some Native American cultures associate crows with death or the spirit world, making the discovery of a dead crow significant in a spiritual sense. (Source: Native American Crow Mythology)
In European folklore, crows and ravens are often seen as omens of bad luck, with the phrase "as the crow flies" referring to the shortest distance between two points – often seen as a metaphor for the inevitability of death. (Source: [Encyclopedia of Folk Heroes]
Understanding The Legalities And Regulations
Researching local and state laws related to the disposal of dead animals is an important step when dealing with a dead crow.
Here are some key points to keep in mind:
Laws vary by state and municipality, so it's essential to check local regulations.
In most cases, it's illegal to bury dead wildlife on your property. Check with local authorities for proper disposal methods.
It's also illegal to capture, kill or possess crows without a permit. Dead crows, in particular, are subject to strict regulations to prevent the spread of disease.
Find Out If Your Area Has Bird Or Wildlife Rehabilitation Centers That Can Help With Disposal
If you're not sure how to dispose of a dead crow, contact bird or wildlife rehabilitation centers in your area.
Here are some ways they can help:
These centers may offer disposal services or recommend a licensed contractor to handle the process.
Some organizations even use the birds for education or research purposes, reducing the need for disposal.
Additionally, rehabilitation centers may be able to provide information on the risks associated with dead crows and how to handle them safely.
Contact Authorities Like The Department Of Agriculture Or Department Of Wildlife For Guidance
Local authorities such as the department of agriculture or department of wildlife can be valuable resources when dealing with a dead crow.
Here are some things to keep in mind:
These organizations may be able to provide additional information regarding state-specific regulations.
If the dead crow was located on public property, contacting authorities is essential. They'll be able to handle the disposal safely and legally.
Finally, contacting state agencies is an important step in preventing the spread of disease and ensuring public safety.
Follow Safety Protocols While Handling The Dead Crow
When dealing with a dead crow, it's essential to follow safety protocols.
Here's how to handle a dead crow safely:
Wear gloves and avoid direct contact with the bird. Crows can carry diseases like west nile virus and avian influenza that can be transmitted to humans.
Place the bird in a plastic bag and seal it tight before disposal. This will prevent any further contamination.
If you're unsure how to handle a dead crow safely, contact a licensed contractor or rehabilitation center for assistance.
Understanding the legalities and regulations of dealing with a dead crow is crucial for handling it appropriately.
Research local and state laws, contact bird or wildlife rehabilitation centers for assistance, and follow safety protocols while handling it to ensure the safety of yourself and others.
Options For Disposal Of A Dead Crow
Whether you stumbled upon a dead crow while on a walk or found one in your vicinity, you may be unsure how to dispose of it.
There are various ways to dispose of a dead crow, including burying it, cremating it, letting natural decomposition take its course, or even exploring taxidermy as an option.
Burying The Dead Crow
Burying a dead crow is a popular option for disposal, and it's a relatively simple process. However, there are some guidelines to follow to ensure that the burial is conducted safely and hygienically.
Dig the right grave: Bury the dead crow at least two feet deep in a location far away from any water sources. Research the guidelines set by your local council, which may have specific instructions on burial depth.
Precautions to take: It's important to wear gloves while handling the dead crow and to avoid physical contact. After the burial, wash your hands thoroughly.
What to do if crows are scavenging the body: If other crows are scavenging the body, it's best to cover the bird with a sheet or a box before burial.
Cremating The Dead Crow
Cremating a dead crow is another option for disposal, but it requires finding a crematorium that accepts animal remains.
Here are some key points to consider:
Finding a crematorium: Research crematoriums in your area that accept animal remains. Some crematoriums have strict guidelines about the size and condition of the animal.
Environmental impact of cremation: Cremation emits carbon dioxide, and it can have an impact on the environment. Consider this option if you have no other choice.
Regulations: Depending on your location, you may have to adhere to specific guidelines while disposing of animal remains. Research local guidelines before proceeding.
Natural Decomposition Of The Dead Crow
If you decide to let nature take its course, there are some important things to keep in mind.
Here are some bullet points to consider:
Timeframe for decomposition: It takes time for a dead crow to decompose naturally, and it can attract scavengers. Keep in mind that it can take up to two years for the body to decompose fully.
Choosing the right location: Do not leave the dead crow near any water sources or in a public place. It's best to choose a remote location.
Avoid contact: It's important to avoid physically handling the dead bird as it can harbor bacteria that can be harmful to humans and other animals.
Taxidermy As An Option For The Dead Crow
For those who want to preserve the bird, taxidermy can be an interesting option. However, it's a controversial and intricate art form that requires special expertise.
Here are some points to consider:
Seeking professional help: Taxidermy is a challenging process that requires specific equipment and techniques. Seek advice from professionals before attempting it yourself.
Ethical considerations: Be aware of the ethical implications of taxidermy before you proceed with this option.
Unique and beautiful results: A taxidermied bird can be a unique and beautiful addition to a collection and can help preserve the memory of the bird.
Reasons For Conservation Efforts
Understanding The Ecological Importance Of Crows In The Environment
Crows have essential roles in maintaining a healthy ecosystem.
Here are some reasons for conservation efforts:
Crows are omnivores, which means they eat both plants and animals. They help balance the food chain by consuming insects, rodents, and other small animals that can otherwise cause harm to the environment.
Crows are scavengers and play a vital role in cleaning up carcasses and other organic waste. When left unattended, these materials can cause diseases and increase pollution.
Crows are also seed dispersers. They can help spread plant seeds throughout the environment, which leads to the growth of new vegetation.
Exploring Factors That Impact Crow Populations And Ways To Help Conservation Efforts Including Safe Habitats And Nesting Sites
There are several factors that affect crow populations and decrease their numbers.
To help with conservation efforts, here are some ways to promote safe habitats and nesting sites:
Preservation of natural habitats and forests can provide a stable environment for crows to nest, forage for food, and raise their young.
Providing safe nesting sites, such as birdhouses or platforms, can help increase crow populations in urban environments.
Reducing pesticide use in agriculture and other industries can ensure that crows have a clean and safe food supply.
Disposing of trash properly can decrease the chance of harmful materials injuring or killing crows.
Educating the public on the importance of crow conservation can promote a positive attitude towards crows.
Sharing The Significance Of Crows In Culture And Mythology
Crows have cultural and mythological significance in various cultures.
Here are some examples:
In some native american cultures, crows are seen as tricksters or symbolize intelligence and resourcefulness.
In hinduism, crows are considered to be ancestors and are given offerings in religious ceremonies.
In european folklore, crows are associated with death and the afterlife.
Crows have also appeared in popular culture, such as in edgar allan poe's "the raven" poem.
Crows are more than just black birds. Understanding their ecological importance, factors that impact their populations, and significance in culture and mythology are steps towards their conservation efforts.
Coping With The Emotional Impact Of Finding A Dead Crow
Understanding Why Witnessing Death Can Be Distressing And How To Express The Feelings Surrounding The Experience.
Witnessing death, even that of an animal, can be a traumatic experience. It can be distressing and often triggers powerful emotions.
Here are some of the reasons why:
Part of the distress may come from realizing that death is an inevitable part of life.
You may have feelings of helplessness, particularly if you feel you could have somehow prevented the death.
You may feel sadness or grief at the loss of the crow, particularly if it had become a regular feature in your life.
Many people can feel afraid, anxious, or disturbed when confronted with death.
If you do experience any of these feelings, it's important to allow yourself to feel them and not suppress them.
Here are a few things you can do to help express those feelings:
Talk about your feelings to someone you trust. This can be a friend, a family member, or a professional counselor.
Writing down your feelings or keeping a journal may help you express your emotions and make sense of them.
Practicing mindfulness can also help you stay grounded in the present moment and manage your feelings.
It is understandable to feel upset after discovering the carcass of a crow. It's essential to look after yourself so that you can deal with the practical side of what to do with the crow itself.
Here are some suggestions:
Take some time to process your emotions. Give yourself permission to feel sad or disturbed and make sure you are allowing yourself time to recover.
Spend some time in nature. Going for a walk or simply spending time outdoors can be enormously helpful in promoting emotional wellbeing and alleviating stress.
Remember that it's okay to say 'no.' Helping wildlife is a good thing, but it's important to prioritize your own mental health. Don't feel guilty for declining to handle a dead crow.
Set boundaries. If you decide to take action to help a dead crow, remember that personal protective equipment is essential. Don't put yourself at risk.
Sharing Available Resources For Immediate Or Ongoing Help Dealing With Grief.
Coping with death is never easy, and you don't have to go through it alone.
Here are some resources available to help you through the grieving process:
Call your local animal welfare society or wildlife rehabilitation center for advice on how to handle a dead crow safely and ethically.
Many communities have grief support groups that may be specific to pet owners, but they can be an excellent source of help for anyone dealing with grief.
Consider therapy, if the emotions are overwhelming or if you find that you aren't able to deal with the death of the crow alone. A licensed therapist can offer valuable guidance and support.
It's essential to be kind to yourself and understand that death is a part of life. If you are struggling with the emotional impact of finding a dead crow, know that help is available, and you don't have to face it alone.
Remember to prioritize your mental health and set boundaries. It's alright to say no if you can't help with the situation.
FAQ For What To Do With A Dead Crow
Can I Bury A Dead Crow In My Yard?
Yes, you can bury a dead crow in your yard using gloves to avoid direct contact, ensuring the hole is at least 3 feet deep.
Who Do I Call To Dispose Of A Dead Crow?
Contact your local animal control department or wildlife rehabilitation center to dispose of the dead crow properly.
Can I Touch A Dead Crow With My Bare Hands?
It is not advisable to touch a dead crow with your bare hands due to the potential transmission of diseases to humans.
How Do I Take Care Of A Dead Crow?
Wear gloves, place the dead crow in a double plastic bag, and avoid direct contact. Contact animal control or dispose of it in a deep hole.
What Diseases Can I Get From A Dead Crow?
Dead crows may carry avian influenza, salmonella, west nile virus, and other diseases that can cause a serious health risk to humans.
Conclusion
While it may seem daunting at first, it is important to handle it carefully and appropriately. Remember to check your local laws and regulations before disposing of the bird.
You may choose to bury it in a safe location, bring it to a wildlife rehabilitator, or contact your local animal control facility.
Whatever method you choose, always be mindful of potential health risks and take necessary precautions.
In addition, it is important to note that prevention is key when it comes to avoiding situations involving dead wildlife.
By taking steps to protect birds and other wildlife, we can help to reduce the likelihood of encountering a dead crow in the first place. Thank you for reading and remember to always handle animals with care and respect.