Crow Sounds and What They Mean: Caw!
Crows communicate through a sophisticated array of vocalizations, each serving a distinct purpose.
The common 'caw' can signal different things such as territorial presence, alarm, or social communication among the group.
Soft cooing may be used in mating contexts, while harsher alarm calls warn of predators or threats. Understanding crow sounds involves recognizing the nuances in pitch, repetition, and context.
Crows are known for their impressive cognitive abilities and use a variety of sounds to interact with each other:
Territorial Calls: Crows emit specific caws to establish and defend their territory.
Alarm Calls: A loud and harsh caw can signal the presence of a predator or danger.
Food Calls: Crows may use a distinct call to inform others about a food source.
Social Calls: Softer caws and rattles are common in social interactions or bonding.
Mating Calls: During courtship, crows may use a series of softer coos or songs.
By paying attention to the context in which a crow calls, such as the presence of a potential threat or the time of year (which could indicate mating behavior), we can begin to interpret the purpose of their vocalizations.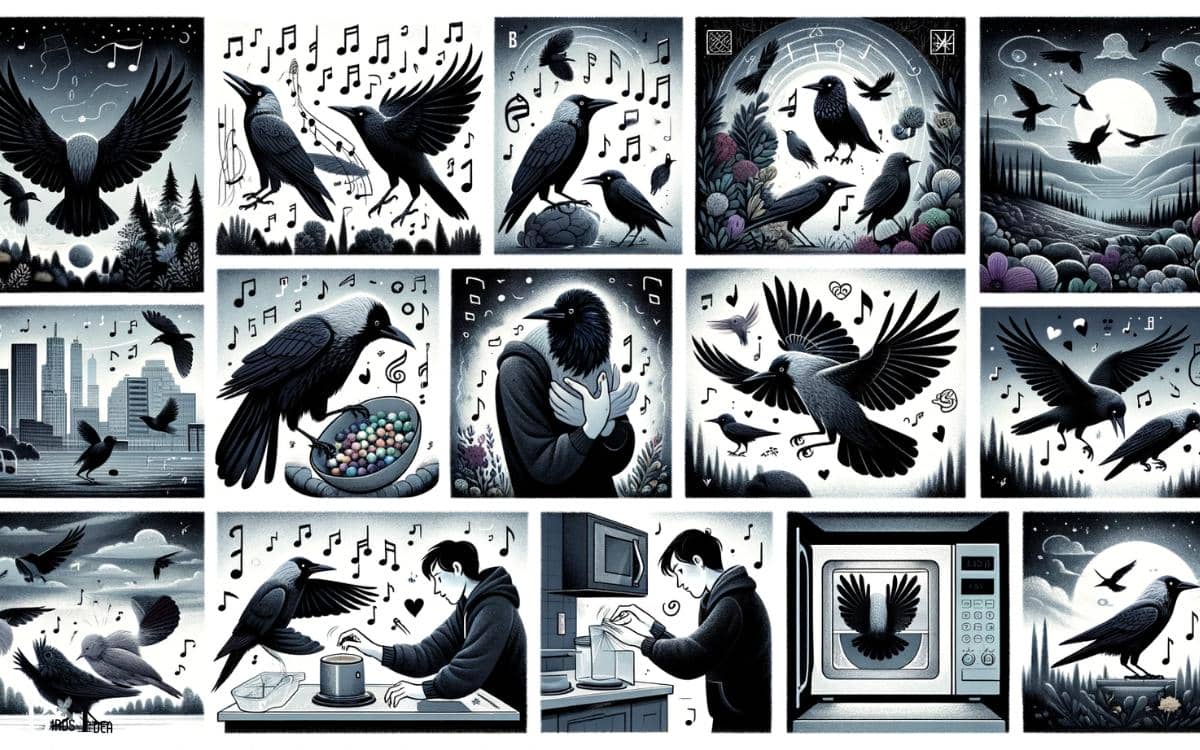 Key Takeaway
Crow vocalizations are a complex communication system that holds significant meaning and conveys various messages.
Alarm calls serve to alert others of potential threats and communicate specific information about the type and level of threat, enabling group responses.
Courtship and mating calls are used to communicate and bond with potential mates, varying between males and females and strengthening pair bonds.
Juvenile crows learn through social interactions and vocalizations, imitating adult crows and acquiring survival skills essential for their development and integration.
The Language of Cawing
The language of cawing, used by crows, serves as a complex communication system within their social structure. Crows are highly intelligent and social birds, and their cawing is not just random noise; it holds significant meaning.
Crows use different types of caws to communicate various messages, such as warning calls, calls for gathering, or indicating the presence of predators.
Their ability to convey specific information through cawing showcases the depth of their social organization and the complexity of their interactions.
Understanding the nuances of crow cawing reveals the intricate web of communication that exists within their communities.
This insight into their language provides a glimpse into the rich and dynamic world of these birds, allowing us to appreciate the freedom and agency they enjoy within their social structures.
Alarm Calls and Warnings
Within their social structure, crows utilize alarm calls and warnings to alert others of potential threats and dangers, showcasing their ability to communicate specific information through distinct vocalizations.
When crows perceive a threat, they emit a series of harsh, loud caws that serve as a warning to the rest of the group.
These alarm calls not only communicate the presence of danger but also convey information about the type and level of threat, allowing other crows to respond accordingly.
Additionally, crows have been observed using different alarm calls for different predators, demonstrating their sophisticated communication system.
This ability to convey specific information through vocalizations enables crows to effectively coordinate group responses to potential dangers, highlighting their intelligence and adaptability in the face of threats.
Courtship and Mating Calls
In their courtship and mating rituals, crows use distinct vocalizations to communicate and bond with potential mates.
These vocalizations vary between males and females and are crucial in establishing and maintaining pair bonds.
Male crows often engage in elaborate displays, combining vocalizations with physical movements to attract females.
They produce a range of calls, from soft cooing sounds to harsh caws, to demonstrate their fitness and attract a mate.
Female crows also vocalize during courtship, responding to the displays of males and engaging in reciprocal vocal interactions.
These calls not only serve to attract a mate but also to strengthen the pair bond, as crows are known to form long-term monogamous relationships.
The complexity and specificity of these vocalizations highlight the importance of communication in crow courtship and mating behaviors.
Juvenile Communication and Learning
Juvenile crows communicate and learn through vocalizations and social interactions within their family groups. As young crows develop, they rely on vocal signals to convey hunger, discomfort, or danger.
They also learn essential survival skills by observing and imitating the behaviors of adult crows.
Here's a breakdown of some key aspects of juvenile communication and learning:
| Type of Communication/Learning | Description |
| --- | --- |
| Vocalizations | Juvenile crows use different calls to communicate hunger, alert others of potential threats, and practice vocal mimicry. |
| Social Interactions | Young crows learn important behaviors through social interactions, such as foraging techniques, predator avoidance, and mating rituals. |
| Imitation | Juveniles observe and mimic adult crows to acquire essential survival skills, including food finding and tool usage. |
Juvenile Communication and Learning
This form of learning and communication is crucial for the development and integration of juvenile crows into their social environment, allowing them to thrive and contribute to their community.
Territory and Aggression Calls
The development of territory and aggression calls in crows is a crucial aspect of their communication and social behavior. It builds upon the foundational vocalizations and social interactions observed in juvenile crows.
When establishing and defending their territory, crows emit loud, harsh calls to ward off intruders and assert their presence within a specific area.
These calls serve as a means of communication to neighboring crows, signaling boundaries and ownership.
Additionally, aggression calls are employed during conflicts and confrontations. These calls indicate dominance and help to resolve territorial disputes.
Understanding these vocalizations provides insight into the complex social dynamics and communication strategies employed by crows.
Moreover, the study of territory and aggression calls sheds light on the intricate behaviors that contribute to the formation of social hierarchy and group dynamics within crow populations.
Social Hierarchy and Group Dynamics
Building upon the foundational vocalizations and social interactions observed in juvenile crows, the establishment of social hierarchy and group dynamics plays a pivotal role in crow communities.
Crows form complex social structures, with hierarchies based on age, experience, and assertiveness.
Older, more dominant crows often take the lead in decision-making and resource allocation, while younger crows learn from them and gradually establish their own position within the group.
The social hierarchy influences various aspects of crow behavior, including foraging, roosting, and mate selection.
Group dynamics also contribute to collective defense, as crows work together to protect their community from threats.
Understanding these social dynamics is crucial for comprehending crow vocalizations and behavior, as they are intricately linked to the intricate social fabric of crow communities.
What Sound Does a Crow Make in Words
Crows are highly vocal birds and communicate using a variety of sounds and calls. While it's challenging to convey their vocalizations accurately in written words, I can describe some of the common sounds that crows make and attempt to represent them using onomatopoeia.
Caw: The most well-known crow sound is the "caw." It's a loud, harsh, and raspy call, often used for communication within the flock or to alert others to the presence of a potential threat. In words, you might represent it as "caw-caw" or "kaa-kaa."
Rattle: Crows can produce a rattling sound that is somewhat like a rolling, gurgling call. It's often used in social interactions or to signal excitement. You could describe it as "rattle-rattle."
Clicking: Crows also make clicking sounds, which are sharp and abrupt. These clicks are often used in close-range communication with other crows or as a form of expression. You might represent it as "click-click."
Gurgling: Sometimes, crows produce a guttural, gurgling sound that is less harsh than their typical caw. It can be described as "gurgle-gurgle" or "gur-gur."
Whistle: Occasionally, crows produce a whistling sound, which can be somewhat melodic compared to their other calls. This can be represented as "whistle-whistle."
Murmur: In quieter moments, crows may engage in soft murmurs or coos. These sounds are often associated with more intimate interactions or soothing communication within the flock. It might be described as "murmur-murmur."
Remember that crows are highly intelligent birds with complex social structures, and their vocalizations can convey a range of meanings, from warning of danger to expressing emotions or coordinating group activities.
While these onomatopoeic representations provide a general idea of their sounds, the actual vocalizations are more nuanced and varied, and they can also vary between different species of crows and individual birds.
Listening to recordings or observing crows in their natural habitat is the best way to fully appreciate the richness of their vocal repertoire.
What Does Crow Clicking Mean
Crows are known to make clicking sounds as part of their vocal repertoire. These clicks can serve various purposes, and the meaning behind crow clicking can depend on the context and the specific situation.
Here are some possible interpretations of crow clicking:
Communication within the Flock:
Crows are highly social birds, and they often communicate with one another to coordinate activities, share information, or simply maintain social bonds.
Clicking can be a form of intra-flock communication, possibly used to convey messages like "I'm here," "Let's gather," or "Everything is okay."
Expressing Emotions:
Like many animals, crows can use vocalizations to express their emotions. Clicking might be associated with excitement, happiness, or contentment in certain contexts. It could signify a positive emotional state.
Alerting to Danger:
Crows are vigilant birds and are known to be quite wary of potential threats. Clicking sounds, especially when combined with their more characteristic cawing, might be a way to alert other members of the flock to the presence of a potential predator or danger.
Courtship and Pair Bonding:
In the breeding season, crows engage in courtship behaviors, which can include vocalizations. Clicking might play a role in courtship rituals or in strengthening the pair bond between a mated pair of crows.
Individual Variation:
It's important to note that individual crows can have their own unique vocalizations and communication styles.
While there are general patterns in crow vocalizations, the meaning of clicking could vary between individuals or be influenced by the specific circumstances they find themselves in.
Understanding the precise meaning of crow clicking can be challenging because it often depends on the broader context in which the clicking occurs.
Crows use a combination of various vocalizations, body language, and behavior to convey information and communicate with one another.
Researchers continue to study crow behavior and vocalizations to gain a deeper understanding of their communication patterns.
Conclusion
In conclusion, the sounds of crows serve as a complex language that conveys a variety of messages within their social groups.
From alarm calls and warnings to courtship and mating calls, these intelligent birds use vocalizations to communicate and maintain social order.
Their calls also play a crucial role in juvenile learning, territorial defense, and establishing social hierarchy.
The cacophony of cawing and vocalizations creates a rich tapestry of communication within the crow community, painting a vivid picture of their dynamic interactions.