Why Does a Hummingbird Keep Coming to My Window?
A hummingbird keeps coming to your window because it is attracted to something it perceives as a food source or potential nesting site.
Hummingbirds are curious creatures with excellent memories. They are constantly in search of nectar-rich flowers and other sources of food to sustain their high-energy lifestyle.
If a hummingbird repeatedly visits your window, it could be because they've spotted something that resembles a potential food source or nesting material.
Attraction to reflections or bright colors
The presence of indoor plants or flowers
Mistaking window ornaments for food sources
Searching for nesting materials or sites
Hummingbirds are attracted to bright colors, especially reds and yellows, which they associate with nectar-rich flowers. If you have colorful decorations near your window, the hummingbird could be mistaking them for food sources.
Additionally, reflections from your window can mimic water, which is another reason for the bird to investigate. If you have indoor plants or flowers near the window, it may intrigue the hummingbird and draw them closer.
Lastly, they could be searching for nesting materials such as small twigs and soft materials, which may be near your window.
To prevent the hummingbird from coming to your window, you could minimize these attractions or set up a hummingbird feeder at a safer location in your yard.
5 Reasons Why Hummingbirds Visit Windows
| Reasons for Hummingbird Attraction | Explanation |
| --- | --- |
| Feeding | The hummingbird might have spotted a potential food source (flowers or sugar water) near your window. |
| Reflection | The bird could be attracted to its reflection on the window glass, thinking it's another hummingbird. |
| Nesting | Your window area may provide a suitable nesting location or materials for the hummingbird. |
| Safety | The window area may offer a sense of safety and protection from predators for the hummingbird. |
| Curiosity | Hummingbirds are curious creatures and may just be investigating their surroundings, including your window. |
Reasons Why Hummingbirds Visit Windows
Key Takeaway
Attraction to bright colors or reflective surfaces on or near the window
Territorial behavior exhibited by the hummingbird
Seeking food sources near your window
A possible nesting site in the vicinity of the window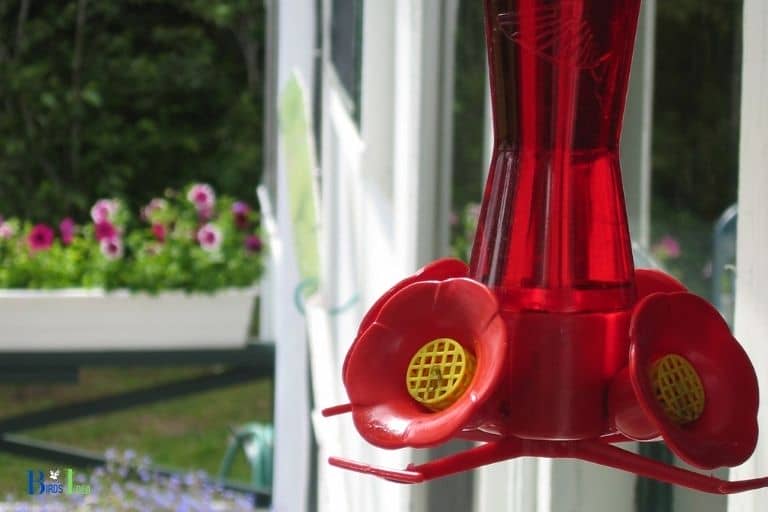 Five Facts About  Hummingbirds Visiting Windows
Hummingbirds are attracted to bright colors, particularly red and orange, which they associate with flowers and nectar sources. If you have colorful items or flowers near your window, it might be drawing the hummingbird's attention. (Source: World of Hummingbirds)
Reflective surfaces, like mirrors or windows, can catch a hummingbird's eye as they mistake them for water or other birds. They may visit the window repeatedly to investigate the reflections. (Source: The Spruce)
Hummingbirds are territorial creatures and may display aggressive behavior to guard their feeding and nesting areas. They could be visiting your window if they perceive an intruder or competitor near their territory. (Source: Bird Watcher's Digest)
If there is a food source near your window, such as a feeder, flowering plants, or insects, hummingbirds might come closer to investigate and feed. (Source: Hummingbird Central)
Hummingbirds build their nests in sheltered locations that are close to food supplies like flowers and insects. If there's a suitable nesting site near your window, the hummingbird could be repeatedly visiting the area. (Source: Birds & Blooms)
The Fascinating World Of Hummingbirds
Hummingbirds are intriguing creatures. With their iridescent feathers, acrobatic flights, and lightning-fast movements, these tiny birds can mesmerize anyone.
If you have ever had a hummingbird coming to your window, you might have wondered what could be the reason behind this frequent visitation.
This blog post will answer this question and provide you with insights into the fascinating world of hummingbirds.
A Brief Introduction To Hummingbirds
Hummingbirds are the smallest birds in the world, measuring between 2 and 8 cm (0. 8 to 3. 1 inches) in length and weighing between 2 and 20 g (0. 07 to 0. 7 oz).
There are over 300 species of hummingbirds, found only in the americas, from alaska to tierra del fuego.
These birds are known for their unique ability to hover in mid-air, their swift flight, and their distinctive humming sound produced by the rapid flapping of their wings.
Here are some interesting facts about hummingbirds:
Hummingbirds have the highest metabolism of any bird species, with a heart rate of up to 1,260 beats per minute.
They require an enormous amount of energy to sustain themselves, consuming half of their body weight in nectar every day.
Hummingbirds have excellent memories, which allow them to remember the location of several thousand flowers, even after many months.
The Role Of Hummingbirds In Ecosystems
Hummingbirds play a vital role in many ecosystems, especially in the pollination of flowering plants.
These birds are attracted to brightly colored flowers and feed on their nectar, inadvertently transferring pollen from one flower to another. This process facilitates plant reproduction and contributes to the diversity of plant species.
Here are some of the other ways in which hummingbirds contribute to ecosystems:
They are important predators of insects, including mosquitoes, flies, and gnats.
Their nests and feathers provide shelter and materials for other animals, such as spiders and spiders.
Hummingbirds are a food source for many animals, including larger birds, snakes, and mammals.
Hummingbirds are fascinating creatures that play a crucial role in maintaining the biodiversity of many ecosystems. If you have a hummingbird coming to your window, consider yourself lucky, as you are witnessing nature's beauty up close.
However, it's essential to provide these birds with the right food (sugar water) and environment (flowers, water) to ensure their survival.
Why Does A Hummingbird Keep Coming To My Window?
Hummingbirds are fascinating creatures that are native to the americas. Their small size, vibrant colors, and unique flight patterns make them a joy to watch.
If you're lucky enough to have a hummingbird visit your window regularly, you may be wondering why.
Here, we'll explore the possible reasons why a hummingbird might choose to visit your window and what you can do to make their visit more comfortable.
Understanding Hummingbirds' Feeding Behaviors
Hummingbirds have a high metabolism that requires them to feed frequently throughout the day.
They typically consume nectar from flowers, which is a sugar-rich solution that provides them with the energy they need to keep flying. If a hummingbird is visiting your window, it's likely because they're looking for a food source.
Some other facts about their feeding behaviors include:
Hummingbirds have a long tongue that they use to extract nectar from flowers.
They're attracted to brightly colored flowers, especially red and orange ones.
Hummingbirds don't have a highly developed sense of smell, so they rely on their vision to find food.
Hummingbirds' Preferences In Flowers And Feeders
Hummingbirds have specific preferences when it comes to the flowers they visit and the feeders they use. If you want to attract hummingbirds to your window, it's essential to provide them with the right kind of food.
Here are some tips to keep in mind:
Opt for a hummingbird feeder that has a red or orange base, as these colors are highly attractive to hummingbirds.
Fill the feeder with a sugar solution that's made by combining four parts water to one part white granulated sugar.
Place the feeder in a spot that's visible from your window, so you can watch the hummingbirds as they feed.
If you have a garden, consider planting flowers that are attractive to hummingbirds, such as zinnias, petunias, and salvia.
Hummingbirds' Territorial Behaviors
Hummingbirds can be territorial creatures, especially during mating season. If a hummingbird is visiting your window repeatedly, it's possible that they're trying to establish a territory.
Here are some things to keep in mind about their territorial behaviors:
Male hummingbirds are more territorial than females, and they tend to be aggressive towards other males.
Hummingbirds have a wide range of vocalizations that they use to communicate with each other and establish boundaries.
If a hummingbird is repeatedly visiting your window, it's possible that they've identified the area as their territory and are trying to keep intruders at bay.
If a hummingbird is repeatedly visiting your window, it's likely because they're looking for a food source, are attracted to the colors of your feeder or flowers, or are trying to establish a territory.
By providing a suitable food source and creating a welcoming environment, you can enjoy watching these beautiful birds up close. Remember to keep these tips in mind and happy bird watching!
Why A Hummingbird Might Keep Visiting Your Window
Window Reflections As Attracted Signals
If you have noticed a hummingbird frequently visiting your window, then the chances are that the bird is attracted to its reflection. Hummingbirds are naturally drawn to bright and shiny colors, which can reflect off your windows.
This can make your windows appear like an attractive food source for hummingbirds.To detect the reflection of your window, hummingbirds scan the surrounding area from different angles.
At times, they may even hover or perch close to your window to investigate the source of the reflection.To keep hummingbirds safe, consider using decals or stickers on your window to break up the reflection.
Additionally, you can move any birdfeeders or flowering plants to a different location away from your window to reduce the birds' attraction.
Nectar Availability In The Area And The Habitat
Another reason for hummingbirds to be frequenting your window is if there is a reliable food source nearby. Hummingbirds are primarily nectar feeders, and they need a steady supply of this sugary substance to survive.
Hummingbirds' typical habitat is near flowering plants that provide nectar, so it's possible that you have a garden or yard filled with flowers where the birds can feed.
Additionally, hummingbirds often follow nectar blooms as they shift with seasonal changes, which might bring them to your window area.
To attract more hummingbirds to your window, you can install a hummingbird feeder filled with sugar water and keep it clean and refreshed.
Seasonal Changes In Hummingbirds' Behaviors
Hummingbirds, just like other bird species, modify their behaviors with the different seasons. During the breeding season, male hummingbirds will defend their territory, making them more active and visible.
During migration, hummingbirds require massive amounts of energy to support their long journeys.
As they travel, they may stop and feed at a variety of food sources. This could make your window area an ideal pit stop for hummingbirds to recharge.
Just remember that if you live in an area where migrating hummingbirds visit, it's best not to keep your feeders up too late in the season.
This ensures that the birds do not become overly reliant on a food source that might not be available throughout the year.
Your Window As A Safe And Convenient Feeding Spot
Hummingbirds require a secure and convenient feeding location to thrive. Your window might provide both. The close proximity to a food source offers the hummingbirds protection and safety from potential predators.
Moreover, hummingbirds have the unique ability to fly forwards and backward, and upside down, making it easy for them to feed while hovering.
This makes your outside window the perfect spot for hummingbirds to access the nectar while remaining suspended in the air.
There are many reasons why hummingbirds might keep coming to your window. It could be that your window reflects the perfect signal, offers a reliable food source, or provides a safe and convenient feeding spot.
Whatever the reason, it's vital to enjoy the beautiful and unique hummingbirds, while taking the necessary steps to keep them safe and happy.
Tips And Tricks To Attract And Keep Hummingbirds Coming
Planting The Right Flowers Within Hummingbirds' Preferences
To attract more hummingbirds to your window, planting the right flowers is crucial.
Here are some tips on how to make them swoon over your garden:
Choose brightly colored flowers, especially red, since these are more attractive to hummingbirds.
Opt for tubular flowers as these are easier for them to feed from.
It's important to select flowers that bloom at different times since hummingbirds are seasonal feeders.
Native flowers would be the best option as they are naturally occurring in your area and hummingbirds are accustomed to them.
Providing Hummingbirds With Suitable Feeders And Nectar
The sugar water solution and hummingbird feeders are the two things that every hummingbird lover should have in their arsenal.
Below are some guidelines for providing hummingbirds with suitable feeders and nectar:
Place the feeder somewhere visible, preferably close to your window, sheltered from wind and predators.
Fill the feeder with a sugar water solution, mixing one part sugar with four parts boiled water.
It's important to clean the feeder regularly so that mold and bacteria don't grow.
Refresh the nectar every four to five days so that it stays fresh and doesn't ferment.
Enhancing The Habitat With Hummingbirds' Safety In Mind
Creating a safe habitat for hummingbirds is important for their wellbeing.
Follow these tips to attract and keep hummingbirds coming:
Avoid using pesticides and chemicals in your garden as these can be harmful to hummingbirds.
Plant shrubs or trees nearby to offer shelter and protection from predators.
Place the feeders at safe heights so that cats and other predators can't jump or reach them.
Keep your window clean to prevent hummingbirds from crashing into it.
By adhering to these tips, you'll be able to create a hummingbird-friendly habitat that they'll keep coming back to.
FAQ About Hummingbirds Visiting Windows
Why Is A Hummingbird Coming To My Window?
Hummingbirds are attracted to bright colors and may mistake your window for a flower.
How Can I Make My Window Less Attractive To Hummingbirds?
Covering your window with curtains or decals can help reduce the reflection of light and prevent attraction.
What Type Of Food Can I Put Out To Attract Hummingbirds?
Hummingbirds love nectar, which can be made by mixing one-part sugar with four-parts water.
Is There A Specific Time Of Year That Hummingbirds Visit Windows?
In general, hummingbirds visit windows during the breeding season, which runs from march to july.
Can Hummingbirds Become Aggressive Towards Humans?
Hummingbirds can become aggressive, particularly during mating season or if they feel their nest is threatened.
Conclusion
After learning about the reasons why hummingbirds come to our windows, it's clear that they are attracted to the color and motion of our feeders, the sweet nectar, and possibly the reflections of their own appearance.
Observing hummingbirds up close is a unique and special experience that we should all cherish and appreciate. It's important to provide them with a safe and welcoming environment to feed and thrive in, while also respecting their natural habitat and behaviors.
By planting native flowers, avoiding the use of pesticides, and keeping our feeders clean, we can continue to enjoy the presence of these beautiful and fascinating creatures. So next time you see a hummingbird at your window, take a moment to admire its beauty and the wonder of nature.