How to Make a Hummingbird Garden? 8 Steps!
To make a hummingbird garden, you need to focus on providing food sources, nesting sites, perching spots, and water sources for these fascinating creatures.
Hummingbird gardens are designed to attract hummingbirds by providing them with the necessary resources to thrive in their environment.
They are not only beautiful spaces, but they also create a habitat for hummingbirds, which are essential pollinators for many plants.
Plant hummingbird-friendly flowers: These are typically tubular, brightly colored flowers that contain nectar, such as trumpet vine, bee balm, and columbine.
Provide a water source: A shallow birdbath or a water mister can be placed in the garden to attract hummingbirds. They need water to bathe and drink.
Create nesting sites: Placing shrubs and trees that provide shelter, such as evergreens or deciduous trees, encourages hummingbirds to nest in your garden.
Offer perching spots: Install twig-like perches or garden hooks for hummingbirds to rest and survey their surroundings.
Planting hummingbird-friendly flowers is the most crucial aspect of creating your garden. Select native plants that produce nectar and are adapted to your region's climate.
Group the plants in clusters to create larger patches of color that will be more visible to the hummingbirds.
Additionally, incorporate plants that bloom at different times throughout the year to ensure a continuous supply of nectar.
8 Steps for Creating a Hummingbird Garden
| Step | Description |
| --- | --- |
| 1 | Choose a suitable location for the garden: Hummingbirds prefer sunny areas with some shade and wind protection. |
| 2 | Select flowers with bright colors and high nectar content: Hummingbirds are attracted to red, orange, and pink. |
| 3 | Plant flowers in various heights and blooming periods: This ensures a continuous supply of nectar for the birds. |
| 4 | Incorporate tubular-shaped flowers: These are easier for hummingbirds to feed on and reach the nectar. |
| 5 | Add perches: Plants with sturdy branches or installing a small trellis will give hummingbirds a place to rest. |
| 6 | Provide a water source: Set up a shallow birdbath or a dripper to keep the birds hydrated and clean. |
| 7 | Avoid using pesticides: Hummingbirds also feed on insects, so use natural pest control methods instead. |
| 8 | Maintain the garden: Regularly deadhead flowers and keep the garden clean to encourage hummingbirds to return. |
8 Steps for Creating a Hummingbird Garden
Key Takeaway
Importance of planting native plants for hummingbird attraction
Role of water and shelter in a successful hummingbird garden
Significance of avoiding harmful pesticides and chemicals
Continuous blooming and color variety to support hummingbird populations throughout the season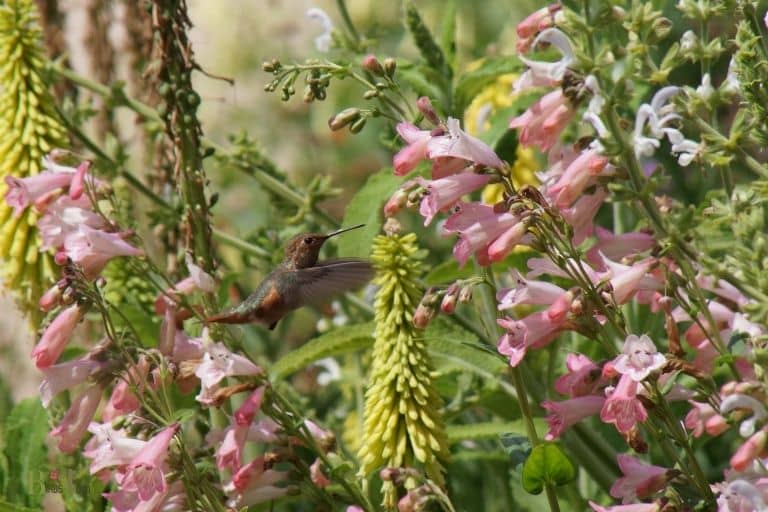 Five Facts About Hummingbird Garden
Planting native plants, such as salvia, lupine, and wild columbine, is essential for providing hummingbirds with the nectar they prefer, which in turn attracts them to your garden. (Source: The National Wildlife Federation)
Hummingbirds not only need nectar sources, but also access to clean water for drinking and bathing, so including a shallow birdbath or fountain in your garden is a crucial addition. (Source: The Spruce)
Providing shelter within your garden, such as trees or shrubs, allows hummingbirds to feel safe while resting and nesting, making them more likely to stay in the area. (Source: Birds & Blooms)
To ensure a sustainable environment for hummingbirds, avoid using pesticides and chemical fertilizers, as they can harm the tiny birds and the insects they rely on for protein. (Source: The Audubon Society)
Planting flowers with various blooming schedules and colors will increase the chances of attracting and supporting hummingbirds, as their food sources will be more abundant and diverse throughout the season. (Source: The Old Farmer's Almanac)
Understanding The Hummingbird'S Habitat
Knowing The Habits And Patterns Of Hummingbirds
Hummingbirds are tiny creatures that are very active and alert. These birds require food and water regularly throughout the day, and their needs are relatively simple.
Understanding their habits and patterns is key to successfully creating a hummingbird garden.
Here are some essential points to keep in mind:
Hummingbirds are active during the day and spend the majority of their time in search of food.
They typically feed every 10-15 minutes, requiring a constant supply of nectar to remain healthy.
Hummingbirds need access to water for drinking and bathing, which can be in the form of puddles or bird baths.
Understanding The Types Of Flowers Hummingbirds Prefer
Hummingbirds are attracted to brightly colored, tubular-shaped flowers that produce plenty of nectar. Flowers that produce nectar-rich blossoms are essential to attract hummingbirds to your garden.
Here are some of the best flowers to plant in your hummingbird garden:
Trumpet vine
Bee balm
Salvia
Petunia
Fuchsia
Identifying The Best Location For A Hummingbird Garden
When it comes to creating a hummingbird garden, knowing where to place it is essential. A good location provides the birds with the food, water, and shelter they need to thrive.
Here's what you should consider when selecting the perfect spot for your hummingbird garden:
Choose a location that receives at least 6 hours of sunlight a day.
Ensure that the garden is protected from strong winds and harsh weather conditions.
Hummingbirds require shelter, so consider planting shrubs and trees to provide them with a place to rest.
Make sure that the garden is located far away from any areas where there may be cats or other predators lurking.
By following these simple guidelines, you can create a beautiful and thriving hummingbird garden that will attract these remarkable birds and bring a touch of natural beauty to any space.
Planning And Designing Your Garden
Hummingbirds are a delightful addition to a garden, and creating a hummingbird garden can be a rewarding experience.
With some careful planning and design, you can create the perfect environment for hummingbirds to thrive. Here are some key points to consider when designing your hummingbird garden:
Choosing The Right Plants For Your Area
Hummingbirds are attracted to brightly colored flowers that are rich in nectar, so selecting the right plants is essential.
Here are some tips to help you choose the right plants for your hummingbird garden:
Opt for native plants that are common in your area, as they will be better adapted to the local climate.
Choose plants that bloom at different times of the year, so there is always a source of nectar available for hummingbirds.
Consider planting tubular flowers, as these are particularly attractive to hummingbirds.
Some recommended plants to attract hummingbirds include trumpet creeper, bee balm, cardinal flower, and salvia.
Designing A Garden Layout That Attracts Hummingbirds
The design of your hummingbird garden can make all the difference in attracting these delightful birds.
Here are some things to keep in mind when designing your layout:
Hummingbirds are attracted to areas where they can perch and take cover, so incorporate shrubs, trees, and other foliage into your garden design.
Create a water feature, such as a fountain or bird bath, where hummingbirds can stop for a drink and a quick splash.
Place feeders around the area, but ensure that they are not too close to each other, as hummingbirds can be territorial.
Create multiple feeding sites throughout the garden, so that hummingbirds can feed comfortably without having to compete for resources.
Creating The Perfect Environment For Hummingbirds To Thrive
Hummingbirds require more than just food and water to thrive in your garden.
Here are some tips to help create the perfect environment:
Provide plenty of shelter and nesting areas, such as trees, shrubs, and birdhouses.
Ensure that the garden is free of pesticides and other harmful chemicals.
Regularly clean feeders and water sources to prevent the spread of disease.
Place your garden near a window or sitting area, so you can easily watch and enjoy the hummingbirds.
With these key points in mind, you can create a hummingbird garden that is both attractive to hummingbirds and enjoyable for you too.
Maintaining Your Hummingbird Garden
Creating a hummingbird garden can be a delightful and fulfilling experience, but maintaining it requires effort and attention.
In this section, we will discuss the essential tips for maintaining your garden to keep it healthy and welcoming for hummingbirds.
Tips For Maintaining Your Garden'S Health
To ensure your hummingbird garden thrives, you must keep it healthy all year round.
Here are some tips for maintaining your garden's health effectively:
Water your plants consistently by providing them with adequate moisture without overwatering them.
Fertilize your plants with a balanced organic fertilizer, making sure it contains nitrogen, potassium, and phosphorus in equal proportions.
Prune regularly to promote new growth of your plants and allow adequate sunlight and airflow.
Remove unwanted weeds that compete with your plants for nutrients and water.
Managing Pests That Can Harm Hummingbirds
Maintaining a hummingbird garden requires keeping an eye on pesky insects that can harm hummingbirds.
Here are some pests to watch out for and tips to manage them:
Aphids: Spray aphids off plants and allow them to dry. You can also introduce ladybugs to the garden to eat the aphids.
Spider mites: Apply neem oil on the infested plants and mist them regularly.
Ants: Ants can ward off hummingbirds. Use ant moats or repellents along the feeders' bases, ensuring they don't interfere with the nectar.
Ensuring Your Garden Is Safe And Welcoming For Hummingbirds
Hummingbirds require a safe and inviting environment to hang around.
Here are some tips to ensure your garden is safe and welcoming:
Keep feeders clean by changing the nectar frequently and clean them every time you refill them.
Place feeders in a shaded or partially shaded area to prevent the nectar from fermenting too quickly.
Provide nesting materials, such as cotton and spider webs, for the hummingbirds to build their nests.
Keep your cat indoors, or train them not to harm the hummingbirds.
Maintaining your hummingbird garden requires effort, but the rewards of attracting these beautiful creatures will make it all worth it.
Implement these tips and keep monitoring your garden's progress to ensure a thriving and welcoming environment for hummingbirds.
Enhancing Your Garden For Hummingbirds
Hummingbirds are fascinating creatures, and attracting them to your garden can be a delightful and rewarding experience.
Enhancing your garden to create a perfect habitat for these little birds is not a difficult task, but it requires some careful planning and attention to detail. The following are some ways to make your garden more attractive to hummingbirds:
Adding Birdfeeders, Birdbaths, And Hummingbird Feeders
Hummingbirds love to drink nectar and water, so adding birdfeeders, birdbaths, and hummingbird feeders to your garden will provide them with the necessary resources to survive.
Here are some tips to keep in mind:
Hang multiple birdfeeders, but space them out enough so that birds can move freely between them.
Clean and refill your birdbaths and hummingbird feeders regularly to prevent the growth of bacteria and mold.
Place birdfeeders, birdbaths, and hummingbird feeders in a shaded area to prevent the water from evaporating too quickly.
Creating A Wildlife-Friendly Atmosphere In Your Garden
Hummingbirds are attracted to gardens that are rich in biodiversity, so it's important to create a wildlife-friendly atmosphere.
Here are some tips to consider:
Plant flowers, shrubs, and trees that are native to your region to encourage pollinators to visit your garden.
Leave some areas of your garden wild and unmaintained to create a natural habitat for insects, which are an important source of food for hummingbirds.
Avoid using pesticides and herbicides in your garden as they can be harmful to hummingbirds and other wildlife.
Encouraging The Growth Of Specific Plants To Attract Hummingbirds
Some plants are more attractive to hummingbirds than others. By planting these specific plants, you can increase the likelihood of hummingbirds visiting your garden.
Here are some of the best plants to consider:
Salvia: This plant produces tubular flowers that are a favorite of hummingbirds.
Bee balm: Also known as monarda, bee balm is a hardy plant that produces bright red, pink, and purple flowers that attract hummingbirds.
Trumpet vine: This vine produces large, trumpet-shaped flowers that are a favorite of hummingbirds.
Creating a hummingbird garden requires careful planning, but it's a fun and rewarding project that will attract these delightful little birds to your yard.
By following these tips, you can create a perfect habitat for hummingbirds and enjoy watching them flit about your garden.
FAQ on Hummingbird Garden
What Flowers Attract Hummingbirds?
Some flowers that attract hummingbirds are bee balm, cardinal flower, and salvia.
What Plants Do Hummingbirds Like?
Hummingbirds love plants with nectar rich flowers such as honeysuckle, petunias, and fuchsia.
Do Hummingbirds Need A Water Source?
Yes, hummingbirds need a water source to stay hydrated such as misters, drippers, or shallow water dishes.
How Do You Prevent Bees From Feeding At A Hummingbird Feeder?
To prevent bees from feeding at a hummingbird feeder, use a feeder with bee guards or choose a red feeder.
What Other Animals Might Visit A Hummingbird Garden?
Butterflies, bees, and other pollinators may visit a hummingbird garden, as well as other bird species.
Conclusion
Creating a hummingbird garden can seem daunting at first, but with a little effort and time, anyone can transform their yard into a mini oasis for these beautiful creatures.
By selecting the right plants and flowers, offering food and water sources, and providing shelter and nesting areas, you can attract a variety of hummingbirds to your garden and enjoy their delightful presence all season long.
Remember, not only is it important to create a safe and comfortable environment for hummingbirds, but also to take a respectful approach to observing and interacting with these tiny creatures.
With just a few simple steps, you can create a beautiful hummingbird garden and be rewarded with the joy of watching these fascinating birds up close. So why wait? Get started on creating your own hummingbird haven today!